Legendary Athlete, Father and Coach Matt Centrowitz Just Published An Autobiography – We Suggest You Read It
"If Matt Centrowitz writes a book, you buy it and read it."
By Robert Johnson
January 27, 2017
In August, Matthew Centrowitz did what no American had done in 108 years – win Olympic gold in the men's 1500.
What many US distance fans may not know, particularly those under the age of 30, is that Matthew's father, Matt Centrowitz, is a legend in his own right. The former New York prep star (he was the first NY high schooler to ever break 9:00 in the 2-mile and his 4:02.7 mile from 1973 is still the state record) transferred to Oregon after his freshman year of college, where he became one of the most accomplished alums in U of O history. Before his career was over, he had made two Olympic teams and set an American record at 5000 before becoming a successful coach at American University – a program he basically built up from scratch to qualify for the NCAAs in cross country.
But stats or a resume don't tell you who a person really is and where they came from. Anyone who has met Matt Centrowitz knows that he's quite a character. Until now, however, the elder Centrowitz's full story has never been told. Matt is self-publishing an autobiography about his life, his views on running, and the important role coaches and fathers play in people's lives entitled Like Father, Like Son: My Story on Running, Coaching and Parenting (fans of the younger Centrowitz should recognize the first half of the title). The book just went live on Amazon today.
Article continues below player.
I was very excited to read an advance of the book as after graduating college and moving to Washington, D.C., in the late 1990s, I heard many stories about the legendary "Centro." One day when I was jogging around the American University track, I finally laid eyes on Centro and was completely unimpressed. My mid-20s Ivy League-educated brain was having a hard time understanding how the fat, balding, boisterous, mid-40s man hobbling around the track at probably 12-minute mile pace was once an American record holder and, at the time, an up-and-coming coach both at American and with the Reebok Enclave professional group.
Some months later, after jogging just three or four laps with him around 9 p.m. on a totally abandoned, pitch-black track, I fully understood. I came home and announced to my roommate (who trained in his non-professional post-collegiate group), "That man is a genius," and gave her my full blessing to continue to be coached by him (I was very skeptical up to that point).
What was my epiphany? It wasn't anything overly complex. It was quite simple really. After getting over the surprise that he even knew who I was (at the time I was a high 2:20s marathoner in a city full of people much faster than me), we jogged a few laps on the empty track and he asked me what the hell was I doing. I guess it was clear I wasn't running smoothly.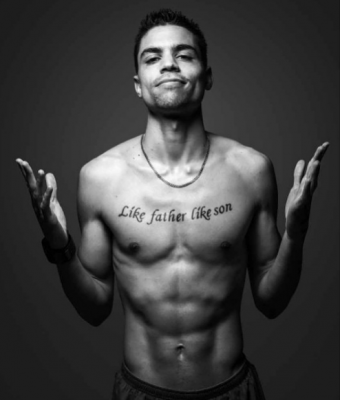 I said something along the lines of, "I've been injured and am just trying to get some miles in" and he replied along the lines of, "Don't be an idiot" and told me to go home immediately. Which is exactly what I did.
As I retype the anecdote nearly 20 years later, it's hard to explain why it made such an impression on me – but trust me, it did (though it is possible that I'm not remembering the story correctly…the more I think about it, I think he might have just told me to not be an idiot without even asking). Perhaps the forcefulness with which he said it struck a chord as in the modern world people often beat around the bush, particularly when giving out advice. In addition to being forceful, his message was also amazingly succinct and easy to follow and I found that to be incredibly useful.
As runners, many of us are prone to overcomplicate what is really a rather simple sport. If you're healthy, train hard and race fast. If you're not healthy, don't be an idiot and do more damage.
(Side note: Maybe I'm reaching too far on this one but I think it could be argued that simplifying things is what enabled Matthew Centrowitz to win gold in Rio. If you are one of the best milers in the world with a fantastic close, don't be afraid to run out of trouble in the front in a tactical race. )
I'm far from the only person to find Matt Centrowitz's instructions hard to ignore. In the Washington City Paper's profile on Matt Centrowitz from 2006, Centrowitz's former Oregon teammate Steve McChesney talked how he and some of the other younger guys on the team in the 1970s such as Alberto Salazar would pay attention to what Centrowitz had to say, "We wouldn't listen to too many guys, but when Matt scolded you, you listened."
So using that analogy, I'll give you my advice on the book. If Matt Centrowitz writes a book, you buy it and read it.  I think most who buy Centrowitz's book will find it hard to put down. It's a quick read that you could probably read in a long Sunday afternoon. In fact, I wish it was longer on some things, such as his final three years at Oregon and the raising of his kids which are totally skipped over.
My favorite part of the book is learning about how the Bronx-born-and-raised Centrowitz, who was the son of an Irish maid and Jewish gambler, got involved in the sport of track and field. Running very well may have saved Centrowitz. After his parents broke up and his dad abandoned the family, the family was on welfare. By middle school, Centrowitz was already drinking and smoking pot and apparently doing little else. He says he failed every single class in junior high and spent a weekend in juvenile hall before finding running in 9th grade.
And thank goodness that Matt Centrowitz and running got together, because if Matt Centrowitz doesn't find running, then America doesn't have an Olympic champ by the name of Matthew Centrowitz.
I very much enjoyed the book. Truth be told, because my job entails that I read and write about running all the time, I almost always refuse to even contemplate reading a book on running. However, knowing Centrowitz, I definitely wanted to read this book and am glad I did.
The book is full of interesting anecdotes, and those alone make it a worthwhile purchase.
At Oregon one day, Centrowitz played hooky from school, first driving around town with Steve Prefontaine in Pre's MGB Roadster convertible before playing cards with Pre all afternoon long. Prefontaine died that night. That's far from the only interesting anecdote in the book as Matt also talks about what he learned from racing Craig Virgin in high school, why he turned down Athletics West after graduation, what it was like to room with Bruce Jenner at Team USA's 1976 Olympic training camp and more.
While the anecdotes make the book, the book is well-written and whoever helped write it did a good job (Editor's note: Nathan Williams and Chris Kwiatkowski). I'm not claiming it's a literary masterpiece (the draft of the self-published book that I read had a few typos but it was going to get another round of edits before publication), but there were passages that were more philosophical than I expected that I really enjoyed, like these:
Centro on his Oregon teammates:

That team had the greatest collection of American distance runners to ever compete in college. Some of us chased women, drank and stayed out late. Others were born again Christians who counted every hour of sleep and prayed to God to keep them from temptation. Even so, on that single track we were all alike. We all had the same internal rhythms, the same thoughts floating through our minds, and the same two devotions: the Oregon lime green singlet and the conquering of the clock.
Centro on learning to appreciate a long run in the Oregon forests
Distance runners are different animals. We aren't like football or basketball players, or golfers or athletes from any other sports. We don't spend our time hitting each other, playing one-on-one or trying to make baskets, score goals, or anything else. Instead, we spend the bulk of our sports lives in solitude, lost in our thoughts. Hours and hours of training alone, our minds free, floating like a peaceful hot air balloon. Running on that magnificent trail, I found something new, like meditation, but still soaking in the beauty of the run unconsciously, almost through osmosis.
More importantly, after finishing, you get a sense of who Matt Centrowitz is, perhaps best explained by this excerpt about the how he acted the day after Pre's died.
The next day we had our regular Saturday workout scheduled, but Bill [Dellinger] made it known that it wasn't mandatory. Regardless, everybody showed up. But it was far from the typical practice. Dellinger handed out the workouts, but then guys just huddled in small groups, some talking to Bill, some just among themselves. They all came in their workout gear, but the practice had become a wake. Nobody wanted to run. Nobody, that is, but me.
I hope nobody found it disrespectful. We all deal with grief in our own way. Pre wasn't close to many people, and I certainly couldn't claim to be one of them. I liked him, I admired him, and I wanted to be like him. And I sure as hell felt sick he died like that. But I felt was that Pre would as sure as hell worked out if I died. Getting back out on the track would have been Pre's way—the Oregon way. At least my interpretation of it. So I ran.
Matt Centrowitz has gracefully allowed us to publish an entire chapter of the book exclusively on LetsRun.com. We've decided to publish chapter 2 on how he found running. Hopefully, it whets your appetite and gets you to purchase the book. Check back on Monday for that. Update: Chapter 2 can be read here: LetsRun.com Exclusive: Read Chapter Two of Matt Centrowitz's New Book "Like Father, Like Son"
The book is now live on Amazon. So please purchase the book and read it. Then come back in a month and be a part of the first-ever LetsRun.com Virtual Book Club. To thank you for supporting him, Centrowitz has agreed to do a podcast with LRC where LetsRunners will get to ask him questions they have after reading the book. I'm sure that after reading it there are many things you'll want to ask him about as the book isn't long enough to explain everything. We'll do that at the end of February so get the book now to make sure you have time to read it before the podcast.
PS. The book opens and closes with this scene.
YOU WANT TO KNOW WHAT THE OLYMPICS IS ABOUT. THIS IS WHAT IT IS!! pic.twitter.com/sCz46zSd7n

— Leslie Jones ? (@Lesdoggg) August 21, 2016
Get Notified of the Centro Podcast
[gravityform id="479″ title="false" description="false" ajax="true"]
Note: LetsRun.com gets a commission from amazon if you buy products through our links. So buy the book and a bunch of other stuff too 😉