NCAA Punishes Coach and Athlete…… For Knowing And Following The Rules
Loyola Marymount's Danielle Shanahan Is The 10th Fastest Woman In The NCAA This Year But She Won't Be In The 16-Person NCAA Championship Field Because Her Coach Knows And Follows The Rules
by Robert Johnson
March 3, 2017
In December, Loyola Marymount senior Danielle Shanahan ran the race of her life – a new pb of 15:52.37 for 5000 meters – to place third at Boston University Season Opener track and field meet. 15:52.37 is a very strong time for a collegiate runner – it's the 10th fastest time recorded by an NCAA D1 athlete this year.
The NCAA admits the 16 fastest declared women in the country to its indoor track and field championship in every event. So one would assume, given that Shanahan wants to compete, is the 10th fastest in the country and that three others from the very same race — race winner Karissa Schweizer of Missouri (15:37.40), 5th placer Brianna Ilarda of Providence (15:55.91) and sixth-placer Erika Kemp of NC State (15:56.52) — are going to be competing at the 2017 NCAA Indoor Track and Field Championships next weekend at Texas A&M that Shanahan is going to as well.
Article continues below player
And you'd be wrong in making that assumption.
So why isn't Shanahan going to NCAAs? I hope you are sitting down when you hear the reason as it's bound to make your skin boil.
Yes, the NCAA is known for being a stickler for both the rules and telling the truth. But here's the most amazing thing about Shanahan's omission from the 2017 NCAA Indoor Track and Field Championships – she's being denied a bid simply because her coach both followed the rules and told the truth.
The Actual Details
I imagine if you called the NCAA and asked them for an explanation, they'd tell you the reason that Shanahan isn't going to NCAAs is because her university, Loyola Marymount, like many California schools, doesn't officially sponsor indoor track (according to pages 342-343 of the NCAA manual, Loyola would have to compete in a minimum of four meets with a minimum of 14 competitors in each meet to officially sponsor the sport).
But that fact hasn't prevented many other talented individuals from competing at NCAAs in the past – or even this year. It's just being used to keep Shanahan out of NCAAs in 2017.
For example, up until this year, Mississippi State did not officially sponsor indoor track for its men's team. Did the NCAA stop 800-meter standout Brandon McBride from competing at NCAA indoors during his collegiate career? No, they did not. He was granted a waiver and ran NCAA indoors all four years- 2013, 2014, 2015 and 2016.
Ok, that was last year, you say. So, let's take a look at 2017 and fellow WCC conference member San Francisco. They have a male athlete, Alex Short, who is in exactly the same boat at Shanahan with one huge exception. San Francisco, like Loyola Marymount, also doesn't officially sponsor indoor track. Short, like Shanahan, is ranked in the top 16 in the country in the 5000 (thanks to his 13:47.57 5,000). The big difference is Short is going to NCAAs and Shanahan isn't.
How can that be? Well, it's simply because Shanahan's coach, Scott Guerrero (or maybe more accurately, the compliance office), was honest and indicated at the beginning of the year that Loyola Marymount would not be sponsoring indoor track and field in 2017 in terms of at least four meets with 14 people at each meet. The San Francisco compliance staff, like many other staffs in the past, didn't do this and when they came up short of the required meets the NCAA was willing to grant them a waiver so Short was granted entry into the NCAA championships in the same way that lots of others were granted a similar waiver in years past (like Mississippi State and even Loyola Marymount with Tara Erdmann in 2011 and 2012).
Idiotically, the NCAA won't grant the same waiver to Loyola Marymount simply because they were honest at the start of the year. In effect, the NCAA is punishing Loyola Marymount/Shanahan because the coach and compliance staff was honest, knew the rules, and filled out the forms accurately.
Brilliant.
Guerrero told me they didn't indicate on the form that they'd be sponsoring indoor track because he knew a new NCAA rule – Rule 2015-83 – went into effect on August 1, 2016, that specifically said that athletes were ineligible for the NCAA championships unless their school sponsored indoor track and field.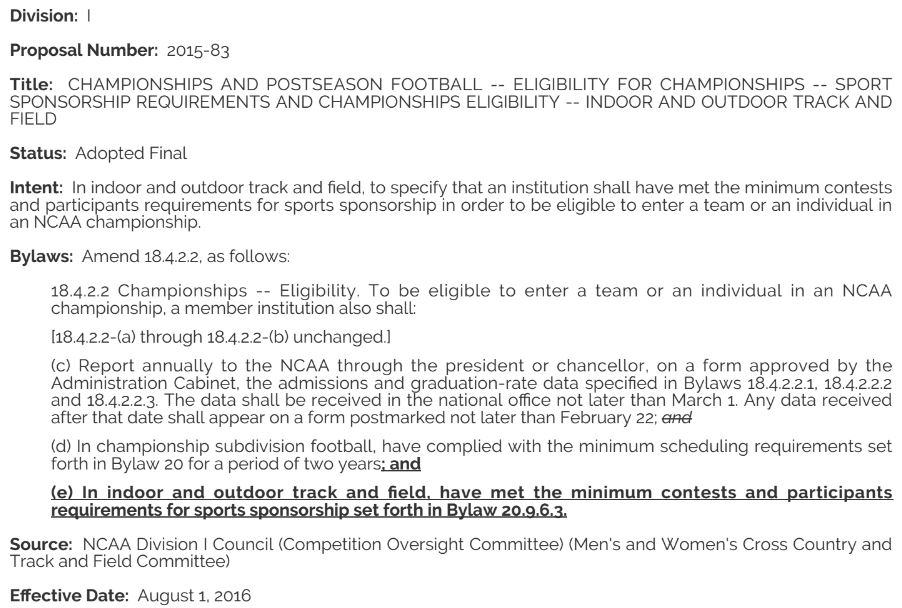 To its credit, the NCAA has apparently realized the rule isn't fair to kids from underfunded programs (or perhaps they realize it also encourages three-sport athletes to miss even more class time — if their team is to officially sponsor indoor track, they would have to compete even more frequently) and have humanely granted waivers to the new rule much as they did in the past. But not for Loyola Marymount, simply because their coach and compliance staff was honest.
Ridiculous.
Talk about this injustice on our world famous fan forum / messageboard. MB: Woman runs 15:52 5k (#10 in NCAA) – NCAA screws her over and won't let her run because her coach followed the rules!
Editor's note: Initially, the article talked about "checking a box" when talking about NCAA compliance. The language of how the NCAA paperwork is filled out has been edited for clarification.