Women's Race: LRC Priscah Jeptoo Finishes First In Women's London Marathon Marred By Wheelchair Collision Jeptoo was very special over the second half, but the race was marred by the fact that Olympic champ Tiki Gelana was wiped out from behind in a horrific collision with a wheelchair racer.
*Top Results LRC: Flash Photo Gallery

Recommended Read: Paula Radcliffe And Her Husband Reflect On Her 2:15:25 Marathon WR Which She Ran At London 10 Years Ago Her physio at the time, Gerard Hartmann, says she has the highest pain tolerance was incredible. "She would hurt me rather than me hurt her. She would actually break me down because I'd have to go so deep into the sinews, I would have to ice my thumbs afterwards I was in such pain."
Kansas Relays
Pre Race London
More Boston News
Bolt Will Definitely Be At London Anniversary Games
Yohan Blake Out For Up To 6 Weeks With Hamstring Injury The injury occurred during the UTech Classic meet where Blake DNFed, grabbing his right hamstring.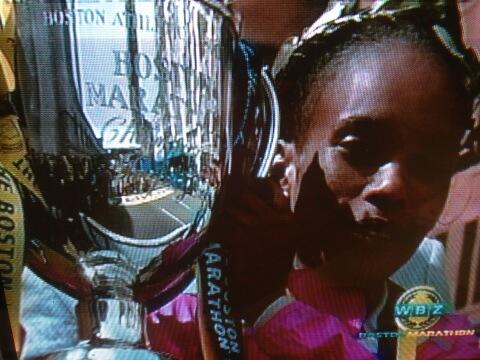 LRC Top 25 Boston Results: Rita Jeptoo And Lelisa Desisa Win The action was exciting as Portugal's Anna Dulce Felix was reeled in after having a 1+ minute lead at 35k. The men's race ended up being a 3-way sprint for home between Gebre Gebremariam, debutante Micah Kogo, and Desisa. Shalane Flanagan and Jason Hartmann led the American charge with 4th-place finishes. The American men, thanks to Daniel Tapia and Craig Leon, place 3 in the top 10!

Race Recaps/News:
The Virgin London Marathon - The World's Most Competitive - Was Sunday *Top Results
Men's Race LRC Marathon Gods 1, Distance Runners 0: World And Course Record Attempts Disintegrated As Everyone Bonked After A Crazy-Fast First Half The totally loaded men's field tried to live up to hype as they went out on WR pace, but in the end it proved to be a destructive pace. Course record holder Emmanuel Mutai had a 28-second lead at 40km but ended up losing by 29 seconds as three different people had the lead in the last 4 miles. In the end, Ethiopia's Tsegaye Kebede was the winner.
LRC: What Happened to World Record Patrick Makau? He Didn't Stay With Leaders for 10k
*Top Results
*MB: Imagine if a in-form Ryan Hall had run London this year...
LRC: Flash Photo Gallery


Hamburg: 2003 5,000 World Champ Eliud Kipchoge Wins Debut In 2:05:30
*MB: HAMBURG MARATHON LIVE - ELIUD KIPCHOGE DEBUT
Eventually, They Get Caught Did USADA Waste Its Time?
MB: 2004 Olympic 200 Champ Shawn Crawford Gets 2-Year Doping Ban It's not a surprise that Crawford, who worked with Trevor Graham but was never busted, is now out for 2 years for missing 3 drug tests. However, Crawford supposedly retired last year. Crawford should have notified USADA so as not to blemish his record and then USADA wouldn't have to waste its resources on this. *WADA Statement *More
Prince Harry and Richard Branson in London (Flash Gallery, More Coming)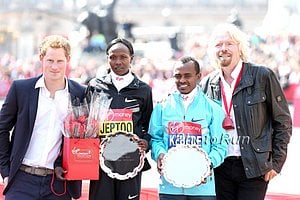 Blue Collar/ Inspirational Runner Of The Week
LRC Meet Conner Paez: "Please don't cut off my leg. Please just don't amputate my leg. I can't lose my leg. I need to run." Two years ago, Conner Paez was on top of the world as a freshman at the University of Pennsylvania (8:16, 14:18). Then his life turned in a second as he was broadsided by a car while on his motor bike. The injuries were bad, very bad. He almost lost his leg, then some toes. Doctors told him he'd never compete again. What's he doing this weekend? Competing again.
Non-London Weekend Road Action
MB Haile Gebrselassie: Happy 40th Birthday!

On 40th BDay - Haile Recaps His 5 Favorite Races And His Biggest Racing Regret Haile's favorite race? The Sydney 10k. His one regret? No Olympic gold in the marathon.
*10 Of Haile's Greatest Races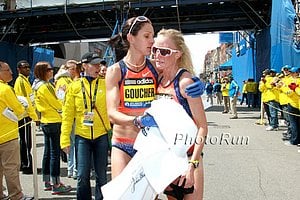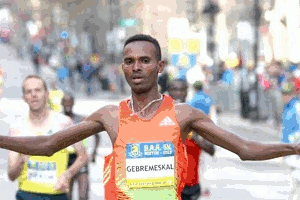 2,000+ World Cross-Country Photos Now Up
Learn From The Pros
LRC Ten Training Tips From Bernard Lagat, Dathan Ritzenhein And Abdi Abdirahman The American men took center stage at the NYC Half on Thursday. You can watch video interviews with the top American men (Lagat here, Ritz here and Abdi here) and we will have more on their race preparations on Friday, but in the meantime we compiled ten training tips from Bernard, Dathan, and Abdi that you can use in your own training.