LRC Chris Derrick!?! - National Champion! link fixed The wait is over. Arguably the greatest American collegiate distance runner not to win an NCAA title, Derrick pulled away from Dathan Ritzenhein and Matt Tegenkamp to win his first national title in his first race as a sponsored pro. It was a good day for Jerry Schumacher's crew as they had 3 of the top 4 in the men's race plus Shalane Flanagan winning the women's.


LRC Shalane Flanagan Wins 2013 Women's US Cross-Country Championships Flanagan was the class of the field (World XC bronze in 2011), but Olympian Kim Conley put up a brave fight. Afterwards, Flanagan said she will not run World XC as she prepares for the Boston marathon.

Jr. Races: *LRC 2013 Jr. Girls Results - William & Mary's Emily Stites Dominates
*LRC 2013 Jr. Boys Results - Ok. State's Craig Nowak Wins

Pre-Race: *Q&A With Elliot Heath, Who Is Roommates With Evan Jager; Chris Derrick And German Fernandez Will Be Racing Former Stanford Teammates Talking about his housemates: "We have gotten into watching the HBO show Entourage together. We are about halfway through the whole series right now, and we joke around a lot about which one of use would be each character in the show. If you are wondering, Evan is Vince, German is Turtle, Chris is Ari and I am 'E.' We are looking for a Drama to join the gang."
*Emily Infeld: "I want to put myself in a position to be in the hunt for top six."
*Q&A With Kim Conley: "I have had St. Louis circled on the calendar for two years now with the hope of making a World Cross team."
US Pros In The News
Random International Stuff
Other US News
Mid-Week Results
Jamaica's Former 400H Olympic Champ Melaine Walker Still Distraught Over Her London Letdown And Apologizes To The Public For Her Poor Performance In this and another article she hints at some kind of personal issue or problem with JAAA that distracted her mentally.
Kenyan News: Doping And Vivian Cheruiyot Sitting Out World XC
Other Drug Related News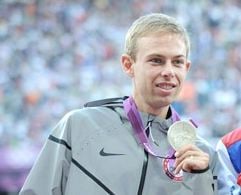 LRC Galen Rupp Runs 3:50.92 Mile To Become Fifth-Fastest Indoor Miler Who said Galen Rupp has no speed? The endurance king has become the speed king the last two years and Rupp showed it on Saturday by running 3:50.92 in Boston to become the 2nd-fastest American indoor miler ever behind Bernard Lagat. *Videos
On The Boards: *Rupp runs 3:50!!
*any updates on the BU elite mile?
*Rupp is the 5th fastest indoor miler in history


updated Mary Cain Smashes High School Mile Record By Running 4:32.78 Cain breaking the record may have been expected considering she ran 4:11 last year outdoors for 1,500 (roughly 4:31 for a mile), but Debbie Heald's old record (4:38.5) was the longest record on the books for high school women (from 1971) and Cain absolutely crushed it - and we use that term knowing it is way over-used in track but well-deserved here. In the men's mile, Robby Andrews faded to 4:11.
*What's Better Than Having An Olympian For A Coach? Having Two: With Salazar Living On The Other Side Of The Country, NZ 2004 Olympian John Henwood Has Been Administering Her Workouts In NY
*Video Interview With Mary Cain
OTB: Mary Cain 4:32.78
*Robbie Andrews
*Other HS: MileSplit Weekend HS Coverage: Edward Cheserek Wins NB Invite Mile In 4:10.92
*Q&A With Edward Cheserek Asking A Lot About His Move To The US From Kenya
*Sarah Baxter Named Gatorade Runner Of The Year For XC, Presented To Her By Allyson Felix

Oregonian's Ken Goe Against High Price Pay-Per-View Track Broadcasts
London Does It Again
LRC 2013 Virgin London Marathon Field Released - Is This The Greatest Men's Marathon Field In History? All we can say is - Wow! The course record holders of all five majors, the Olympic champ, the WR holder - you name it, they got it. And one the women's side? How about the debut of Tirunesh Dibaba plus 4 of the 5 non-pregnant sub-2:20 runners from last year? So sick.
*Reuters: Dibaba To Race In London Marathon *Discuss


LRC Mary Keitany Is Pregnant With Second Child, Will Miss 2013 London Marathon And Season
Usain Bolt The Republican? London Diamond League Meet Will Be So Stacked It Will Be Held At Olympic Stadium But Yet Again, Bolt Will Boycott Due To Taxes
Oregon Indoor Mile Record Holder Mac Fleet Is Pumped To Be back On Track After 2 Years Of Injuries Things were so bad last year, he started drinking heavily and tried to tear his plantar on purpose.
Rest In Peace Will Steele - aka "The Cancer Guy"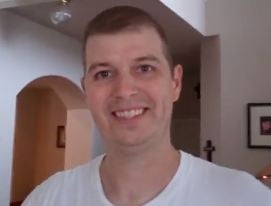 LRC Celebrating The Life Of "The Cancer Guy" Will Steele Will Steele was running 18 minute miles last year. And never has there been a more inspirational runner on LetsRun.com. We pay our respects to this great man who contributed so much to the LetsRun.com community and lost his battle with cancer one month ago on Christmas eve.
Want To Watch A Live Stream Of The New Balance Games Or The Armory Collegiate Invitational? It Will Cost You $20 And just think many of you complained that the entire Diamond League Series on UniversalSports.com was too much at $25 with individual meets just $1.99. In our book this doesn't seem to be about track fans, but about getting parents to pay.
Dying Too Young
LRC 4-Time World Marathon Majors Runner-Up Abderrahim Goumri Has Died At Age 36 The former MAR national record holder at 2:05:30, who once ran 12:50 for 5k and was twice the runner-up in New York, has been killed in a car accident. Goumri was busted for drugs due to the biological passport last summer.

Former 10k World Record Holder Samson Kimobwa, Who Ran 27:30.47 On June 30, 1977 In Helsinki, Has Died Suddenly At Age 58 Interesting fact - he coached Boaz Cheboiywo in Kenya and went to Washington State. *Wikipedia Page
*IAAF Tribute To Samson Kimobwa And Abderahim Goumri
Great Idea: 2004 Olympic Hurdles Champ Joanna Hayes Wants Runners To Have Customized Jerseys
Houston Marathon/Half Was Sunday
LRC Ethiopians Feyisa Lilesa And Mamitu Daska Win 2013 Aramco Houston Half Marathon The performance of the day belonged to Daska, who was dominant on US soil just as she was in all of 2012. Shadrack Biwott (62:23) and Lisa Uhl (73:28) were the top Americans as Luke Puskedra and Aaron Braun also broke 63.

LRC Bazuk Worku (2:10:17) And Merima Mohammed (2:23:27) Win 2013 Chevron Houston Marathon Titles The former WJr. record holder picked up marathon win #1 as Andrew Carlson (2:17:16) and Tera Moody (2:39:10) took top American honors.

RRW: Ethiopians Sweep Titles At Cold, Wet 2013 Chevron Houston Marathon & Aramco Half Marathon Includes quotes from Biwott, Carlson, Uhl.
Unbelievable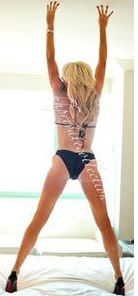 The Smoking Gun.com: Suzy Favor Hamilton Has Been Working As $600/Hour Escort For Last Year SFH, the 3-time Olympian, has been one of the hottest commodities in the escort business over the last year as she jumped up to a #3 ranking and got rave reviews for her runner's body and for providing the "full GFE (girlfriend experience)." One client raved, "I would do anything to protect her. ... She is worth every penny. I will go bankrupt before I stop seeing her. I hope no one else goes to see her, because I want her all to myself. ... I never thought I would find anyone in this hobby like her."
*Definitely Not Politcally Correct: Chicago Sun-Times Columnist: SFH isn't alone - lots of female distance runners are total nut jobs SFH had "a glint of ferocity in her eyes, of suppressed danger. I saw the look in many of the Wisconsin middle-distance and long-distance female runners. In my book, I made special note of them, of their lapses into near insanity, of their successes and crashes and eating disorders and dependence on their controlling German head coach, Peter Tegen."
*Suzy Favor Hamilton Issues A Statement
*MB: Suzy Favor-Hamilton: Vegas Escort
2013 New Balance Indoor Grand Prix *NBIGP Results (Tape Delay On Sunday On ESPN2 - 2-4 Sun.)
Men's 3k: LRC Galen Rupp Is Defeated As Hagos Gebrhiwet Sets New World Junior 3,000 Record Of 7:32.87


Women's 2-Mile: LRC Mary Cain Runs 9:38.68 For 2 Miles - The Greatest Distance Performance In US HS Girls History Tirunesh Dibaba was way ahead of the field as she won in 9:13.17.

LRC The Rest Of The 2013 New Balance Indoor Grand Prix - Centro, Lakhouad And Wright Win As Suhr Takes Crack At AR

*AP Recap: Dibaba Wanted To Go Faster, Al Sal Happy With Cain Salazar: "I think she did great. I told her to forget about the first couple of girls. Your job is to compete for second place."
*RRW: Hagos Gebrhiwet And Mary Cain Set Distance Records At 2013 New Balance Indoor Grand Prix
*Boston Herald: Mary Cain Plenty Able To Make History
LRC Bernard Lagat Runs 7:34.71 For Dominant 3k Win In Germany Lagat blew away 12:48 runner Yenew Alamirew to win by almost 4 seconds in what is the 5th-best 3,000 performance (or 2-mile) in US history.
Rest Of German Meet: Meseret Defa 8:35, G. Dibaba 4:02 As 5 WLs Set In Germany
We're Not Making This Up
Pre-New Balance Indoor Grand Prix News
More Weekend Action: 4 Olympic Marathon Medallists Are Competing (Updated)
Watch Your Health
US News: 9-Year-Old Running Marathon In Antarctica For Charity
Flotrack Defends Its $150 Subscription Fee To Ken Goe Of Oregonian, Who Still Doesn't Like It
Good Doping News: IAAF Does Blood Tests In The Rift Valley
LRC Duane Solomon Is The Real Deal - He Breaks US 600 Meter Record With 1:15.70 Win In Scotland Duane Solomon got rid off Chip Jenkins' record just days before it celebrated its 26th birthday and proved 2012 was far from a fluke. In other action, Bernard Lagat got a win in the 3,000 as Centro was smoked in the 1,500. Plus Geena Gall, Sara Vaughn and more.
*MB: Hrs Later Penn State Sr. Cas Loxsom Just Misses Solomon's New Record When He Runs 1:15.79 He did beat Jenkins' old record of 1:15.80.
Thank God They & Not Us Asked It - Carmelita "The Jet" Jeter Can't Fly Away From The Doping Question Jeter refused to answer the following question: Did Lance Armstrong's confession make "it harder to convince people that athletes in other sports were clean?" Her answer: "Well, I'm going to stay away from anything with that question, thank you."
Ajee Wilson Goes Pro With adidas
LRC Lukas Verzbicas' Comeback Continues With 21:02 4-Mile Win We're calling this kid "The Real Lance" as he is a comeback-from-near-death athlete you can believe in.
*MB: Discuss
LRC Mary Cain Runs 9:02.10 For 3,000 - Arguably The Greatest Distance Performance In High School History
MB: *Cain 9:02!!!
*Mary Cain 9:02!!!
*How many boys state 3200/2 mile can mary cain win?
*NOW what do you think about a Baxter-Cain face-off at 3200 / 2-mile? Hmmmm?
Olympic 100m Bottle Thrower Convicted
Guilty: Men's 100m Bottle Thrower Is Convicted Sounds like due to his mental illness, he'll get a slap on the wrist, but the judge's reasoning was sound: "The video, in my view, quite clearly shows Mr Gill-Webb checking to see if he is under observation before taking the risk of throwing the bottle. I am sure that he was at that point weighing up the chances of being caught before throwing the bottle in an effort to disrupt the start of the race and put off Usain Bolt. I am sure, therefore, that he was at that point acting rationally and wrongly."
*MB: OJ Simpson may have gotten off but the Olympic bottle thrower is convicted!!
Kenyan Attacked
Video: Kenyan Runner Edwin Kipsang Rotich Was Attacked During Brazil's New Year's Eve Kings Run 10k, But Still Went On To Win Police said the attacker has a history of mental problems and doing stunts like this. Rotich was unfazed at the finish as he didn't even mention the attack in his post-race interview. *Longer Video
Recommended Watch: Very Well Done Documentary On Ryan Vail On The Life Of A Professional Runner "This is my job. It's not about, 'I don't feel like running today' because everyone doesn't feel like going to work today. So I just say, 'This is better than a 9 to 5. Get out there and do your work today. This is going to work. Just get out there and do it.'"
Random US News: Lauren Fleshman Responds To You
US News: Adam Nelson On His Way To Becoming An Olympic Champion
A MUST Read - One Of The Greatest Races Ever Run - The US Women's Version Of The Billy Mills 10,000 Win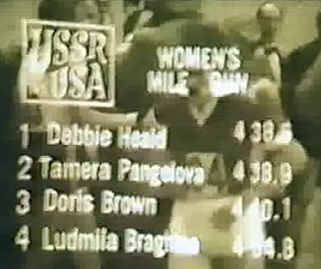 RWorld Reintroduces The World To Debbie Heald, Who 40 Years Ago Incredibly Ran The US HS Indoor Mile Record Of 4:38.5 Steve Friedman's piece on Heald is moving to say the least. Heald, whose father had committed suicide, who had been molested and who was always battling injury (13 different running-related surgeries), somehow at the US vs. USSR meet at age 16 in 1972 beat the greatest runners in the world, including the indoor 1,500 record holder and that year's eventual Olympic 1,500 champion, by running an a 8.5-second PR of 4:38.5. She came from way back to win thanks to a ferocious kick and she was known for having no kick. Her life since then has been full of struggles with schizophrenia but her HS indoor record still stands.
MB: Debbie Heald article in RW

Heald's Incredible 1972 Race

More On Heald:
*2002 LA Times Feature
*1972 Sports Illustrated
*1967 Faces In The Crowd At Age 11
From The MB:
*16-year-old Debbie Heald takes down the Russians, sets AR in 1972
*No Wikipedia entry for Debbie Heald ...
*1972 USA vs. USSR: 16-year-old wins the women's mile in a national record. (still standing)
*1972 Video Of Debbie Heald
Run, Recover, Run More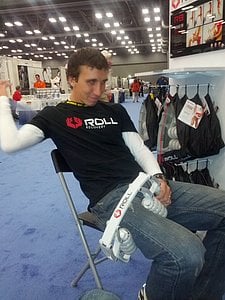 LRC Runners Recover Better And Hopefully Stay Injury Free With These Two Products From The 2012 Running Event Wejo talks about some of the injury prevention products he saw at the The Running Event, which include better methods for massage, icing, and compression.
The Running Event Is In The Books *Photos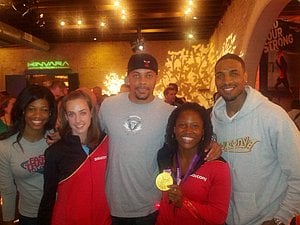 LRC The 2012 Running Event Is In The Books: Five Takeaways On The Industry Shark Tank's Daymond John Speaks The trade show for specialty running shops was last week in Austin, Texas and LRC's Wejo was there plus Ryan Hall, Meb Keflezighi, and most of Saucony's top athletes. The running industry should be renamed the "how to not get injured" industry. Some take-aways from the convention.
*Press Release: The Running Event 2012 Attracts 2,100 To Austin
2010 World XC Champ Emily Chebet Surprsingly Finishes 6th At Administration Police XC Champs In Kenya Chebet was a perfect 4 for 4 this year coming in.
News From The UK
The Week That Was In Running - January 21-27, 2013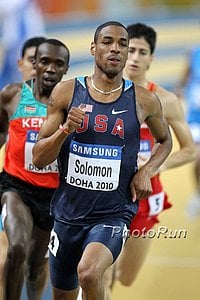 LRC Rupp & Solomon Improve A Lot, Those That Do And Those That Don't Get LRC, 2:04 Marathons Aren't Special, Putting Mary Cain's Mile Record In Perspective This week we start by telling you there are two types of runners - "those that get LetsRun.com" and "those that don't." We tell you why we think analyzing the improvements of Galen Rupp & Duane Solomon is the very best part of our website - even though we know many (including "A Duck") totally disagree. We then put the record runs from Dubai, Solomon and Mary Cain in perspective before quoting a running executive who says a 2:04 marathon isn't "special" anymore.
A Look At On Running: Run On Clouds
LRC A Look At On Running And The "Cloud" Technology: Shoe Company Started By Former World Class Triathlete Olivier Bernhard was a world class triathlete who was injured with Achilles problems. So what did he do? He started tinkering with his shoes. What did he come up with? A better shoe technology, he thinks. Learn more about Olivier and the "Cloud" technology as LRC starts taking a look at some of the newer shoe companies.
Cycling: UCI Head Pat McQuaid Appeals to IOC Members to Help Him in Fight With WADA He wants the IOC to help him get WADA to back his controversial "Truth and Reconcilation Commission".
Upcoming Action
More Lance Updates
Remembering Will Steele: "The Cancer Guy" Talks About Being Diagnosed And Living Life (Much More Here)
Dayron Robles Retiring?
Week That Was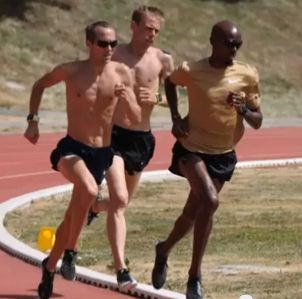 LRC The Week That Was: More Lance, Shoe Company Talent, A Cool Video, Photo And More We've got a cool video from France of Mo Farah, Galen Rupp and Dathan Ritzenhein, a cool photo from the Nike campus, some Hansons-Brooks news, and we delve further into everything Lance and what can be done about cleaning up the sport. Plus Ireland, the Euro XC champions, waves the white flag on World XC.
Webb Back In Portland
Confirmed: Alan Webb Has Returned To Portland, Joined Jerry Schumacher's Group And Is Focused On 5/10k Flotrack's Ryan Fenton caught up with the American mile record holder on his 30th B-Day, as a more mature Webb talked about his recent struggles and the decision to switch to his 4th coach in the last 3.5 years. We give you the highlights as we know most of you don't have 22 minutes to spare. A great read (or watch) depending on how much time you have.

MB: Webb Training in Schumaker's Group, to Focus on 5k/10k in 2013, eventually the Marathon
MB: Happy Belated 30th Bday Alan Webb
A Great Guest Column
PJ Browne A Woman I Used To Know - Suzy Favor Hamilton Guest columnist PJ Browne reflects on Suzy Favor Hamilton and depression in a Recommended Read. "What I can now say about depression is that the irrational and the bizarre become the norm. There is no blueprint in a hit and miss mixture of drugs, incarceration and therapy. In my case, Zoloft turned me into a daring, brazen individual much to the embarrassment of my family."
Ryan Hall Speaks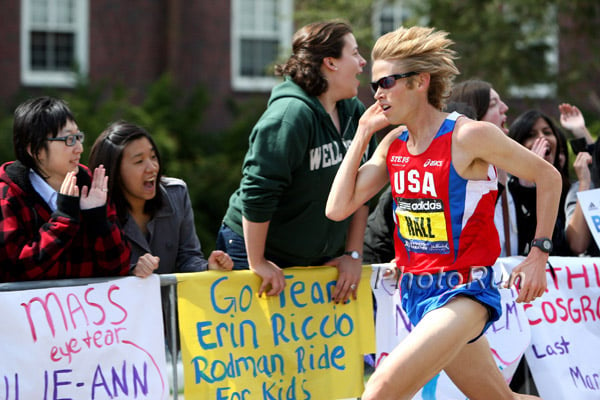 LRC Ryan Hall Talks About Cam Levins' 190-Mile Weeks And Is Impressed Hall: "It's working for him. My hat's off to him. He inspires me. That's why I started following him on Twitter. I feel like I'm training hard and I'm not doing nearly that kind of training."
LRC Ryan Hall Talks About His Running Shoes Hall says he has different shoes for every speed he runs and that he has an "unhealthy attachment" to the Asics Gel Hyper Speed.
LetsRun.com's 2012 Year In Review
LRC We Say To You The Visitor, "Thanks A Million" For Making 2012 A Record Year For Us Now that the college football bowl season is over, the year is over in our mind and it's time to recap the
special year we had in 2012. No matter how you look at it, 2012 was a record year for LetsRun. Unique visitors were up 38.55% and for the first time we surpassed a million unique visitors in a given month. Read the article to find out what our 5 busiest days were, what our 5 least busy days were, our most popular articles, most popular threads and more. Guess what day generated the most page views. Hint: it wasn't even a day during the Olympics or US Olympic Trials.ce Armstrong continues and we wonder if Ashton Eaton would be nothing more than a D3 football star had he stuck with the gridiron. And Jacob Hernandez calls it quits.
Meb And The Mental Side Of Running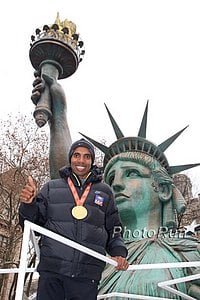 LRC Meb Keflezighi Talks About Getting His Start In Running, The Mental/Physical Breakdown Of The Sport Meb: "I really believe during preparation it's 90% physical, 10% mental. When the gun goes off it's 90% mental and 10% being healthy."
TodaysMiles.com Launches On LetsRun.com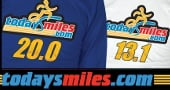 Today's Miles Launches The running world has got 3.1*, 13.1 and 26.2 stickers. Todaymiles.com takes that concept to running apparel. Want to celebrate that 26.2 you did? Do it. Want to run 20 minutes and wear a 20 mile shirt? You can do that, too. More info here.
2012 Foot Locker Boys Photo Gallery (Updated)
2012 Foot Locker Legends Pre-Race Photo Gallery
IAAF Gala Photos: The Stars Of Track And Field Are Beautiful People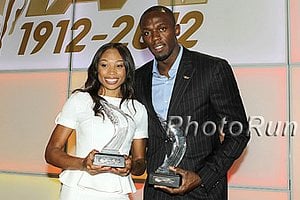 NCAA Cross Photo Galleries (Captions Now Added)
Beautiful People: NCAA Banquet Photos (Click On Photo)
Back To Top
18-Yr Old Ethiopian Muktar Edris Gets The Win Over A Deep Field In Campaccio XC Race As Kim Conley Gets 4th For The Women He beat out John Kipkoech (12:49 5000) and sub-27 man Geoffrey Kirui by less than a second as Moses Kipsiro was 4th, Leonard Komon 8th, Euro XC Champ Andrea Lalli 9th and Scott Bauhs 10th. Debele Degefa won the women's race in a close sprint with Afera Godfay as Conley was 4th and two-time World steeplechase bronze medallist Milcah Chemos 6th.