Ryan Hall To Be Coached By Renato Canova America's 2:04:58 man, who just turned 30 in Oct., blogged today that he'll be coached by famed coach Renato Canova - the famed LRC poster who in the past has coached/advised many Kenyan stars. We wonder if the relationship will be a traditional coaching one or more of an advisor role.
*Canova: Hall is "such a great talent."
*MB Discussion On Ryan Hall's Decision

More On Canova From The MB:
MB: Part 1 Of Canova Profile *Part 2
*Summary Of Renato Canova Principles
Foot Locker - The Rose Bowl Of HS Running:
She's Not Running FL But We Wish She Was: LA Times Profile Of The 30-Undefeated (30-0) Sarah Baxter of California
*NE Region Champ Catarina Rocha Hoping The 3rd Time Is The Charm The 2-time qualifier, who is the daughter of two FL finallists, was 31st in 2010 and 7th last year.
*Star Ledger: Edward Cheserek, favored to become 4th two-time champion, leads 6 NJ runners into Foot Locker Nationals
*Steve U's Foot Locker Boys Preview: Edward Cheserek Trying To Defend And Hold Off McGorty/Wharton
*Steve U's Girls Preview: Anna Rohrer Possible Favorite
*List Of Boys/Girls Foot Locker Qualifiers
*MB: Foot locker nationals saturday. Who's gonna win?
*US Junior Olympics XC Champs Are In Albuquerque This Weekend
*High Schooler Blogs On His NXN Experience

More HS News: Dyestat Name & Archives Move Over To Runnerspace.com
*2nd Release On Dyestat
*MB: Dyestat is BACK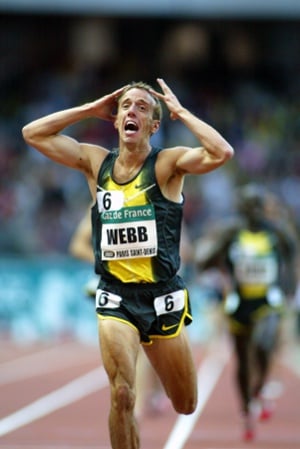 Club XC: Entries For USATF Club XC Champs
*Alan Webb Running USATF Club Nationals
*Meet Website/Info
*Q&A Catching Up With With Angela Bizzarri Who's Racing Club XC Champs
*Blue-Collar: An-In Depth Look At The No-Name Boulder Running Club Which Nearly Stunned The Full-Time Pros At McMillan Elite Last Year
*Defending Women's Champs Rogue Athletic Club Are Coached By UT Women's Coach Steve Sisson

Euros Are Sunday: *Live Stream For Euro XC Champs On December 9th Starting At 3:55:AM ET Senior women go off at 7:15AM ET and men at 8:08AM ET.
*IAAF Preview Of Sunday's European XC
*Men's Preview *Women's Preview
*Irish Team, Which Includes Providence's Sarah Collins But Not Providence's Shane Quinn, Is Ready For Snow
*Euro XC Champs Will Be Terrence Mahon's First Test As New UK Distance Coach Mahon believes meets like this are a good chance for younger athletes to be in a situation where they can be competitive and at the front of the pack.
*Links To More Coverage
*Women's Under-23 European XC Champs Preview
*13:11 Man Hayle Ibrahimov The Favorite At European Under-23 XC Champs

Honolulu: Wilson Kipsang Visits With Honolulu All Girls School Ahead Of Honolulu Marathon This Weekend
*After Starting On A Whim, Fisherman Gary Dill Will Run His 40th Straight Honolulu Marathon This Weekend "We made a vow. One of those things you do when you're young and dumb. We made a vow that the three of us would do this marathon."
UK Athlete News
Kenenisa Bekele Finishes His Track
Kenenisa Bekele Builds His Own Track/Runner's Paradise In Ethiopia And Hotel For Athletes Wishing To Use It It is in an area with 20 miles of forest trails in the mountains as well as flat woods right behind the hotel. He says he spent $1.5 million on the track, which currently has 6 lanes, but he plans on adding 2 more and adding seating so they can host elite track meets.
Athletics South Africa In Trouble As They Are About Half A Million Dollars In Debt
UK News
December 23rd: Japan's 2011 Daegu World Championships Marathon 5th Placer Yukiko Akaba Leads Field For Yuko Arimori Cup Half Marathon
International XC News
Reigning World Cross-Country Champ Imane Merga And 2012 Berlin Marathon Champ Aberu Kebede Won Sunday's Ethiopan Club XC Titles

European XC Is This Weekend
A Look At Britain's Team For European XC, Which Includes Oklahoma State's 13:15 Man Tom Farrell Women's junior champ Emelia Gorecka is running and will try to defend her crown. The 18-year-old has run 4:15, 8:55 and 15:34.

Men's Preview: Is Spain's Two-Time Runner-Up Ayad Lamdassem The Favorite?
Women's Preview: Portugal's Ana Dulce Felix To Battle Defending Champ Fionnuala Britton For Title
UK Adminstrators In The News
News From Kenya
Olympic 100m Champs Usain Bolt And Shelly-Ann Fraser-Pryce Obviously Headline RJR National Sportsman And Sportswoman Of The Year Award Nominations
It's Official: IAAF Ratifies Aries Merritt's 12.80 110H WR
Robbie Grabarz Determined To Break British High Jump Record
More Important Administrative News
Lolo Jones Has Survived Her First Bobsled Crash And she even jokes about it: "God is real. I saw him today and he said come back later."
Girls: Fayetteville XC Club Wins 7th Straight, Sarah Baxter Repeats Times were super slow across the board because of the mud. 7 straight national titles is impressive. Alberto Salazar's athlete, Mary Cain, was 2nd. *Results *Race Replay

Boys: Arcadia Of California, Sam Wharton Of Ohio Win Titles The four individual favorites bombed. Edward Cheserek runs next week at Foot Locker finals. The winning time here because of the mud was 17:08. *Results *Race Replay

Foot Locker: Marissa Williams And Benjamin Saarel Win 2012 Foot Locker West Regionals Recap and top results.
Assorted US News
Other US News
USATF Removes Logo Restrictions And Other US News
Some Post-London-Related News
Drake Relays Gets Huge Sponsorship Boost
Throwing Doping Updates
Millrose Games: Duane Solomon And Nick Symmonds To Go Head-To-Head In Millrose Games 600m They're shooting for the AR from 1987 of 1:15.80 held by Chip Jenkins.
Olympics-Related News
More About The Rock Being Thrown From Bridge Which Nearly Killed Two U. Oregon Runners
Oregon Runner Involved In Horrific Car Crash, Chris Brewer, Releases Statement - "I am just thankful that Molly and I are alright. It's really a miracle." "It was just a shock when it happened, like something you see in a movie."
*Track Focus Publishes Photo Of Oregon Runners' Car That Was Destroyed By Rock Thrown From Overpass

MB: Two Oregon Distance Runners Hit By Rock On Freeway

More News From Oregon: Galen Rupp Named USA Track & Field Athlete Of The Week
2012 Euro XC Is This Weekend
More Than 1,000 Will Run Kenyan XC Meet This Weekend
Pamela Jelimo Might Win Comeback Athlete Of The Year Award In Kenya Next Week
The Closest Things To NYC 2012: CIM And Fukuoka Are This Weekend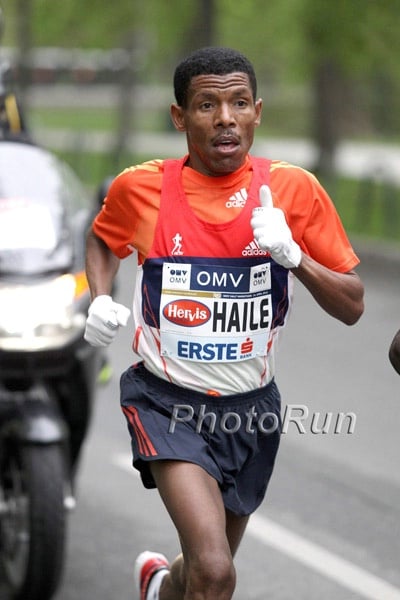 Haile G Thinks He Can Run 2:05 Or 2:06 In Fukuoka This Weekend His last marathon was 2:08:17 in Tokyo in February, where he finished 27 seconds behind future Olympic champ Stephen Kiprotich.
*The Trailer Profiles 2:12 Man Jeffrey Eggleston, Who Is Racing His 5th Marathon Of 2012 At CIM This year, he ran a 2:15:41 in March, a 2:14:26 in May, a 2:13:13 in June and a 2:12:03 in October. Now he's going for the CIM CR of 2:10:27.
*Profile On US Marathoner Kelly Calway, Who Ran 2:37 At The Trials But Has Since Taken On A Full-Time Job For The Army, Which Has Made It Harder To Train For CIM "It takes a lot for me to escape for a run when my daughter says, 'You're only mommy on the weekends.' That breaks my heart. But I have to make sure I take that time for myself and get out there and run because that's what keeps me sane."
*Also Sunday: RnR Las Vegas Marathon Hires Outside Contractor To Distribute Water To Runners After Hundreds Were Infected With Stomach Virus After Last Year's Race
Running Science
Odd But Interesting
In Case You Were Gone Over the Weekend: IAAF Gala Awarding Athlete Of Year And Celebrating 100 Years Of IAAF
Usain Bolt, Allyson Felix: 2012 IAAF Athletes Of The Year Bolt won out over Aries Merritt and David Rudisha and of course Mo Farah (who was not a finalist, which means he didn't finish in the top 3). Jessica Ennis and Valerie Adams were the other women's finalists. LRC cast its ballot for Rudisha and Felix. The IAAF should release the vote tallies.
Thanksgiving Day Action
And To Think, Unlike Lance, He's Actually Clean

Unbelievable 4 Months After Nearly Dying In Bike Crash, Lukas V Runs 5:25 Pace For 2.5 Miles The phenom who went sub-4 in HS is truly thankful to be second in his age group. *MB Thread On Lukas V's Comeback

Chiba Ekiden: Galen Rupp Wins His Leg With 28:20 10k Split (28:46 Was 2nd) As Kenya Edges Japan The most impressive running by a male may have come from New Zealand's Zane Robertson, who ran 13:29 on leg #1. His twin Jake also won his leg. *MB: On Chiba Ekiden
The Greatest Feat In HS XC History?
Recommended Read: With State Meet Saturday, NJ MOC Wednesday & NXN Saturday, CBA Sits Top 5 - Runs JV - And Still Wins New Jersey Meet Of Champs Three sophomores, two freshman, a junior and a senior pulled off one of the most remarkable feats in HS XC history.
This Bud's Not For You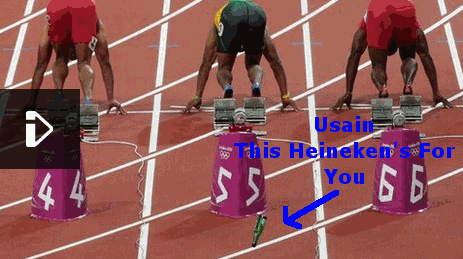 Man Who Threw Heineken Bottle At Start Of Olympic 100m Final Is Out Of Mental Hospital & Will Stand Trial In January

34-Year-Old Father Admits He Threw It But Is Denying Charge - Only Question Is His Mental State At Time
We Are Thankful For The Many Great Coaches Out There
Recommended Read: Famed Coach Bill Squires Is Turning 80 & Toni Reavis Celebrates His Life Squires is a legend to many. Squires: "Oh, I can figure out anyone. I figured out Shorter. I know your tendencies. I know what you do. And all you have to do is put it into reading, or whatever, and I can do - I can!"

Jessica Ennis' Coach Is Thankful For Jessica Ennis
RR: Profile Of Toni Minichiello, The Man Who Coached Jessica Ennis To Olympic Gold We love this guy's humility. "I don't have a magic wand like Harry Potter. The truth is, as a coach you're only as good as the material you're given. The day I met Jessica Ennis it was like being dealt four aces in a hand of poker." ... and on having to re-apply for his job: "If I don't get my old job back I'll just have to go back to an office and come down here coaching as a volunteer. I'm not giving this up now."
*Minichiello Named UK Athletics Coach Of The Year
Yet Another Great Dies Too Young
Former 10k WR Holder Joseph Kimani Has Died At Age 40 The former road superstar took down the world's best in the 10k by a ridiculous 30 seconds in the summer of 1996 as he ran a still unthinkable 27:04 at Peachtree. He won virtually every big road race in the US at least once, also set a 12k WR, and is still the CR holder at Boilermaker.

More: *LRC MB Remembrances of Kimani
*RRW Article On Kimani
US News: Lolo Jones Wins Bobsled World Cup Silver Medal
1st Place Pub:

*Great Q&A With OK State's 13:15 #2 Man Tom Farrell He admits #1 man Girma Mecheso ran more aggressively than planned. Farrell has his own blog here, which we just found.
*After XC Crown, Oregon Women Are Dreaming Of Becoming First Women's Program To Win Triple Crown Only the UTEP men (3 times) and Arkansas men (5 times) have ever done it.
*Kithuka Embraced Underdog Role At NCAAs The article reveals what we'd heard - TTech coach Jon Murray IDed Kithuka 5 years ago in Kenya and had him placed at Wayland Bapist.
Previous Post-NCAAs Reactions
*Wisco Men Not Upset With 2nd
*OSU's 5th Man Shane Moskowitz: "It was definitely the best day of my life. For sure."
*ISU's Corey Ihmels Full Of Praise For Indivual Champ Betsy Saina: "Her life revolves around being as good as she can be and it showed ... She's a great athlete but she's just as great of a person."
*Colorado Women Had Worst Showing In School History (28th) - But Coach Wetmore Is Excited As Everyone Returns For 2012 Included in the returners is Olympian Shalaya Kipp, who will be looking to become Colorado's 1st 4-time XC women's All-American.
*NCAA Cross-Country Champs Stat Facts

Mixed Day For FSU: FSU's #1-Ranked Women Finish 4th But #18 Men Finish 5th

Oregon Reacts Differently To Scoring Mishap:
*Oregon's Asst. Coach: "That was bush league. I had to walk back into a tent and tell seven girls that they didn't win."
*Oregon Runner: "It was kind of a shock when they said we didn't win, but now, we're good."
Recommended Read: Toni Reavis Fondly Remembers The Great Joseph Kimani Especially Kimani's amazing CR run in Cleveland, where Kimani ran so fast that Reavis while doing TV thought the mile markers were likely misplaced.
LRC Oregon Wins NCAA Title As Betsy Saina Outkicks Hasay Confusion reigned supreme with the team results as Oregon was the winner, then Providence, but eventually once it was all sorted out the Oregon Ducks had a convincing NCAA championship over Providence. There was no confusion on the individual side as Betsy Saina outkicked Jordan Hasay and Abbey D'Agostino for the win.
*Full Results *Photo Gallery

NCAAs On The Boards:
3:37.23 Man Ben Blankenship Is On Comeback Trail Now As Part Of OTC Has a 3:37/3:54 collegiate miler ever gotten less pub than this guy? He was the 3k runner-up to Heath in 2011.

Despite Gold & WR, David Rudisha Still Dreaming Big On & Off Track He wants another Olympic title in 4 years and hopes the youth are used to promote peace in Kenya, instead of being used as props by politicians. "One would say I have it all ... a World title, Olympic title and the world record but I always have something to motivate me."
Weekly Recap
LRC The Week That Was: November 26 - December 2, 2012 This week we start with praise for Bill Aris, who has built the greatest dynasty in US cross-country history. We then tell you why the 2012 Fukuoka Marathon will be remembered for what didn't happen rather than what did. Along the way we talk about 10 greatest half marathoners in history and wonder if anyone running more than 25 mpw or faster than 7:30 miles is killing themselves. Plus talk of Adam Nelson, Haile G, Paula Radcliffe and Martin Lel.
Zatopek 10,000 Is At 1:50AM ET Fri. Night/Sat. Morning
Some Of The Few Remaining Track & Field Journalists Weigh In On Adam Nelson
US Marathon News
Trust Us, It Works: Dutch Researcher Says There Is No Real Evidence That Using EPO Improves Performance
Other US News
US News: Adam Nelson On His Way To Becoming An Olympic Champion
A US Olympics?
Cycling: IOC Still Wants Armstrong's Olympic Medal Back
Mid-Day Update
Stephanie Rothstein Bruce Ready For Heat & Humidity Of 2012 Honolulu Marathon After a DNF at the Trials, the 2:29 performer is hoping to re-start her marathoning career by becoming the first female American winner since 1988.

Sad News: France's Shot Put Record Holder Yves Niare Has Died At 35 In A Car Crash *More On Niare
Odd But True
The World Is A Corrupt Place - Doping/Corruption News
News From Down Under
2004 World Champ Benita Willis Talks About The Need To Take Risks In Races

Air New Zealand Ad That Jokes That Disgraced Shot Putter Nadzeya Ostapchuk Has A Male Testicle Falls Flat
Sad News: Two-Time Foot Locker Finalist Arrested For Murder Eric Kweder, who has popped up in a number of threads over the years, was 9th in 1995 as an 11th grader - one spot ahead of eventual Olympian Jonathan Riley.
Post-Fukuoka News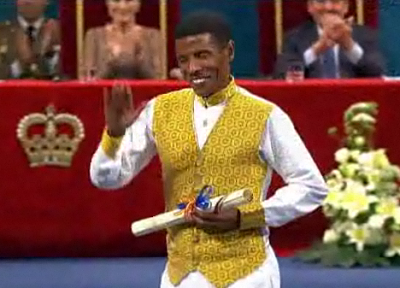 Gebrselassie's, Mathathi's And Kawauchi's Post-Fukuoka Comments Geb still wants to compete, the 2007 WC bronze winner Mathathi wants to give up on the marathon and Kawauchi wants to start training with collegians.

After DNF At Fukuoka, Japan's 2:09:23 Guy Satoshi Irifune Retries At Age 36

More News From Japan:
Japan's Collegiate 5,000 And 10,000 Champ Enock Omwamba Of Kenya Runs 46:05 To Win World's Most Competitive 10-Miler An incredible 81 guys broke 50:00.
2012 Was The Deepest Elite Marathon Year Ever Eleven men under 2:05, six women under 2:20 are records.
Former 10,000, 13.1 & Marathon WR Holder Paul Tergat Named A Johnnie Walker Giant Johnnie Walker's whiskey hall of fame shares and celebrates the life stories of some of the world's most inspirational men through the global "Walk With Giants" campaign. It's sort of perfectly scripted that Tergat got into the group just a little bit after Haile G.
Going Out On Top
Four-Time Ironman Triathlon World Champion, Chrissie Wellington, Has Retired At The Age Of 35 She only started at age 29 and was never beaten.
*Wellington's Statement From Her Website
*Wellington Had Her Battles With Anorexia And Bulimia
Random International Stuff
International News Of Note
Fukuoka/CIM Pre-Race News
Doping News: Kenya Not Doing Anything About Investigating German Journalist's Allegations
Other International
Previous CIM/Fukuoka News
Random But Interesting
Lance Armstrong News: Sports Illustrated Dubs Lance Armstrong "Anti-Sportsman Of The Year"
*Triple Tour de France Winner Greg LeMond Joins "Change Cycling Now" Group To Pressure The UCI To Reform
Can You Say P-L-A-C-E-B-O? Kinesio Taping Doesn't Improve Blood Flow
Police Chief Catches Burglar While On Morning Run
Ridiculous: Drug Cheat Justin Gatlin To Be Grand Marshal For The 2012 Orlando Citrus Parade
Lance Armstrong News
News From The UK
5 Silvers Is Way Too Many; Let's Hope He Gets Olympic Gold #1
MB 2004 Olympic Shot Put Champ Yuriy Bilonoh Has Tested Positive In IOC's Re-Test Of 2004 Olympic Samples - Adam Nelson May Be Elevated To Olympic Gold When Nelson failed to make the Olympic team in June, we assumed the two-time Olympic silver medallist would never realize his dream of Olympic gold since he's 37. We guess we were wrong.
*If Nelson Gets SP Gold, He'll Be The First Ivy League Olympic Champion Since Frank Shorter
*Russian Shot Putter Svetlana Krivelyova Among Athletes Whose 2004 Olympic Samples Tested Positive; She Could Now Lose Her Bronze Medal Krivelyova: "I'll just tell them to go to hell If they come and ask for my medal ... I'm not going to give my medal back. You can count on it."
*IOC To Hold Hearings Early Next Month For 5 Busted In 2004 Re-Tests - US's Adam Nelson May Be Elevated To Gold
Future Legend? Yohan Blake Explains His Really Gross Long Nails He says it's all "part of the Beast look."
Say It Ain't So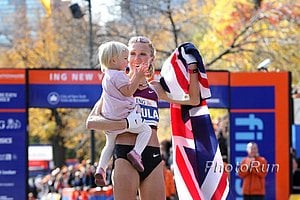 Paula Radcliffe Admits Foot Injury May Have Ended Her Career As An Elite Runner For Good Her most recent surgery resulted in 10 weeks of total immobilisation and the rehab may take 8 months, so 2013 Worlds is out. But she's not a quitter and she's hoping London 2014 is in and then the Commonwealths.
*Just To Run With My Kids Would Be Enough, Admits Radcliffe After Triple Operation
*Discuss
More Updated News From The UK:
IAAF Profile UK's World Jr. Heptathlon Champion Katarina Johnson-Thompson Who Came Back From A 2-Year Knee Injury To Win WJ's & Place 15th In London "It made getting to the Olympic Games all the sweeter - I never took making the Games for granted, it was a dream I had but it was more for the 2016 Olympic Games in Rio, but with it being in London, I put my heart and soul into qualifying for it."
British Cycling Head Warns UK Athletics That Their New Loughborough Base Might Have Some Pitfalls Many of the top athletes such as Jessica Ennis, Mo Farah, Greg Rutherford, Christine Ohuruogu and Adam Gemili won't actually be training there.
New UK Athletics Performance Director Neil Black Names 5 Coaches To Be Based At Elite Loughborough Hub As Part Of Restructuring Plans Americans Rana Reider and Terrence Mahon make the cut.
Trying To Copy UK Cycling, UK Sport Invests £720,000 In Team GB Coaches To Boost 2016 Olympic Hopes To get cycling's success, they'll have to get rid of the worldwide competition found in track and field. It helps a great deal when whole continents don't really do your sport.
UK Sport To Pay Each Coach £20,000 Per Person Per Year In Effort To Turn Those Selected Into Future Leaders In Their Disciplines UK Athletics to pay more after that.
Love For DIII And An "Overaged" Collegian - DIII Women's National Champ Is A 27-Year-Old Mother Of Two
27-Year-Old Mother Of Two & DIII National Cross-Country Champion, Christy Cazzola, Named USATF Athlete Of The Week

*Nov 17: Mike Woods Column: In life and running, Cazzola staying ahead
*Running Times Profile Of Cazzola From Sept. Cazzola was a the Wisconsin 800 state champ in 9th grader in 2000 and then walked away form it all and had a kid. She ran the 2008 XC Nats while pregnant with kid #2.
*Mike Woods DIII Race Story On Cazzola: Cazzola Wins DIII Title
*2012 NCAA XC D3 Photo Gallery
Track And Field's Male Fans Are Thankful For This
Fit Again & Recovered From Achilles Surgery & Bacterial Infection, Blanka Vlasic Is Ready To Compete Again
Ladies 2012 New York City Marathon - Or At Least As Close As We Are Going To Get To It
Yokohama: Lydia Cheromei Wins With 2:23:07 CR As Kim Smith (2:27:35), Amy Hastings (DNF) And Jo Pavey (DNF) Disappoint Smith's PR remains 2:25:21 from her debut in London 2010. Her teammate Amy Hastings was a DNF. Serena Burla was 11th. MB: Live Thread on Yokohama Non-NCAA Weekend News

JRN Recap: Mizuho Nasukawa Was Top Japanese In 2:26:42
*Kiwi Kim Smith Finishes Sixth
Pre-Race: Pavey Was Adamant She Could PR (2:28:24)

Non-Marathons:


Seven Hills Loop 15k: MB: Tirunesh Dibaba Destroys Olympic Marathon Champ Tiki Gelana - 47:08 To 48:09 - At Seven Hills Loop 15km *Video Highlights In Dutch
*IAAF Recap: Nicholas Kipkemboi Upset Men's 15k WR Holder Leonard Komon In Men's Race
After 3 Days In Cell With 40 Men, One Open Toilet And A Blanket That Had Not Been Washed In Years, Former World High Jump Champion Jacques Freitag Gets Bail
Recommended Reads And Seb Coe News
2012 Foot Locker Finals Are Saturday