The Week That Was In Running: November 26 – December 2, 2012
By LetsRun.com
December 6, 2012
To read last week's Weekly Recap, click here.
****
NXN – The FM Girls Continue To Roll
The team nationals were held last weekend on the high school level – the Nike Cross Nationals (NXN). The big story was that Bill Aris's Fayetteville Manlius girls continued to do what they always seemingly do – win. The FM girls won their 7th straight national title.
Article continues below player.
On the boys side, #1 CBA of New Jersey, which was able to win the New Jersey Meet of Champions last month with its #6-10 runners, was unable to defend its crown as they ended up fourth as #6 Arcadia of California got the win.
With FM's streak reaching 7 in a row, we decided to do a little research and find out what's the most amount of wins in a row for a team at cross-country at either the HS or college (D1) level.
We learned one thing from our results – we shouldn't have been too surprised by CBA not winning as a boys team has never repeated in the nine years of NXN action.
The longest team winning streaks in collegiate (D1) and high school history are as follows:
High School Women: 7
Fayetteville Manlius – 2006-1012
High School Boys: 1
Too numerous to mention
College Women: 6
Villanova – 1989-1994
College Men: 4
UTEP – 1978-1981 (6 of 7 between 1975 and 1981)
Arkansas – 1990 to 1993 (Arkansas won 11 of 17 between 1984 and 2000)
Want to know more about the man behind the FM Girls amazing run? Then take a trip down the LRC vault:
****
2012 Fukuoka Disappoints?/An Examination Of The Top 10 Half Marathon Runners In History And Their Marathon Personal Bests
In terms of pro action, Geoffrey Mutai impressed in a 15k and there were a couple of marathons, with the most important being in Fukuoka (we have links to coverage of the major events at the end of this section). However, the 2012 Fukuoka Marathon will likely be remembered for what didn't happen rather than what did.
3 Things That Didn't Happen At Fukuoka
1. 5-Time Marathon Major Winner Martin Lel Didn't Run.
Lel, who in our minds is one of the all-time greats at the 26.2 distance (he was the youngest ever to win 5 majors), continues to be snakebitten in the marathon. When he races, he almost always finishes incredibly well, but the man who missed basically all of 2009 and 2010 with injuries before coming back to get 2nd in London in 2011 and 2012 pulled out just before the start yet again – this time with a right thigh injury. And to think Lel was healthy and all set to run New York City in November before the NYRR and Mayor Bloomberg cancelled it.
2. Former Word Record Holder Haile Gebrselassie Didn't Finish
Geb thought he was in shape to run 2:05 or 2:06, which would have been good enough to win (2:06:58 won it), but he dropped out with a leg cramp, which was disappointing as after the race he said he felt good.
3. Martin Mathathi , The 2007 World Championships Bronze Medallist At 10,000 And 58:56 Half Man, Didn't Finish Either
Fukuoka was serving as the marathon debut of 58:56 half marathon man (as well as 2007 WC bronze medallist at 10,000), Martin Mathathi. When someone who has gone sub-59 in the half moves up to the marathon, often the results are spectacular as shown by the following chart:
The 10 Best Half Men In History & Their Marathon PRs

Half Marathon Best

1 58:23 Zersenay Tadese
2 58:33 Samuel Wanjiru
3 58:46 Mathew Kisorio
4. 58:47 Atsedu Tsegay
5. 58:48 Sammy Kitwara
6. 58:52 Patrick Makau
7. 58:54 Stephen Kibet
8. 58:55 Haile Gebrselassie
9. 58:56a Martin Mathathi
10. 58:59 Wilson Kipsang

Marathon Best

2:10:41
2:05:10 + Olympic champ
Drug Cheat/2:10:58
Just 20, hasn't raced a marathon yet
2:05:54
2:03:38 = World Record
2:08:05
2:03:59
DNF at Fukuoka 2012
2:03:42 – #2 all-time, London 2012 winner
This time the results weren't spectacular, as Mathathi was forced to drop out very late – at the 38km mark. Afterwards, Mathathi said the experience was so awful that he was giving up on the event:
"Forget about the marathon. I'm giving up on it. … The muscles in both my thighs were complete exhausted," he said after the race.
Given the amount of money and prestige in the 26.2 distance and the amount of success sub-59 half guys normally have at the marathon, we'd be stunned if Mathathi stays true to his word and never runs another marathon. In fact, if he wasn't currently based in Japan where runners can get a substantial salary from his company-sponsored pro team (Suzuki Hamamatsu AC), we'd guarantee it.
More:
Joseph Gitau Is The Surprise Winner In Fukuoka In 2:06:58 Hiroyuki Horibata was the top Japanese runner in 2:08:24 as Poland's Henryk Szost was 3rd (2:08:42), Arata Fujiwara 4th and the
top second Japanese (2:09:31), and Yuki Kawauchi 6th (2:10:29). Mohamed Trafeh led for the US in 7th (2:11:41) over Ryan Vail (8th – 2:11:45) and Tim Nelson 12th (2:14:09). Haile Gebrselassie, Simon Bairu, Martin Mathathi and Brent Vaughn were all DNFs.
*Full Results
Haile G Tweets About His DNF At Fukuoka
He says he had a leg cramp and couldn't lift it. But he'll be looking
for another marathon to run because he feels he's in "good shape."
IAAF Recap
Gitau was a huge surprise winner as his PR before this race was
2:21:54. Geb dropped out at 32k while Mathathi made it to 38k.
CIM: Daniel Tapia And Alisha Williams Win CIM In Horrible Wet And Windy Conditions Tapia is the first American winner since 1993 and won with 2:16:30 over Tesfaye Alemayehu (2:17:07). 2:11 man Nick Arciniaga was 5th in 2:18:37. In the women's race Williams beat out Clara Peterson 2:34:58 to 2:35:36. *Full
Results
****
Is "A Lot" Of Running (More Than 25 MPW) Or "Fast" Running (Faster Than 7:30 Miles) Going To Kill You?
"Running too fast, too far and for too many years may speed one's progress toward the finish line of life." –

– The conclusion on an editorial that will be published in December in the British journal Heart.

vs.

"The guys advancing the hypothesis that you can get too much exercise are manipulating the data. They have an agenda."

 – Paul Thompson, a former elite marathoner and nationally renowned sports cardiologist at Hartford Hospital.
The dueling quotes come from Kevin Helliker's Wall Street Journal article on whether serious, strenuous exercise is bad for you: One Running Shoe in the Grave.
We here at LetsRun.com admit that common sense might tell you that too much of anything probably isn't good for you, but we don't think the point of life should be to simply live as long as possible.  We liked the concluding quote in the article from 56-year-old runner Kevin Foiles of Kansas, who won his age-group at a Turkey Trot race:
"Even if I knew for sure that running fast had an element of risk, I
don't know that I would back down. To finish at the front of my age
group, yeah, that's an inspiration."
****
Quote Of The Week That Wasn't Quote of The Day
"My opinion, we're too soft on doping … We find ourselves making exceptions for people – there's got to be some grey area where shit just happens. But at the end of the day I feel like we're making a lot of exceptions for people who are repeatedly violating the nature of the rule … They're stealing from everyone in the sport. People like to say it's a victimless crime. Hell, no, it's not."
– Adam Nelson, talking in an getinthetrailer.com interview who may soon be elevated to 2004 Olympic gold in the shot put after a DQ.
****
Recommended Reads
*Two-Time Olympic 800m Medalist Kim Gallagher Remembered 10 Years After Her Death Great look at the life and career of Gallagher and her brother Bart who coached her.
*Update On Twin NZ Runners Jake And Zane Robertson, Who Moved To Kenya On Their Own At 17 Years Old To Pursue Their Running Dreams Zane: "Without Jake I wouldn't have survived. I would have given up. Having each other, when the other one was sick or down, you raise him up. In theconcrete cell that kept us going. … I'm so thankful we went through those hardships for one or two years, because going through them, the way Kenyans do, if you survive you can go through anything."
*Interesting Q&A With Japan's Arata Fujiwara On How He Has Essentially Crammed
All His Training For Fukuoka In Over The Last Month
*Departing Coach Charles van Commenee Talks About His Legacy: "I got rid of cynicism in UK athletics." "People have high expectations. The athletes understand there is no place for excuse."
****
Other News Of Note From The Last Week
MB 2004 Olympic Shot Put Champ Yuriy Bilonoh Has Tested Positive In IOC's
Re-Test Of 2004 Olympic Samples – Adam Nelson May Be Elevated To Olympic
Gold When Nelson failed to make the Olympic team in June, we assumed the two-time Olympic silver medallist would never realize his dream of Olympic gold since he's 37. We guess we were wrong.
*If Nelson Gets SP Gold, He'll Be The First Ivy League Olympic Champion Since Frank Shorter
*Russian Shot Putter Svetlana Krivelyova Among Athletes Whose 2004 Olympic
Sample Tested Positive; She Could Now Lose Her Bronze Medal
Krivelyova: "I'll just tell them to go to hell If they come and ask for my medal … I'm not going to give my medal back. You can count on it."
*IOC To Hold Hearings Early Next Month For 5 Busted In 2004 Re-Tests – US's Adam Nelson May Be Elevated To Gold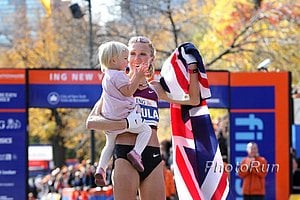 Paula Radcliffe Admits Foot Injury May Have Ended Career As An Elite Runner For Good
Her most recent surgery resulted in 10 weeks of total immobilization and the rehab may take 8 months, so 2013 Worlds is out. But she's not a quitter and she's hoping London 2014 is in and then the Commonwealths.
*Just To Run With My Kids Would Be Enough, Admits Radcliffe After Triple Operation
*Discuss
****
Quotes Of The Day From The Week & Last Week's Homepages:
Note: To see a particular day's homepage, click on the hyperlink of the date on the left. The quote's hyperlink will take you to that particular article – not that day's homepage.
Monday 12/3: "If I die, I die – at least I'm going to be top three."
– Cal International Marathon winner Daniel Tapia talking about his decision to go with the move made by Ethipian Tesfaye Alemayehu and Kenyan Christopher Kipyego at 23 miles. Tapia's PR is a modest 2:15:26, but his coach Chris Zepeda said, "It's a long time coming. This is the type of day that shows you the toughest runner, the guy that just grinds out miles day after day after day, has an equal chance to win."
---
Sunday 12/2: Zane: "One evening we went out for a run and I got home before [Jake], so then I went out for a tempo run. Jake got home, I wasn't there, and he went out again. We did that four times, and by the time our mother came out and said, 'You're not going out again,' it was eight o'clock and it was dark. So I started doing sit-ups."
Jake: "We had an immaturity with competitiveness at the time between the two of us, which we don't have any more. We realised there's more competition in the world than between the two of us."
– New Zealand running twins Zane and Jake Robertson talking about how they used to be extremely competitive with each other when they were younger and still living at home in NZ. That was before they packed up and moved to Kenya to live on their own when they were 17 years old, where Zane says, "Without Jake I wouldn't have survived. I would have given up. Having each other, when the other one was sick or down, you raise him up. In the concrete cell that kept us going."
---
Saturday 12/01: "I have no intention of losing. When [Fujiwara and I] trained together I didn't see anything that made me feel he's any better than me."
– Japan civil servant runner and LRC hero Yuki Kawauchi during the Fukuoka Marathon pre-race press conference, responding to Japanese Olympian Arata Fujiwara when he said, "I'm in this race because Kawauchi is here." Top Japan runner in this race wins automatic World Champs spot.
---
Friday 11/30: "The 2004 Olympic Games were a pivotal moment in my life. I was a young man. That loss in those Games in that fashion pushed me to continue in the sport. If I'd won that medal I probably would have retired in 2004, and that would have been it."
"But what people don't understand is that winning a gold medal is the only medal that matters in this country from a financial standpoint in my event. After 2004 I went two years without a sponsor, not by choice, but by circumstance. They considered me old and not a winner. Period. In the U.S., being robbed of a gold medal, yeah, you miss out on the
ultimate Olympic experience, to hear your national anthem played as your flag raises and you get that medal. But you miss out on the opportunity—the only opportunity you have in four years—to monetize your efforts. And that's not an insignificant amount. I compete in a feast-or-famine event. I found myself after the 2004 Olympic Games without that support­—in the famine cycle … Eight years after the fact, it would mean something, but it's really just personal gratification. It's bittersweet."
– US shot putter Adam Nelson talking about how winning the gold medal in 2004 when he lost out to a drug cheat could have changed his life financially, but if he is awarded it after the 2004 drug retests, it'll just be about personal satisfaction.
---
Thursday 11/29: "I'm pretty much under the belief that whatever type of runner you are at NCAAs as a sophomore – that's what you are as a senior. So many people think you'll move up to another level because they get older and others graduate but that doesn't normally happen. A guy who is say 20th as a sophomore thinks he'll contend for the title as a senior – but that's not normally the case. He's just an All-American type guy – not a contender."
– Letsrun.com paraphrasing an anonymous NCAA men's coach who talked to LetsRun.com prior to the 2012 NCAA Cross-Country Championships
---
Wednesday 11/28: "I don't know exactly how fast I can run [in Fukuoka] but I can run a good time. I don't know, between 2:05 and 2:06, it depends. I mean, their course is so nice and it depends on the weather. For the moment I am in good shape and what is important is my health is very good. The only problem is that I have office work now. I cannot take rest after morning training sessions any more. My training is going well, though, and according to the programme."
– Haile Gebrselassie talking about his expectations at this weekend's Fukuoka Marathon. Geb hasn't run a marathon since February where he finished with a  2:08:17 in Tokyo.
---
Tuesday 11/27: "Some of the pain will be better but I don't know whether I'll be able to get back to elite level, but the alternative was not being able to run, even recreationally. That's why I wanted to try it."
– Women's marathon world record holder Paula Radcliffe candidly talking to the press about her most recent foot surgery which may have ended her elite running career. We sure aren't counting her out.