Galen Rupp Named USA Track & Field Athlete of the Week
Courtesy of USATF.org
November 28, 2012
INDIANAPOLIS – Galen Rupp (Portland, Ore.) has been named USA Track & Field's Athlete of the Week after leading Team USA to a third place finish at the Chiba International Ekiden in Chiba, Japan, on Nov. 23.
Rupp, the 2012 Olympic silver medalist in the 10,000m, ran the fifth leg of the relay and covered the 10 km distance in 28:20. Rupp's time was the fastest of the stage by 26 seconds and the fastest 10 km split of the day. Rupp was able to close the gap on the leaders from Kenya and Japan by nearly a minute.
Article continues below player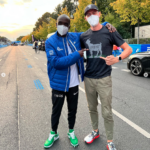 Kipchoge loves the 1:59:40 Shirt Get Yours Today
What a legend!
"We were a little behind when I got the baton," Rupp said. "I tried to go out at a pretty hard pace and see what happened. I wanted to make up as much ground as possible and put our anchor leg in a really good position."
Rupp led the way for the best Team USA finish at the Chiba Ekiden in the coed relay format. Team USA finished third behind first place Kenya and second place Japan.
"It was definitely a different race than what I'm used to," Rupp said. "But it is always fun when you do a relay and you get close with your teammates and you're all working for a common goal."
Now in its 11th year, USATF's Athlete of the Week program is designed to recognize outstanding performers at all levels of the sport. USATF names a new honoree each week and features the athlete on www.usatf.org. Selections are based on top performances and results from the previous week.