Girls Results 2012 NXN Nationals
by: LetsRun.com
December 1, 2012
Full results of the 2012 girls Nike Cross Nationals (NXN).
Sarah Baxter defended her title holding off Mary Cain.
Article continues below player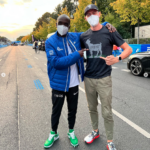 Kipchoge loves the 1:59:40 Shirt Get Yours Today
What a legend!
Manlius XC won its 7th straight title.
Recap of race here.
Results via the NXN site.
Girls Championship Race

| | | | | | | |
| --- | --- | --- | --- | --- | --- | --- |
| 1 | 8 | SARAH BAXTER | F | CA INDIV.1 | 19:17 | 6:13 |
| 2 | 13 | MARY CAIN | F | NY INDIV.1 | 19:21 | 6:14 |
| 3 | 49 | KATIE KNIGHT | F | NW GIRLS2 | 19:32 | 6:18 |
| 4 | 60 | ALEXA EFRAIMSON | F | CAMAS | 19:34 | 6:18 |
| 5 | 33 | KARIS JOCHEN | F | SO GIRLS1 | 19:42 | 6:21 |
| 6 | 174 | COURTNEY ACKERMAN | F | WILMETTE | 19:43 | 6:21 |
| 7 | 28 | ELISE CRANNY | F | SW GIRLS1 | 19:43 | 6:21 |
| 8 | 48 | AMY-ELOISE NEALE | F | NW GIRLS1 | 19:45 | 6:22 |
| 9 | 130 | TAYLOR DRISCOLL | F | KINETIC | 19:45 | 6:22 |
| 10 | 20 | SARAH DISANZA | F | NE GIRLS3 | 19:48 | 6:23 |
| 11 | 50 | SARA TSAI | F | NW GIRLS3 | 19:52 | 6:24 |
| 12 | 168 | HEATHER BATES | F | COLORADO SPR | 20:00 | 6:27 |
| 13 | 29 | KATIE RAINSBERGER | F | SW GIRLS2 | 20:01 | 6:27 |
| 14 | 38 | MARIA HAUGER | F | HL GIRLS1 | 20:01 | 6:27 |
| 15 | 35 | MADIE BOREMAN | F | SO GIRLS3 | 20:02 | 6:27 |
| 16 | 43 | MADELINE PEREZ | F | MW GIRLS1 | 20:03 | 6:28 |
| 17 | 18 | ELLE PURRIER | F | NE GIRLS1 | 20:09 | 6:30 |
| 18 | 36 | KATIE JENSEN | F | SO GIRLS4 | 20:09 | 6:30 |
| 19 | 87 | JEAN FRENCH | F | WAYZATA | 20:10 | 6:30 |
| 20 | 10 | HAGEN REEDY | F | CA INDIV.3 | 20:12 | 6:30 |
| 21 | 4 | JILLIAN FANNING | F | MANLIUS | 20:12 | 6:31 |
| 22 | 5 | JILLIAN BARGER | F | MANLIUS | 20:13 | 6:31 |
| 23 | 175 | MIMI SMITH | F | WILMETTE | 20:13 | 6:31 |
| 24 | 27 | KARA DICKERSON | F | SE GIRLS5 | 20:14 | 6:31 |
| 25 | 95 | ERIN HOOKER | F | FORT COLLINS | 20:15 | 6:32 |
| 26 | 26 | CAROLYN BETHEL | F | SE GIRLS4 | 20:16 | 6:32 |
| 27 | 45 | MARY KATE VAUGHN | F | MW GIRLS3 | 20:21 | 6:33 |
| 28 | 22 | KELLY JANOKOWICZ | F | NE GIRLS5 | 20:21 | 6:33 |
| 29 | 1 | KATIE BRISLIN | F | MANLIUS | 20:22 | 6:34 |
| 30 | 46 | BOBBIE BURGESS | F | MW GIRLS4 | 20:23 | 6:34 |
| 31 | 15 | GIANNA FRONTERA | F | NY INDIV.3 | 20:26 | 6:35 |
| 32 | 34 | SANDIE RAINES | F | SO GIRLS2 | 20:26 | 6:35 |
| 33 | 105 | SHELBY NICOL CHAPIN | F | CARROLL | 20:28 | 6:36 |
| 34 | 2 | ALANA PEARL | F | MANLIUS | 20:29 | 6:36 |
| 35 | 11 | SYDNEY SEGAL | F | CA INDIV.4 | 20:31 | 6:36 |
| 36 | 140 | BAILEY DAVIS | F | LOUISVILLE | 20:31 | 6:37 |
| 37 | 41 | BETHANY HASZ | F | HL GIRLS4 | 20:31 | 6:37 |
| 38 | 37 | ALEX DAVIS | F | SO GIRLS5 | 20:31 | 6:37 |
| 39 | 89 | ELLIE CHILD | F | DAVIS | 20:33 | 6:37 |
| 40 | 44 | TAYLOR WERNER | F | MW GIRLS2 | 20:34 | 6:38 |
| 41 | 40 | STEPHANIE JENKS | F | HL GIRLS3 | 20:35 | 6:38 |
| 42 | 19 | TAYLOR SPILLANE | F | NE GIRLS2 | 20:37 | 6:38 |
| 43 | 12 | BETHAN KNIGHTS | F | CA INDIV.5 | 20:37 | 6:38 |
| 44 | 116 | MADDIE SAUER | F | LOWER BUCKS | 20:41 | 6:40 |
| 45 | 14 | BELLA BURDA | F | NY INDIV.2 | 20:41 | 6:40 |
| 46 | 17 | KENNEDY JENSEN | F | NY INDIV.5 | 20:41 | 6:40 |
| 47 | 134 | OLIVIA MORROW | F | KINETIC | 20:42 | 6:40 |
| 48 | 132 | KEELIN HOLLOWOOD | F | KINETIC | 20:42 | 6:40 |
| 49 | 25 | JESSICA MOLLOY | F | SE GIRLS3 | 20:48 | 6:42 |
| 50 | 83 | MICHAELA KELLER-MILLER | F | WAYZATA | 20:49 | 6:42 |
| 51 | 6 | JENNA FARRELL | F | MANLIUS | 20:49 | 6:42 |
| 52 | 30 | LUCY BILES | F | SW GIRLS3 | 20:50 | 6:43 |
| 53 | 74 | ELLY DETURRIS | F | NO. NAPERVILLE | 20:50 | 6:43 |
| 54 | 102 | COURTNEY KRIEGSHAUSER | F | CARROLL | 20:53 | 6:44 |
| 55 | 109 | MADI MCLELLAN | F | THE WOODLANDS | 20:53 | 6:44 |
| 56 | 39 | CLARE FLANAGAN | F | HL GIRLS2 | 20:54 | 6:44 |
| 57 | 185 | MARTA MCLAUGHLIN | F | AURORA | 20:55 | 6:44 |
| 58 | 66 | ALISSA PUDLITSKE | F | CAMAS | 20:55 | 6:44 |
| 59 | 16 | SIBOHAN QUINN | F | NY INDIV.4 | 20:56 | 6:45 |
| 60 | 9 | MAGGIE BELL | F | CA INDIV.2 | 20:57 | 6:45 |
| 61 | 178 | SAMANTHA ORTEGA | F | SANTA CLARITA | 20:57 | 6:45 |
| 62 | 171 | JESSICA ACKERMAN | F | WILMETTE | 20:57 | 6:45 |
| 63 | 24 | HANNAH CHRISTEN | F | SE GIRLS2 | 20:57 | 6:45 |
| 64 | 3 | ANNIKA AVERY | F | MANLIUS | 20:57 | 6:45 |
| 65 | 47 | LAUREN WOOD | F | MW GIRLS5 | 20:58 | 6:45 |
| 66 | 192 | DANIELLE ANDERSON | F | EAGAN | 21:02 | 6:46 |
| 67 | 154 | CHRISTIAN CALAIN | F | TEMECULA | 21:05 | 6:47 |
| 68 | 23 | WESLEY FRAZIER | F | SE GIRLS1 | 21:05 | 6:48 |
| 69 | 147 | CAROLINE FOLEY | F | WILMINGTON | 21:06 | 6:48 |
| 70 | 68 | GINA GENCO | F | CARMEL | 21:07 | 6:48 |
| 71 | 146 | KIERAN HANRAHAN | F | WILMINGTON | 21:08 | 6:48 |
| 72 | 144 | REAGAN ANDERSON | F | WILMINGTON | 21:09 | 6:49 |
| 73 | 52 | PAIGE RICE | F | NW GIRLS5 | 21:09 | 6:49 |
| 74 | 56 | JOSIE BROWN | F | COEUR D'ALENE | 21:11 | 6:49 |
| 75 | 118 | HANNAH MOLLOY | F | LOWER BUCKS | 21:11 | 6:49 |
| 76 | 21 | COLETTE RICHTER | F | NE GIRLS4 | 21:12 | 6:50 |
| 77 | 73 | KELSEY HARRIS | F | CARMEL | 21:12 | 6:50 |
| 78 | 51 | MAGGIE SCHMADICK | F | NW GIRLS4 | 21:12 | 6:50 |
| 79 | 117 | SARA SARGENT | F | LOWER BUCKS | 21:19 | 6:52 |
| 80 | 145 | JULIE WILLIAMS | F | WILMINGTON | 21:22 | 6:53 |
| 81 | 67 | KELCY WELCH | F | CARMEL | 21:22 | 6:53 |
| 82 | 187 | MEGAN BARITOT | F | AURORA | 21:22 | 6:53 |
| 83 | 32 | RACHAEL CHACKO | F | SW GIRLS5 | 21:23 | 6:53 |
| 84 | 103 | ELENA ARRIAZA | F | CARROLL | 21:27 | 6:55 |
| 85 | 98 | KARI VANZYL | F | FORT COLLINS | 21:30 | 6:56 |
| 86 | 104 | ANTIGONE ARCHER | F | CARROLL | 21:30 | 6:56 |
| 87 | 186 | MADELINE MURRAY | F | AURORA | 21:32 | 6:56 |
| 88 | 88 | SHEA MARTINEZ | F | DAVIS | 21:33 | 6:57 |
| 89 | 137 | EMILY BEAN | F | LOUISVILLE | 21:36 | 6:57 |
| 90 | 53 | KARA STORY | F | COEUR D'ALENE | 21:36 | 6:58 |
| 91 | 166 | GABRIELLE SERED | F | COLORADO SPR | 21:37 | 6:58 |
| 92 | 123 | CLARISSA MODDE | F | HUNTERDON | 21:39 | 6:58 |
| 93 | 31 | EMMA GEE | F | SW GIRLS4 | 21:39 | 6:59 |
| 94 | 70 | ELLEN SCHMITZ | F | CARMEL | 21:40 | 6:59 |
| 95 | 190 | MACKENZIE DONAHUE | F | AURORA | 21:40 | 6:59 |
| 96 | 152 | MIRANDA KEWLEY | F | TEMECULA | 21:41 | 6:59 |
| 97 | 71 | SAMANTHA DAUBY | F | CARMEL | 21:42 | 6:59 |
| 98 | 189 | FIONA DANIEU | F | AURORA | 21:43 | 7:00 |
| 99 | 7 | MICHELLE DUFFY | F | MANLIUS | 21:44 | 7:00 |
| 100 | 96 | HEATHER HOLT | F | FORT COLLINS | 21:46 | 7:01 |
| 101 | 75 | LOUISE MCDANIEL | F | NO. NAPERVILLE | 21:46 | 7:01 |
| 102 | 62 | MEGAN NAPIER | F | CAMAS | 21:47 | 7:01 |
| 103 | 99 | AUDREY OWEIMRIN | F | FORT COLLINS | 21:48 | 7:01 |
| 104 | 54 | EMILY CALLANAN | F | COEUR D'ALENE | 21:50 | 7:02 |
| 105 | 55 | JOCELYN DURAN | F | COEUR D'ALENE | 21:51 | 7:02 |
| 106 | 119 | OLIVIA SARGENT | F | LOWER BUCKS | 21:52 | 7:03 |
| 107 | 84 | ANNIKA LERDALL | F | WAYZATA | 21:54 | 7:03 |
| 108 | 142 | KATHERINE RECEVEUR | F | LOUISVILLE | 21:54 | 7:03 |
| 109 | 181 | KATIE HUNTINGTON | F | SANTA CLARITA | 22:00 | 7:05 |
| 110 | 193 | KELLI PRASKA | F | EAGAN | 22:00 | 7:05 |
| 111 | 86 | MCKENNA GENI EVANS | F | WAYZATA | 22:02 | 7:06 |
| 112 | 77 | KATE SHANNON | F | NO. NAPERVILLE | 22:02 | 7:06 |
| 113 | 159 | PEYTON BILO | F | EAST SACRAMENTO | 22:02 | 7:06 |
| 114 | 158 | LAUREN LAROCCO | F | EAST SACRAMENTO | 22:02 | 7:06 |
| 115 | 92 | KENZIE WEIR | F | DAVIS | 22:03 | 7:06 |
| 116 | 100 | ABBEY ERVIN | F | FORT COLLINS | 22:03 | 7:06 |
| 117 | 162 | MIRANDA MYERS | F | EAST SACRAMENTO | 22:04 | 7:06 |
| 118 | 93 | JOANNA BOYD | F | DAVIS | 22:04 | 7:06 |
| 119 | 141 | KENZLEY DEFLER | F | LOUISVILLE | 22:04 | 7:07 |
| 120 | 138 | OLIVIA BOUGHEY | F | LOUISVILLE | 22:05 | 7:07 |
| 121 | 90 | TAYLOR COX | F | DAVIS | 22:05 | 7:07 |
| 122 | 72 | ANNA SCHMITZ | F | CARMEL | 22:06 | 7:07 |
| 123 | 81 | ANNIKA HALVERSON | F | WAYZATA | 22:06 | 7:07 |
| 124 | 128 | ERIN MCLAUGHLIN | F | HUNTERDON | 22:06 | 7:07 |
| 125 | 133 | SARAH MORIN | F | KINETIC | 22:06 | 7:07 |
| 126 | 107 | MADDIE KEEN | F | CARROLL | 22:10 | 7:08 |
| 127 | 79 | JENNY SMITH | F | NO. NAPERVILLE | 22:11 | 7:09 |
| 128 | 151 | ASHLEY HELBIG | F | TEMECULA | 22:13 | 7:09 |
| 129 | 65 | MADISON WOODSON | F | CAMAS | 22:14 | 7:10 |
| 130 | 148 | REBECCA SALTER | F | WILMINGTON | 22:15 | 7:10 |
| 131 | 150 | QUINN TEKLITS | F | WILMINGTON | 22:18 | 7:11 |
| 132 | 139 | KATE CRAWFORD | F | LOUISVILLE | 22:20 | 7:11 |
| 133 | 180 | ABIGAIL FRANKIAN | F | SANTA CLARITA | 22:22 | 7:12 |
| 134 | 115 | KATIE WILLARD | F | THE WOODLANDS | 22:23 | 7:13 |
| 135 | 69 | HALEY HARRIS | F | CARMEL | 22:26 | 7:14 |
| 136 | 165 | KALEIGH KROKER | F | COLORADO SPR | 22:29 | 7:14 |
| 137 | 196 | RAISSA HANSEN | F | EAGAN | 22:30 | 7:15 |
| 138 | 197 | KARINA JOHNSON | F | EAGAN | 22:32 | 7:15 |
| 139 | 161 | MADISON RAWSON | F | EAST SACRAMENTO | 22:32 | 7:16 |
| 140 | 57 | KRISTA STORY | F | COEUR D'ALENE | 22:35 | 7:16 |
| 141 | 157 | ALEXIS MESSERLY | F | TEMECULA | 22:36 | 7:17 |
| 142 | 169 | VERONICA CARRIDEO | F | COLORADO SPR | 22:36 | 7:17 |
| 143 | 91 | ASHLEY TYNDALL | F | DAVIS | 22:36 | 7:17 |
| 144 | 110 | ASHLEY GUIDOT | F | THE WOODLANDS | 22:38 | 7:17 |
| 145 | 131 | SPENCER HAYES | F | KINETIC | 22:43 | 7:19 |
| 146 | 135 | MADDIE SAMUELL | F | KINETIC | 22:43 | 7:19 |
| 147 | 182 | OLIVIA ALTIERI | F | SANTA CLARITA | 22:45 | 7:20 |
| 148 | 106 | KATIE BURNHAM | F | CARROLL | 22:47 | 7:20 |
| 149 | 108 | TAYLOR ULLMANN | F | CARROLL | 22:47 | 7:20 |
| 150 | 179 | HEIDI HOSLET | F | SANTA CLARITA | 22:47 | 7:20 |
| 151 | 122 | BAILEY BALMER | F | LOWER BUCKS | 22:47 | 7:20 |
| 152 | 101 | KIRI MICHELL | F | FORT COLLINS | 22:48 | 7:21 |
| 153 | 153 | HALEY DORRIS | F | TEMECULA | 22:49 | 7:21 |
| 154 | 111 | GRACE HURYN | F | THE WOODLANDS | 22:49 | 7:21 |
| 155 | 78 | KIMBER MEYER | F | NO. NAPERVILLE | 22:51 | 7:21 |
| 156 | 160 | ELEANOR FERGUSON | F | EAST SACRAMENTO | 22:51 | 7:22 |
| 157 | 121 | ERICA GRAY | F | LOWER BUCKS | 22:54 | 7:23 |
| 158 | 194 | ANNA VANWYK | F | EAGAN | 22:56 | 7:23 |
| 159 | 155 | MAIYA LARSEN | F | TEMECULA | 22:57 | 7:24 |
| 160 | 183 | NINA SASSANO | F | SANTA CLARITA | 22:58 | 7:24 |
| 161 | 112 | ABBEY PIONTEK | F | THE WOODLANDS | 23:00 | 7:24 |
| 162 | 143 | ABBIE WRIGHT | F | LOUISVILLE | 23:00 | 7:25 |
| 163 | 173 | KAITLIN FREI | F | WILMETTE | 23:01 | 7:25 |
| 164 | 172 | KATHLEEN KEENE | F | WILMETTE | 23:01 | 7:25 |
| 165 | 125 | ERIN SEIFFERT | F | HUNTERDON | 23:02 | 7:25 |
| 166 | 177 | OONA JUNG-BEEMAN | F | WILMETTE | 23:03 | 7:25 |
| 167 | 127 | MEAGHAN DRISCOLL | F | HUNTERDON | 23:03 | 7:26 |
| 168 | 76 | JUDY PENDERGAST | F | NO. NAPERVILLE | 23:07 | 7:27 |
| 169 | 82 | MACKENZIE KELLER-MILLER | F | WAYZATA | 23:07 | 7:27 |
| 170 | 61 | MCKENZIE GOOD | F | CAMAS | 23:08 | 7:27 |
| 171 | 113 | KARA ZUSPAN | F | THE WOODLANDS | 23:09 | 7:27 |
| 172 | 136 | SHANIA HAYWARD | F | KINETIC | 23:09 | 7:27 |
| 173 | 80 | GRACE CARBALLO | F | NO. NAPERVILLE | 23:09 | 7:27 |
| 174 | 188 | REBEKAH ZEE | F | AURORA | 23:10 | 7:28 |
| 175 | 58 | NOELLE BALL | F | COEUR D'ALENE | 23:10 | 7:28 |
| 176 | 120 | ERIN O'CONNELL | F | LOWER BUCKS | 23:12 | 7:28 |
| 177 | 85 | MARY FRANKE | F | WAYZATA | 23:13 | 7:29 |
| 178 | 156 | KIM MCNAMEE | F | TEMECULA | 23:14 | 7:29 |
| 179 | 64 | CAMILLE PARSONS | F | CAMAS | 23:22 | 7:31 |
| 180 | 114 | ANNA LYONS | F | THE WOODLANDS | 23:27 | 7:33 |
| 181 | 176 | KELLI SCHMIDT | F | WILMETTE | 23:32 | 7:35 |
| 182 | 198 | OLIVIA MITCHELL | F | EAGAN | 23:33 | 7:35 |
| 183 | 124 | NICA CICITTA | F | HUNTERDON | 23:37 | 7:36 |
| 184 | 195 | ELIZABETH FRICK | F | EAGAN | 23:39 | 7:37 |
| 185 | 184 | DARBY LAPLANT | F | SANTA CLARITA | 23:42 | 7:38 |
| 186 | 59 | CLARE DUMONT | F | COEUR D'ALENE | 23:53 | 7:41 |
| 187 | 191 | SIDNEY SPASCHAK | F | AURORA | 24:01 | 7:44 |
| 188 | 149 | AMY GAITO | F | WILMINGTON | 24:06 | 7:46 |
| 189 | 94 | MIKELL WOOD | F | DAVIS | 24:16 | 7:49 |
| 190 | 167 | KATHERINE SERED | F | COLORADO SPR | 24:22 | 7:51 |
| 191 | 163 | ALLISON KLAS | F | EAST SACRAMENTO | 24:26 | 7:52 |
| 192 | 170 | MADELYN BARON | F | COLORADO SPR | 24:36 | 7:55 |
| 193 | 63 | ALEXA JONES | F | CAMAS | 24:48 | 7:59 |
| 194 | 164 | KIM LACKNER | F | EAST SACRAMENTO | 25:21 | 8:10 |
———————————
Championships Girl's Team Scoring
———————————
1. 54 MANLIUS (20:25 102:05 0:37)
=====================================
1 6 4 JILLIAN FANNING F 20:12
2 7 5 JILLIAN BARGER F 20:13
3 10 1 KATIE BRISLIN F 20:22
4 12 2 ALANA PEARL F 20:29
5 19 6 JENNA FARRELL F 20:49
6 ( 27) 3 ANNIKA AVERY F 20:57
7 ( 55) 7 MICHELLE DUFFY F 21:44
2. 198 CARROLL (21:18 106:28 1:42)
=====================================
1 11 105 SHELBY NICOL CHAPIN F 20:28
2 21 102 COURTNEY KRIEGSHAUSER F 20:53
3 41 103 ELENA ARRIAZA F 21:27
4 43 104 ANTIGONE ARCHER F 21:30
5 82 107 MADDIE KEEN F 22:10
6 (104) 106 KATIE BURNHAM F 22:47
7 (105) 108 TAYLOR ULLMANN F 22:47
3. 209 CARMEL (21:25 107:03 0:35)
=====================================
1 31 68 GINA GENCO F 21:07
2 36 73 KELSEY HARRIS F 21:12
3 39 67 KELCY WELCH F 21:22
4 50 70 ELLEN SCHMITZ F 21:40
5 53 71 SAMANTHA DAUBY F 21:42
6 ( 78) 72 ANNA SCHMITZ F 22:06
7 ( 91) 69 HALEY HARRIS F 22:26
4. 212 AURORA (21:27 107:12 0:48)
=====================================
1 23 185 MARTA MCLAUGHLIN F 20:55
2 40 187 MEGAN BARITOT F 21:22
3 44 186 MADELINE MURRAY F 21:32
4 51 190 MACKENZIE DONAHUE F 21:40
5 54 189 FIONA DANIEU F 21:43
6 (130) 188 REBEKAH ZEE F 23:10
7 (143) 191 SIDNEY SPASCHAK F 24:01
5. 218 KINETIC (21:12 105:58 2:58)
=====================================
1 3 130 TAYLOR DRISCOLL F 19:45
2 16 134 OLIVIA MORROW F 20:42
3 17 132 KEELIN HOLLOWOOD F 20:42
4 81 133 SARAH MORIN F 22:06
5 101 131 SPENCER HAYES F 22:43
6 (102) 135 MADDIE SAMUELL F 22:43
7 (128) 136 SHANIA HAYWARD F 23:09
6. 219 WILMINGTON (21:24 107:00 1:09)
=====================================
1 30 147 CAROLINE FOLEY F 21:06
2 32 146 KIERAN HANRAHAN F 21:08
3 33 144 REAGAN ANDERSON F 21:09
4 38 145 JULIE WILLIAMS F 21:22
5 86 148 REBECCA SALTER F 22:15
6 ( 87) 150 QUINN TEKLITS F 22:18
7 (144) 149 AMY GAITO F 24:06
7. 232 WAYZATA (21:25 107:01 1:56)
=====================================
1 5 87 JEAN FRENCH F 20:10
2 18 83 MICHAELA KELLER-MILLER F 20:49
3 63 84 ANNIKA LERDALL F 21:54
4 67 86 MCKENNA GENI EVANS F 22:02
5 79 81 ANNIKA HALVERSON F 22:06
6 (125) 82 MACKENZIE KELLER-MILLER F 23:07
7 (133) 85 MARY FRANKE F 23:13
8. 238 FORT COLLINS (21:29 107:22 1:48)
=====================================
1 9 95 ERIN HOOKER F 20:15
2 42 98 KARI VANZYL F 21:30
3 56 96 HEATHER HOLT F 21:46
4 59 99 AUDREY OWEIMRIN F 21:48
5 72 100 ABBEY ERVIN F 22:03
6 (108) 101 KIRI MICHELL F 22:48
9. 256 LOWER BUCKS (21:34 107:50 2:06)
=====================================
1 15 116 MADDIE SAUER F 20:41
2 35 118 HANNAH MOLLOY F 21:11
3 37 117 SARA SARGENT F 21:19
4 62 119 OLIVIA SARGENT F 21:52
5 107 122 BAILEY BALMER F 22:47
6 (113) 121 ERICA GRAY F 22:54
7 (132) 120 ERIN O'CONNELL F 23:12
10. 274 LOUISVILLE (21:38 108:10 1:34)
=====================================
1 13 140 BAILEY DAVIS F 20:31
2 46 137 EMILY BEAN F 21:36
3 64 142 KATHERINE RECEVEUR F 21:54
4 75 141 KENZLEY DEFLER F 22:04
5 76 138 OLIVIA BOUGHEY F 22:05
6 ( 88) 139 KATE CRAWFORD F 22:20
7 (118) 143 ABBIE WRIGHT F 23:00
11. 275 WILMETTE (21:23 106:55 3:18)
=====================================
1 2 174 COURTNEY ACKERMAN F 19:43
2 8 175 MIMI SMITH F 20:13
3 26 171 JESSICA ACKERMAN F 20:57
4 119 173 KAITLIN FREI F 23:01
5 120 172 KATHLEEN KEENE F 23:01
6 (122) 177 OONA JUNG-BEEMAN F 23:03
7 (137) 176 KELLI SCHMIDT F 23:32
12. 281 DAVIS (21:40 108:18 1:32)
=====================================
1 14 89 ELLIE CHILD F 20:33
2 45 88 SHEA MARTINEZ F 21:33
3 71 92 KENZIE WEIR F 22:03
4 74 93 JOANNA BOYD F 22:04
5 77 90 TAYLOR COX F 22:05
6 ( 99) 91 ASHLEY TYNDALL F 22:36
7 (145) 94 MIKELL WOOD F 24:16
13. 294 CAMAS (21:32 107:38 3:34)
=====================================
1 1 60 ALEXA EFRAIMSON F 19:34
2 24 66 ALISSA PUDLITSKE F 20:55
3 58 62 MEGAN NAPIER F 21:47
4 85 65 MADISON WOODSON F 22:14
5 126 61 MCKENZIE GOOD F 23:08
6 (135) 64 CAMILLE PARSONS F 23:22
7 (149) 63 ALEXA JONES F 24:48
14. 298 COEUR D'ALENE (21:49 109:03 1:24)
=====================================
1 34 56 JOSIE BROWN F 21:11
2 47 53 KARA STORY F 21:36
3 60 54 EMILY CALLANAN F 21:50
4 61 55 JOCELYN DURAN F 21:51
5 96 57 KRISTA STORY F 22:35
6 (131) 58 NOELLE BALL F 23:10
7 (142) 59 CLARE DUMONT F 23:53
15. 339 NO. NAPERVILLE (21:56 109:40 2:01)
=====================================
1 20 74 ELLY DETURRIS F 20:50
2 57 75 LOUISE MCDANIEL F 21:46
3 68 77 KATE SHANNON F 22:02
4 83 79 JENNY SMITH F 22:11
5 111 78 KIMBER MEYER F 22:51
6 (124) 76 JUDY PENDERGAST F 23:07
7 (129) 80 GRACE CARBALLO F 23:09
16. 371 TEMECULA (22:05 110:24 1:44)
=====================================
1 29 154 CHRISTIAN CALAIN F 21:05
2 52 152 MIRANDA KEWLEY F 21:41
3 84 151 ASHLEY HELBIG F 22:13
4 97 157 ALEXIS MESSERLY F 22:36
5 109 153 HALEY DORRIS F 22:49
6 (115) 155 MAIYA LARSEN F 22:57
7 (134) 156 KIM MCNAMEE F 23:14
17. 388 SANTA CLARITA (22:11 110:51 1:50)
=====================================
1 25 178 SAMANTHA ORTEGA F 20:57
2 65 181 KATIE HUNTINGTON F 22:00
3 89 180 ABIGAIL FRANKIAN F 22:22
4 103 182 OLIVIA ALTIERI F 22:45
5 106 179 HEIDI HOSLET F 22:47
6 (116) 183 NINA SASSANO F 22:58
7 (141) 184 DARBY LAPLANT F 23:42
18. 388 COLORADO SPR (22:13 111:04 4:22)
=====================================
1 4 168 HEATHER BATES F 20:00
2 48 166 GABRIELLE SERED F 21:37
3 92 165 KALEIGH KROKER F 22:29
4 98 169 VERONICA CARRIDEO F 22:36
5 146 167 KATHERINE SERED F 24:22
6 (148) 170 MADELYN BARON F 24:36
19. 395 EAGAN (22:12 111:00 1:54)
=====================================
1 28 192 DANIELLE ANDERSON F 21:02
2 66 193 KELLI PRASKA F 22:00
3 93 196 RAISSA HANSEN F 22:30
4 94 197 KARINA JOHNSON F 22:32
5 114 194 ANNA VANWYK F 22:56
6 (138) 198 OLIVIA MITCHELL F 23:33
7 (140) 195 ELIZABETH FRICK F 23:39
20. 419 EAST SACRAMENTO (22:19 111:31 0:49)
=====================================
1 69 159 PEYTON BILO F 22:02
2 70 158 LAUREN LAROCCO F 22:02
3 73 162 MIRANDA MYERS F 22:04
4 95 161 MADISON RAWSON F 22:32
5 112 160 ELEANOR FERGUSON F 22:51
6 (147) 163 ALLISON KLAS F 24:26
7 (150) 164 KIM LACKNER F 25:21
21. 439 THE WOODLANDS (22:21 111:43 2:07)
=====================================
1 22 109 MADI MCLELLAN F 20:53
2 90 115 KATIE WILLARD F 22:23
3 100 110 ASHLEY GUIDOT F 22:38
4 110 111 GRACE HURYN F 22:49
5 117 112 ABBEY PIONTEK F 23:00
6 (127) 113 KARA ZUSPAN F 23:09
7 (136) 114 ANNA LYONS F 23:27
22. 512 HUNTERDON (22:42 113:27 1:58)
=====================================
1 49 123 CLARISSA MODDE F 21:39
2 80 128 ERIN MCLAUGHLIN F 22:06
3 121 125 ERIN SEIFFERT F 23:02
4 123 127 MEAGHAN DRISCOLL F 23:03
5 139 124 NICA CICITTA F 23:37