Doping News
US/International Olympic News
Random Stuff
LRC Meet Sarah Attar - Saudi Arabia's First Female Track & Field Athlete The woman who will make history in traditional Islamic attire at the Olympics is a Pepperdine sophomore who runs in shorts during the collegiate season. She's never run an 800 in college, but that's what she'll run in London.
*NY Times: Attar's Family Asked School Website To Take Down Photos Of Her Competing In Singlet And Shorts
US/Canada Pro News
US Controversy
Anti-Drug News
Sad News:
*Former HS XC Runner & Twin Committed Suicide After Suffering From Chronic Blushing
*RIP Former UO Track Director Donald "Skip" Pickens
US Pros In The News
LRC 2012 Ethiopian Olympic Track & Field Team Named: Mr. Silver Sileshi Sihine Stays At Home - Tirunesh Dibaba Only "Reserve" In Women's 5,000
*Crazy: After Diamond League Win, Swedish Govt. Gives 1,500 Ace Abeba Aregawi Citizenship & Files Suit With IAAF Saying She Should Represent Them, Not Ethiopia, In Olympics The article, which is based off an Ethiopian report, says Aregawi's citizenship request had been going nowhere until her sudden fame and that she wants to represent Ethiopia. Given Ethiopia's press manipulation, this should be interesting to see how it develops.
*Update: Swedes Have Totally Different Story: Aregawi Really Wants To Compete For Sweden But Ethiopians Have Taken Her Cell Phone & Threatened Her (Translated form Swedish)
Weekend Results: 1:56.76 For Jelimo, Two World Leads For The US
Amateur Hour II
Update: Nike Responds (Like We Thought They Would) "Gaining entry into the Nike box is an informal process and we plan to review our protocol for access for future events." *MB: Mark Block: Nike Responds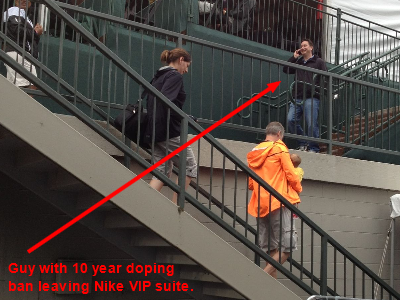 LRC Why Was A Man In The Midst Of A 10-Year Doping Ban Enjoying The 2012 US Olympic Track & Field Trials From The Nike Sky Box? If you thought the days of looking the other way at doping were totally over, then you need to read this. Supposed former agent/coach Mark Block, who is in the midst of a 10-year doping ban, was seen by LetsRun.com njoying the Trials in the sky box of the #1 sponsor of both USATF and the Olympic Trials - Nike. All we can say is shameful. *MB: Discuss
LRC Three Best Punch Their Tickets To London As Leo Gets US Title #1 Leo Manzano, the man who had been top three every year since 2006, finally got the win he deserved but even he didn't expect. Manzano chased down Centro to get his first national title as Wheating pulled away from Robby Andrews to get third. *Men's Race Video


LRC World #1 Uceny, World Champ Simpson And Medallist Rowbury Get It Done The Big 3 came through as US #1 Morgan Uceny got her second straight US title with Rowbury 2nd and Simpson third. LetsRun.com recap hopefully coming later. *Women's Race Video
*After Winning The State XC Title As A Freshman, Morgan Uceny Quit Her Junior Year To Focus On Basketball That's what you do when you live in Indiana in a small town of 10,033 that has a high school basketball gym that seats 4,600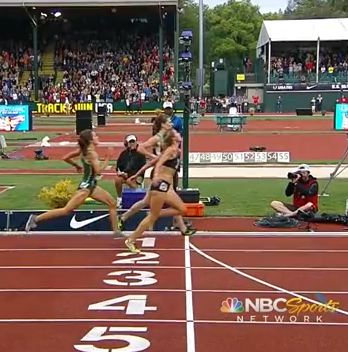 LRC The Women's 5,000 Final - The Olympic Trials At Its Absolute Best This race is what the Olympic Trials are all about. The race had the American record holder in the race, it had seven women with the "A" standard in it, and it had a bunch without the "A" who dreamed of the "A" and were wiling to do the work to try to get it. At the finish, there was a surprise winner in Julie Culley and American record holder Molly Huddle finished 2nd to make her first Olympic team. But for eternity, this race will be remembered for one thing - the most thrilling of victories and the most agonizing of defeats - and by victory and defeat we mean the victory of finishing third and defeat of finishing fourth.
hursday Photo Gallery (Click Below. We Don't Have A Great Photo Of The Women's 5k Finish. For A Great Photo Of It, Click Here.)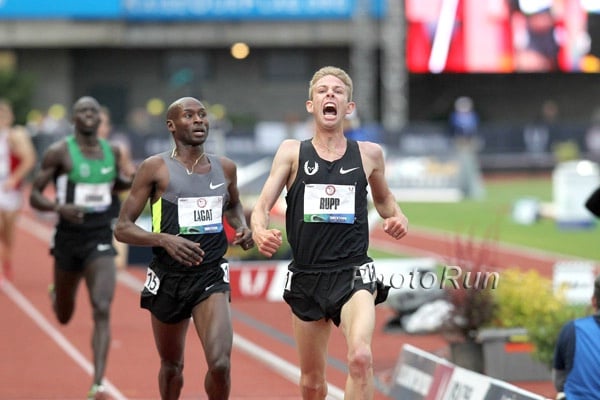 Sunday Photo Gallery, Saturday (Eaton World Record Here) Friday (10,000m Finals Here
)
USATF Saturday
LRC Ashton Eaton Sets WR & Mesmerizes On And Off The Track The former Oregon star was sensational and got the world record after a big PR in the 1,500 that sent the Hayward faithful into a frenzy. Afterwards, he sent the media into a frenzy with an amazing press conference.
LRC If You've Got 20 Minutes, Watch This Ashton Eaton Press Conference The world record holder is cerebral and fascinating.

Classy Move Of Year: Curtis Beach Lets Eaton Cross Line First As He Breaks WR - Eaton Wishes He "Could Be As Graceful" As Beach (link fixed) "I just thought it would be better for Ashton to win as he broke the world record."
*Eaton Uses Hayward Field Magic To Help Set World Record
*Ashton Eaton World Record Photo Essay

Olympic Champ Bryan Clay DQed In Hurdles *Clay, After Hurdles DQ: "It's The Worst Feeling Ever"

What About The Sport? LRC This Doesn't Have To Be The End For Bryan Clay; He Should Do A Decathlon Next Week
Friday At The Trials - Day 1
LRC Galen Rupp Puts On A Clinic As The Sub-13 Guys Punch Their Tickets To London Galen Rupp won and the three sub-13:00 guys made the team but this race held in a downpour was full of drama. Chris Derrick continued his fine 2012 in fourth. Recap, splits, results, and post-race interviews.
LRC Day 1 Photos Gallery
LRC Men's Post-Race 10,000m Reaction
LRC Friday Recap: Mo Farah, Vivian Cheruiyot Win With Ease As Maryam Jamal Shocks Women's 1,500 Field Mo Farah beat a week field that included training partner Dathan Ritzenhein, the American 1500m women did not impress, Vivian Cheruiyot kept it going, and Aries Merritt stepped up again as Tyson Gay came from behind to win.

More: RRW 5000 Recap: Mo Farah And Vivian Cheruiyot Win Tactical Races
*Tyson Gay Wins 100 In 10.03 US Trials 3rd placer Ryan Bailey was 2nd.
*MB: Nick Symmonds Barred From London DL According to his Twitter account, meet director Ian Stewart said he was a "liability".
*IAAF Recap: Aries Merritt Equals His WL To Win 110 Hurdles As Liu Xiang Pulls Out Of Final With Back Problem
*Video Interview With Dathan Ritzenhein After 13:15 5th Place Finish
*Asafa Powell Claims Sitting Out Was More A Precaution And Will Be Good For The Olympics
*RobbieGrabarz Says The Turning Point In His Career/Life Was Last Year When His Coach Cussed Him Out "He told me my attitude was s---. Don't waste my f------ time. Why are you bothering? Go away, ask yourself." He responded by PR'ing by 8cm this year to be ranked #2 in the world.
*Javier Culson Beats Dai Greene 47.78 to 48.10 Looking ahead, Greene says three rounds at the Olympics is very different than a "one-off event' like the DL.
*Steve Hooker No Heights
*Perri Shakes-Drayton Wins 400H In 53.77 To Become Second Fastest Brit Woman Ever
*2012 Aviva London Grand Prix Day 1 Results
*Yahoo Photos

*LRC Day 2 Preview: An Awesome Men's Mile Day 2 isn't quite as good as day 1, but the mile is going to be great with Silas Kiplagat, Nick Willis, Leo Manzano and Bernard Lagat. There also is an 800 with Abubaker Kaki, Matt Centrowitz and many of Nick Symmonds' rivals for a bronze medal, and a women's 800 and women's steeple. In other actions, Phillips Idowu will clash with world champ Christian Taylor in the triple, world champ Carmelita Jeter runs in the 100, world champ Sally Pearson runs in the 100 hurdles, which features the top 7 from 2012, world champ Kirani James is in the 400, and more.

London DL Pre-Meet News: Asafa Powell Pulls Out With Groin Injury
*IAAF Preview
*Tyson Gay, Mo Farah And Vivian Cheruiyot Talk In London DL Press Conference So did Liu Xiang, Sally Pearson and Dai Greene.
*Mo Farah On Paris DL 5000: "It makes me think if they can run that I can run faster."
*A Look At UK Athletes Competing Dai Greene, Dwain Chambers, Mo Farah, Phillips Idowu, Hannah England, among others.
International Olympic News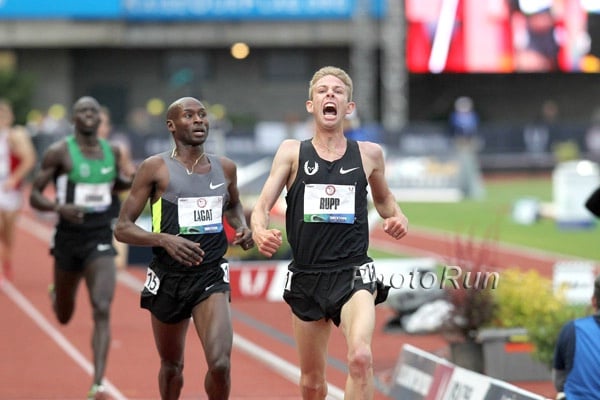 LRC What Does The Paris 5,000 Mean For Galen Rupp's Medal Chances? Before Friday, only 10 men in history had broken 12:50 for 5,000. Now after on amazing race, 16 guys have done it. Surely this is the end of Galen Rupp's medal chances, right? Wrong. We argue that once one gets over the initial shock of the "6 Guys Under 12:50 In Paris" headline, then one realizes there were plenty of encouraging results in Paris for Rupp. *Discuss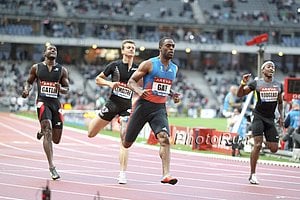 LRC Paris Recap: A Sensational Men's 5,000, A Troubling Women's 1,500, And David Rudisha's 1:41 Highlight Fans of Galen Rupp, Bernard Lagat, Kenenisa Bekele, Jenny Simpson and Morgan Uceny probably had a hard time watching this meet as the results of the men's 5,000 and women's 1,500 were stunning to stay the least. Plus Tyson Gay vs. Justin Gatlin. Read all about it. *Discuss
*Results (video highlights for US visitiors in player on right)
*LRC Winners Photo Gallery

*Gaining Confidence After Paris Win, Tyson Gay Says Men's 100 "Is Open For The Games"
*Athletics Weekly Full Meet Recap Here *IAAF *Reuters
*World Champ Dai Greene PRs In Hurdles But Loses To Javier Culson
*Vanity Fair: David Rudisha: The Best Olympic Track Star You've Never Heard Of

*MB 12:46.81 *Bekele runs 12:55 on a bad day. What are Rupp and Farah thinking? *So what does the 5K results mean? No Gold for Rupp? *Galen Rupp Would Have Been 11th In Paris 5000m *Did that Paris 5k set any records for place? *Kenenisa Says He Is Not Defending His 5000m Title *Paris Meet All DOPED UP *W1500m A JOKE: 1 and 2 served doping bans *The Fastest 5000m In The Last 2 Years Will Be Run In Paris Friday
Usain Bolt Is Out (Temporarily)
LRC After Two Losses At Jamaican Champs, Usain Bolt's Glen Mills Pulls Him From Monaco Diamond League Meet On July 20th Mills says at the Jamaican champs Bolt had a "slight problem" and that he's pulling track's biggest star from the Monaco meet to "give him sufficient time for treatment and time to train and prepare for the Olympic Games in London." We're not sure if the slight problem was an injury or just the losses, but Bolt says he'll be ready for the Olympics: "I will be in London to defend my titles in the 100, 200 and 4 x 100 metres."
Peter Kirui Wins Peachtree As Defending Champ Sammy Kitwara Finishes 8th Kiriui won a close race over Micah Kogo and Matthew Kisorio. Bobby Mack was 13th. Mamitu Daska won the women's race.
Blade Runner Going To London: Oscar P Named To SA Team In Open 400 And 4 X 4 Relay Despite Not Hitting A Second "A" Standard
Amateur Hour Comes To An End
Rec. Read: Tim Layden's Final Column On The Non-Runoff After a tiny bit of help from the initial LRC interview with timer Roger Jennings that kicked this off in some ways, Layden owned this story. Another excellent, in-depth read. Three cheers for Tim Layden's coverage. Layden reveals the timer Roger Jennings has only now been overruled twice in his life. Layden has criticism for Max Siegel and Stephanie Hightower who "enacted a stunning display of non-leadership throughout the week."
*Tarmoh Wouldn't Have Much Of A Legal Case If She Filed Suit, Says Expert

More General Post-Trials: A Look At First-Time Olympians, Including 32-Year-Old Carmelita Jeter USA Today "Historically, most people weren't able to go to a second or third Games because they had to put food on the table."
*A Look At US Team: Dix, Clay, Wariner, Jackson, Oliver Staying Home
*Arizona's Brigetta Barrett Now A Medal Threat For The US In The High Jump
Swimming: 45-Year-Old Swimmer Dana Torres Misses Olympics By .10
Down Goes Bolt #2: Blake 19.80 Over Bolt 19.83 Bolt had the lead in this one and ran horribly the last 100. Video here.
*Bolt: "It is not like I was blown away. I know what I need to do to get it right."

On The Boards: BOLT IS DONE!!!!
*Jamaica 200m Trials
*Blake wins again!
M 5,000: LRC Lucky 13 - Galen Rupp Snaps Winless Streak In Style - 52.54 Last Lap Beats Bernard Lagat & Steve Prefontaine's Meet Record Galen Rupp entered the Olympic Trials 0 for 12 against Bernard Lagat during his lifetime but he left 1 for 13 and boy was it impressive. Not only did he win, but Rupp let it came down to the last 400 and then outkicked the 2nd-fastest man ever at 1,500. His last 400 was faster than what won Mo Farah World Championships gold last year.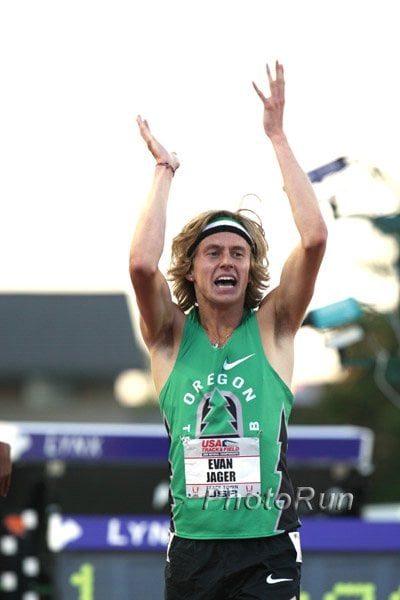 M Steeple: LRC Evan Jager Wins With Ease As Three First-Time Olympians Punch Their Tickets To London Jager, Cabral, Alcorn. And a very happy 4th placer - former 4:22 HSer Donald Cowart.
*LRC Steeplechase Interviews
*Oregonian Recap Of Jager's Tongue-Wagging, Fist-Pumping Win
More Olympic Trials Monday Distance
LRC Montano Hangs On, Gall Comes On, Schmidt Sneaks In, And Beckwith Has A 4-Year Wait Alysia Montano won as expected, but this one was close. 5 women were in contention for 3 Olympic spots and Molly Beckwith was the unlucky 4th place loser in a dramatic final 20 meters. *Race Video
800m Final Photos (Click Below For Gallery)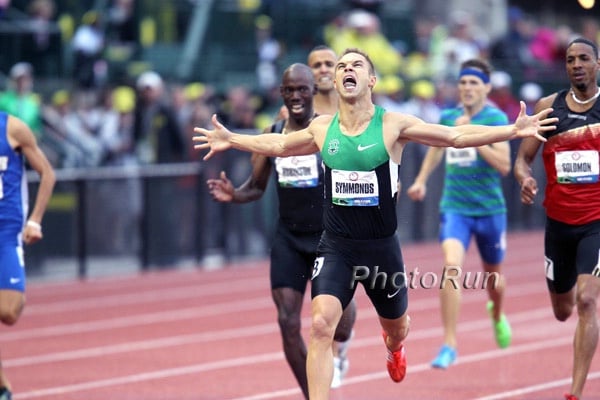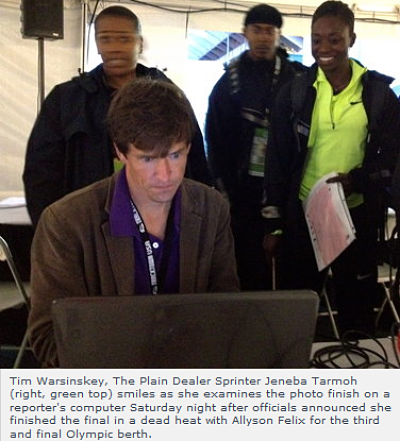 LRC The Inside Story Of How Jeneba Tarmoh First Saw The 100m Finish Photo On The LetsRun.com Laptop Roughly 3 Hours After The Race Carmelita Jeter won the 100m, but the story was the battle for the third spot between training partners Jeneba Tarmoh and Allyson Felix. At first, Tarmoh was announced in third by .001 but then after the stands had emptied, a dead heat was announced. We thought we were the only ones not knowing what was going on, until next thing we knew Tarmoh was looking at the finish photo on Wejo's laptop (pic on right).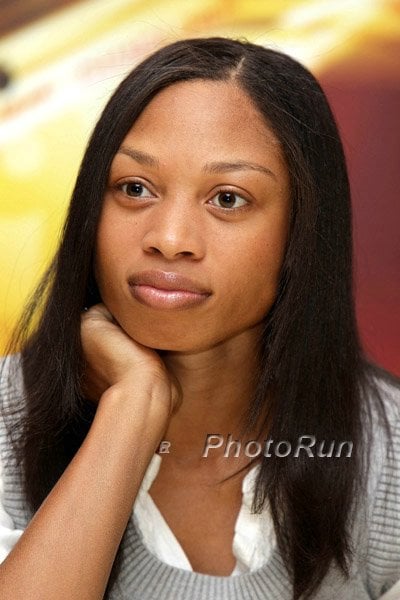 LRC An Exclusive Interview With The Man Responsible For Reading The Allyson Felix 100m Finish Picture LetsRun.com exclusively caught up Roger Jennings, the man whose job it is to determine who finished third and who got fourth, and the timing whiz explained how it was determined there was a dead heat. Plus we do a little bit of research and determine that even though USATF has said there is no protocol for breaking a tie, that the USATF rule book does in fact envision such a scenario and has a solution - an old-fashioned drawing of lots!!!

LRC Lolo Jones' Third Place Steals The Show In The Olympic Trials Hurdles Final Lolo turned around her season in 24 hours after a "reality meltdown" following round one. She said, "I woke up today and did not think I would make the team. I was fighting a constant head battle to get through this. I had my sports psychologist on speed dial 1, my pastor on speed dial 2, and my mom on speed dial 3 ..."
Day 1 Trials Photo Gallery
6 Guys Break 12:50
Paris DL Photo Gallery (Click Here Or Below)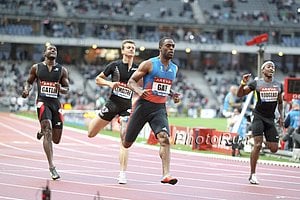 Blake Beats Bolt X 2 In 200
Emma Coburn Gets Emotional With Teammate Shalaya Kipp After Making Olympics
The Race Of The Trials: Julia Lucas' Agony Of Defeat (Race Video Here, More 5k W Interviews Here, Men 5k Here, Men Steeple Here)
Alan Webb's 2012 Olympic Dream Is Over (More On This Here (Link Fixed)). More Trials Videos Here
Tyler Mulder Showing The Emotion Of The Trials
Geoffrey Mutai Runs 27:29 In Boston, Kim Smith Wins
We think Sam Chelanga still has a good chance to win $100,000 despite being crushed by nearly a minute.
LRC Exclusive: Timer Explains The Allyson Felix Tie
Matt Taylor Speaks #2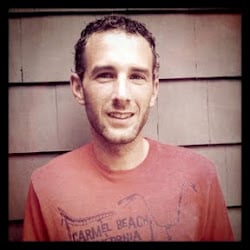 LRC Redefine Running: Who's In Charge Of "The Sport" (link fixed) Last week Matt Taylor, the guy behind ChasingTradition, ChasingKimbia, ChasingGlory, and an upcoming Usain Bolt video game, told you running was dying. This week he tells you it's thriving. He explains the inconsistency. While the activity of running is thriving, the sport is dead with the mainstream sports fan. In the internet era, diehards get their fix, while Joe Sports-Fan has no idea who Matt Centrowitz is. How do we fix this?