Bring Back The Mile Officially Launches For years, we (and many in the sport) have wondered why the mile isn't the #1 distance event in the land and why it's not run instead of the 1,500 or 1,600. Finally, someone has decided to do something about it.
*Bringing Buzz Back To The Mile *Discuss *Like On Facebook
Trouble In Ethiopia

LRC Kenenisa Bekele, Tirunesh Dibaba, And 33 Other Ethiopians Banned By Federation The Ethiopian Federation has raised its iron fist and banned 35 of its top athletes, including top stars Kenenisa Bekele and Tirunesh Dibaba for not following orders and reporting for national team training as they get ready for London 2012. It will be interesting to see how this plays out, but ultimately we think the athletes are stronger than the Federation.
US Pro News
LRC Jenny Simpson Talks About Winning Worlds And Looks Ahead To 2012 Jenny was on a teleconference to talk about her 2011 Championships, her upcoming indoor campaign, and the 2012 season. She was the World Champion in 2011 despite having a lot of setbacks. What's in store for 2012? Plus in a rare LetsRun.com moment, we have some praise for Mary Slaney*, who ran 4:00.8 as a 21-year-old at Madison Square Garden. Who says you can't run fast at the Garden? *We usually point out Slaney has a drug conviction on her record and receive hate mail.
Yohan Blake Says That Fear Of Him Pushes Usain Bolt "The truth is we have a wonderful chemistry. We motivate each other. When he sees me doing something wrong, he says, 'Blakey, you should try this.' I call him and say, 'Usain, make sure you do your work.'"
Really, IAAF? 2009 African Jr. 800 Champ Mohamed Aman Geleto DQed For Being Too Young There are WRs set by essentially known dopers which still stand, "17-year-old" Kenyans winning World Junior titles, but they choose to focus time and energy on DQing a 15-year-old from 2009 because he was 10 days too young. Priorities?
Martin Fagan Gets 2-Year Ban
Recommended Read: NY Times Article On Australia's LJer Mitchell Watt, Who Quit Track For 5 Years But Came Back And Got 2nd At The World Champs Apparently he was convinced to keep competing by a "12 page email" from his coach.
Still Catching Up On Last Weekend
More Post-Trials News
LRC Men's Marathon Trials Analysis And Reaction The 2012 Trials race was a classic. We throw some love to the top 3, ponder Ritz's future in the marathon, tell you who had the best debut, and tell you who that guy you never heard of was. Plus we talk about Meb's 74-year-old badass dad and look at the fortune of some old timers who didn't make the team, Josh Cox and Dan Browne, in addition to the ones who did (Meb and Abdi).

Sunday Update: 24-Hours-Later Update On Ritz: "I do love the marathon but I think I love being good better." Ritz indicated he still loves the marathon and is not done with it. He also said, "I ran pretty good yesterday."

Race Recap: Meb Keflezighi Captures 2012 Olympic Marathon Title

NY Times Recap: Meb Over Hall, Abdi Grabs 3rd Spot The race lived up to the billing as the top four all broke 2:10, whereas previously there had only been one sub-2:10 in OT history. After a blistering first half (63:25), Meb Keflezighi got his 2nd PR in 69 days, as he ran 2:09:08 to win over Hall (2:09:30). A resurgent Abdirahman (2:09:47) hung on for the final Olympic spot in 2:09:47 over Ritzenhein, who broke 2:10:00 for the first time (2:09:55). In the process, Meb became the first American to make an Olympic marathon team 8 years after making it previously. Abdi had no idea until we talked to him that Martin Fagan, whom he trained with some this winter, had reportedly tested positive for EPO.
LRC Trials Live Thread Here

More Trials: *Meb's Coach Bob Larsen Not Surprised Meb Won LA Times
*Ryan Hall To Meb And Abdi: "I watched you guys make the Olympic team when I was in high school."
*After coming up eight seconds short in Olympic marathon trials, Ritzenhein ponders future Denver Post There is a message board thread on this as well. We talked to Ritz on Sunday.
*Somebody ought to lose their job at Nike, Meb Keflezighi wins Olympic Marathon Trials

Trials On The Boards:
Martin Fagan Tests Positive
Martin Fagan Comes Clean On EPO Positive Ian O'Riordan of the Irish Times has two lengthy articles on Fagan admitting to EPO use after testing positive. The longer one has more of the facts and Fagan claims the first time he ever injected himself with EPO was in December while training in Tucson, Arizona and that very same day is the day he was selected for a random test. The second article "Injecting myself, thinking this is how the junkie feels" focuses more on Fagan's emotional state and how he says thoughts of suicide and financial pressure drove him to EPO. The top link is to the thread discussing all of this.
Lance And Livestrong
Outside Magazine Article Accuses Livestrong Foundation "If Lance Armstrong went to jail and Livestrong went away, that would be a huge setback in our war against cancer, right? Not exactly, because the famous nonprofit donates almost nothing to scientific research." *MB: Livestrong expose in Outside magazine
Patrick Makau Reacts To Renato Canova's Comments That His WR Will Be Broken This Spring Makau: "It makes me wonder if the record is a preserve for some region, tribe or runners. What shocks me is that some people are speaking ill of me just because I broke the world record ... Let us not talk much but redeploy our energies on good training and skills that will power our legs to do the talking."
Alan Webb's Comeback Begins
Raffi Cote = Matt VanDenHengel
Alan Webb Returns With A 1:55.02 And Loses To A Senior From Gwynedd-Mercy College Whose PR Is 1:53.53 In his first race since April and his first race since dumping Alberto Salazar, American mile record holder Alan Webb busted the rust with a 2nd-place 1:55.02 performance in a race that was won by the previously unknown Matt VanDenHengel. For everyone writing off Mr. Webb, we remind you that "talent doesn't go away" and that two years ago, Galen Rupp similarly lost to a freshman walk-on in January in the 800 in a 1:54 race. Since then, Rupp has run 13:06, 26:48 and 60:30.
*Alan Webb Interview With Ian Brooks: "I had to start somewhere."
More: MB: *Webb runs 1:55.02 today at Armory *Alan Webb's 800m In 1:55 Was A Good Thing *Webb spotted in 800 at Armory *Rupp loses to freshman walk-on at 800
LRC Todd Morgan And Pete Watson To Be New Women's And Men's Cross-Country Coaches At UVA
Stars On the Comeback Trail
Sad News
Frank Horwill 1927-2012 Horwill founded the British Milers Club and coached Tim Hutchings (most of you in the US know him as the the really good British announcer on track TV broadcasts; his real claim to fame was a 4th in the 1984 Olympic 5k). BMC Remembrances here.
*IAAF Remembrance Here
The Running Story Of The Year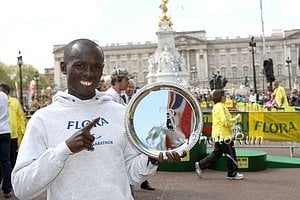 Japan Running News Recaps The Life And Career Of Sammy Wanjiru Barcelona Olympics marathon silver medalist Koichi Morishita: "The people who were supporting Sam were only motivated by the money flowing around him, not from the heart, and they didn't give him the kind of support he really needed. You hear a lot of disturbing things about his family too, his wife, and I can't help but think that he should have had more people around him who cared about his soul."
LRC Boys: Cheserek Outkicks Futsum For The Win This race lived up to its hype as the top 2 African-born stars went mano-a-mano until the final 100m. After a cat-and-mouse 9:50 opening 2 miles, their last 1.1 was run at a pretty quick pace (4:31 mile pace), but the winning time of 14:51.5 wasn't close to Reina's 14:36 CR.

LRC Girls: Molly Seidel Turns Back Tough Challenge From Erin Finn Seidel was the favorite, undefeated in 2011, but Finn was the top returner and Finn made it super-interesting as she opened up a big lead and even managed to regain the lead once Seidel caught her.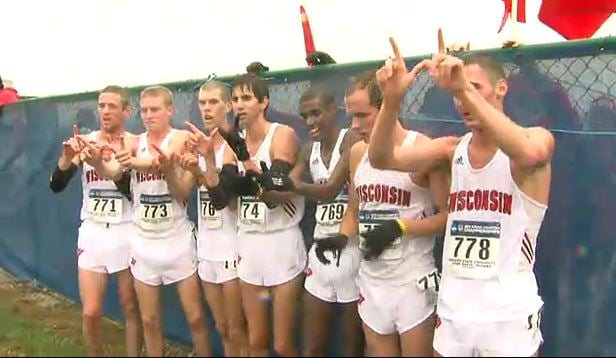 Men: LRC Wisconsin Badgers Take Control Early As Lawi Lalang Dominates Lawi Lalang waited until 5k before deciding it was time to crush the competition once and for all, while #1 Wisconsin showed no fear and put a stranglehold on the competition from the very beginning and held off a belated charge from Oklahoma State and a surprising Colorado team as the Cowboys tried to three-peat. American Chris Derrick took home individual runner-up honors to cap a brilliant career in style. *Discuss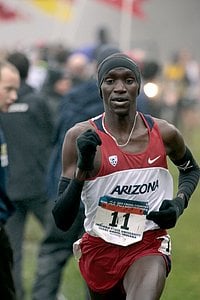 More: Wisco #1: *Give 'em five: Badgers lay claim to program's fifth national title *Krause earns redemption as Badgers storm to fifth national title host.madison.com
OSU #2: *Dave Smith Calls Loss "Disappointing" - But Expected www.okstate.com
Colorado #3: *Wetmore Calls Medina Most Improved Runner In Country www.denverpost.com *CU Coach Mark Wetmore Pleased With Buffs 3rd-Place Run
Individual: Coach Li - I Think Lalang Would Have Got Course Record If He Was Pushed www.arizonawildcats.com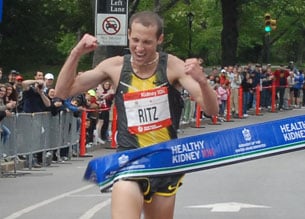 LRC The Week That Was In Running: January 9-16, 2012 Instead of looking back, we start by using last week's Trials as an excuse to look ahead to the 2016 US Olympic Marathon Trials. We name names and give you 5 leading early contenders for the 2016 Olympic marathon team. Then we return with 5 parting thoughts on the 2012 Trials, plus our Road Race Of The Month, our Email Of The Week and more, including a plea to Dathan Ritzenhein to not give up on the marathon quite yet.

*Speaking Of Ritz: Come Back Tomorrow For An LRC Interview With The Super Talent
LRC Analysis Of The Women's Olympic Trials Marathon We break down the action from the 2012 Olympic Trials Marathon. Sure, we praise Shalane, Desi and Kara, but what about Wendy Thomas, Alisha Williams and Linda Somers-Smith, who ran faster at age 50 than she did at age 30 to win the Chicago Marathon? Plus a look at Deena and Amy Hastings.
LRC Advertising Partner CharityBets, Which Launched On LetsRun.com, Gets Mentioned In Sports Illustrated
Jump/Sprint News - Two Olympic Champions Won't Be In London 2012
Random Distance News
Previous OT News
This Weekend And Beyond ... Get Excited For Bernard Lagat Vs. Silas Kiplagat Vs. Gan Komen At MSG
NCAA DIII Coaches Are Happy: Text Messaging To Recruits Now Legal In DIII
Big Kenyan News
Kenya Names Provisional Marathon Squad For Olympics, To Have Separate Olympic Track Trials Race In 5k And 10k For Selected Athletes In May 6 men and 6 women are on the marathon squads and only 3 can run. Final selection will be determined after the spring marathons, but the article does not indicate if the selectors want all the runners to actually run spring marathons. The other big news is for select athletes in the 5,000 and 10,000, there will be an Olympic Trials race in May that will select the Olympic team.
On The Boards: Kenya's Marathon Squad first cut
Things To Look Forward To In February
Flanagan Over Davila, Goucher Gets Third As Top 4 All Break Old OTrials Record Flanagan (2:25:38) pulled away from Davila (2:25:55) and Goucher was third in 2:26:06. Amy Hastings broke the old Trials record at 2:27:17 but didn't make the team. Deena Kastor was 6th in 2:30:40.
An Analytical Approach To Why "Yohan Blake Will Beat Usain Bolt In The 200m"
Sunday Houston
Luke Puskedra Runs 1:01:36 Half Marathon Debut As Feyisa Lilesa Picks Up $17,500 With 59:26 Course Record The Oregon Duck's half marathon debut was super-impressive on a day where all 4 course records were broken in Houston (Tariku Jufar 2:06:51, Alemitu Abera 2:23:14 and Belaynesh Oljira 1:08:26 outkicking Boston Champ Caroline Kilel). Recap and interview with Puskedra on his decision to try a half in the college season.
More: IAAF Recap Interesting to note that Tariku Jufar missed basically a year of training in 2009 after being hit by a car while training.
*All Four Records Broken In Houston

A Crushed Simon Bairu Fails To Qualify For Canadian Olympic Marathon Team, Will Turn Focus To Track Nice article from Canadian Running Magazine. Wejo's not sure he has ever seen an athlete as emotionally disappointed after a race as Simon was.
Vivian's Win Streak Comes To An End: Linet Masai Crushes Cheruiyot In Seville XC Vivian's last lost was in an XC race to Masai in Nairobi a year ago.
Alan Webb News
Centro In The News
LRC Matthew Centrowitz Signs Endorsement Contract With Nike & Joins Alberto Salazar's Nike Oregon Project Nike stepped up to the plate and kept the former Duck in the family. What was a surprise is that he's joining Alberto's group (although he'll get assistance from collegiate coach Andy Powell). *Discuss
*Matthew Centrowitz To Make Pro Mile Debut And Headline Wanamker Mile Field No, he will not be competing on the boards in MSG against the king of Millrose, Bernard Lagat. That would be too simple and too good of an idea for the sport. This is the Armory meet, not the US Open. Centro says he's way ahead of where he is last year. The article says (implies) his father and sister will be competing in the meet as well. We can't imagine his dad is actually competing.
Asbel Kiprop Makes A Statement As Kenenisa Bekele Finishes A Distant 11th At BUPA Great Edinburgh Cross-Country Kiprop, the Olympic 1,500 champion, cruised to victory over the 2008 Olympic steeple, 5k and 10k champs, and showed he's intent on being the first since Seb Coe to defend an Olympic 1,500 title. European XC champ Fionnuala Britton won the women's title.
*IAAF Recap: Kiprop Totally Dominant On Last Lap
*Bekele Suffers But Seems Unfazed How bad was Bekele? Well, 5 Brits beat him, including one who was doubling back from the 8k, but Bekele was confident afterwards: "I'm not serious for this race. At this time of the year I don't want to be in very good shape. It is too early. It is a long time to the Olympics. I want to build up slowly."
*Bekele: "I lack fitness." "I was not confident before the race. But it's a long time until the Olympics and it is too early to be in better shape."
Great Marathon News
The Weeks That Were
LRC Tirunesh Dibaba Returns, Dunbar Follows In His Dad's Footsteps & Meb Tries To Make The Olympic Team On 41 Days Of Running In case you've been (like us) more focused on the Holidays than keeping on top of the limited action in the world of running over the last two weeks, we are here for you. From the return of Tirunesh Dibaba to Meb trying to make the Olympic team off of 41 days of running to some high-profile transfers, we've got you covered.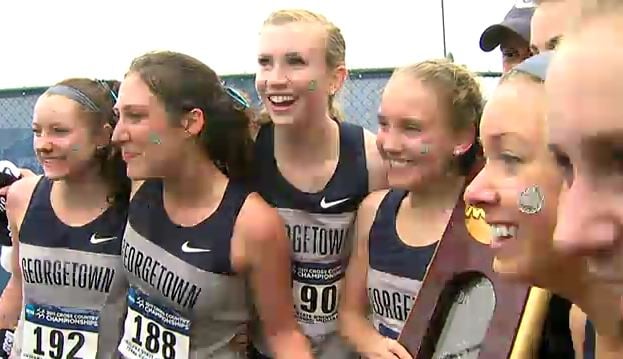 Women: LRC Georgetown, Reid Win Tight Battles Six women kicked for home over the last 400m of the race but in the end it turned into the duel many expected and Sheila Reid of Villanova got the narrow win over Jordan Hasay. The big surprise was in the team's race, where the Georgetown women, who were only third at Big East, won by eight over Washington as #1 Florida State faltered and finished 4th. *Discuss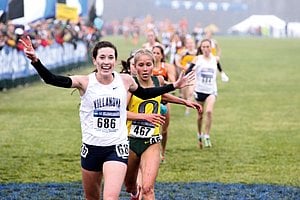 More: *Georgetown Gets Its First National XC Title GUHoyas.com
*Washington Comes Up 8 Points Short GoHuskies.com
*#1 FSU Finishes 4th & Coach Karen Harvey Pulls No Punches "I felt like I was watching a nightmare. I really thought there was no way this is happening." www.seminoles.com
*Wetmore Says 11th-Placed Colorado Women Purposely Peaked For PAC-12s, Not NCAAs www.denverpost.com
*The FSU Women Finished Fourth And The Men 12th At NCAA Cross-Country Championships www.seminoles.com
*Lananna Says Hasay's Runner-Up Finish Was A Big Step Forward As She Didn't Get Antsy & Kick Too Early www.oregonlive.com
LRC 2:05:06!!! Geoffrey Mutai Caps Year In Style An unbelievable year in men's marathoning had an appropriate finish, as the Kenyan man who had the most unbelievable of all years, Geoffrey Mutai, smashed the previous NYC Marathon record by a stunning 2:38 - that's two minutes and 38 seconds. If it wasn't the greatest 2nd-greatest men's marathon performance ever, you'll have to tell us what was. American Meb Keflezighi hung with the leaders for 20 miles after a blistering 63:16 1st half and ended up with a much-deserved PR. Mutai picked up $200,000 by winning, but the big financial winner was runner-up Emmanuel Mutai, who won $635,000 ($500,000 for the WMM title).


LRC Mary Keitany Beats Herself The women's race was full of gut-wrenching drama, as Mary Keitany went out in a crazy 67:56. The problem was she came back in 74:42, as unheralded Firehiwot Dado (Rome Marathon champ) got the win.

LRC Post-Race Interviews: Meb And His Coach Bob Larsen Talks About His PR Despite Throwing Up Plus the winners - Geoffrey Mutai, Firehiwot Dado, men's and women's top 3, Ed Moran, Molly Pritz, Lauren Fleshman and Bobby Curtis.
Worth A Look
Other News
UK News
US Non-Trials News
Ritz: "I'll have to turn my attention back to (the track) and focus on that definitely for the short term but maybe for the long term." OTB: "Ritz's 4th place a blessing in disguise?"
After Making His 4th Straight Olympic Team, Abdi Abdirahman Finds Out Martin Fagan Tested Positive For EPO (More Here)
The End Of The Line For Deena? (More Here)
Joanie Inspires
The Puma Team Answered Your Shoe Questions
Trailer For "ITEN - The Town Of RED Dust"
Week In Review
NCAA Women's Photo Gallery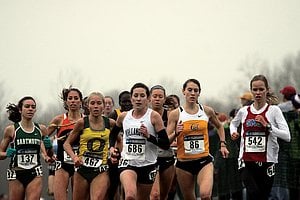 NCAA Men's Photo Gallery (500+ Photos)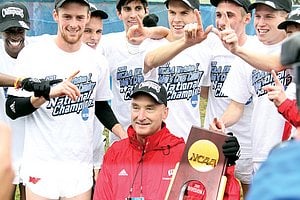 Training Corner (More In The Training Forum)
A Scintillating Men's 10,000 Finish (US Visitors Only)
Universal Sports Back To Top