The Week That Was: College Distance Coaches Hate The 4-Minute Mile & Commit Suicide; Fukuoka
By LetsRun.com
December 21, 2011
Let's be honest. Every year, not a whole lot happens in mid-December to mid-January in the world of running. So this week, we tell you how sprint coach Pat Henry is smarter than all the US distances coaches combined, and we tell you how Fukuoka puts Boston to shame as the ultimate qualifying status symbol and we start to think a little bit about the 2012 US Olympic Marathon Trials.
****
Thumbs Up To Pat Henry/Thumbs Down To Nearly All College Distance Coaches
After a long hiatus, it's time to bring back the Thumbs Up/Thumbs Down award.
And we want to start by giving a big Thumbs Up to Texas A&M head coach Pat Henry, the best combined program track and field coach in NCAA history, for being smarter than a roomful of virtually every collegiate distance coach in the country.
Let us explain by taking a step back.
If we asked you if they should run the mile at the NCAA championships instead of the 1,500, what would your response be?
Hell, if we asked you if they should run the mile at xxx race (whether it's a high school state meet, USAs, whetever), the answer would be pretty clear.
Seriously, unless you overanalyze it, the answer is a complete no-brainer.
Pat Henry Producing Trophies:

If you aren't sure, go find someone who isn't a big runner whether it's your significant other, your mom, your dad, a co-worker, and ask them this question. They'll laugh and say, "Mile. I don't really know what a 1,500 is."
Well, last week at the United States Track & Field and Cross-Country Coaches Assocation (USTFCCCA) annual convention, this scenario unfolded. Pat Henry, who has won 33 national titles during his career, thanks to a focus on the sprints, made the most common sense proposal in the history of track and field: "Hey, the NCAA meet is on live on national television; we need to do something to promote the sport. Let's run the mile, not the 1,500."
To LetsRun.com's horror, the propopsal was shot down 218 to 47. We couldn't believe it but it seemed like every prominent distance coach in the country couldn't run quickly enough to the microphone to voice their disapproval. Ridiculous.
We were stunned, as for 20 years, we've always thought, "The mile needs to be run in the US - not the 1,500." Even hard-core runners who aren't involved in the pro or collegiate system don't know what a 1,500 is. To save a little money, LetsRun.com co-founder Robert Johnson was assigned a random roommate at the convention. The man, who was a retired former AT&T exec, was a 2:24 marathoner back in the day. When we asked him this question - and this is a guy who paid his own way to coaches convention - he admitted that he didn't even really know what the 1,500 is other than the fact that he knew it was what is run at the Olympics. As he said, "Everyone knows mile times. Even in a 5k or 10k, they give you mile splits, not kilometer splits."
So why was Pat Henry's proposal shot down? We'll give you the most common negative arguments and then our reply to them:
1) You can't qualify for USAs with a mile time - Pat Henry's response: Well, I have a simple solution. We should petition USATF to accept mile times. Our response: The USA qualification only affects a handful of people anyway - the sport's health is way more important.
2) The women can't break a 4-minute mile, so it won't help them - Our response: The average Joe on the couch will be incredibly impressed with a 4:30 mile by a woman but won't give a crap about a 4:10 1,500.
3) Running a mile won't really make the sport more popular; we have a lot bigger problems - Our response: It certainly won't hurt.
4) It's just opening a can of worms. What will we do next? Run the 100 yard dash? - Our response: No, the mile is special. Everyone in the US understands the mile and miles per hour. But to be truthful, maybe we should look into that type of stuff.
Honestly, we do think some of the negative votes resulted from the fact that the Henry proposal sort of came up at the last minute and people weren't really prepared to discuss it and distance coaches were probably just naturally very skeptical of a sprint coach. But the results were pretty stunning and very disappointing.
And it was an example of a problem we see happening time and time again in the sport of track and field (and society in general).
Yet again, a person or entity is doing what is in their absolute best immediate interest and not taking a step back and asking what is in the sport's (or larger entity's or even their own) longer-term best interest.
The distance coaches were worried they might lose out on a USA qualifier every few years and thus voted it down - ridiculous. Yes, we understand people and entities need to look after their immediate interests. Coaches need jobs, business need to stay in business, but sometimes we all need to expand our horizons and think a little bit longer term.
Short-sighted actions are repeatedly hurting the sport or track and field (and society). Yes, there were good reasons for Usain Bolt not to race Yohan Blake all year at 100 meters, but it wasn't in the sport's best interest. Yes, it's probably in the Armory's best interest that they somehow ended up with the Millrose name, but it's certainly not in the sport's best interest. Yes, it's probably in some random school's best immediate financial interest to jump ship, leave its traditional rivals behind, and join a conference halfway across the country, but it's certainly not in the fan's or student-athlete's. What about the longer term?
Every once in the while, the adults in the room need to take a step back and ask, "What is the right/common sense thing to do here?"
****
PS - Before we move on to an entirely new topic, we wanted to give a Thumbs Up to Southern Utah coach Eric Houle. He stood up at the coaches convention and gave a passionate defense of the mile. He pleaded to the coaches that our sport is dying and we need to do something about it and told how much a sub-4 had helped his program. Last year, his program got its first sub-4 runner ever as Cam Levins did it. The result? A feature the next day in every paper in the state, one of which even splashed a photo of Levins and Roger Bannister side-by-side.
That's certainly a ton better than having to calling your SID and begging him to pump up a 3:41 1,500, which no one understands.
Oh yeah, Southern Utah's track budget was increased 20% for 2011. Did the sub-4 cause that? We know one thing ... it certainly didn't hurt.
****
Email Of The Week - Fukuoka Puts Boston To Shame In Terms of Being The Ultimate Qualifying Status Symbol
Over the last two weeks in our weekly recap (Dec. 14 and Dec. 5), we've spent a lot of team talking about the Fukuoka marathon and how it has a 2:42 qualifying time - period. And if you don't stay on 2:46 pace during the race, you get pulled from the race. Well, we received an email from a LetsRun.com visitor who ran Fukuoka this year and talked about the adrenaline rush he received as he tried to avoid getting yanked from the course.
Since we were going to bring you an email of the week in the previous segment, it's only fair that we pull one out from the LetsRun.com inbox now. And what a great email it is.
Hi Robert
Just saw your posting on Fukuoka. I ran there last year and will definitely be back. I qualified with a 2:33 so I thought that I wouldn't have to worry about the cutoff. That changed though towards the end of the race when I started falling apart in the warm weather. There's a turn around point at K31.5. I was far enough back to witness the cut off being enforced at K30 on the other side of the street while I was at K33. One of these guys jumps on the road with a red flag:
There is no way they let you keep running. The roads were opened a couple of minutes later. I definitely spurred me on to not get pulled at K40!
Fukuoka is an unparalleled experience for "sub elites" (or whatever you wanna call us sub2:40 runners). The depth is fantastic. I had many more guys to run with at sub6 pace than in NYC. The roads were lined for all of the 26.2 miles with excited spectators.
Lining up was amazing. You don't get a corral according to your qualifying time but a starting spot! Runners are lined up by number (ten per row).
There is really no other reason for a marathon enthusiast who has a sub 2:42 to not run Fukuoka but airfare and the cost for food and lodging.
Cheers
Uli
****
Will It Take A Record Performance To Make The 2012 US Olympic Marathon Team?
The 2012 US Olympic Marathon Trials are fast approaching (January 14 in Houston) and people, including the runners, are starting to get excited. Last week, US standouts Desiree Davila on the women's side and Ryan Hall on the men's predicted it would take record times to make the US team. Davila says it will take 2:24 to win and 2:28 to make the women's team (the Trials record is 2:28:25) and Ryan Hall said the top 3 on the men's side will be sub-2:10. And previously Kara Goucher had said eight women might run 2:26.
In response, journalist Scott Douglas wrote a fantastic piece in Running Times that pointed out only one US man has broken 2:10 in US history at the Trials and only one woman has broken 2:29, including in 1984 when the men's field was significantly deeper on paper than it is this year. Now, we're sure many of you are saying, "But ... xxxxx" and then some excuse. Well, here is Douglas' response:
Counting the 1984 trials, of the 19 Olympic menís marathoners most recently chosen, only 4 ran PRs to make the team. But this time, the reverse is going to happen? Instead of 2:09-2:11 guys running 2:12-2:14, as in 1984, 2:11-2:13 guys are going to run 2:09?
Ah, but (in 1984) it was windy that day, and humid, and there were other extenuating circumstances. The thing is, there are always extenuating circumstances. Thatís what happens when you gather a bunch of people in one spot on one day and tell them the first three finishers get to run in the Olympics. Thereís the weather, or the course, or the time of year, or the favorite who everyoneís keying off not feeling great when she wakes up, or a million other things.
So what does LetsRun.com think? Well, we definitely think that assuming there is good weather that a record number of women will break 2:29. Many of the best US women are in the marathon now and the lack of sub-2:29 marathoners in the past was really just a result of the total US lack of depth in the event.
But with the men, it's hard to see a lot of sub-2:10s happening, as a 2:09 is about the absolute best that many of the men could hope for.
It's hard to see Ryan Hall running slower than 2:10 no matter what happens. And Meb Keflezighi has shown numerous times that in the past he can run 2:09 in tactical races when he's really on. But who else has proven they can run a tactical 2:09? No one - although Dathan Ritzenhein did run 2:10:00 at the Olympics. London. (Ritz actually only ran 2:11:59 in Beijing.)
If he's on and the weather is good, quite honestly we'd probably add Mo Trafeh to that list as well (and we know many of you are saying we are crazy as he's never finished a marathon, but he just ran a 61:39 half) and of course Galen Rupp if he actually runs.
So yes, five 2:09s are possible (without a big pr) if the weather is good and the pace starts hot (and Ryan Hall/Trafeh may get it going hot from the beginning) but we think Douglas' reasoning is very solid.
If you want to get great insight into the Trials, we highly encourage you read Douglas' piece as well as Running Times interview with coach Terrence Mahon, as Mahon gives great insight into nearly all of the top contenders on the men's and women's side.
More: *2:09 And 2:28 In Houston To Make The Olympic Team? Scott Douglas Says No Way *Great Interview With Terrence Mahon *Desiree Davila, Ryan Hall Predict Record-Breaking Times At 2012 Olympic Trials Marathon *Catching Up With 27:28 Man Tim Nelson *5 Minutes With 4-Time Olympic Trials Qualifier Clint Verran *A Brief Chat With Desiree Davila *Q&A With Ryan Hall *Hansons-Brooks Runner Sage Canaday Blogs About His "Relationship" With Distance Running And Why The 2:14-2:30 Marathoner Should Even Bother Desi and Ryan predicted record breaking times to make the Olympic team this year, but writer mentions that the '84 Trials had a way deeper field and 2:11:50 took the 3rd spot.
****
8 Quotes Of The Week (That Weren't Quotes Of The Day)

#1 Marathon Coach Terrence Mahon Says More People Know Who Josh Cox Is Than Dathan Ritzenhein

"I guarantee there are more people in this country who know who Josh Cox is than know Dathan Ritzenhein."

- Terrence Mahon, coach of Josh Cox and the Mammoth Track Club, talking about how Josh Cox is a master at the business side of running in a great Running Times interview of Mahon.
More: Recommended Read Great Interview With Terrence Mahon
****
#2 Marathon Coach Terrence Mahon Says Don't Count Out American Record Holder Deena Kastor At The 2012 Trials
"I think one thing that's a huge factor is that her best marathon [the American record 2:19:36 in 2006] puts her three minutes ahead of anyone else's best time. That's a big advantage psychologically. If the other runner go into new territory for them--say 2:23/2:24 pace--that's somewhere that Deena has been many times. It's okay that she's not in 2:19 shape for the Trials. That's not necessary. If she has to run 2:24, that's not unachievable ...
Deena's the American record holder. She's got an Olympic medal. I'm not saying she's in 5K or 10K track shape. But anyone who's counting her out isn't very smart."
More: Recommended Read Great Interview With Terrence Mahon
****
#3 The New York Times Writing About LaShawn Merritt's Positive Doping Test
"So many florid excuses have been given by athletes claiming to have unintentionally taken banned substances that enhance performance. The toothpaste was spiked. The wedding cake was sabotaged. The suspicious blood was provided by a 'vanished' twin who died in utero. All these excuses were roundly dismissed as purposeful cheating.
But what happens when an athlete ingests a prohibited substance and it was truly inadvertent? And he can prove it to the satisfaction of antidoping officials? And he is willing to tell the truth about what he took, even if his admission causes his private life to be made public and subjects him to embarrassment and ridicule?"
We've made Merritt jokes in the past but want to point out as the NYTimes notes, USADA accepted Merritt's reasoning that his positive test was from male enhancement pills.
More: NY Times Profiles LaShawn Merrit's Comeback: Sprinter Leaves Humiliation Behind
****
#4 2011 European Cross-Country Champion Fionnuala Britton Admitting That Sometimes It Does Come Down To Who Wants It The Most/Is The Most Motivated
Then her sister Una appeared at the side of the track and gave her the push she needed to go all the way. "I saw Una as I started the last lap. She told me that I wanted it more than the others and she was right. I just thought, it's only a mile, in training I've done this millions of time. I knew then I was capable of it."
Britton certainly had a ton of motivation, as last year, she had been nipped at the line for the bronze and vowed that day that she'd win gold the following year.
More: Fionnuala Britton's victory last week was a triumph of belief and hard work, writes Marie Crowe
****
#5 If You Keep Improving, You'll Eventually Set The World Record (That's Rojo's Favorite Coaching Quote - He's Not Sure If He Invented It Or Not)
"When I first started, I didn't dream I'd get under 2:30 then, all of a sudden, I was looking at getting under 2:20. Now I want to get under 2:15 - I don't think that's going to be much of a problem.
"Realistically, I think I can get under 2:12, but I don't know if I'll do that in time for London.''
- New Zealand's Paul Martelletti, who started his marathoning and regular running career in 2007 with a 2:58 marathon, but now has run 2:16:49 and is dreaming of London 2012 talking to the NZ Herald.
More: *Unknown athlete a shot for the Olympics *Martelleti Explains His Running Background In A Message Board Post Here *Martelletti Stats
****
#6 Remember, You can't Win Everything
"I would have loved to win the Comrades, because that is the big one for us. But I have very few complaints about the way my career turned out. I guess in life you canít win everything."
- 1992 New York City Marathon champ Bhekizizwe William Mtolo of South Africa, reflecting on his career.
More: Catching Up With 1992 NYC Champ Bhekizizwe William Mtolo Of South Africa
****
#7 Marc Bloom Stating He Believes 2011 Foot Locker Champ Edward Cheserek Is A Total Class Act Who Might Have Gone Easy At Foot Lockers To Not Embarrass The Competition
"I believe that Edward Cheserek, winner of the 2011 Foot Locker boysí cross country championship on Dec. 10 in San Diego in an epic duel with Futsum Zeinasellassie, allowed the duel to happen because of his budding friendship with Zeinasellassie. It was a display of Cheserekís character, which is evidently as wondrous as his remarkable running ability. ... I donít know if I have ever observed another top young runner with Cheserekís graciousness, humility, class. And this from someone who came out of extreme poverty. But isnít that often the case - that those who have little shine while those with much feel entitled. Cheserek did not come to the U.S. to become a running star. He came to seek educational opportunities in order to one day try to help his family and, perhaps, his country as well."
- Excerpt from the opening few paragraphs of Bloom's piece on Cheserek and the 2011 Foot Locker Championships.
More: Did Cheserek Put Friendship Ahead Of Records In Foot Locker Duel?
****
#8 A Warning To All College Athletic Directors and Presidents Who Think A Jump Up In Athletic Emphasis Is Necessarily Better
"In some ways, athletics is like riding the back of a tiger. As long as youíre on the back, itís fine; if youíre near the teeth and the claws, you can get hurt very, very badly. I never want Butler to get that point. Itís something we avoided by being conscious that it could happen."

- Bobby Fong, former president of Butler University, talking in a great New York Times article entitled: Avoiding the Trap of Big-Time, Big-Money Sports. Bigger, more expensive, etc. isn't always better. Just ask Maryland, where a once dominant track program is on life support and an alum who was ACC football coach of the year in 2010 was fired to create more buzz. The result. A terrible football season.
****
Don't Think Genetics Are A Huge Part Of Running? Think Again
One of the greatest aspects about running is that if you don't work at it, you won't be good at it. And the harder you work, the better you are at it. That being said, we think it's important that people realize that genetics might just play a huge role in your ultimate potential.
And that brings us to two-time Foot Locker Finalist Caterina Rocha of Peabody HS. Dyestat profiled her last week and their profile pretty much nailed it on the head with how big of a role genetics often play with the following excerpt:
Rocha, a junior who finished seventh on Dec. 10 at San Diego's Balboa Park, said she had never heard of the Foot Locker meet until she came out for the cross country team at the start of the 2010 season. As it turns out, she has a special place in the history of the meet. Rocha is the first child of two previous finalists to quality for the championship. "I didn't even know," she said. "(My parents) don't make a big deal out of it."
Oh yeah, one of her uncles also was a Foot Locker finalist. So she's the daughter of two and niece of another.
More: Dyestat Profiles 2-Time Foot Locker Finalist Catarina Rocha, Who Is The Daughter Of 2 Finalists (As Well As Niece Of Another)
****
Recommended Reads
*Great Interview With Terrence Mahon Mahon gives his thoughts on just about every big player (men and women) who will be in the hunt at the Trials.
*Catching Up With 1992 NYC Champ Bhekizizwe William Mtolo Of South Africa
*After Once Being Considered Dead By His Family, After Once Being Forced To Eat Garbage, Lopez Lomong Will Graduate With 3.5 GPA On Friday From NAU
*Did Cheserek Put Friendship Ahead Of Records In Foot Locker Duel?
*NY Times: Avoiding the Trap of Big-Time, Big-Money Sports
*NY Times Article (By Former Maryland Track Athlete) Chronicles Maryland's Journey From Top Program To Another Budget Cut
****
Other News Of Note From The Last Week/Looking Ahead To 2012
Darren Oliver, Jenn Suhr To Run Under The Lights At US Open At MSG On Jan 28th We'll have more on this meet and TMFKAMG later this week, but we hear the Garden is promoting it and ticket prices are about as reasonable as it gets in NYC ($15-$75). Asafa Powell is also running.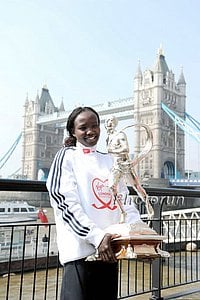 2012 Virgin London Will Be Absolutely Stacked Again
Keitany Vs. The Two Kiplagats The 2012 women's Virgin London Marathon field was announced last weeked and it is absolutely stacked. You've got 3 of the 4 top marathoners in the world squaring off and 15 women who have run under 2:25. Keitany, the 2011 Champ who ran like a maniac in NY, will take on 2010 NY and World Champ Edna Kiplagat and Berlin champ and 2:19 runner Florence Kiplagat.
****
Quotes Of The Day From The Week/Last Week's Homepages:
Monday 12/19:
"Those who have knowingly cheated other athletes out of selection did so knowingly, they knew the consequences of it. It doesn't leave me angry, it leaves me very sad about those guys."
"They made the decision to cheat their fellow athletes. They knew the price they were going to pay, and ultimately when you talk about redemption you've got to talk about the redemption of those clean athletes."
"They were denied selection as a result of an athlete who was taking a cocktail of drugs to enhance their performance, and denied that athlete who has trained week in week out, year in year out, the chance of getting selected for the pinnacle of their sporting career, namely the Olympic Games. You never hear of them again, they get no redemption in the whole of their life."
- BOA chairman Lord Moynihan, defending the BOA's lifetime Olympic ban for UK drug cheats which has been challenged by WADA and will be decided upon by CAS "before the end of April."
---
Sunday 12/18:
"A lot of possible donors don't believe they should pay for what they feel the institution should be paying for themselves."
- Maryland's AD from 1981 to 1986, Dick Dull, talking about why it will be hard for Maryland to raise the money it needs to avoid being cut. They have to raise an absurd amount, adding up to around 4.2 million dollars. You can make a donation here.
---
Saturday 12/17:
"Obviously, I'd have to get struck by lightning twice in order to ... No, you know what would have to happen is there would need to be about 50 guys in the race all take a wrong turn, and me take the right turn [laughs]. I understand that because I was on that cusp at one point. I would say, sitting here right now, I think it would be amazing if I could come back, six weeks, and run faster than I did Saturday at Cal. I ran 2:18:56 there, so if I could somehow run faster than that, I think that would be satisfactory for me. But just going out, honestly, and getting the most out of myself, whatever that is, is what I'm looking for. If that's 2:16, then it's 2:16. If I run my face off and collapse at the finish line and run 2:24, then that's what it's going to be."
- 4-time Olympic Trials qualifier Clint Verran, talking about his expections for this year's race in Houston. He has a pretty amazing story, as he qualified at CIM by only 4 seconds after coming back from a calf tear at Chicago, which was his first DNF ever.
---
Friday 12/16:
"I'm still sore. My thighs and what not are still stiff and inflexible."
"(But) without (races), I get bored. I feel that I have to do this at least once a month."
- LetsRun.com blue-collar hero Yuki Kawauchi, who ran 2:09 two weeks ago at Fukuoka, talking about why he's running another marathon this Sunday. We thought his attempt to bounce back and race Tokyo in February was a bit ambitious, but this is truly ... (insert your own adjective here).
---
Thursday 12/15:
"I just love running. More than anything. It's what keeps me going; it keeps me sane ... I just absolutely love to do it."
and
"I do love competition ... it's just so much fun, getting to go out into a race and pitting yourself against everybody else. I think what I love about it is that even though people are such fierce competitors in races, everybody gets along so well afterward. You share this camaraderie with everyone. Like everyone understands what you're going through, and you all bond together because you know the challenges that everyone faces."
- Foot Locker champ Molly Seidel, who clearly understands what is so great about our sport.
---
Wednesday 12/14:
"I won't waste your time with another debate about how to spend scarce dollars. But I'd like to offer a parent's perspective. For the few hundred kids who will lose the chance to be part of these under-the-radar collegiate teams, nothing can replace that experience. Nothing really comes close."
- Lenny Bernstein writing in the Washington Post about the University of Maryland's decision to cut it's men's track and field program. Meanwhile, the schoool's football cocch Randy Edsall will make $2 million each year - way more than the entire track and field budget - despite the fact he has a career record of 76-80 and took the 23rd-ranked team in the land with a 9-4 record and ran them into the ground to a 2-10 record in 2011.

Our solution: Fire The AD!!!
---
Tuesday 12/13:
"Living by myself at 6 years old, I never saw my childhood. I never had a book being read to me; I never had any Christmas. Basically, from 6 years old, I started living as an adult. When I was 14, I didn't know there was a life for me. I was a kid eating from the garbage."
- Lopez Lomong on being a lost boy of Sudan at age 6. On Friday he'll be carrying the flag at his NAU college graduation. His story is remarkable. Be thankful for the opportunity in America. Lomong's graduation got big news in USA Today.
---
Runner's World &
Running Times



Combined Only $22
a Year
Save $87

---

Running & Track and Field Posters
---

Running Shoe Savings: Nike Lunar Glide 20% Off Super popular shoe from Nike featuring Flywire and Lunar Foam
---