Take That, Nike (Let's Hope They Don't Hold This Against Him When He's Going Pro In 5 Years): Edward Cheserek Picks Foot Locker Over NXN *MB: Cheserek chooses Footlocker over NXN
Set Your DVRs - "Marathon Boy" Debuts On HBO On Thursday At 8 PM ET
WSJ Reviews "Marathon Boy" Budhia Singh ran 48 marathons BEFORE the age of 5, including a 42-mile run in 93-degree heat that almost killed him.
College XC News - 2 Great Articles
Aspiring College Journalists, Read This Well-Written Article AZ Student Newspaper Profiles The Amazing Lawi Lalang, Who Gets Tons Of Praise From Coach Li Li, who knows a thing or two about Kenyan phenoms, as he coaches Bernard Lagat, says Lalang is truly special: "I have not seen someone in college running as well as he is and I've had a lot of Olympic-level athletes over the years. He's very exceptional, this one is for real."
Indy Star: IU Men Ran Boldly In Trying To Beat Wisco - Hoping They Would They Crack - But In The End, The Hoosiers Cracked "I wish we could be the Big Ten champions," Helmer said. "I think we could have won all but one other conference championship in the country this weekend." The Hoosiers placed seven runners ahead of Wisconsin's sixth man. If scoring had been for seven instead of five, the Badgers' margin would have been 100-120. "They're not intimidating. They're just good," IU grad student Adrien Dannemiller said. "They're ranked No. 1 in the country for a reason."
More Non-New York News
National Track & Field Hall Of Fame News
Gail Devers, Maurice Greene, Vince Matthews, Clarence Demar, Bob Timmons And Craig Virgin Selected For The National Track & Field Hall Of Fame Virgin actually was selected last year but will be inducted this year. The five will be inducted into the National Track & Field Hall of Fame.
Gail Devers Reacts To Hall Of Fame Announcement "When I initially heard, I said, 'Oh, my goodness. I wonder if that means I can't compete anymore since I've never officially retired?''' Other inductees include Olympic champion Vince Matthews, coach Bob Timmons, and seven-time Boston Marathon winner Clarence DeMar, who died in 1958.
Cryotherapy Gets Examined In LA Times Only in LA (a red light district?) would people look forward to spending $70 for a 2.5 minute session.
News From The UK
Natasha Hastings Blogs In The HuffPo About Posing Nude For ESPN The Magazine
IOWA Now Is Using $75,000 Alter-G
Marathon News
The Near Miss in Frankfurt: Wilson Kipsang's 2:03:42 Near World Record Leaves Athletics Kenya With A Headache For Selecting Olympic Team
*A Look At Kipsang's Rise To The Top His career took off when he started focusing on longer distances.

Halloween Action In Ireland: Geoffrey Ndungu Overcomes Rain & Wind To Sets New CR (2:08:33) Former Iona runner Sean Connolly gave up on the "A" standard of 2:15:00 after four miles as he felt flat but he did get the Irish title in 2:18.52 and the first sub-2:20 by an Irishman since 1999. *IAAF Recap Helalia Johannes of Nambia won the women's title in 2:30:35. *Linda Byrne Runs 2:36 To Win Irish Title, Qualify For Olympics

ING NYC Marathon Is Sunday: It's not too late if you want to come to the Puma LetsRun.com bash on Friday night.
Alvina Begay Being Coached By Alberto Salazar For Olympic Marathon Trials
NCAA XC *More Conference Coverage Here *College Forum Here
SEC: Arkansas Men, Vanderbilt Women Win SECs Easily Eric Fernandez and Kristen Gillespie of Arkansas got the individual crowns.


Big 10s: Ignore The Rankings, We Have A Favorite For NCAAs Wisconsin Men Win 13th-Straight Big 10 Title In Dominant Fashion The Badgers made a mockery of the rest of the Big 10 by scoring 17 points vs. a talented Indiana team. *Results *MB: Big 10 Talk
*Michigan State Women Repeat In 3rd Closest Big 10 Meet In History 55 to 61 over Michigan. *Women's Results

PAC-12s: Wetmore Works His Magic As Colorado Sweeps *Results The PAC-12 is the new super XC conference. The CU men edged Stanford, and the women, who were only picked 4th coming in in the latest LRC polls (and 6th in the national coaches polls), pulled the upset.
*Colorado AD Is Particularly Thrilled As Colorado Had Won One Game In All Sports In PAC-12 Until The XC Titles "Just what the doctor ordered," according to the AD.
*Wetmore Gives His Teams A Grades For Their Showing - Refuses To Give Out A+ Since Colorado Isn't In The Ivy League & Doesn't Practice Grade Inflation "I would give it an A and an A and that's as high as I get. This isn't Harvard," Wetmore said.
*Katie Flood Surprise Winner At PAC-12s
*Stanford's Jason Dunn Disappointed A 5th Man Didn't Step Up
*Lananna On His Young Squad: "I thought the guys did a pretty good job."
On The Boards: PAC-12 Update Thread *Craig Lutz > Lukas Verzbicas *Bad day for Hasay?

Big 12s: German Fernandez And Oklahoma State Win Men's Crowns Iowa State Wins Womens
On The Boards: GERMAN FTMFW

Heps: Princeton Men, Cornell Women Win In The Snow! Congrats to friend of LRC Artie Smith for his first conference title. And if you want to see what can be done in terms of conference coverage with almost no budget, check out this link. *Heps XC On The Boards

Big East: Villanova Men Win Convincingly, Women Edge Providence (Results)
*Marcus O'Sullivan Impressed By Men's Win: "We had an unbeatable effort today."

ACC: Florida State Women Dominate, NC State Men Edge FSU Kendra Schaaf dominated on the women's side as Ryan Hill won on the men's. *ACCs On The Boards *Kendra Schaaf is back!

West Coast Conference: Portland Pilots Amazing 32-Year Conference Win Streak Is Snapped In Year 1 Of Legit Competition - BYU 25, Portland 32 More NCAA On The Boards: BYU vs. Portland Portland's 32-year conference XC streak came to an end.
News From Or Related To The UK
For The Distance Junkies
Three People On The Comeback Trail Make News - Two Very Famous People & One Not (Yet?)
Kara Goucher To Be Coached By Jerry Schumacher At OTC Elite And Train With Shalane Flanagan And Lisa Koll
*MB: Kara Goucher Joins Schumacher's Group The rumors of the Skecher's deal appear to have been incorrect.
2011 Mayor's Cup At Boston's Franklin Park *Results *Video
Matt Centrowitz's Sister Lauren Centrowitz Wins Mayor's Cup www.baa.org Princeton alum David Nightingale won the men's race for New York Athletic Club in 23:46.
Other US News
Sort Of Related To Running
Want To Have Cocktails With Ryan And Sara Hall? Bid On The Items In The NYRR Fall Auction The cocktails will cost you $1,450.
43 Years Ago From Tuesday, Bob Beamon Broke The Long Jump World Record By More Than 2 Feet Interesting to note that he reveals he was initially excited not because he knew it was a monster jump, but rather simply because he hadn't fouled.
For Our Friend Mike Rohl
2004 Olympic 20k Racewalk Champion Retires
LRC Moses Mosop A Superstar, Liliya Shobukhova Becomes Second-Fastest Woman Ever Updated Moses Mosop dominated the final miles in Chicago after Wesley Korir tried to make it interesting. Russian Liliya Shobukhova ran 2:18:20 to become the second-fastest woman ever. American Ryan Hall ran 2:08:04 for 5th. Great for any other American marathoner, so-so for him.

LRC: Wesley Korir Impresses With 2:06:15 Second Place In Chicago The former Louisville Cardinal broke the race up with a surge at 30km. Afterwards, he revealed what he was trying to do.

Ryan Hall Says He Needs More Time At Sea Level To Work On Turnover RW

LRC Non-Quotes Of The Day From 2011 Bank Of America Chicago Marathon Hall talks about what 2:08 means, Canova talks about the world record.

LRC Quick Recap With Men's Splits: Moses Mosop Breaks Course Record At 2011 Bank Of America Chicago Marathon, Shobukhova Runs 2:18:20
After Pan Ams, Guadalajara Now Will Bid To Host The Olympics
News From Kenya
New NCAA XC Rankings
USTFCCCA Coaches Catch Up To LetsRun.com And Make Wisconsin #1, FSU Still #1 On Women's Side The LRC faithful made Wisconsin #1 last week before the Badgers' dominant Big 10 meet.

LRC National And Regional Polls Now Open Show once again you're smarter than the coaches. Voting now open.
Not Your Everyday Headlines
Gunshot At Adam Goucher's House May Have Helped Lead Him To Running Interesting read. Goucher has a new book he is promoting, which you can buy here.

Juan Manual Marquez Using Usain Bolt's Strength Coach To Bulk Up Before Manny Pacquiao Fight? We're not sure if they guy is serious or making a veiled drug accusation.

State Champion Goat Tests Positive For PEDs In Colorado www.npr.org Of course the owners are claiming sabotage.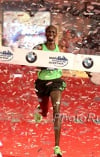 Frankfurt: Oh-So-Close: 2:03:42 - Wilson Kipsang's World Record Assault Comes Up Just Short IAAF The world of marathoning continues to be simply amazing on the men's side.
*AP Recap Levy Matebo was second (2:05:16) and Albert Matebor third (2:05:25) as the women's CR was broken by Mamitu Daska (2:21:59).
Pre-Race: Last Year's 2:04:57 Course Record Holder Wilson Kipsang Says World Record Can Fall At Sunday's BMW Frankfurt Marathon Kipsang may be getting a bit ahead of himself, but he's very good. More on Kipsang here.
Trying To Inspire The Next Generation
Monday's Quote Of The Day: "Who did I beat? I beat the demons within me." - Billy Mills in a Washington Post profile. Good read.

Gary Reed hopes to bring track back to life Vancouver Sun "I don't know that a lot of people want to admit that, but I know it's dying. The next generation is really struggling. The numbers from junior to senior are falling off like crazy and I, as someone who got my whole life from track, would love to leave the sport better off than what I found it."
More Weekend Action
UK: Leonard Komon Goes Out In 4:12 In 10-Mile World Record Attempt - Blows Up & Comes Up Short At Bupa Great South Run The man who missed Geb's WR (44:23) by just 4 seconds last month ended up winning in 46:18 as Alistair Cragg was third in 47:14. Asselefech Mergia won the women's race in 52:55.
Pre-Race: Leonard Komon Going For Gebrselassie's 10 Mile Record At This Weekend's Bupa Great Run

LA: 4 Weeks After Running 1:12:23, Deena Kastor Runs 1:11:48 But Was Hoping To Run A Minute Faster

Spain: Marta Dominguez Wins 1st Race Back Since Doping Arrest & Clearance

Kenya: 2:10:54 Wins Debutante $15,000 At Standard Chartered Nairobi Marathon Meanwhile, 32-year-old Margaret Toroitich, who has an 18-year-old daughter, won the women's race in 2:30. *Video Highlights

DC: Lieutenant Chad Ware Runs Wins In Fastest Time In 14 Years (2:19) - Just Misses Olympic Trials Time The former Butler runner is aiming for WCAP as well as a career as a chaplain in the military. *Video

Dublin (Monday): Former Iona Runner Sean Connolly Hoping To Be Beijing Bound If He Can Break 2:15:00 In Monday's Dublin Marathon He competes for Ireland.
In 2 Weeks: Get The Gorilla 5k XC Race (Central Park Track Club Vs. The Garden State Track Club) Looks like a cool road race in the Northeast from some LRCers.
3 Recommended Reads From The Marine Corps Marathon
Sunday: Pan-Am Games Conclude: Patrick Rizzo Runs Time He Wanted In Marathon (2:21) But Is 8th In Pan Am Games As 19-Year-Old Steals Show
*Jamaican Journalist Take #1: Were the Pan-Am Games really worth it?
*Jamaican Journalist Take #2: I leave with memories that will "remain with me for the rest of my life."
*Jamacian Track Coach Says Team Exceeded Expectations With 5 Medals

Dayron Robles Gets Pan Am Gold In 13.10
Result: Sara Hall Gets Steeple Gold Tyler Mulder, Mark Wieczorek 4th and 5th in 800. On The Boards: Congrats to Sara Hall for Pan Am Gold in the Steeple

Thursday: Omar Cisneros Runs 47.99 To Win Pan Am Gold Over Felix Sanchez Sanchez was emotional afterwards and broke down into tears. Marilson Dos Santos won the 10k easily and former Stanford runner Malindi Elmore got a bronze at 1,500m.

Wednesday: *Costa Rica's Nery Brenes 44.65 Gold In 400m Is Only Costa Rica's 2nd Track Medal Ever At Pan Ams
*Olympic LJ Champ Druggie Maurren Maggi Jumps 6.94 To Become 3-Time Champ
Good News: Meb Yesterday, Usain Today
Usain Bolt And New Puma Faas Line Credited For Boosting Puma's Earnings In Quarterly Earnings Report Wait until the boost Puma gets from the LetsRun.com Puma Faas Challenge (Puma is giving away 100 pairs of FAAS shoes to LetsRun.com visitors to prove how good they are).

Skechers CEO Mentions Meb Keflezighi On Quarterly Conference Call
Recommended Read: UK's Olympic 200m Silver Medalist (4 X 1 Gold Medalist) Darren Campbell Talks About Being Offered Drugs During His Career And His Ill Feelings Towards Dwain Chambers Like us, he supports lifetime bans, but thinks Chambers should be allowed to race Olympics. He says, "At what point does the sport decide enough is enough? People are still saying, 'should it be a life ban, should it be two years?' For me, it's got to be life. You can't rob the sport, then come back to the sport, that don't make sense."
Want To Use The Internet At The London Games? It'll Cost You $150 A Month The media are pretty angry about this.
5 South African Runners Killed In Road Accident By Drunk Driver; A 6th Is Seriously Injured
4 Recommended Reads
An Interesting Debate: Appearance Fees Vs. Prize Money David Powell: "There may be some Utopian merit in the idea of dispensing with appearance fees and moving all the cash into prize money, but it's a fantasy notion. It's never going to happen as a rule of law. That may be stating the obvious but it needs to be said as a precursor to discussing the benefits, or otherwise, of theoretically eliminating fees."
NYC Marathon
NEW YORK CITY MARATHON FINALIZES ELITE FIELD World Champs bronze medalist Feyisa Lelisa, two-time European Champs medalist Inga Abitova and the third-fastest half marathoner of all time, Mathew Kisorio (debut), have been added to the field.
2 Weeks In Review
LRC Weeks That Were: Ryan Hall Criticism, Canadian Marathoners, E. Dibaba's Stunning Marathon Debut, College XC And More We dig deep and look at Ryan Hall's performance in Chicago, his spat with Phil Hersh, give praise to Ejegayehu Dibaba for her excellent marathon debut, give some props to Reid Coolsaet, discuss a little NCAA XC and let you wish you were born in Kenya.
The Anti-Caster? Russia's Mariya Savinova Dazzles Crowd At Awards Gala With Her Stylish Gown
*MB: Marya Savinova--sexiest legs on earth?
Lauren Fleshman, Jen Rhines, Ed Moran, Bobby Curtis And More
LRC NCAA Polls Open
LetsRun.com NCAA National And Regional Polls Open Tell us who the top 10 teams are in the country and who the will make nationals in each region.
Week In Review
LRC Week That Was: Wilson Kipsang's Near Miss, US Men's Marathoners Vs. Frankfurt, Mark Wetmore And CU At PAC-12s And The Wisconsin Men At Big 10s We take at look at Wilson Kipsang's near world record run in Frankfurt, discuss how the entire history of US men's marathoning was eclipsed in Frankfurt and then turn to a discussion of NCAA XC action.
Wilson Kipsang Just Misses World Record (And Coolest Finish Of A Marathon We've Seen)
Thankfully, Track And Field Is On Live TV Somewhere (Sara Hall's Pan Am Gold From Mexico)
Week In Review
LRC Week That Was: Kisorio's Marathon Debut, Age Cheating, Marion Jones And More We go around the world to tell you what happened in the running world. And we take a look at Matthew Kisorio's marathon debut in NYC.
Tuesday's Pan Am Games 100m Final
Affirmative Action Comes To Running
November's Kass Marathon In Kenya To Have Special Prize Purse For Foreigners Despite many races excluding Kenyans from prize money, this marathon in Kenya wants some good foreigners to show up.

More Kenyan News: Athletics Kenya Adopts New Constitution
Administrative News
Doping News
Training Corner (More In The Training Forum)
UK News
BMW Berlin Marathon Photos! Makau Takes Geb's World Record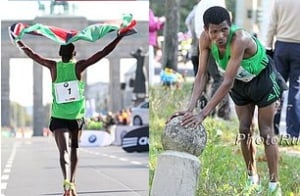 Great Deals

Galen Rupp 26:48!!!
Simpson Gets Gold (International Visitors Click Here)
Ezekiel Kemboi Wins And Has The Greatest Celebration Ever (International Visitors Click Here)
A Scintillating Men's 10,000 Finish (US Visitors Only)
Great Deals

Universal Sports Back To Top