We're Having a Party: Puma LetsRun.com NYC 2011 Bash
By LetsRun.com
October 26, 2011
PUMA LetsRun.com NYC 2011 Party

What better way to celebrate the launch of the LetsRun.com Puma Faas Challenge and one of the greatest weekends of the running year (ING New York City Marathon weekend) than by throwing a party.
The second ever Puma LetsRun.com Bash will be next Friday November 4th from 8:30-11 pm at the PUMA Store in Union Square.
Think free beer, tasty snacks, free LetsRun.com t-shirts (yes ladies and gentleman, letsrun.com t-shirts), great Puma shoes and a great time.
We're not done yet. All attendees get 25% off at the Puma Store, so you can put the Puma Faas line to the test (the Faas line is the new Puma line of running shoes worthy enough for the hard-core LetsRun.com runner).
We're still not done yet. How about a little running trivia with $100 Puma gift certificates to the winners?
We don't throw parties that often but when we do, we do it right. That's why we're doing it with Puma next weekend in NYC.
The only catch? This is a PRIVATE party. Considering there is free beer and t-shirts, space at the party is limited, but we're going to let in as many from the LetsRun.com community as possible.
We've got some VIP spots to give to the those LetsRun.com visitors who most want to hang out with us in New York City. So in 200 words or less tell us why you want to come to the party. Please only enter if you plan on being in New York next Friday (November 4) and can come to the party from 8:30-11pm.

Party Details:
Date: Friday November 4, 2011
Time: 8:30-11pm
Place: PUMA Store, 33 Union Square, NY
Please fill out the details below (if you use facebook most of it should be filled out already). On the next page you'll tell us in 200 words or less why you want to come to the party.
PS. If you are a "FOL" (Friend of LetsRun.com) and want to come to the party and are going to be in the New York area, feel free to email us as we are having a hard time remembering who all lives in the NYC area.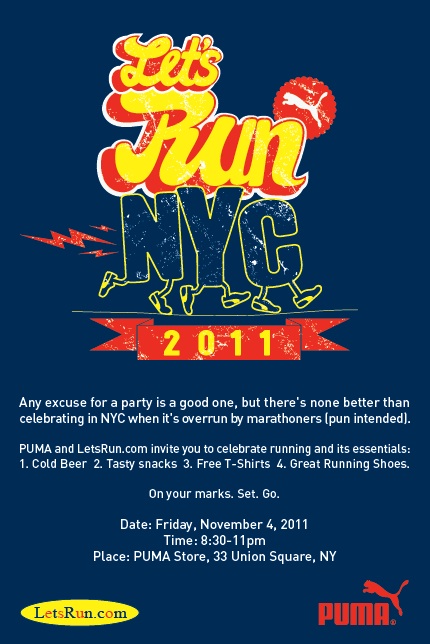 ---
Runner's World &
Running Times



Combined Only $22
a Year
Save $87

---

Running & Track and Field Posters
---


More Nice Offers: Nike Lunar Glide Savings Super popular shoe from Nike featuring Flywire and Lunar Foam

*Nike Air Max Moto Sale $69.99 for this shoe from our partner.
---