The Week That Was July 6 - July 12, 2009
July 13, 2009

By LetsRun.com
To read last week's LRC Week That Was, click Here.
To read any 2009 LRC Week That Was, click Here.
What a week! There was so much to talk about.
The biggest race from last week was that the men's Olympic 1,500 final was "re-run" and Rashid Ramzi was DQd. Well, not quite officially, but the good news is that his B sample came back positive. If it hadn't come back positive, the sport would have had a pr nightmare. So now only an appeal stands between there being a new Olympic gold medallist. We want to jump the gun a bit and congratulate the two best milers on the planet from last year's Olympics.
More:
Gold For Kiprop, Ramzi B-Sample Positive
LRC Boards: Ramzi B sample positive
Kiprop's Newly-Won Olympic Gold Will Be Kenya's 6th - Their Highest Mark In History Asbel Kiprop will return to action in Rome on Friday vs. Augustine Choge.
---
On the track, there was a ton of action with a great meet Lausanne and then the third Golden League meet of the year in Rome. Both meets were pretty spectacular. We won't try to recap them in their entirety here. If you want a full recap of Rome, see our recap here or our home page from that day here. If you want a full recap of Lausanne, see our recap here or our home page from that day here. In the meantime, we'll try to make a few observations.

Usain Bolt Is Sensational
The Performance Of The Week came in Lausanne. Usain Bolt promised big things prior to the meet and the showman - the superstar - more than delivered. On a rainy day that was producing very poor sprint times, Bolt ran the 4th-fastest 200 in history. If you haven't seen the race, please watch the video below. Honestly, it might even be more impressive than his WRecord in Beijing last year. We're serious.
At the Olympic Games, Bolt did set the world record of 19.30. But he didn't do it in ridiculous rain and he didn't run into a .9 headwind.
In Beijing, Bolt ran 19.30 to Churandy Martina's 19.82. So Bolt ran .52 faster than the guy who crossed the finish line second that day (Martina was eventually DQd). He ran .65 faster than the 19.95 that the 3rd finisher Wallace Spearmon ran (Spearmon also was DQd for a lane violation).
In Lausanne, Bolt ran .82 faster than the 2nd-place finisher LaShawn Merritt. He ran more than 1 full second faster than Churandy Martina (1.17 to be exact), as well as last year's official Olympic 200 silver medallist Shawn Crawford (1.21). If you haven't watched the race, watch it now and tell us if you have ever seen someone make up a stagger quicker than Bolt. Sensational stuff.
More Lausanne:*Results *USAIN BOLT 19.59 MIND-BLOWER IN LAUSANNE
Message Board Thread Bolt 19.59! *Bolt Clocks 4th - Fastest 200m Of All Time *Bolt Says: "I Didn't Think It Was Possible To Get So Much Pleasure Running In Those Conditions." Click through these awesome pictures to find an amazing photo of the conditions for Bolt's 19.59.
Bolt Was Amazing, But Tyson Gay Is Pretty Damn Good Himself
In Lausanne, we got an amazing one-man show by Bolt but in Rome, we had the first big sprint showdown of the season as double world champ Tyson Gay squared off against former 100 meter word record holder Asafa Powell at 100. In the end, Gay proved what we thought all along. There are only two truly big names in the global sprint world right now - Bolt and Gay.
Gay tied his American record with a stellar 9.77 run. Powell ran pretty well as he was second in 9.88. All we can say is we can't wait for the showdown between Tyson Gay and Usain Bolt. Bolt has to be considered a big favorite, but just the concept of him having a rival and being pushed has us very excited.
By the time Worlds rolls around, Powell himself might be in the picture as he said his ankle was only 85% healed heading into Rome. In the prelims and finals, Powell broke 10.00 both times, meaning that he's now broken 10.00 51 times. The all-time record? 52 by Maurice Greene. Powell's 9.88 also makes it 6 straight seasons that he has broken 9.90, which has to be an all-time record as Greene only did it 4 straight years from 1999 to 2002.
More: Tyson Gay Still Confident He Can Beat Bolt At Any Distance
Maggie Vessey Wins Again
Mid-d and distance-wise, there were several great performances last week by Americans. Let's start with the one that was the most exciting for us to watch.
Maggie Vessey earned her 2nd big victory of the year in Rome as she clocked 2:00.13.
We wanted to start with Vessey's victory because for us it shows how the obsession with times is ruining the sport. Even though she has won both the Pre Classic and the Rome Golden Gala, Vessey still hasn't hit the Olympic A standard of 2:00.00. Thus, as of now she won't be going to Worlds. Ridiculous.
Yes, for the time being, we're ignoring the fact that the 2nd placer at USAs Geena Gall (who ran a 2:00.44 pb last week) or 3rd placer at USAs Phoebe Wright (who ran 2:04.49 this week) theoretically could go sub-2:00 and definitely make sure the 4th-placer Vessey doesn't go.
The IAAF should grant the winners of major meets automatic A standards. If you win Pre or the Golden Gala, you automatically go. Period. In reality, if you are even accepted at a Golden League meet to run, you probably should be given the A as the meet promoters clearly know who the best athletes are, but that would be too political. Vessey is one of track and field's great stories of 2009 and she belongs at Worlds if Wright doesn't break 2:00. The IAAF should pass that rule now. We understand why the IAAF has A & B standards, but give us a break.
The obsession with times has gotten so bad that it's even screwing up what the athletes think of the sport. In a post race interview, Vessey seemed a tiny bit down after Rome because she didn't break 2:00. You just won in Rome. Cherish that for the rest of your life.
Everyone involved in track and field - IAAF people, USATF people, coaches and athletes - need to remember one thing. People watch sports for competition and entertainment. Watching someone race a clock is boring. Watching true competition is exciting.
(An agent told us last week one of the reasons there are so many races in Europe with rabbits and perhaps 10 guys all from Kenya in the same race because the IAAF evaluates the meet on how fast the times it produces).
More: *Maggie Vessey making some noise in the 800 ... could do great at Worlds
Watch Maggie Vessey

Christin Wurth-Thomas - Her 3:59.98 Is The Results Of Years Of Steady Improvement
After bashing the obsession with times, we'll now praise some people for running some stellar track times. In Rome, American Christin Wurth-Thomas ran 3:59.98 to become just the 5th Ameican ever under 4:00. More importantly, she is just the 3rd American to ever break 4:00 who wasn't later hit with a drug suspension.
For the first time ever, America now has two women under 4:00 in the same year, as Jenny Barringer did it at Pre.
Rojo's favorite phrase when coaching at Cornell is "If you keep improving, eventually you'll set the world record." So many people get caught up on how far back they are from the truly elite. If you focus on the process and progressing in your training, you'll get faster and who knows when it will stop? Wurth-Thomas consistently just keeps getting better... and better. Take a look at Wurth-Thomas' PR progression.
2002: 4:15.80
2003: 4:10.49
2005: 4:08.76
2006: 4:05.00
2008: 4:04.88
2009: 3:59.98
Yes, Wurth-Thomas is still a ways from being a likely medal contender, as she was blitzed in Rome by Maryam Yusuf Jamal, who ran 3:56.55. But if over the next three years, she improves half of what she has this year, she could be a 3:57 runner in the hunt in London 2012.
Her progression also shows that improvement doesn't always come in a linear or totally consistent fashion. One year, you may be hurt and not PR. Few people stick with it year after year and have a training model that is repeatable. Major Thumbs Up to Christin Wurth-Thomas.
More: *2nd in 3:59.98 1500 in ROME!!!
Dorian Ulrey - 3:35.23
While Wurth-Thomas was running fast and finishing near the front in Rome, Arkansas Razorback Dorian Ulrey was running super-fast and finishing near the back. As he said in a Flotrack interview, he just avoided the dreaded DFL, but his next-to-last finish was spectacular for him as he got the World Championships A standard with a 3:35.23. A 4-plus second PR in one race gets a huge Thumbs Up!
Ulrey's mark is the 4th-fastest in the last decade by an American-born runner with remaining collegiate eligibility, barely behind only Michael Stember (3:35.11 in 2000), Gabe Jennings (3:35.21 in 2000) and Chris Lukezic (3:35.22 in 2005). Lukezic may have already been a pro then. Very well done.
More: *dorian ulrey does it! *Dorian Ulrey in Golden Gala *Dorian Ulrey Completes US Trio For Berlin
Khadevis Robinson 1:44.47 At An All-Comers Meet
While Wurth-Thomas and Vessey and Ulrey all had unreal performances last week, our Most Amazing Performance Of The Week came from Khadevis Robinson. At a dinky all-comers meet in California, he blitzed a US-leading 1:44.47. KD has never been the best guy at bringing it at Worlds, but the guy has been a US star for a long time. After just missing out on the Olympic team last year, he thought about quitting, but came back and is just trying to have fun. Well, we hope he enjoyed that perfomance, as it's truly amazing. 2nd place was 1:54.74. Yes, that's right - he won by 10+ seconds. And he didn't have a rabbit!!!
The amazing run by KD got us to trying to find a list of the all-time best performances on US soil at 800 meters. Well, we couldn't quite find of make the list that we wanted, but since our crack analysis is a bit off this week, we thought we'd share with you a random list which may be interesting. It's a list of the all-time fastest lifetime PRs set on US soil.
Fastest 800 PRs Set On US Soil (Guys have certainly run faster on US soil, but if it wasn't their lifetime PR, it doesn't show up here)
1:42.58 NR Vebjørn Rodal NOR 16 Sep 72 188/78 1 OG Atlanta GA 31 Jul 1996
1:42.79 Fred Onyancha KEN 25 Dec 69 170/64 3 OG Atlanta GA 31 Jul 1996
1:42.85 NR Norberto Téllez CUB 22 Jan 72 186/78 4 OG Atlanta GA 31 Jul 1996
1:43.5h Rick Wohlhuter USA 23 Dec 48 1 Eugene OR 8 Jun 1974
1:43.90 Einars Tupuritis LAT 9 Dec 73 178/62 2r2 Durham NC 13 Jul 1996
1:43.91 Nico Motchebon GER 13 Nov 69 186/81 5 OG Atlanta GA 31 Jul 1996
1:43.92 John Marshall USA 5 Nov 63 190/76 3 OT Los Angeles CA 19 Jun 1984
1:43.92 James Robinson USA 27 Aug 54 4 OT Los Angeles CA 19 Jun 1984
1:43.97 José Parrilla USA 31 Mar 72 172/65 3 OT New Orleans LA 24 Jun 1992
1:44.00 George Kersh USA 3 Jul 68 4 OT New Orleans LA 24 Jun 1992
1:44.10 Nick Symmonds USA 30 Dec 83 178/73 1 NC Eugene OR 30 Jun 2008
1:44.12 Edwin Koech KEN 23 Jul 61 2s1 OG Los Angeles CA 5 Aug 1984
1:44.3h AJR Jim Ryun USA 29 Apr 47 1 Terre Haute IN 10 Jun 1966
1:44.3h Dave Wottle USA 7 Aug 50 1 OT Eugene OR 1 Jul 1972
1:44.43 Tracy Baskin USA 3 Nov 65 191/79 5 Weltk Zürich 17 Aug 1988
1:44.44 Terril Davis USA 21 Apr 68 185/68 5 OT New Orleans LA 24 Jun 1992
*Mboard: Khadevis 1:44.47 at an All-Comers Meet
Two Veterans Run Well - Defar & Lagat
Meseret Defar became only the 5th woman to break 30:00 by running 29:59.20. Crazy that she had to run the race to prove she belonged on the Ethiopian team but they have a loaded team.
American Bernard Lagat showed that he's going to be a real force to be reckoned with in Europe as he ran a 3:32.56 to win in Morocco on Sunday.
Career Advice - Don't Go Into College Coaching
Lots of people think being a college track and field coach is a great lifestyle. Well, there is a ton of travel involved and the pay isn't very good. According to message board poster "Bottom Line," the UCLA coaching salaries last year were as follows:

Tony Veney: $56,000 in 2006-2007 and $57,000 in 2008.
Mike Powell: $42,000 in 2006-2007 and $43,000 in 2008.
Anthony Curran: $38,550 in 2006-2007 and $41,000 in 2008.
Eric Peterson: $62,750 in 2006-2007 and $69,000 in 2008.
Art Venegas: $76,000 in 2006-2007 and $90,000 in 2008.

If that's all they were making (and there are no significant bonuses or perhaps shoe contracts or supplements from some sort of booster club), then all we can say is, "Shame on you, UCLA." Living in LA is expensive. Plus, this is UCLA, not some podunk school. Washington State paid its head coach $101k 3 years ago. If UCLA wants to compete, it's going to have to pay more. Especially considering PAC-10 rival Vin Lananna makes over $500k a year at Oregon.
Of course, the fact that college track and field coaches are embarrassingly underpaid is nothing new. You coach three sports and get paid hardly anything.
But yet people still want the jobs. A D3 coach just told us he got over 100 applicants for a full-time position that pays $32,000 a year. Unreal.
*How much does the average D1 Track coach make per year?
King Carl Speaks
Last week, as shown by our Quote of the Day on Monday, Carl Lewis once again suggested that Usain Bolt's big improvements in 2008 were suspicious. While LetsRun.com is normally one of the few sites that encourages people to point out the obvious or suspected drug cheats based on illogical improvement, we once again will take this time to rebuke Carl Lewis, as we just don't think Bolt is dirty and don't think his improvement is illogical. Lewis seems to fail to understand that Bolt ran 19.93 as a junior or that his 10.03 in 2007 was his first 100 meter race of his pro career (we're assuming he ran it as a kid in school).
Kudos to a message board poster "link" who did some research and found that Carl Lewis himself improved more percentage-wise in the 200 as he moved from the junior ranks to senior ranks than Usain Bolt has himself. Certainly our message board post of the week.
*Carl Lewis 20.66 19.75 0.0457
Usain Bolt 19.93 19.30 0.0316
*Justin Gatlin 20.29 19.86 0.0211
Shawn Crawford 20.78 19.79 0.0476
Bernard Williams 21.73 20.01 0.0791
Walter Dix 20.18 19.69 0.0243
Michael Johnson 20.41 19.32 0.0534
Churandy Martina 20.71 20.11 0.0289
Wallace Spearmon 20.25 19.65 0.0296
Tyson Gay 20.88 19.58 0.0622

Column 1) Athlete's name
Column 2) Best time as junior (Under 19 years old)
Column 3) Senior PB
Column 4) The percentage improvement from Junior age to Senior age in the 200m

Just got an idea because of the Carl Lewis quote to see how some of the top 200m runners in history have improved as they grew up.

I don't think this could be classed as scientific now, but its interesting!
And yes we really do think Bolt is clean. Wejo was gchatting with a friend today who said, "i think you and rojo have a pact to defend bolt and keep your personal beliefs secret." The guy reiterated 2 or 3 more times how there was no way we really could think Bolt was clean. Well we really do. He is 6' 5" and he can sprint. That seems to be a more likely explanation than he has found a drug that no one else in the world is on.
Inspiring Quote Of The Week From Carl Lewis
While we just took Carl Lewis to task for suggesting Bolt's marks are drug-induced, we actually really enjoyed the article he was quoted in. Very little of the article was about Bolt and we wanted to share an inspiring quote from the article with you to encourage you to read it:
"I started dreaming about (the Olympics) at high school. But you never know what is going to happen. What is important is that athletics - and sport - offers an alternative. I hear that, in England, gang culture is becoming a big thing.
"Well, let me tell you. Being in a group of sportsmen that is going for Olympic achievement, is a far better brotherhood. A better sense of belonging and of bonding ... without the guns and knives."
- Carl Lewis.
Inspiring Quote Of The Week #2
"A long time ago, they told me ... 'If you go to the door and you knock long enough it will open. It must.' And they said 'must' or 'shall.' It has to. So I understand that concept and I said, well, I don't have a problem with knocking and I'll just knock long enough until I get where I want. The pinnacle for me is 47.0 and possibly looking at 46."
- Jamaican 400 hurdler Isa Phillips in a great profile of him that fits perfectly with the message shown by Christin Wurth-Thomas. Keep plugging away at it and you'll get your goal.
Dick Booth Is Fired And The Hog Alumni Are Not Happy
In addition to Ulrey's great 3:35, the Hogs made noise off the track as well last week, as Ulrey's coach, the first-year Chris Bucknam, gave long time Arkansas assistant Dick Booth the sack. The firing has enraged many of Arkansas most famous track and field alumni.
Our take? All along, we've felt Bucknam was in a no-win situation when he took over the job (and we've also always felt it will be a long, long time until Arkansas wins another NCAA title, as they were on the way down even with John McDonnell at the helm). We certainly understand how a head coach would want to have his own set of people working under him. That being said, we also understand the sentiments expressed by Booth's former athletes and Booth himself below. Again, it's just a total no-win situation unless Booth had been named head coach after McDonnell.

"How do you fire one of the greatest coaches ever to coach the sport?" Melvin Lister, former Arkansas Olympic jumper.
"I'm speechless," said Mike Conley, Olympic gold and silver medalist and nine-time NCAA long jump and triple jump champion. "It's something I never thought I would see in my lifetime at the University."
"I was thinking how can a 27-year career end in a five-minute conversation? But that was it. I have to put it behind me and get busy finding a job for next year." - Dick Booth.

More: Arkansas Alums Are Stunned By Dick Booth's Firing *Dick Booth Let Go At Arkansas *Message Board Thread
World Youth Games
The 2009 edition of the World Youth Games (17 & under) were held last week in Italy. The big winners were the Kenyans overall, as they took home the most gold and silver medals in the competitions, 13, to the US's 11. Individually, the biggest stars were Grenada's Kirani James on the men's side, as he did the 200/400 double. 45.24 is pretty darn good for a 16-year-old.
For the women, Brit Jodie Williams completed the 100/200 double.
There were some eye-popping times in the distance events (3:37 for the men's 1,500), but honestly we think there is little point in analyzing individual results for 16-year-olds, as most of them don't go on to be big stars. Rather, we think most LetsRun.com viewers would get more out of taking a look at the all-time lists for world youth. The times are pretty staggering. Check them out and see if they went on to be big-time pros.
*All-Time Top Lists World Youth Men
*All Time Top Lists World Youth Women If you think the men's times are fast, check out the women's. The Chinese youth have run 1:57 for 800, 3:54 for 1,500 and 8:36 for 3k.
For more info on the World Youth Games, see: *Results *More Coverage At Nationalscholastic.org *Texan Prezel Hardy Of 10.08w Fame As Sophomore Wins World Youth 100m *American Youth Shot Putter Wins Gold In Record 70' *American Brit Jodie Williams Completes 100/200 Double As Kenyans Rule Final Day By Absolutely Dominating Distance Competition Youths run 3:37 for 1,500 and 2:01 for 800. Impressive. The Kenyans got more golds and silvers than the US. We got a lot of emails by Brits claiming Jodie Williams as one of their own. Sorry for the mistake. *Grenadian Kirani James Completes 200/400 Double He's tall and lanky, let the Usain Bolt comparisons begin. *15-Year-Old Kenyan Wins 3k In 7:51 But Says Education Is Important To Him *Ireland's Ciara Mageean Run 2:03 For Silver *A Look at How Jamaica's Team Fared
Weekly Doping Update
The Ramzi news stole the headlines but there was other news.
*Liza Hunter-Galvan Believed To Have Tested Positive Hunter-Galvan, 2-time Olympic marathoner for New Zealand, has been the star of the San Antonio running scene for many years. Turning 40 this year, she has won the San Antonio Marathon 6 times, including her personal best 2:29:37 set in November 2008 at the age of 39.
*Hunter-Galvan Not Discussing Doping Reports "I can't bring myself to look at anything." - Hunter-Galvan on her disappointment with media reports of her possible positive test.
Recommended Reads From Last Week
*European #1 200-Man Started Track After Being Spotted Chasing A Bus In 2006! He was convinced to come out to track practice and coaches had him run a 150m. He smoked everyone despite wearing trainers and never having trained before.
*Fam On His Win-Win 5k Defeat At The USA Champs Anthony Famiglietti focuses on the process, not the result.
*Amazing Story Of Ultra Runner Diane Van Deren An excellent story from the New York Times on a woman whose brain surgery both strengthened and weakened her.
*Article On Geb And Bekele's Effect On Ethiopian Youth The two have inspired a generation in Ethiopia.
*"The Only Thing More Boring than Track? Field." Our sport, with Usain Bolt's stunning 19.59 in the rain, made SportsCenter this week and a lot of you weren't happy because the highlight was accompanied with the quote above. The quote was from former University of Missouri track and field captain and Sportscenter anchor John Anderson. The problem was you thought it was from SportsCenter anchor Scott Van Pelt (SVP) and you directed your ire at him. In the end, SVP sent us a nice email clarifying things and even mentioned it on his radio show. We clean things up and discuss how boring our sport is.
Remembering The Last Week With The Quotes Of The Day - Day By Day:
Monday: "But I think it's interesting how in our sport, in our times, how someone can make that sort of dramatic change. But for someone who ran 10.00 seconds and now they are talking they can run 9.4 seconds the next year, it just boggles the mind.

I was in Osaka (for the 2007 World Championships) and I saw the 200m. I saw Tyson Gay just drill him (Bolt) and one year later he (Bolt) breaks the world record.

Wow, that's a huge improvement in a year. And in the 100m it's gone from ten flat to nine seven. It's a huge improvement."
- Former track and field great Carl Lewis throwing mud at Usain Bolt once again. Carl, you were one of our all-time favorite athletes in the sport, but we suggest you pay a bit more attention. Bolt ran 20.13 at 16 and 19.93 at age 17. The 10.03 that he ran in 2007 was basically the first 100-meter race of Bolt's life.

Sunday: "I listen to my body and try to do what it tells me to do. I can feel when I am too tired to train or when I am ready for a race. A coach cannot feel that for me."
- Hendrick Ramaala, NYC Marathon Champion, on why he doesn't want a coach.
Saturday: "I don't know if it is a message to Bolt; it's not 9.69, but I'm pretty sure he knows I'm training and working hard."
- Tyson Gay after his American record tying 9.77 100m victory over Asafa Powell (2008) in the Rome Golden League in the first big sprint clash of 2009. LRC recap of the meet here.

Friday: "To run fast times now is very difficult for me right now. I'm not like I was before. I'm very tired during a race. I'm not feeling very good (during a race) ... I am trying to train as before, but my body cannot accept it. But slowly I'm getting better and better."
- Ethiopian great Kenenisa Bekele, who won his 3rd straight Golden League 5k victory in Rome on Friday in a world leading 12:56. Meet recap here.

Thursday: "Unfortunately I personally did not fully achieve what I was aiming for. However, those in the race did run closer to the A standard time on a windy day, one athlete set a junior 5k record and I'm sure there were some nice PRs across the board. It was win-win."
- Anthony Famiglietti writing about his front-running 5000m tactics in Eugene. Most athletes and coaches would call it a lose-lose, but not Fam. Great read.

Wednesday: Gold!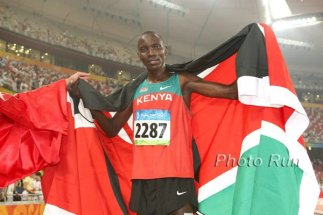 Tuesday: Gold!