The Week That Was June 29 - July 5, 2009
July 6, 2009

By LetsRun.com
To read last week's LRC Week That Was, click Here.
To read any 2009 LRC Week That Was, click Here.
Young runners were the talk of this week as the world junior mile record was broken and a 12-year-old American girl ran 2:06.90 and 53.36 for the 800m and 400m, respectively. We give you the training advice of the week as spoken by a John McDonnell disciple, as well as advice on which to listen to, your gut or your logical reasoning. Also find out what Oscar Pistorius is up to now that he has been allowed to compete in the Olympics and where Alan Webb stacks up against another precocious junior, the former world junior mile record holder. Lastly, find out what the US needs to do (or stop doing) if we really want 30 Olympic medals in 2012.
World Junior Mile Record Means A Look Back At Alex Kipchirchir And, Of Course, Alan Webb
Young runners did some amazing things this week, including Kenyan William Biwott Tanui (WBT), a 19-year-old who ran his first ever mile at the Bislett Games Golden League Dream Mile. WBT never really factored in to the race for the win, but motored down the homestretch to catch fading pre-race form chart favorite Augustine Choge for second place.
WBT's time of 3:49.29 lowered the world junior record in the mile by almost a complete second. The previous record holder was Kenya's Alex Kipchirchir, who ran 3:50.29 while still an 18-year-old in 2003. For all intents and purposes he was a high schooler. This performance reminded us of another notable high school mile performance ... Alan Webb's 3:53.43 run in Eugene in 2001.
| | | |
| --- | --- | --- |
| Year | Webb Mile SB | Kipchirchir Mile SB |
| 2001 | 3:53 | |
| 2002 | NT | 3:32.95 |
| 2003 | 3:58 | 3:50 (3:31.42) |
| 2004 | 3:50 | (3:30.46) |
| 2005 | 3:48 | 3:50 (3:30.82) |
| 2006 | 4:00 | 3:50 (3:31.36) |
| 2007 | 3:46 | 3:52 (3:31.58) |
| 2008 | 3:55 (3:35.86) | 3:57 (3:32.16) |
| 2009 | 3:55 | NT |
So lets look and see what possibly is in store for WBT. To the left are the seasonal bests for Kipchirchir and Webb with their junior years in bold.
As you can see, Kipchirchir has been the more consistent athlete, but Webb has improved the most. Kipchirchir was a World Junior Champion at 800m, yet he has never broken 1:45 for 800, Webb ran the incredible 1:43.84 in 2007.
Kipchirchir does have some lesser titles to his credit, the 2006 Commonwealth Games title at 800, and he swept the 800 and 1,500 at the African Games.
However, the stars of the sport are evaluated at the World Championships and Olympics, and neither Alex or Alan has had great success. Kipchirchir has the difficult task of getting on the Kenyan team, which he has only managed to do once - in 2005, where he finished 7th in the world. Alan Webb has made the US team 3 times, with 2 finals to his credit (9th in 2005, 2 spots behind Kipchirchir Komen and 8th in 2007).
The talent to run 3:49 or 3:50 or 3:53 in the mile does not go away. It is a tremendous gift that bodes to great success in the future. But it does not automatically lead to scaling the world ranks. For that perhaps you have to have a little luck along the way as well.
Speaking of Webb, there was an interesting tidbit in a piece by Dave Ungrady this week. He said he talked to US Olympic triathlete Jarrod Shoemaker, who said he had dinner with Webb and that Webb was "content with his running career." Now, the quotes are us quoting Ungrady relating what Shoemaker said (and Ungrady didn't use quotes himself), not Webb. So this is now third-hand information, but it made a little red flag start to go up. Webb should be proud of his great accomplishments, his incredible 2007, and his ability to inspire a whole new generation of runners, but if he is content with his career, he might as well hang them up.
The greatest thing with Alan Webb is also his Achilles heel and that is his desire to never settle for second best. Webb wanted to be the best in the world and believed he could be best in the world. No offense to Nick Willis, who in a few days will likely have an Olympic silver medal around his neck, but Willis, until his bronze (now silver) last year, never raced with that type of belief. Webb was obsessed with being the best, and it was this obsession and tendency to do things overboard that seemed to do him in at times. Take away this drive from Webb and you've still got the engine of a 3:53 high school miler, but in track and field, the car doesn't run without the driver being on board mentally. The talent Webb has can not be coached and is something someone like Nick Willis doesn't even have (Willis has other traits Webb doesn't have). But it also does not go away overnight.
So hopefully Alan is just proud of what he has accomplished but is determined for more. There isn't a single guy in America whom we watch every race out with as much anticipation. Alan Webb the world beater who becomes Alan Webb the well-beaten is perhaps how we like our sports heroes - human. There is a reason so many people root for the likes of Phil Mickelson and Alan Webb; we can relate to them.
12-Year-Old Texan Raevyn Rogers Runs 2:06 and 53
Another young runner, 12-year-old Raevyn Rogers of The Wings Track Club in Missouri City, Texas, had a record-breaking weekend, this time in the US. For us, what she did really redefines what is possible for a 12-year-old. Rogers, a mid-distance runner, ran a US youth record in the 800m at the USATF youth championships in Michigan, running an absurd 2:06.90. The old record was 2:09.00, run by Treani Swain.
Swain set the record in 2001 and went on to run for USC, where she eventually lowered her 800m personal best to 2:05.93 in 2005, which she ran at the UCLA dual. Her 400m personal best was 53.62 from the previous year, also in the UCLA dual. So Swain, like many others through the years, brought the heat at the USC-UCLA duel meet.
Back to Rogers. This girl is one to watch for in the future, not solely because of the 2:06, but from her 400m speed. Rogers followed up her 800m record the next day with a near-record in the 400m at 53.36, not far from the 53.10 youth record. We know many girls can run fast distance times when they're young and pre-pubescent, but these are events that require speed development and aerobic capacity, the elite combination that is rarely found in runners so young.
We give a Thumbs Up to her and her club, The Wings Track Club. We went to their website and their motto is "... Winning starts in your mind, not at the finish line ..." They've been around for 30 years giving kids a chance to learn the best sport in the world. They and the other great US clubs out there deserve a lot of credit for spending time with kids whether the kids are breaking records or not.
Letsrun Message Board Thread On Raevyn
USATF Press Release
The Best Way To Get Olympic Medals: Great Coaching
A Thumbs Up to Charles van Commenee and UK Athletics for poaching yet another top coach from an international rival. This week US coach Dan Pfaff was hired to head a training center in Loughsborough. The link on LetsRun.com reads: Wejo has met 2 coaching geniuses in his life, Pfaff and JK. Pfaff is most known for coaching former Olympic champ and 100m WR setter Donovan Bailey, but at Texas he coached field event NCAA champs. He can do it all. This comes after the UK has hired Kevin Tyler and Derek Evely from Canada, two highly-renowned sprint coaches who have worked with Tyler Christopher and others. At the USAs, Pfaff's tutelage led Tora Harris to the high jump title, an event where the US hopes to win a medal in 2012.
What van Commenee - a coach himself who understands many track and field events - is doing is incredibly smart. He's using money and common sense to convince top coaches to work with British athletes. If he does nothing else, then British elites will perform better. Often, administrators set big goals but they don't understand how to get there. They throw money in all sorts of directions, but they forget that the most important factor in an athlete's success is his/her coach.
In the USA, USATF CEO Doug Logan and Project 30 have been all over the press touting our mission to get 30 medals in the 2012 Olympic Games. Imagine how that mission would look if Clyde Hart, coach of Sanya Richards and Jeremy Wariner, were to head to Bermuda to coach and leave his US athletes behind. That's not a good picture. In another example of genius coaches making huge impacts, the rise of Jamaican athletes is linked to directly to the masterful coaching of Glen Mills. If Mills were to leave and nobody knew what he did, we guarantee you Jamaican sprinting would go down the tubes in a matter of a couple years, because they don't have enough people to simply use brute force to win medals. They have to be smart.
And Pfaff just was not any private coach in the US. He was the track coach at the U.S. Olympic Training Center in Chula Vista. So while talking the big talk, the US let the Brits walk the walk and steal their coach for more money. Oops.
Who loses when great coaches leave? The athletes. When the top athletes get burned, that is not good for the administration. In Canada, the biggest uprising is coming from the former athletes, who know what happens when great coaches leave. So, administrators, our advice of the week is: Acquire, nurture, support and keep good coaches if you want your athletes to improve. The rest (training, preparation, goal-setting, improvement) will be taken care of by the coach (in other words the administrators don't need to stick their noses in those fields). It's not that difficult.

Dan Pfaff Hired To Lead 2012 Performance Centre In London Wejo has met 2 coaching geniuses in his life, Pfaff and JK. Pfaff is most known for coaching former Olympic champ and 100m WR setter Donovan Bailey, but at Texas he coached field event NCAA champs. He can do it all. Of course, another UK paper has to make a big deal of him coaching Marion Jones.
Dick Patrick Of USAToday Writes About Alan Webb's Injury, USATF Losing Dan Pfaff To London 2012 Charles van Commenee and the UK Athletics administration have lured another top coach from North America, Dan Pfaff. Previously, they got 2 top Canadian coaches who worked, for one, with international standout Tyler Christopher.
Bruny Surin And Other Canadians Upset With Apparent Decline In Canadian Athletics
Training Advice Of The Week Comes From Shawn Forrest
Thumbs Up to Shawn Forrest of Arkansas and Australia, who in an interview with Runner's Tribe this week said: "Coming to America and running in the big group, everyone would run hard day after day and you just get caught up in it. I learned over time that you have to listen to your body and run your own recovery pace. Since making that change in my training I finally feel like I did when I first started running - confident." Forrest ended up as the Arkansas Razorback school record holder in the 10,000m and 2-time NCAA runner-up at 10,000m for a reason. He learned from the mistakes that 90% of college runners make and allowed his body to recover instead of trying to be macho every day.
Forrest, almost 26 years old, which is unusual for a college senior not from BYU, didn't wait long in the interview to say this. Basically, they asked him how he felt about his season and he thanked his massage therapist and then spit out the great training advice. Readers, if you haven't seen Shawn Forrest race, it is a real treat. The guy gets after it. We saw him solo a 13:28 on a warm night at Stanford. In the NCAA 10k, he absolutely used every trick in the book to try to bash Galen Rupp and NCAA 10k record holder Sam Chelanga down a notch, including running a 63 opening lap, running the first 2,000m under American record pace, and fartleking the last 5,000m of the race in a really gutsy fashion.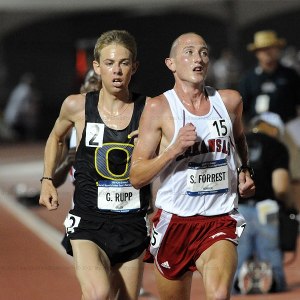 In other words, Forrest learned to release his aggression in the race, not on his easy days. This is the proper way to train, but it's really hard to do because often, especially in college, you have to go against the grain of what your teammates are doing. Forrest helps himself train properly. When asked about his training, Forrest said: "More workouts on the grass this year for strength. Two workouts a week. Morning runs with my fiancé, afternoon runs with James Strang. Workouts with Boit/Strang/Summerside." He didn't say much, but what he did say is important. He runs his morning runs with his fiancé, presumably a girl. So the pace, we assume, is easy. Something like 7:00 pace or maybe a bit slower or faster. Maybe a lot slower. Then notice he runs his afternoon runs with James Strang. Not with a bunch of guys, but with a guy who he knows doesn't hammer all the time and does understand the concept of recovery. Then he runs workouts with the pros, and he runs them on grass to save his legs from pounding but strengthen them on uneven surfaces.
Maybe Forrest's wisdom isn't so surprising as he was actually on the track in Sydney carrying tracksuits for athletes when he saw the epic duel between Haile Gebrselassie and Paul Tergat over 10,000m. He said after seeing that he has dedicated himself to racing like those guys. To race like them, you have to train smart and stay healthy. Well, probably more credit should go to his coach John McDonnell.
Recommended Read: Interview With Shawn Forrest
Oscar Pistorius Runs In Oslo Golden League Meet - Gets Ruling Allowing Him To Run At World Champs/Olympics
Double amputee Oscar Pistorious was back in the news this week as a study was released showing that he does not have many advantages over able-bodied athletes. The Court of Arbitration in Sport (CAS) had already ruled that Pistorius could compete against able-bodied athletes unless the IAAF showed he had an unfair advantage, and the study that was published last week was the reason CAS thought he didn't have an unfair advantage.
The Science of Sport blog in two articles Science Of Sport UnScientific Argument and the Science Of Sport Scientific Argument takes apart the study's methods. Within the posts there are links to other great posts, including a series of opinion pieces by a former South African 400m runner. Basically, the Science of Sport tells us that the studies done to determine whether Pistorius' blades give him an edge over normal runners are poorly executed and analyzed and should not be accepted as good science. This story is interesting and captivating, but we've said all along Pistorius should be in the Paralympics not the regular Olympics for a few reasons.
The first and really the only essential reason is common sense: Blade Runner is not an able-bodied runner. If it weren't for his blades, he would not be able to run. While an amazing human being, Pistorius should run in the Paralympic Games championships, though during the year he should be welcome to compete against able-bodied athletes because it's interesting. If a runner in the future has a mechanical heart and set of lungs implanted after his human organs became diseased and are removed, this runner should not run against able-bodied competitors in the Olympics. "Here comes Andrews down the stretch, his Respiro-3000 lungs have kicked the level up to 11! And look at the power reading on his V8-Pulmo-flex Heart! Unheard of! He powers by his normal-bodied competitors with their clearly human lungs to take the 800m in 1:39.75! New Olympic record!" Does this make common sense? No. The argument should end there. But of course we're human beings so it does not.
Secondly, the accepted reason Blade Runner should not run in the able-bodied Olympics because he has never run under 46.25 and this year he can't crack 47 despite entry in the world's best 400m races. In a race won in 44-low, he is 5% (2.25 seconds or 20m) behind the leaders at minimum, and usually more like 30m behind. But that is beside the point.
Pistorius ran 47.18 this weekend, a rather pedestrian time by international standards and, though a seasonal best, it's nowhere near good enough to his the required standards for Berlin. So it looks like barring some miracle, we won't see Pistorius in Berlin representing South Africa.
The debate rages on at the blog Science of Sport, who have been all over the case for the past year-and-a-half.
The most interesting thing we read is the idea that Pistorius, now eligible for the World Championships, may run the 4 x 400m relay for South Africa. The best South African time of the year is 3:08, which would leave them at least 9 seconds behind the Americans, and 5 seconds behind the 3:03 qualifier. But South Africa has the qualifier from last year, and Pistorius could actually compete. The poster, Arnaud Malherbe, holds the South African 400m national record at 44.59. He mentions all sorts of interesting potential problems with a Blade Runner running in a 4x400m relay.
After all of this, we have to give a Thumbs Down to the IAAF for not picking apart the flawed science in the report. Pistorius is an unbelievably great story, but he's clearly not an able-bodied athlete competing without the aid of mechanical body parts. Pretty soon, when computers and machines have conquered the world, we likely will regret this decision (a point that seems to have been lost upon those at CAS).
Also From Oslo - Kaki Injured, Isinbayeva Looks Human
Rather than recap the meet again, we'll point you to our recap of the Golden League meet in Oslo. The biggest disappointment by far was the injury (seemingly serious, but nothing is out in the news yet that we can find) to Abubaker Kaki of Sudan in the 800m. His absence leaves a serious hole in that event. David Rudisha of Kenya and Yuriy Borzakovskiy of Russia are two stars who remain, but Kaki was the next big thing. As we say in our recap, he is the Asbel Kiprop of the 800m. Young, brash, gifted, he has it all. Seeing him face down on the track left us really disappointed.
Yelena Isinbayeva barely won the pole vault. This was a huge surprise, as she is chasing the $1,000,000 jackpot. Though maybe it should not be a surprise that she struggled because she has a strap on her knee and the word is she is fighting an injury. If she didn't have the lure of a big payday our bet is she would not be competing. This is definitely a story worth following as the hunt for the jackpot may hurt her season.
LRC: Exciting Dream Mile Highlights Oslo's Bislett Games
Runner Of The Week - Sammy Kitwara
Kenya's Sammy Kitwara snuck up on a lot of people this year. But after winning his 7th consecutive road race this weekend and pushing his yearly earnings well over $100,000, Kitwara couldn't hide from the spotlight any longer. Now that he is the official recipient of a LetsRun.com Thumbs Up, he will no doubt enjoy fame and fortune beyond belief.
This week he won his 7th consecutive major road race by winning Peachtree 10k in 27:22. This is the third hot-weather 10k Kitwara has won this year in a stunning time. 27:21 course record in Puerto Rico to win The World's Best 10k, 27:44 to win the Kenyan 10,000m championship in the fastest time ever run on Kenyan soil and now 27:22 in July in Atlanta. Our friend in Alabama told us he watched the race and Kitwara was like nothing he had ever seen.
Sammy Kitwara
via naturalturn on Flickr
There isn't much to say about Kitwara that hasn't been said by LetsRun.com cofounder Weldon Johnson in this piece titled Sammy Kitwara - "The Best Runner You've Never Heard Of." In it, you can see video of Kitwara and a lot more.
Kenya's Moses Masai finished 4th in Nairobi, but less than a second out of first in a mad sprint finish. Kitwara, of course, won the race in the fastest time ever run in Kenya. Yet Masai was quoted in a paper this week as saying: "My competitors deserved to win, but the coaches also need to blend the two with someone who has familiarity in running the 10,000m race. The two (Sammy Kitwara and Gideon Ngatuny) are experienced road runners and might not be good in reaction when the race is started in Berlin." Ok Moses, we see your point, but we would much rather see Kitwara race the best in Berlin than almost any other scenario. A LetsRun Thumbs Down to your attempt to persuade the notoriously knuckle-headed Kenyan Athletic administration to knock Kitwara off of the Kenyan 10k team. He was the champ.
In our minds, there have been two supreme road racers this year (well, three if you count 27:01 world record-setter Micah Kogo): Kitwara and Ethiopian Deribe Merga. Merga has won Boston and Houston marathons, ran 27:24 in Ottawa, and ran 59:18 while splitting a world record 41:29 15k at the RAK Half. Merga and Kitwara have put together an impressive STRING of performances, not just one or two great runs. Both are ridiculous front-running phenoms who show no fear and little fatigue while running.
Usain Bolt Isn't Rude - He Is An Entertainer
Usain Bolt Video We're Talking About

Anyone remember a few weeks ago when a few Jamaicans wrote letters to the editor complaining about Usain Bolt's performance at the Ostrava Golden Spike press conference? Well, we clearly didn't think Bolt's antics (see video on the right) were bad and neither did the meet manager. Yes that's right, the man sitting next to Usain Bolt and the man who many Jamaicans thought Bolt had disrpected, has written us to set the record straight (he wrote us after having trouble posting on the message board). The meet manager, Alftons Juck, wrote us and said the following:
"I'm the man with Usain at the press conference and I'm the meet organiser. I must say that the video is cutted just to have some amusement. During the whole press conference we did not had any bad feelings, on the opposite we (the organisers) and media liked it, because it was not the usual boring press conference. And in general he was excellent during the 5 days he spent in Ostrava. Very cooperative, friendly, no signs from big star behaviour. We need fresh and young air in our sport and that is exactly Usain. We needed to close our stadium in Ostrava (capacity 22 000) as more people were still coming in. He can attract such a crowd.
Want To Treat People Better? Think With Your Gut
This week's Non-Running-Related news has been as interesting as always. One article that really caught our attention was In Defense Of Feelings by Dan and Chip Heath for Fast Company magazine. The article focuses on research done by Chen-Bo Zhong of the University of Toronto.
According to the Heath brothers: "He put test subjects into interactions with an anonymous partner where they had two options: to treat their partners fairly or to lie to them." (Note: sometimes it's more fair to lie to someone than to tell the truth, so we don't really like this statement)
One group was instructed to act to think rationally about the situation, ignoring emotions. The other group was told to "make decisions based on gut feelings."
Well, wouldn't you know it but the rational thinkers lied to their anonymous partner in 69% of the tests. The gut thinkers? only 27% lied.
This article appeared in Fast Company because it has all sorts of implications on business and ethics. But it also has all sorts of implications for sport. History has shown we can rationalize anything. But almost always, if we listen to our gut, we know what the "right" (aka ethical) thing to do is. And we don't bother to lie. "I shouldn't take this drug." or "We shouldn't let the guy with fake legs run in the Olympics." You can think of all sorts of situations where knowing this information will be important. Tell yourself to make the right decision with your gut and usually you will do it. Thumbs Up to that. Sorry, brain.

Nils Schumann Still Running 1:47s
While looking at the results in David Monti's Race Results Weekly, we saw former Olympic champ Nils Schumann finishing 3rd at the 800 in the German Champs. We were just surprised he was still competing. He hasn't broken 1:47 since 2003, and was implicated and cleared with his coach's doping scandal. He must like competing and there must always be the desire to have an Olympic champ starting on your starting line. Former World Indoor Champ David Krummenacker is still toeing the line in the US and both are probably starting to think about life after running.
 German Athletics Championships
 1. Robin Schembera       1:46.53
 2. Sören Ludolph         1:46.69 PB
 3. Nils Schumann         1:47.28
 4. Sebastian Keiner      1:47.97
 5. René Bauschinger      1:48.46
 6. Jan-Gerhard Onken     1:48.76 PB
 7. Steffen Co            1:48.95
 8. Sebastian Zundler     1:50.24
  
Ryan Hall Runs A Mile In 4:41 (With His Dog)
Ryan Hall may be America's marathon superstar, running 26.2 miles at 4:49 a mile (2:06:17), but this past weekend he ran a one mile race on July 4th (the Footloose Freedom Mile). His time? 4:41.8. The winning time? Josh Cox in 4:21.3.
Clearly, Ryan wasn't running all out. Who knows? Maybe it was the first mile of a workout (the race was at altitude). He was running with his dog as a viewer has pointed out via Ryan Hall's Twitter update. The point we think you all should notice is that Ryan doesn't get caught up in what others are doing. It would have been easy for him to say, "This is a race. I'm in it. I need to win it. It's only a mile." Instead, he stayed focused on his training and took it easy in the race while supporting the local running scene.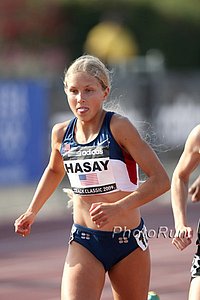 Jordan Hasay - Don't Treat Her Like Alan Webb
What does your gut tell you about Jordan Hasay? Ours tells us that she is an amazing runner and an even better person. Her interview this week with Joe Battaglia of Universal Sports was amazing and one of our Recommended Reads.
But we also worry about the expectations of her as she heads to Oregon next year. Though we're on the East Coast and aren't subjected to Hasay Mania like those in California and Oregon, this letter sums it up pretty well. She's such a magnetic person that she has been signing autographs for hours since she was 14 or 15 years old. She has handled all of her notoriety amazingly well, sticking to a disciplined routine at school and home that has allowed her to win Foot Lockers as a freshman and senior, and lead the Olympic Trials final in 2008 where fans were chanting for her to come to Oregon.
Well, she has signed with Oregon, which is good. #1, it's good because the coaches at Oregon know how to handle amazingly talented young athletes. We think that's really important. If our kid were like Hasay, we'd want her in a place where they were used to coaching athletes bearing a huge load of notoriety and expectation. We think they'll do a great job of training her in a smart fashon, listening to her old coach for clues on what works for her, and putting her in races that suit her. Also, look at Andrew Wheating heading off for a summer season in Europe ... they will have her ready to be a pro if things go right.
We've said this before, but we encourage people to do what's right when judging Hasay. Don't expect Olympic gold. Don't expect the Olympics even. Don't expect NCAA championships, especially in cross. Hasay is not a better runner than Susan Kuijken, who won the NCAAs this year and just ran 4:05 in Europe. She's not better than runners like Shalane Flanagan or Jenny Barringer, two recent NCAA XC Champs. All of these things are possible, but even Galen Rupp took 5 collegiate years to get to the top.
Perhaps this is a case where people thinking with their gut and with logic will come to a similarly good and truthful conclusion: young female distance running stars often run into trouble (and pointless criticism) in their later years. Data show this to be true and emotionally it rings true. Those with the burden of super-high expectation can be crushed by that burden. Hasay appeals to so many people's emotions because she is extremely kind, she's cute, blonde and pony-tailed, and most importantly she is extremely capable of winning distance races. As one California high school coach said, "Anything less than Olympic gold from Jordan Hasay will be a disappointment to people out here." That's plain and simple thinking with emotions, hoping for something that neither your gut nor your logic tell you is likely to happen. So chill out on Hasay and enjoy her, and let her enjoy running. Give her time and support.
Well, we figured maybe we could do something to curb the storm of emotions because Hasay is far, far away from an Olympic medal winner at this point.
Letter To Oregonian Praising Hasay
Earlier Oregonian Article On Hasay
Universal Sports Interview With Jordan Hasay
Western States 100 Is Back
We're not on top of the ultra scene, so some ultra people will have to email us, but this seems to be the most famous ultra in the US. After being canceled in 2008 due to wildfires, it was back in 2009. Hal Koerner defended his men's crown and newcomer Anita Ortiz crushed the women's field.

*Hal Koerner Defends
*Anita Ortiz Dominates
Injuries Pile Up
Recommended Reads From Last Week
1) Recommended Read: Interview With Shawn Forrest
2) LRC Sammy Kitwara - The Best Runner You've Never Heard Of
3) Wilfred Bungei On His Quest To Hold Olympic and WC 800m Titles Simultaneously
4) Letter To Oregonian Praising Jordan Hasay
5) Bolt On Gay: My 100m Record Will Be Very Hard For Him
LRC Material
1) LRC: Exciting Dream Mile Highlights Oslo's Bislett Games
2) LetsRun.com Oslo Preview Stars include Kaki, Bekele, Isinbayeva, Ohuruogu vs. Richards, Defar vs. Melkamu vs. Cheruiyot, The Dream Mile and even Alistair Cragg vs. Ryan Gregson.
3) LRC Sammy Kitwara - ;The Best Runner You've Never Heard Of
Remembering The Last Week With The Quotes of the Day - Day By Day:
Monday: "Coming to America and running in the big group, everyone would run hard day after day and you just get caught up in it. I learned over time that you have to listen to your body and run your own recovery pace. Since making that change in my training I finally feel like I did when I first started running - confident."
- Shawn Forrest in an interview that is definitely a LetsRun.com Recommended Read.

Sunday: "I came here to win."
- Sammy Kitwara after putting the finishing touches on an amazing series of road races with a 27:22 demolition of the Peachtree 10k field on Saturday. Only days ago, he ran the fastest ever 10k track race on Kenyan soil to earn a spot on their World Champs team.
Saturday: "Thankfully, I will be remembered as the captain who led a very successful [Kenyan Olympic] team. The most endearing thing about the team is just like Obama did for US, it brought the country together after post-election bloodshed. When Samuel Wanjiru won men marathon gold, everyone from Nyeri to Mombasa celebrated, it made me very emotional."
- Kenyan Olympic Champion and team captain Wilfred Bungei in an interesting article about his unexpected goal to become the first-ever simultaneous holder of the men's Olympic and World Championships 800m crowns. Bungei retired after his Olympic gold but was persuaded to come back. Though fighting injury himself, Bungei's attempt may have been helped by an injury to Abubaker Kaki in Oslo on Friday.

Friday: "I don't run against Pamela, I run against myself. We are like sisters in this game and I'm under no pressure to beat her."
- Kenya's Janeth Jepkosgei, who - despite being surpassed by Pamela Jelimo in 2008 - is still revered in her hometown of Kapsumbeiywo, where she funds 3 of the local school's 9 teachers. Jepkosgei will hopefully compete in the 2009 World Championships in the 800m.

Thursday: "When I'm really happy with my performance, I get excited and it's fun to talk to everyone. But after a while it gets a little bit ... I wouldn't say annoying but it gets to be a little overwhelming ... I guess there comes a little bit of pressure knowing that every time you step on the line, people are going to say, 'Jordan Hasay was an Olympic Trials finalist.'"
- Jordan Hasay in a long and interesting interview with Joe Battaglia that speaks volumes of her maturity and determination, as well as the unusual amount of scrutiny she receives.

Wednesday: "I was high-fiving people around me. I was so excited."
- former Wisconsin coach Jerry Schumacher on his athletes' 1-2-3 sweep of the men's 5000m at the USATF championships.

Tuesday: "You would hope at a national championship, the barriers would be at the right height."
- Former US steeplechase record-holder Lisa Galaviz after the preliminary rounds of the women's steeple in Eugene this weekend, where the water barrier was set 20% too high for the first heat. After discovering the error, officials determined to leave the barrier at 36 inches for the 2nd heat so as not to give the later runners an advantage. NCAA runner-up Nicole Bush was certainly disadvantaged as she broke her foot clearing the water pit with 2,000m to go in the prelim and still qualified for the final. Though she watched from the stands as close rival Bridget Franek got 3rd and a trip to Berlin, Bush and her coach only wanted her injury to be a positive story.