LRC's Crackin' Recap: USAIN BOLT 19.59 MIND-BLOWER IN LAUSANNE *Results *Message Board Thread Bolt 19.59! What a meet in Switzerland as the rainy conditions couldn't stop Usain Bolt from lighting up the night with one of the greatest sprint performances of all time. His 19.59 in the rain, into a 0.9 headwind marks the 4th-fastest wind-legal run of all-time. In other events Steve Hooker and Dayron Robles returned to winning form by narrow margins, Bernard Lagat got crushed in the 800, Ethiopian mid-d star Deresse Mekonnen smacked down Kenya's best in the 3k, Gelete Burka did the same in the 1500, and the USA 1-2-3 sweep in the 400m Hurdles promised by Angelo Taylor looks pretty unlikely thanks to Jamaica's Isa Phillips clobbering Kerron Clement in another fine performance. Also, Kerron Stewart, Shelly-Ann Fraser and Asafa Powell made sure the US took note that any sprint medal will be hard to come by in Berlin. Bolt's performance was unbelievable and is worth a watch.
*Bolt Clocks 4th - Fastest 200m Of All Time
*Usain Bolt To Run 100 And Relay In London Weekend Of LetsRun.com Founders Day (July 24) The London Meet has big bucks and it shows. Bolt doesn't come cheaply.
The Only Must Read In The Industry
LRC Week In Review LetsRun.com's Rojo is on vacation so Employee #1 and Wejo take a crack at recapping the week's action on their own. Without Rojo's guidance, they discuss the important issues of the day like ultra running, the paralympics, and human psychology. But they do discuss what happens to junior miling phenoms, looking at the careers of Alex Kipchirchir and Alan Webb to give guidance to the latest sensation William Biwott Tanui, (aka WBT). Plus a 12-year-old girl runs 2:06, some training advice for everyone, Jordan Hasay, the Runner of the Week, and Ryan Hall's 4:41 mile with his dog. Plus we have an email from a race director to settle once and for all whether Usain Bolt is awesome or an ass.
Great Article On Nate Jenkins From Running Times We read this in print a while ago and liked the article. Jenkins is known for his incredible work ethic and durability. His work has paid off with a 7th at the 2007 Olympic Trials and a spot on this year's USA World Championship Marathon Team. If you're looking for training advice, we'd say Jenkins' biggest weakness is allowing himself to recover, but his persistence and toughness make anything possible.
LRC Boards: Video Of Tola DQ Surfaces *Video Link Tadese Tola was DQed for actions in the final meters of the Peachtree Race on July 4th. See for yourself.
*"Tola is not very efficient in his mechanics, so his arms were spinning left and right." Hussein Makke, agent of Tadese Tola, on why Tola hit a passing Boaz Cheboiywo in the final 20m of the Peachtree Road Race.
*Tadese Tola Disputes Elbowing DQ - Watch Video For Yourself We think Cheboiywo definitely should have been awarded the place ahead of Tola; the DQ is a tougher decision. It's a harsh punishment to erase a hard 10k performance for a split-second decision in the final 5 seconds of the race, but you can't have people shoving each other around with thousands of dollars on the line, so we agree with the DQ.
Injury Report
*Bryan Clay On Pulling His Hamstring 48 Hours Before USA's, Costing Olympic Champ A Worlds Berth Bryan Clay shows us why he is one of the most highly-respected athletes in the world as he accepts his injury and misfortune with class.
*Swedish Gold Medalist Kluft Injured Again As Career Continues To Spiral World gold medalist Carolina Kluft simply can not get back on track. After ditching the heptathlon she hasn't done a thing in the long jump.
Missing Athletes?
*4 Tunisian Athletes Have Gone Missing After Mediterranean Games
*Odd Story On Kenyan Runners Disappearing From Japanese Private High Schools
Weekend Action We Didn't Cover Yesterday
Russia: Yuriy Borzakovskiy Gets His 3rd Win In A Week At 800 In Russia Znamensky Brothers Meet
*Znamensky Brothers Memorial Results

Germany: Recap Of German Champs
*Results

Spain: Christy Wurth-Thomas 800 PR Yesterday (2:01.15)
More Weekend Results
Distance
Simon Vroemen's European Steeple Record Broken By Frenchman Boubdallah Tahri
*12-Year-Old American Girl Runs 2:06 800m At Youth Champs
*Men's Race Out In 13:38 For 5k At Sapporo Half Marathon Though no one broke an hour. *Brett Larner's Sapporo Recap
*Kenyan Marathon 1st-Timer Wins Gold Coast Marathon

Long Jumping Sensational This Year
*Mokoena Has Fantastic Long Jump Series, Defeats Saladino In Madrid *IAAF Madrid Meet Results Godfrey Mokoena, from South Africa, not only defeated Irving Saladino but also set a new African record in the long jump.
*Indoor Sensation Sebastian Bayer Jumps 8.49, Missing German Record By 5 Centimeters

Sprints/Hurdles/Multi - Challengers To Top Americans
*Jamaica's Isa Phillips Continues Superb Form In 400 Hurdles With 48.09
*Cuban Leonel Suarez Sets 2009 World's Best Decathlon Mark In CAC Games
Oslo Golden League *Results
LRC: Exciting Dream Mile Highlights Oslo's Bislett Games Ethiopian Deresse Mekonnen set a national record and Kenyan William Biwott Tanui set a new World junior record in the Dream Mile, upsetting Augustine Choge. On the day, most favorites such as Kenny B and Meseret Defar performed well, aside from Christine Ohuruogu and a shaky Yelena Isinbaeva, who almost lost out on her Golden League jackpot bid. Other headlines included a meet record and world leader for Sanya Richards, another 3:37 for Ryan Gregson, and Asafa Powell missing out on his 50th career sub-10.00 clocking. But the biggest shock of the meet was an apparently serious injury to 800m sensation Abubaker Kaki as he tripped and fell hard.
*Ohuruogu Runs Lackluster 51.19 In Oslo Olympic champ was never even in the race and finished 6th.
*Clyde Hart Pupil Sanya Richards On Fire In Golden League Further proof Clyde Hart is a genius. He's going to help Sanya win a lot of money this year.
*Kerron Stewart Passes 2nd Golden League Test She's 2 for 2 in the jackpot and has run under 11 a few times this year already.
*Canadian Hurdlers Come Up Short In Oslo
On The Boards *Are the young Aussie Runners better than the Young Americans
*Are Ethiopians finally going to start taking mid-distances?
Video: Watch Meet On Demand *Post-Race Interviews
News From Brett Larner And Japan Running News
*Fatigue Cited As Wanjiru Pulls Out Of Sunday's Sapporro Half Marathon Whether this excuse is true or not, we're not surprised that Wanjiru is tired.
*Sub-1 Hour Runner Mogusu Headlines Sunday's Sapporro Half Marathon
*Women's Marathoning Pioneer Nanae Nagata Passes Away At 53 This is a pretty good read.
Bolt Promising Hard Effort And Fast Time In 200m In Lausanne On July 7
Martyn Rooney Injured And Won't Qualify For Berlin British 400m running doesn't look as good after this weeked with Ohuruogu's performance and Rooney missing the UK Trials.
Top Eritrean Marathoner Yared Asmerom Selects Merhawi Keflezighi As His Agent
*Pat Butcher Can't Wait For Berlin's Sprint Clashes To Arrive
*Older "Butcher Blog" On Late-Bloomers Like Haron Keitany And Paul Evans If you haven't read about Paul Evans before, his is a great story.
*Science Of Sport On Oscar Pistorius' Case To Be Included With Able-Bodied Runners
*Heavy Duty Oscar Pistorius Research Analysis Science of Sport, one of our favorite reads, has been researching and posting on the Oscar Pistorius case for a year-and-a-half and we consider them the experts on the subject.
Gold For Kiprop, Ramzi B Sample Positive
LRC Boards: Ramzi B sample positive


Liza Hunter-Galvan Believed To Have Tested Positive Hunter-Galvan, 2-time Olympic marathoner for New Zealand, has been the star of the San Antonio running scene for many years. Turning 40 this year, she has won the San Antonio Marathon 6 times, including her personal best 2:29:37 set in November 2008 at the age of 39.
*Hunter-Galvan Not Discussing Doping Reports: "I can't bring myself to look at anything." - Hunter-Galvan on her disappointment with media reports of her possible positive test.
Great Reads On Future Stars
*Phil Minshull Of IAAF Sits Down With William Biwot Tanui, Who Says His World Junior Record Was Not A Surprise
*Good Article From Kenya On Their Lone 10k Entrant At Worlds Linet Masai Masai is running great and somehow Kenya doesn't have another women's 10k runner to toe the line with her in Berlin.
Rome Golden League Is Friday
*Long Jump Rivalry Between Saladino And Phillips To Resume In Rome We love the long jump this year. Great guys from every continent.
*Clear Your Calendar: Golden League Rome Friday Afternoon Watch the meet in the comforts of your office while you should be working.
From The UK
*Usain Bolt Will Double In London's Crystal Palace Fans will get 2 for the price of 1 as they will see superstar Usain Bolt in the 100m and the 4x100m.
*Christine Ohuruogu Decides She Better Get Into 400m Shape After getting trounced in Oslo in her signature event, Ohuruogu is adding a couple 400's to her schedule to get her in better shape heading towards worlds. Will she start avoiding drug testers as well?
Kenyan News
Sammy Kitwara's Agent In Trouble With Athletics Kenya For Letting Him Run Peachtree We praised Kitwara all weekend long and all it did was get him in trouble. Hard to blame the guy for going to run for a potential $50,000 payday. The good news is Kitwara ran and won $32,500. Now he can go back to Kenya and train for Worlds. Since his agent can't work in Kenya anymore he should start a Sammy K Fan Club on LetsRun.com.

Moses Masai, Coming Off Ankle Injury And Narrow 4th Place At Kenyan Trials, Still Hoping To Be Named To Kenyan 10k Team We give the guy a mini thumbs down for this but it's hard to blame him for wanting to be on the Kenyan team. Come August he may have a great chance at Worlds.
Recommended Read: Interview With Shawn Forrest This is a great interview with a lot of good quotes. Forrest, 2-time NCAA 10,000m runner-up, talks about a key lesson in running: learning to run his easy days easy. Plus he says of Galen Rupp, "Rupp will probably go on to be the greatest distance runner to date for America." He also talks about being out on the track in Sydney when Haile Gebrselassie edged Paul Tergat in their epic 10,000m duel. Forrest and Sam Chelanga made the NCAA 10k with Rupp a race to remember by really trying everything in the book to take down the NCAA XC champ.
More Good Stuff From Runner's Tribe
*Interesting Opinion On Art Venegas Leaving UCLA Venegas is a legendary throws and strength coach who recently left the UCLA head position.
*Ten Tips For Track On TV From Runner's Tribe
Robles Makes Return In Cuba, Going Sub-13.10 In Prelims World's dominant hurdler is back from injury. CAC Champs are being held in Castro-land.
NRR: Landon Donovan Rips LA Galaxy Teammate David Beckham In Book Ironically, David Beckham will now be the only reason anyone will actually spend $20 on a book by Landon Donovan.
Amazing 2008 Photos From Award-Winning Sports Photographer Tom Jenkins Paula Radcliffe, Usain Bolt, plus Christiano Ronaldo and a ridiculous rugby photo.
Also Saturday: Track From Madrid
*Good Story: Dwight Phillips Rewarded With New Deal From Nike Who Dropped Him Not Too Long Ago Last year Phillips missed the Olympic team and wanted to hang 'em up. But he got inspired by his coach and agent, lost 25 pounds and is now rivaling Irving Saladino as the world's best long jumper. And he's got a good contract now, to boot. He won't be in Madrid but Saladino will.
*World's Best Long Jumper Irving Saladino To Headline July 4th Madrid Meet
*Spanish Distance Runners To Highlight Madrid Meet Saturday
USA Champs Version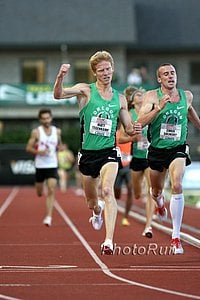 LRC: Last Week's The Week That Was This week, our weekly recap looks exclusively at the 2009 USA Outdoor Track & Field Championships. We start by saying, "I told you so" as we compare the success of these Trials to an Oregon basketball game. We then tell you where Alan Webb would have finished in the men's 1,500 final, take a look at all the big name pros that had flameouts and give Barack Obama some unsolicited advice. Plus, Rupp's Lexus, Barringer's bling and more. You can compare our Week That Was to the LRC message board UNCENSORED version from Lickety Split.
*Watch The Dream Mile In Britain? Not These Days While the BBC interrupts the evening news for updates on Wimbledon and British tennis darling Andy Murray, the Bislett Games and Dream Mile were going to go un-broadcasted in England thanks to Setanta Sports going under in the UK.
*But Wait! Eurosport Saves The Day: Now dozens will watch the Bislett Games across Britain, as a deal has just been finished that allows Eurosport to pick up the slack and televise Golden League.
Usain Bolt 19.59 in the Rain!
British News
British Junior Phenom Stephanie Twell To Skip European Under-23s To Focus On Worlds

Olympic Bronze Medallist In Hurdles, Natasha Danvers, Out Of Worlds With Injury

After 10.40 100, Mark Lewis-Francis Needs To Improve For Worlds
US Officially Names Coaches For Berlin World Champs No offense to the coaches, but we could coach the team and it would probably do as well. The coaches at a global championship largely are ceremonial. The coaching that matters most is the private coaching leading up to the Games and USATF is letting our top coaches go to Britain.
Educate Yourself On the New Star Sammy Kitwara (Story And Interview Here) Or Watch Below
Tegenkamp And Solinsky On The Sweep At Nationals And The Surprising Jager (Bigger Version Here)
Great Resource For Kids
Carol Goodrow's Kids Running Log Your kids run a half mile, fill out the paper log, mail it in and get a free bookmark via Carol and USATF. Plus, there are a couple of good books for kid runners which we reviewed here and here.
Final Week To Sign Up
LetsRun.com Summer Training 2009 Program Originally designed for high schoolers but we've opened it up to everyone.
One We Missed With USATFs Last Week
FSU's Susan Kuijken 4:05.86 World Qualifier In 1,500m - Post Race Interview Here
3 Interesting Articles From Philip Hersh, The Only Full-Time Newspaper Journalist From Outside Of Oregon At USATFs
LRC Coverage At USATFs In Review:
Sunday:
Women Hazel Clark Gets National Title #5 As Maggie Vessey Leaves It Too Late, Barringer Cruises, Willard Makes 2nd World Champs Team
Men: Lomong Gets First, Symmonds Gets Another, Webb A No-Show

Saturday:
Women Rowbury Back Atop The US 1,500 Ranks
Men: Josh McAdams Gets His 2nd USATF Steeple Crown

Friday:
Women: Kara Goucher Gets 5,000 Crown
Men: Schumacher's Boys Go 1-2-3 In Men's 5k

Thursday:
Women: Amy Begley Shocks Shalane Flanagan
Men: Galen Rupp Wins USATF 10k Title