Sunday Was A Slow News Day So We Looked All Over For Stories
Dutch Olympic Committee Names Replacement For van Commenee They've named Maurits Hendriks - who coached them to Olympic hockey gold in 2000 - as their new technical director.
New LRC Usain Bolt Boston Celtics Photo Gallery
The world's fastest man was in Boston Friday night with front row seats at the Celtics game. LetsRun.com was on hand as the Celtics won their 17th straight, and Bolt got the lead in the associated press recap of the game: "After racing within a game of tying a team winning streak, the Boston Celtics were all abuzz -- with talk of a famous face in the front row. Olympic gold medalist sprinter Usain Bolt watched as the defending NBA champs won their 17th straight and improved to 25-2 with a 125-108 victory over Chicago on Friday night."

Random Swedish Blog Recaps A Great Year In Track From world records to drug busts, 2008 was something special.
Popular Connecticut Running Store - Road & Track Sports - Relocating Away From New Milford
Financial Crisis Hurts Irish Olympic Preparations As New Indoor Athletics Arena Is Postponed
Year In Review:
European Men's Sprints: Two 5th Place Finishes At Olympics Were Best They Could Do
Slovenia's 1st Olympic Gold Medallist Reflects On Winning Drug-Infested Hammer Throw

End-Of-Year Looks Continue
*Kenya: Kenya's Track Women Finally Come Of Age 2008 certainly will be remembered as the coming of age of the Kenyan women as they got their first-ever Olympic golds.
*Britian: Usain Bolt Is Michael Johnson's Athlete Of The Year Johnson writes a good piece and also gives his theory on why Bolt celebrated in the middle of the 100m.
*USA: Running USA's Ryan Lamppa's 10 Best Moments In US Distance Running In 2008 Ryan Hall's 2:06:17 or Shalane Flanagan's bronze? Which is #1?
*Britian: The 20 Best Sports Pics From The UK Include One Great One Of Usain Bolt
*IAAF: Combined Events Year-End Review
Nice IAAF Profile Of Falk Cierpinski Is Ruined By Fact There Is No Mention Of His Father's Drug Usage Falk's story is an interesting one, but any story in 2008 should talk about how his father was really a drug cheat who won two Olympic golds.
Berhane Adere And H. Gebrselassie To Defend Dubai Marathon Titles On Jan. 19th
LRC: Foot Locker Prediction Contest Results The computer has done its calculations and it should have done them sooner. LetsRun.com's Wejo comes in 2nd place in the unofficial men's results.
Recommended Read Of The Day: John McDonnell Speaks In Front Of Razorbacks Sports Club
2008 Is Coming To A Close
*Trackshark's Top 10 College Track Moments Of 2008
*IAAF 2008 Multi-Events Recap
*UK's Telegraph Lists Top 10 Athletics Moments Of 2008
Awesome Piece On Retirement Of UK's "The Beast" Dean Macey He truly trained like an absolute animal.
Chilling AP Article Presents Differing Opinions On Gene Doping There was a conference in the nation's capital entitled, "What's So Bad about Gene Enhancement and Doping?"
Seb Coe Nominates Christine Ohurougu For Sport Hero Of The Year She came through in the clutch, as other than the Olympics, she had the 19th and 70th best times of the year.
USATF Names Michael A. McNees As New COO He seems like a good fit for the job as he's currently in charge of $600 million budget and he was a Big 10 champion at Indiana.
The Yearly Reviews Have Begun
*The IAAF Asks Was 2008 The Greatest Year In History For The Men's Marathon? We'll answer yes. The statistics speak for themselves. A new world record, Olympic record, fastest 3-6 places, 10-16 places and, for the first time, triple digits in the number of sub-2:10s. Yes, that's right. 106 sub-2:10s and 1 was from the USA.
*The London Telegraph's Top 10 Athletic Moments From 2008 (In Chronological Order)
*A Look At The Top Distance Performances Produced By Minnesotans In 2008
Almost All Athletes Get Them But The NY Times Ask Do Massages Really Help?
English Athletics To Host 1st-Ever English National Championships This Summer Andrew Baddeley is pleased that England will have it's own championships and they are using the historic name, England AAA Championships, which has been taking place since 1880.
While UK Sport Cuts Athletics Funding, England Sport Increases It In A Big Way They are aiming for more grassroots competition and funding is up from £6.5m to £20.4m
LRC The Week That Was We cover it all this week and pull no punches. Whether we are officially declaring the hammer throw to be a joke or recapping a Foot Locker race for the ages, we have you covered. We even tell you how Galen Rupp equalled the American record in the men's 10k last week (in our minds). Plus we teach you some history and tell you how Christian Smith has nothing on Klaus-Peter Hildenbrand.
International News
*Body Of The Late Barnabas Koech Finally Returned To Kenya
*Drug Cheat Katerina Thanou Suing Jacques Rogge And The IOC For Banning Her From 2008 Olympics If you do the crime ...
*20-Year-Old Kenyan 800m Phenom David Rudisha On Comeback Trail
*Veronica Campbell-Brown Has Written Book Meant To Inspire We like the quotes she shares.
*Japanese Running Governing Body Announces Several Changes More drug testing is one, less strict advertising guidelines another.
*Great Britain Pledging 480m Pounds To Increasing Grassroots Sports Participation
Mark Rowland Named Head Coach Of Oregon Track Club The Brit and surprise bronze medallist in the steeple at the 1988 Games is the man picked to replace Gags. Interestingly enough, this was first reported on the LRC message board way back on October 22nd. A few facts were off, but yet again something you heard first on the LRC message board. *2nd Thread From October 18th
New: * Video of Rowland Press Conference
Post- Foot Locker News
*Hasay Glowing After Finishing Spectacular HS XC Career
*Trevor Dunbar Happy To Give Haile A Good Run
*A Brief Chat With Foot Locker Legends Melody Fairchild, The Torres Brothers, Ryan Hall, Matt Giusto, Ryan Hall And Others Interviews like this make one realize how big a deal Foot Locker/Kinney has been for 30 years.
Boycott The Red Sox
Red Sox Upset That Pitcher Okajima Risked His Health For 6 Hour Marathon
*18,000 Japanese Traveled Across The Pacific To Run Honolulu Marathon
*IAAF's Honolulu Marathon Recap
2010: A Bolt Odyssey - Usain To Go For MJ's 400m Record In 2 Years
Celebrate 60 Years Of Mondo
Bolt Wins BBC's Overseas Sports Personality Of The Year Award
Toyota Corp. Wins Women's Corporate Ekiden Championship
Foot Locker Nationals Turns 30 In Historic Fashion
*Girls' Results *Boys' Results *New Foot Locker Photos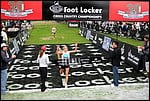 LRC Girls: Jordan Hasay Gets Bookends In Thrilling Race The girls' race featured the last three defending champs for the first time ever and it did not disappoint. Unheralded Allie McLaughlin made the race, opening up a big lead and nearly pulling a Rudy. Last year's champ Ashley Brasovan led the chase and caught McLaughlin in the last quarter mile and appeared to be on her way to victory but Hasay, who won as a freshman, was not done yet. She stormed back the final 200m to get the win to go out just like she started her high school career - on top. Read the recap above and watch this video if you want to see the *Girls' Results. *Excellent Video (no chop) of the final part of the girls race. Well worth a watch.


LRC Boys: Solomon Sails Maryland's Solomon Haile crushed the field as expected and LetsRun.com fan favorite Trevor Dunbar (the guy who ran a ~ 9 minute 3,200m on a snow-covered track) was an impressive second. Plus one of the runners drops the word "repose" in his post-race interview. *AP Recap
*Boys' Results
*Video with no choppiness
On the boards: A ton of threads on Solomon Haile's age. Maryland officials cleared him to compete after talking to officials in Ethiopia, but Wejo is curious about the excuse of having the Coptic calendar having him 21 years old (???)
LRC's World Famous Boards: Has Nike's NXN Ruined Footlocker's Nationals? *Trevor Dunbar wins Foot Locker H.S. Division *More Impressive than Hasay's win is that she has a 4.83 GPA How is this even possible?
Foot Locker PreRace:
*LetsRun.com Contenders And Pretenders Excited For Saturday's 30th Foot Locker High School XC Champs The Super Bowl of high school running is here and the contenders and pretenders are excited. The last two women's champs, Ashley Brasovan and Kathy Kroeger, and men's pre-race favorite Solomon Haile talk about the excitement in the air. Plus Haile talks about meeting his favorite runner, Ryan Hall.
*DyeStat's Foot Locker Preview Reveals Jakub Zivec Is Seriously Injured
*Tennessee's Kathy Kroeger Also Going For Win #2 After Finishing 2nd Last Year
*Bryan Green On Jordan Hasay And Foot Lockers
*Jordan Hasay Has Been Emailing Her Rivals
*Trevor Dunbar, 2nd Alaskan To Ever Make Foot Lockers, Looks For High Finish
LRC's Girls Preview: 30th Edition Of Foot Locker Championship Is An All-Time Classic!!! 3 Former champs will battle it out with a slew of newcomers. A truly exceptional race. The boys are definitely being overshadowed by the girls this year.
LRC's Boys Preview: Can An American Win It? FLCC is normally all about the search for the next great American distance star. Not this year.
*All 40 Runners Ranked: 2008 Foot Locker Cross-Country Prediction Contest Polls
Not A Surprise To Us: Max King Wins XTerra World Trail Championship Half Marathon By 3 Minutes
Gert Thys, South African Marathon Star, Gets 2 Year Drug Ban
Youssef Saad Kamel Talks More On Leaving Bahrain
Just Win, Baby
Bolt Simply Worried About Competing, Not Record Breaking
IAAF Honolulu Marathon Preview
*Jimmy Muindi Going For Lucky #7 In Honolulu But Will Be Tested By Former Chicago Champ Patrick Ivuti
*Inspired by Wanjiru: Red Sox All-Star Reliever Hideki Okajima Registered To Run Honolulu Marathon This guy is going to be in good shape for spring training!
No Surprise Here: Sally Kipyego Is Honda Sports Award Winner For XC Don't take Kipyego's greatness for granted. It will be a long time before another woman wins 3 NCAA XC titles.
British Marathoner Dan Robinson Dismayed With His Fukuoka Performance
Interview With Track Announcer Ato Boldon
*LRC Thread On Favorite Sports Announcers Of All Time
Indoors Is Coming: Nick Willis , Steve Hooker, Jenn Stuczynski Competing At 2009 Reebok Boston Games
Houston Half Marathon Elite Fields Announced Great field of Americans set to go.
LRC The Week That Was In running and in life, the highs and lows are never too far apart and this week's action proves that. We cover it all - from Tsegay Kebede's Japanese all-comers record at Fukuoka to the passing of Kerryn McCann less than three years from one of the greatest marathon finishes in history. We also find a reason to mention our favorite sprinter Usain Bolt and tell him to dream bigger than 18.99 as Paula Radcliffe has run the equivalent of 18.63.
Doug Logan: 30 Clean Track Medals In 2012 Or Bust We're not quite sure what the CEO has to do with winning medals. We do like his other goals of growing USATF from a $16 million to a $30 million business in 4 years and increasing membership.
Ethiopian Kebede Crushes Fukuoka Record With 2:06:10
Fukuoka Video Highlights (click on the lower blue bar on the right with the Windows Media Player icon) *Fukuoka On The Boards Tsegaye Kebede, the Olympic bronze medalist in the marathon, crushed the field between 30k and 35k by running a course-record 14:17 5k split. From 25-40k Kebede went 14:51, 14:17, 14:47. *Japan Running News Fukuoka Recap *Kebede Wins Fukuoka In Japan All-Comers Record 2:06:10!!
Singapore Marathon: Kibet and Masai Win
Kibet And Masai Win Standard Chartered Singapore Marathon Luke Kibet capped a crazy year with a big win in hot weather in Singapore. Edith Masai, 41, used her road races in America as speed work and it worked to her advantage as she took the women's race win.
*A Tumultuous Year For Luke Kibet To Finish With Singapore Marathon
*2007 World Champ Luke Kibet Headlines Sunday's Singapore Marathon
Recap Of Baringo Road Race In Kenya Half marathon won by relative unknown in 62 minutes.
Las Vegas Marathon Looking Forward To Life Under New Management
LRC: The NCAAs That Were Now that the emotions have died down, we've decided to take a look back at NCAAs and analyze what it all meant. Who had the best and worst meet? Best and worst season? How good were the Oregon men? Is women's running really much less competitive than men's? We answer these questions and much more including, "How smart are the Letsrun.com visitors?"

If you can't dominate the big sports, quit and try to dominate the lesser sports
Crew & Swimming Now More Important Than Athletics In Britain The UK is trying to go for the medals regardless of sport or signficance and as a result, the once mighty Britain is giving more money to swimming and crew than athletics as athletics received a tiny decrease in funds while swimming and crew got more. *Athletics, Flagship Event Of 2012 Games, Given Slight Funding Cut *Despite Funding Cut, UK Athletics Chief Niels de Vos Is Bullish About 2012 *Athletics To Grin & Bear £1.4m Funding Cut *It Could Be Worse: Volleyball, Fencing, Handball, Table Tennis, Water Polo, Weightlifting And Wrestling Get Nothing.
Men Results: *Team *Individual LRC: *Men's Photos Almost 600 of them.
LRC: RUPP And Oregon Are Golden Galen Rupp put away the demons of the near misses and captured his first NCAA title by shadowing Liberty's Sam Chelenga for 9,600m and then outkicking him on the straight to lead Oregon to the team win. Oregon dominated the team title as Oklahoma State had a forgettable day. Super frosh German Fernandez dropped out with an achilles injury (photo of Fernandez in great pain here), while Oregon frosh Luke Puskedra was a very impressive fifth.
*USA Today Recap of Race
*On the boards: Eyewitness Account Of German Fernandez's Injury
*Chelanga's Lack Of Experience Shined Through!
*German Fernandez Has Achilles Injury
*Recap On NCAAs From Oregonian
*NCAA Post-Race Interviews: Flotrack
*NCAA Post-Race Interviews: Trackshark
Women Results: *Team *Individual LRC: *Women's Photos
Kipyego Threepeats Susan Kuijken tried to make it interesting, but in the end, Sally Kipyego was too good and she became the first woman to win 3 NCAA XC titles. The Washington women got the women's team title as expected.
Only On LetsRun : *Kipyego Is Lucky
*UW Coach Greg Metcalf Says Race Didn't Go According To Plan But Huskies Came Out On Top
*Metcalf: "We should be better next year" (scroll down in article)
*NCAA Post-Race Interviews: Flotrack
*NCAA Post-Race Interviews: Trackshark

*LRC: 2008 NCAA Men's XC Championship Preview Rupp vs. Chelanga And Oregon vs. Oklahoma State Headline A Championship For The Ages
*LRC: 2008 NCAA Women's XC Championship Preview Kipyego And Washington Chase History - Others Shoot For The Podium
Recommended Read: Rupp & Kiptoo-Biwott Friendship Fuels Oregon Success The article for the most part is a profile on Kiptoo-Biwott, who is a father figure to the team and a new father himself.
*Liberty's Preview of Race
*W. Virginia Women Hope To Respond To Bell Ringing With 1,500 Meters Left
*Terre Haute Tribune Star Preview
*Profile Of Indiana State's Scott Keeney
*Matt Centrowitz Jr. Reportedly Will Race NCAAs For Oregon *Message Board Thread on Oregon 7
*Oklahoma State Ready For NCAAs - Shooting For Win
*Recommended Read: Dick Patrick's USA Today Sam Chelanga Interview
*Great For The Sport: NCAAs To Be Shown Live In Hayward Field
*Oregon Runner Alex Kosinski Profiled By Eugene Paper
*LRC: World Famous NCAA XC Prediction Contest
More NCAA XC News:

NCAA D2 & D3 XC Nationals
D2 Scott Bauhs Gets Coveted Individual Win As Adams St. Wins Team Titles
*Men's Results *Women's Results
D3 Cortland St. Gets 1st Men's Title As Middlebury Wins Women's
*32 Page Message Board Thread

Lance Armstrong Gives A Lengthy Interview On His Comeback And Talks About Almost Everything
From politics to doping to fearing for his safety at this year's Tour, Armstrong tells all and the best part is The Guardian has published it all.
*AP Recap of Interview: Armstrong Fears For His Safety
Column: Lance Armstrong should stay away from France
*Lance Armstrong Claims British Cycling Success Helps Prove His Innocence
2008 ING New York City Marathon *Results *Searchable Results *Video: Men's Highlight Video *Photo Gallery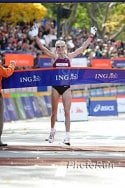 Women's Race: Paula Dominates Goucher Third
Paula Radcliffe showed why she's the best marathoner in the world as she dominated the women's field in the second half of the ING NYC Marathon. Radcliffe took a different strategy this year in NY. She led every single step of the way, but she said with the high winds her plan this year was to save something for the end and run negative splits and it showed. She poured it on the final six miles, winning by nearly two minutes. Radcliffe never looked back and said when she turned for the final quarter mile at Columbus Circle, she wasn't even positive she had the race won. American Kara Goucher ran up front for most of the race and had a successful debut in third in 2:25.53 (American debut record). Olympic silver medallist Catherine Ndereba, Dire Tune, Rita Jeptoo and Gete Wami were left in Radcliffe's wake, causing Wami to tie with Irina Mikitenko for the World Marathon title. The World Marathon Major race directors were then left to vote to break the tie. They voted for Mikitenko and just like that she got $500,000 and Wami got nothing.
*Radcliffe Doesn't Look Back En Route To 3rd Win
*Paula Destroys Top-Class Women's Field
*Mikitenko Awarded WMM Prize In Tie-Breaking Vote
*Women's Recap And Race Replays From UniversalSports.com
*Paula Post-Race Press Comments
On the boards: Wami gets nothing of World Marathon Prize while tying for spot #1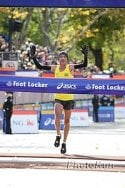 Men's Race: Marilson Gomes Dos Santos Storms From Behind To Win Coming into the 2008 ING NYC Marathon, Abderrahim Goumri had the distinction of being the top marathoner in the world who had never won a marathon (2nd in London in 2007, 3rd in London in 2:05:30 this year, and 2nd in NY last year). On Sunday in NY, he was clear of the field and on his way to what seemed to be his first marathon victory. However, savvy 2006 NY champ Marilson Gomes Dos Santos saved his best for last and stormed from behind in the final mile to overtake Goumri and get the win (afterwards Goumri said a missed fluid bottle might have caused him to run out of steam). Dos Santos ran 1:02 for the second half for a big negative split. Veteran Paul Tergat said he twisted an ankle on the course but returned to action with a fourth place finish. American Abdi Abdirahman led the American charge in 6th place as four Americans were in spots 6, 7, 8 & 10.
*Men's Recap and Race Replays From UniversalSports.com
*Gomes dos Santos Is Going To Disney To Celebrate
*NYT: New York Brazilians Say "Gomes who?"
On the boards: Nate Jenkins at NYC marathon?
Looking For A Last-Minute XMas Gift?
The Washignton Times Gives Some Good Running-Related Gift Ideas
Kenyans Win Taipei Marathon As Carolina Kilel Wins $41k For New Course Record (2:30:44)
Christine Ohuruogu Reflects On Gold
Gap Of 40,000 Rooms For The 2010 Commonwealth Games Hasn't Been Addressed In India

A Must Read No Sign Of Finish Line For Haile Gebrselassie The Ethiopian talks about his unreal work ethic, his desire to win gold in 2012 and his belief that a sub-2 hour marathon is coming very soon.
Are Track & Field Performances Nearing Mankind's Limits?
*Usain Bolt's Records Prove Mankind Is Nearing Its Physical Limits - Usain Bolt and the paradox of sprinting evolution This article is fascinating. Horses haven't been getting faster for 50 years; humans won't be getting faster soon as training/nutrition will be maxed out. Thus the key to being a champion will be your mind.
*Irish Times Looks At 13 Track World Records From 2008 Will more records be broken in 2008? Do records fall in cycles? Will there never be any more world records after 2060?
IOC May Lose Up To 4.8 Million In Madoff Ponzi Scheme
Britian Announces New World Championship Qualifying Procedures A win at nationals and an A standard guarantee one a spot.
A Few Days In The Life Of Usain Bolt
*Bolt Voted L'Équipe's Athlete Of The Year Surprise! American Michael Phelps not #1 in the French's eyes.
*Usain Bolt Sits Courtside At Best Bud Garnett's Celtics Game
*Bolt: Jamaica's Got Tons Of Talent He's not wrong.
*Bolt Test Drives Ferrari F430 Spider
Move Over Dean K!! Lawyer Breaks Guinness World Record, Runs 105 Marathons In 2008 It wasn't even Dean's record, but still this is actually pretty impressive, especially considering the guy is in his 60s.
Freshmen Foot Locker Sensations
*Best Freshman Boy Ever: Zeinasellassie 7th At Foot Lockers As 9th Grader
*Article On Freshman Danielle Menlove's All-American Foot Locker Performance
Interesting Read:
NYC's Village Voice Writes Unbelievable 4,000 Word Piece On The Difficult Life Kenyan Road Racers Face Trying To Scrape By A lot of attention given to Westchester Track Club and Mike Barnow. You can check out their club website here.
Golden League Jackpot Events Announced - Women To Receive Same Number As Men The men's 100m is included to entice Usain Bolt as are the men's 3ks and 5ks. No distance events on the women's side.
Review Of Toby Tanser's New Book On Kenyan Distance Runners
Bernard Lagat To Press For 7th Wanamaker Mile And Tie Coghlan
America's Biggest Distance Star Ryan Hall Summarizes His 2008
Dutch Physiotherapist Hilda Kibet Thrilled With European Cross Victory
Great Doping News
USAToday Profiles The Two GMU Rock Star Profs Who Invented The Urine HGH Test The two apparently are the biggest stars at GMU. They make $250,000 a year (pre-royalties) and had a $2-3 million lab built just for them. The test isn't out yet. *Original article on test from July here.
Thanks To Russian Sting, Reuters Says 2008 Was A Good Year For Drug Testers In addition to the sting, a test for CERA came out and it was a pretty good year on the anti-doping front. This article is a recommended read for sure.
Usain Bolt News
*Bolt Honored As L'Equipe's Athlete Of Year Phelps 2nd, Nadal 3rd.
*British Sprinter Tyrone Edgar With His 10.06 PB Says Usain Bolt Can Be Beaten
*Usain Bolt Starts Own Clothing Line Bolt's clothing line can be found here at Sun Island Jamaica Limited. We'd love to know what PUMA thinks of it all.
Athletes 1 - Athletics Kenya 0
Athletics Kenya Backtracks On Making Athletes Run 4 of 7 Domestic XC Races To Be Eligible For World XC
Gregory Konchellah, aka Youssef Saad Kamel, Counting His Losses & Getting Ready For Indoors. He hopes to compete for Kenya at Worlds. All we can say is don't count on it.
Athletics Kenya Using Death In Brazil As Good Reason To Reign In Rogue Managers We certainly think there are rogue managers but we also imagine AK will want a cut of the $$$ as well.
Boston lands another top American, this time for the women's race: Kara Goucher To Run Boston In 2009
On The Boards: Kara Goucher to run Boston Kara joins Ryan Hall as a legitimate American contender for the Boston win in 2009. Remember, no American female has won Boston since Lisa Larsen-Weidenbach in 1985. Boston - as far as depth of talent - may be a JV race compared to London, but Boston's name means a lot to the average American (regardless of which international elites compete) and Boston's strategy seems to be pool its limited money to try to have a good shot at an American winner.
American Track And XC News
*Bauhs Completes Season Undefeated Scott Bauhs' shoe came untied and he was really cold, but he completed a perfect season of racing nonetheless.
*Neely Spence To Stay At Shippensburg University D2 freshman star and daughter of American marathon hero Steve Spence, Neely, elects to spend the duration of her college career at Ship under the tutelage of her Dad.
*Wisconsin (La Crosse) Men's Coach Mark Guthrie Named To USTFCCCA Hall Of Fame With 23, Guthrie is second all-time in men's NCAA titles behind John McDonnell.
*Interview With One Tough Girl - And A "Test Me I'm Clean" Volunteer - 400m Specialist Dee Dee Trotter
A Must Read: Martin Lel Reveals A Ton And Is Poised For World Record Run This article is great as Lel reveals that he was coming back from malaria and an amoeba attack and therefore he wants to thank God for his "incredible" 2:10 Olympic performance. Lel also reveals that Sammy Wanjiru has him thinking of the world record. In the same article, Robert Cheruyiot announces he's now Muslim.
Great Interview Radcliffe On the Run: A Journalist Goes Running With Paula Radcliffe And She Shares Her Secrets She tells you how to get out of a mental bad patch.

Post-European XC News
*Former Euro XC Champ Hayley Yelling Retires... She Missed The Last 3 Olympic Games By A Combined 5 Seconds
*Steve Cram Praises European XC Results, Worries Grassroots Participation Is Lacking
*More On Yelling's Retirement
On The Boards
*Hasay To Stanford *Hasay NOT to Stanford (yet)
*Great Photo From Foot Lockers
*Why the animosity to Alberto Salazar? I can understand to Gaylen Rupp...but
European Cross-Country Championships - Lebid Wins #8, Twell #3
*Lebid Takes 8th European XC Crown
*Brits Win 12 Medals At European Champs, But Farah Falls Short Of Big Prize
*Twell's 3rd Consecutive Win Powers Britain's Medal Bonanza At Euros
*Hilda Kibet Follows In Cousin Lornah Kiplagat's Footsteps With Euro XC Win
*British Pundits Applaud Euro Cross Performances
*Senior Men's Results Serhiy Lebid pulls away from Mo Farah late to take the senior men's race; Spain top team with 4 in the top 15.
*Stephanie Twell Wins European Juniors Again *Thread Here Twell leads Britain to a 1-through-6 sweep!
*Florida State's Susan Kuijken Wins U23 Race *Thread Here
*Results Of All Races Here

USATF Club XC Nationals: Scott Bauhs Over Andrew Carlson
Club Nats Results *USATF Club Cross Recap
Bauhs has always been a blue collar runner and it showed in the snowy conditions (check out this video) in Spokane as he prevailed over Andrew Carlson, who was an emerging star in 2008 (US 15k title and runner-up at 8k).
Women: Rebecca Donaghue Of New Balance Boston Over Toni Salucci
*Message Board Thread On Races
Michelle Sikes Says European XC Is Like The NBA, US Is Like High School At least the courses are that way.
*Michelle Sikes Wins Oxford vs. Cambridge Dual Meet The former NCAA champ (she beat Sally Kipyego, believe it or not) is on her Rhodes Scholarship.
Kerryn McCann Laid To Rest www.theage.com.au
Something Doesn't Seem Right: Chicago Says Staging Olympics Will Cost $4.7 Billion, Meanwhile London's Are Costing $16 Billion
Time is running out
The LetsRun.com Homepage Clean-up/Re-Design Contest Is Upon Us
Big Drug News: Olympic Medals Changing Hands
Two Belarusian Throwers Stripped Of Beijing Medals For Abnormal Testosterone Levels We're not going to pretend to be surprised that a couple of enormous hammer throwers - winners of silver and bronze in Beijing - were caught with excess testosterone in their bodies.
*South African Gert Thys Receives 2 Year+ Drug Suspension
*Group For EU Athletes Upset With New WADA 60-Minute Rule
*New WADA Rule Criticized As The Equivalent Of House Arrest They've had this rule in Britain for a few years, actually it's the reason Olympic gold medalist Christine Ohoruogu was banned. It's crazy to think that WADA is going to know where every international elite track athlete is going to be every day of the year.
"Roads Only" Says Lornah Kiplagat Dutch national is done with track and cross-country after getting 8th in the 10k in Beijing.
Pretty Good News:
Delaware Makes Indoor Track A Club Sport But To Keep Outdoor And XC
Honolulu Marathon This Sunday
*Jimmy Muindi Going For Lucky #7 In Honolulu But Will Be Tested By Former Chicago Champ Patrick Ivuti
*Inspired by Wanjiru: Red Sox All-Star Reliever Hideki Okajima Registered To Run Honolulu Marathon This guy is going to be in good shape for spring training!
Great Team And Individual Races On Tap For USA Club Nationals This Weekend Bauhs vs. Sell, Hanson's vs. Oregon Track Club, Bowerman & McMillan.
*Official USATF Club National Thread
Yuusef Saad Kamel Claims Bahrainis Lied About His Age So He Could Run Junior Races According to him they changed his birthdate from 1983 to 1987.
Juan Carlos Higuero Aiming For Sub-3:30 And World Champ Medal In 2008
500 Beijing Blood Samples To Be Retested - 400 for Cera and 100 for insulin.
More On Yamauchi's Possible Switch To Skiing
Article On Calibrating Road Races - They have to be within 17 meters on a half marathon course.
Shocker: Usain Bolt Jamaica Athlete Of Year
2:45 Wins Peace Marathon In Rwanda 3,000 showed up.
Half Marathoner Finds Dead Body In Louisiana
Great Read: Old School Japanese Coach Dismayed At Gap Between Kebede And Top Japanese At Fukuoka Three Sub-2:10s would probably be rejoiced in America.
Is it too much to ask Geb to race someone instead of going for a WR every race?
Geb Aims To Recapture World Half Marathon Record In March In The Netherlands At The Fortis City-Pier-City
Former Colorado All American Erik Heinonen Who Helped Colorado Win 2006 NCAA Title In Peace Corps In Moldova Hoping To Build A Local Track
Berlin's 2009 World Championship Marathon Will Be First To Start And Finish Outside Stadium
Toby Tanser & Shoe4Africa Get Some Nice Press
Results From Wincanton Montferland 15k In Netherlands (Men Close In 13:47)
Still Rolling After NCAA XC
Va Tech's Tasmin Fanning Runs 9:08 3k Indoors At Altitude
Big High School Saturday: Foot Locker West And NXNs
Jordan Hasay won her 4th consecutive Foot Locker West crown, becoming the first high schooler to win their regional 4 times. At NXNs, the big story was the Manlius girls winning their third team title in a row while the Elmhurst boys (better known as York) fell short of Spokane (WA) 134-151 on the boy's side.
*Jordan Hasay Wins 4th Consecutive Foot Locker West Regional
*NXNs: Spokane (Men's) And Manlius (Women's)
*FM Girls Win Third NXN Title In A Row
*Boys NXN Photos *NXN Girls Photos
Sunday's International XC And Road Action
*Ethiopians Dominate Men's Side Of Spanish XC Race
*Kenyan Marathon Run In 98 Degree Weather, Top-3 Finishers Run 2:22
*Lisbon Marathon Results
*Las Vegas Local (Ethiopian) Wins Vegas Marathon In 2:27
*California International Marathon Results (6 Under 2:20 on downhill course)
New WADA Testing Rules For 2009 The big change is the 60-minute rule. This rule stipulates that athletes on WADA's testing list must provide the agency with a 60-minute window every day where they can be found and tested. We're all for the most effective testing methods but this seems like a total pain.
News From America And The UK
*UK Athletics Signs Extended Deal With BBC To Televise Track Meets
*USOC To Increase Spending On Athletes By 12%
In Britain they're cutting funding for athletes, but at least the meets are on TV. Here we can't get the meets live, but at least the athletes are getting funding.
USATF News
Stephanie Hightower Elected USATF President Some are upset, some are pleased, but this post on the message board probably tells most people's views: "Who cares? I'm not a USATF member, and my nine mile run this morning felt great."
*USATF Enacts Restructuring Details of the restructuring can be found in this press release here from USATF, which says the board had been cut from a ridiculous 31 to 15.
*Bill Roe Opens USATF Annual Meeting
LRC: USATF "Run Amuck" And The USATF Presidential Election The Finalsprint.com has done a 7-part series on the dysfunction in USATF. LetsRun.com's Wejo finally took a read of it and gives his snyopsis, thoughts, and criticism of the piece and a few thoughts on USATF.
A LetsRun.com Thumbs Up
Children's Running Book Review LRC reviews Kids Running and our guest reviewer says, "I can say with full confidence that it is perhaps the best children's running book of 2008."

Usain Bolt Answers Carl Lewis' Doping Questions In Interview

LetsRun.com Boston 08 LetsRun.com Party Photos The party hosted by Puma was a smashing success. A packed house, as those passionate about running (from ages 5 to 65+) came to celebrate a great weekend in Boston. LetsRun.com fans celebrated with Rojo, Wejo, Matt Taylor, and a few legends in the sport, including former marathon world record holder Steve Jones and Olympic Silver Medallist Sonia O'Sullivan. The Harpoon beer was flowing, DJ Inkognito kept things going and contrary to popular opinion, there was a healthy mix of males and females. The reviews were excellent. "It's refreshing not to see the same 50 people (industry insiders) at a party." "Most favorable female-to-male ratio I've seen in a long time."
101 Years Old, Still Smoking, Running and Drinking: Buster Martin: "I'm not worried about the fags because I'll carry them with me. Everyone says smoking kills but it's taking a long time in my case." The 101-year-old legend plans on smoking while running Sunday's London Marathon.
LetsRun.com 2007 Worlds Coverage:
*Sunday's Homepage Ndereba marathon
*Saturday's Homepage
*Friday's Homepage Tyson Gay
*Thursday's Homepage Lagat
*Wednesday's Homepage Lagat
*Tuesday's Homepage Bekele 10k
*Monday's Homepage Tyson Gay
*Sunday's Homepage Dibaba/Goucher 10k
*Saturday's Homepage Kibet Marathon
LetsRun.com London Men: Lel Leads 3 Under 2:05:30!!!, Ryan Hall 2:06:17
Ryan Hall Goes Through Halfway on World Record Pace
The 2008 Flora London Marathon will be remembered for a long time. The lead pack of 9 went through 5k at 14:21 (2:01 pace). They continued together (yes, all 9) through halfway on world record pace (1:02:13). Ryan Hall then went to the front soon after and asked the pacemakers to go FASTER. Soon Hall was off the back, but he would catch the leaders briefly again and go on to run 2:06:17. Until Sunday, only 7 guys had ever run under 2:06:15, now 11 have. Up front, it came down to a 3-man battle over the final mile before Martin Lel got his 3rd straight World Marathon Major win over the final quarter mile as he led 6 guys under 2:07 and to $50,000 bonuses each. Recap, photos, video above
This Guy Has Totally Won Back Our Respect
Maasai Warriors Finish Marathon link fixed One of them went back to the course and finished the race a day after being forced to go the hospital after a ceremonial wrap cut off his circulation. He said, "It was very important for me to do this. This is what I came to England for."
LetsRun.com Ryan Hall Reflects On His Incredible Run We tell you (and let you watch) what Ryan, his dad, his granddad, his coach and even Martin Lel had to say about Ryan. Lel was full of praise for the American and shocked by Ryan's attempt to get the pacemakers to go even faster. If Hall didn't already have your respect, he does after reading this article, as he pays homage to a throwback type of guy - Steve Jones. Text and Video.
LetsRun.com Video: Ryan Hall Talks About His 2:06:17 at the 2008 Flora London Marathon
*More LRC London Videos Here
*Photo Gallery
LetsRun.com Rojo's Tour of China, Part 1 - Hanging Out With Usain Bolt
Rojo went to the Puma Party put on for Usain Bolt. Open bar, Chinese dancers putting on their best sorority girl imitations, and then Rojo going 1-on-1 with Bolt. Rojo actually asked Usain about moving up to the 800m. Bolt hinted the Jamaicans want him to run the 4 x 400m. More importantly, Bolt apologized for visiting Facebook instead of LetsRun.com.
2008 real,- BERLIN MARATHON - Watch Video Highlight or Race Replay *Results *Photos
Haile G. 2:03:59!!! Mititenko 4th Fastest Woman Ever Haile Gebrselassie made more history Sunday on the streets of Berlin. After going through the halfway point in 1:02:04, Haile continued to flirt with world record pace but was stalked by Boston runner-up James Kwambai. Haile threw down the gauntlet the last 7km to dispatch Kwambai and just dip under the 2:04 barrier. On the women's side, German star Irina Mikitenko ran a brilliant race, running a negative split to smash the 2:20 barrier and become the fourth fastest woman ever.
*Geb: "I can go faster."
*The Science Of Sport Analyzed Geb's Splits As The Race Unfolded link fixed
*Geb's Record in Berlin Is His 24th World Record (or 26th depending on who is counting)
*Mikitenko Moves Into Tie in World Marathon Majors Standings Gete Wami must finish 2nd or higher in New York to move ahead. If she doesn't, they will be tied (and tied in the tie-breakers) so they might share the title. *Washington Post Article on WMM
*Falk Cierpinski, son of Waldemer Cierpinski, 2:13 in Berlin
On the boards:
*Wanjiru's Olympics > Geb's WR
*Haile's Splits from Berlin. ... how far could you run with him??
*Live Message Board Thread