Foot Locker CC
Foot Locker Nationals Turns 30 With A Race For The Ages - Hasay Gets Bookends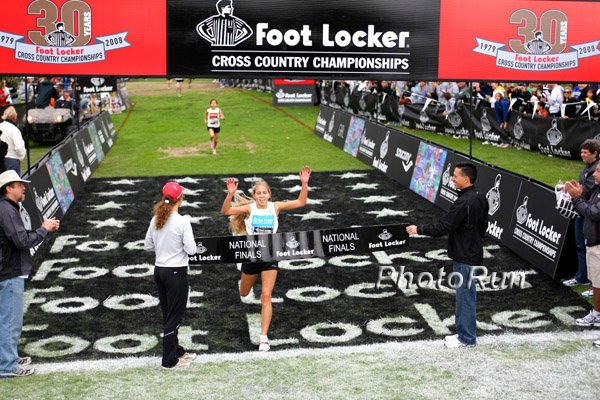 The greatest thing about running has always been its simplicity. Humans instinctively for thousands of years all over the globe have raced each other on undulating terrain. Cross-country appeals to this simplicity.
The greatest thing about high school running for the last 30 years has been the Foot Locker Cross-Country championships. It has been the perfect cross-country championship. So very simple. 4 regionals. 8 or 10 qualifiers from each region. Line them up, fire a gun and you have the true national champion. No politicking, no at-large bids, no polls, etc. Just competition at its purest.
2008 was a special year for Foot Lockers as it was the 30th edition of the race and it was only fitting that the girls race ended up being one for the ages. It would be impossible to have any better pre-race hype. Three previous champions in the field and all in good form, plus a slew of talented challengers. The race more than lived up to the hype.

Colorado's Allie McLaughlin took the early lead and showed she meant business by running the opening mile in 5:21, while the three previous winners - Jordan Hasay, Ashley Brasovan and Kathy Kroeger - all marked each other. 2.5 miles into the race, it looked like McLaughlin was going to shockingly steal the race wire-to-wire. But Brasovan and Hasay were still stalking and Brasovan soon moved up on McLaughlin like a shark hunting it's prey. However, it wasn't until after the 3 mile mark that Brasovan caught McLaughlin. The gallant up-front running by McLaughlin had nearly worked but Brasovan had hunted her down. What a race! Only it got better still, as Hasay was herself stalking Brasovan and in the end, Hasay unleashed some of her 4:14 1,500-meter speed. Her phenomenal kick ended up giving her a comfortable 3-second win in 17:22.
What a race! Two lead changes involving three different runners all in the last 300 meters. Here is an excellent video of the last few minutes of the race. Trust us, you won't regret taking the time to watch it.
"Steve Prefontaine Pure Guts Perfomance of the Week."
McLaughlin totally ran out of gas in the last 300 as, amazingly, she ended up 5th in 17:34. But we want to make sure her amazing effort gets noticed.
A major thumbs to Ms. McLaughlin for an unbelievably heroic and gusty performance. Clearly you are the winner of the "Steve Prefontaine Pure Guts Perfomance of the Week."

As for Hasay's win, as we said in our girls preview, it very well may be the most significant accomplishment in high school women's cross-country history. There have been three other two-time champions on the women's side but all three of them won it in back-to-back years - Erin Keogh in 1985 and 1986, Melody Fairchild in 1989 and 1990 and Erin Sullivan in 1987 and 1988. Winning it in back-to-back years makes a lot of sense. Keep the momentum going. Winning it as a freshmen is insane and normally the result of having an underdeveloped body. To come back and win it again as a senior is a real accomplishment. The only other woman who won it as a freshman was Erin Davis. Davis ended up being a three-time finalist who was 4th as a sophomore and 7th as a senior.

Turning Towards The Men's Race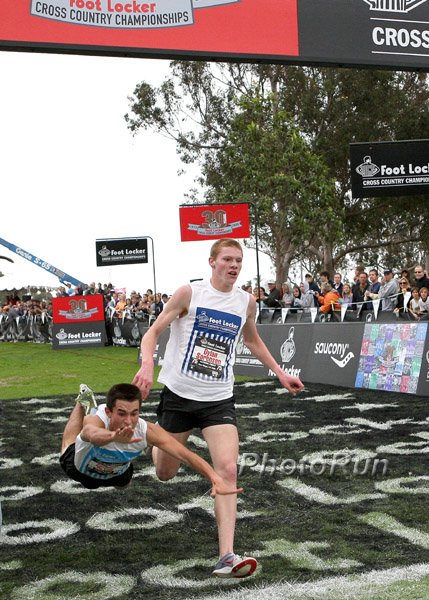 Given the fact that Foot Lockers graudated a stellar class of 2007, it was expected that this year's race would be a bit down on the men's side. In the end, Solomon Haile, who very well may not be 18 years of age, got the easy win as LRC fan favorite Trevor Dunbar ended up second. Dunbar is a guy that old-school runners will appreciate given his 9:01+ time trial in the snow.
We won't say much about the race other than to praise the epic effort put on by California's Zachary Torres. In the olden days, when only 8 qualified per region, the guy wouldn't have even been at Foot Lockers as he was only 9th in the West Region. However, he made the most of his
opportunity on Saturday. He was running well and was in 16th heading into the finish in a race where the top 15 are named All-American. What did he do? He literally gave it his all and launched a huge dive at the finish. The picture to the right says it all. A major thumbs up to Zach for earning the LetsRun.com's "Christian Smith Imitation Award." Of course, an old-timer (hint: initials of JK) who we let read the Week That Was ahead of its general release stated that we should really name it the "Klaus-Peter Hildenbrand Imitation Award." Who the hell is Hildenbrand? He's the guy that dived for and got the bronze medal in the 1976 Olympics in the 5k. Check out the picture to the left or watch the youtube video of the race here.
In the end, Foot Locker did the right thing in our minds and named Torres and Indiana's Dylan Sorenson, who is a big LetsRun.com fan, as both having finished in a tie for 15th. Congratulations to both.
As for Haile's age, we think message board poster "goober" summed things up perfectly when he wrote: "Seriously. This whole coptic calendar debate is pointless. We like you Solomon, we love your running ability and you're a good guy. But what does the Passport say? Your 2008 season will forever be under a cloud and tainted until some common sense verification takes place."
The fact that the family wouldn't show the original birth certificate to the Washington Post only makes people question it all the more.
*Message Board Thread On Dive For All-American
More: *Girls' Results *Boys' Results *Foot Locker Photos
LRC Girls: Jordan Hasay Gets Bookends In Thrilling Race
LRC's Girls Preview: 30th Edition Of Foot Locker Championship Is An All-Time Classic!
LRC Boys: Solomon Sails *AP Recap *Video with no choppiness
LRC's Boys Preview: Can An American Win It?
On the boards: Wejo is curious about the excuse of having the Coptic calendar having him 21 years old *Has Nike's NXN Ruined Footlocker's Nationals? *Trevor Dunbar wins Foot Locker H.S. Division *More Impressive than Hasay's win is that she has a 4.83 GPA
LetsRun.com $208,000 Foot Locker Prediction Contest
Weekly Anti-Doping News: Lots of Big Names Get Busted
Two Olympic Medalists Stripped Of Medals
The biggest news on the anti-doping front was that two Olympic medalists were stripped of their medals due to excess testosterone. Their event? The hammer throw, which has now officially become a complete drug-infested joke, as this was the 2nd straight Olympics where a hammer throw medalist was booted for doping. Olympic silver medalist Vadi Devyatovskiy, who was previously banned for doping, was caught yet again and now will thankfully be banned for life.
Can we get a thumbs down for the entire sport that is called the hammer throw?
The other drug cheat? None other than three-time world champion Ivan Tsikhan. You can't catch any bigger fish than that.
As was stated earlier, this is the 2nd straight Olympics that a men's medalist has been stripped of his medal, as in 2004, the original gold medalist - we don't want to mention his name as he doesn't exist in our minds - was bounced and Japan's Koji Murofushi moved up to the gold. Murofushi seems to be a very lucky man as he won the drug lottery once again this time and moves up from 5th to third.

Drug cheats are simply destroying sports. Assuming he's clean, imagine what Murofushi has missed out on. He was denied the ultimate honor in sports - watching your country's flag be rasied while your national anthem is played as you are named Olympic champion ... as well as being left out of another medal ceremony this time.
Lifetime Bans Are Long Overdue
The hammer throw drug scandal brings us back to a certain point that we keep making over and over. Just as in life, there are certain crimes for which there is no real forgiveness. The same should be true in sports. A 2-year ban for a major doping offense is ludicrous. Common sense dictates that major offenses should receive lifetime bans. Just as a pedophile would never be allowed to teach pre-school, a drug cheat shouldn't be allowed to do sports.
The drug authorities are becoming so strict in the other areas that it's borderline ridiculous. For example, this week it was announced that all track and field athletes must give the anti-doping authorities a one-hour window every single day that they can be tested. Sports are willing to restrict someone's privacy that much in an effort to catch a cheat but not have lifetime bans? It makes no sense. It's unbelievably hard to catch a doper. When they are caught, boot them out.
The Former African Record Holder In The Marathon Goes Down
To be fair to our throwing friends (and to allow us to give our young visitors a history lesson on marathoning), there was one big-name casualty from the doping front on the men's distance running side this week. South African marathoner Gert Thys was banned for two years for a norandrosterone violation. Thys,
who is 37, is definitely in the twilight of his career. Recently he's been running and winning the Seoul Marathon a lot (3-time champion). As a result of his age, younger visitors to LRC may not realize that he's a pretty big name. It wasn't all that long ago (think 1990s) that sub-2:08 marathons were very rare and Thys was the first man in history to run three sub-2:08s as well as two sub-2:08 marathons in one year (1998). Additionally, the 2:06:33 he ran in 1999 to win in Tokyo was the African record at the time. Much like Mary Slaney, it's sad to see big names go down later in their careers and it's impossible not to ask one question - were they cheating all along? We say assume yes.
Thumbs down to you, Mr. Thys.
Outside sources: *500 Beijing Blood Samples To Be Retested *Two Belarusian Throwers Stripped Of Beijing Medals For Abnormal Testosterone Levels *South African Gert Thys Receives 2 Year+ Drug Suspension *Group For EU Athletes Upset With New WADA 60-Minute Rule *New WADA Rule Criticized As The Equivalent Of House Arrest

SPAR European Cross-Country Championships: Lebid Does It Again

The European XC meet was held in Belgium on Sunday and the Ukraine's Sergiy Lebid, who has raced in all 15 editions of the championship, got a well-deserved 8th individual title as he pulled away from Britain's Mo Farah on the last lap. We feel that Lebid deserves major, major props and a huge thumbs up both for running in his 15th straight European race and for getting his 8th title. Far too many stars seemingly sit out races like Euros as they get older - not Lebid. Euros is his main goal it seems. Spain put four in the top 15 to dominate the team competition.
In the women's race, Kenya's - um we mean the Netherlands' - Hilda Kibet took the individual crown as none of the four previous winners were able to win, with pre-race favorite Gulnara Samitova-Galkina, the Olympic steeple champ, fading to 12th. Portugal won the women's team title as former Providence star Mary Cullen was a strong 4th.

Proof That NCAAs Are Tougher Than Euro U23
In the U23 races, 2008 NCAA cross-country runner-up Susan Kuijken got the individual win. On the men's side, Tulsa's John Beattie ended up 6th. In NCAAs, he was 29th.
In the junior race, Britian's Stephanie Twell got her 3rd straight junior crown as the British ladies had a 1-through-6 sweep.
*Senior Men's Results *U23 Men's Results *Junior Men's Results
*Hilda Kibet Takes European Crown *Stephanie Twell Wins European Juniors Again *Thread Here *Florida State's Susan Kuijken Wins U23 Race *Thread Here *Results Of All Races Here
Interesting Reads From Last Week
Every week there are a number of fascinating reads. We particularly enjoyed the profile that Spikes did on our favorite non-European track announcer, Ato Boldon. The most interesting part of the article was that Boldon said that the buzz he gets from the announcing is the same he got from competing. To us, that proves that competition and being in the spotlight produces very similar feelings as the human body only has so many emotions it can experience. Thus, if you've ever wondered what the adrenaline rush is like when competing in the Olympics, it's probably very similar or the same as, say, competing in the high school state meet.
Boldon: "I think (the buzz one gets from being a TV announer and from being a world class sprinter) are about the same ... that's why you've not heard of (me) in a comeback. I retired in '04 and by '05 I was on the air. Life on the track and in the booth is very similar in terms of the anticipation and the adrenaline."

We also enjoyed the article where Chris Solinsky talks about his upcoming move to Portland and confirms that he's going to try the steeple in 2009. A very smart move in our minds. If an American-born athlete is ever going to medal again in an event over 1,500 meters, it's most likely to come in the steeplechase. We hope Solinsky takes the event seriously if he shows promise in it.
Galen Rupp Runs 27:13 (Potentially)
While much of the Northeast in the US was getting its first big snowfall of the year, the outdoor track season was kicking off down under. The Zatopek meet had some strong distance action as usual and it was highlighted by Northern Arizona's David McNeill's use of a big last lap to defeat former Villanova Star Bobby Curtis. McNeill's 61-second (?) last lap (although the LRC message board is reporting it was a 56-second last lap (and a viewer has sent us a link to this video proving it)) gave him a 28:03 to Curtis' 28:06.
Galen Rupp wasn't actually in the race but Rupp did defeat McNeill by 50 seconds at the 2008 NCAA Cross-Country Championships. 50 seconds faster than 28:03 is 27:13, which makes us look like geniuses, as we noted in our NCAA preview that one would "need to be in low 27-minute shape to beat Chelanga" and this shows that we were probably correct in that assessment. NCAAs was probably a bit of an off race for McNeill, as he was 15th this year but 10th last year as a freshman ... but you get the point. Rupp and Chelanga were in very, very good shape, at another level than even McNeill. Gone are the days when someone like LetsRun.com Co-Founder Wejo can outkick the reigning NCAA XC champ with a 60.8 last lap and 28:32 winning time, which is exactly what happened in 2001 when Wejo outkicked Providence's Keith Kelly to win at Mt. SAC.
More: *IAAF Recap Of Zatopek Distance Races *On the boards: Bobby Curtis - 28:06
*Zatopek Meet Officials And Athletes Wear Pink Armbands And Observe Moment Of Silence In Honor Of McCann *Sprint Action Recap From Zatopek Meet In Melbourne
USATF Club XCs
Editor's Note: (We added this in after the page first appeared online)
USATF held it's club nationals last weekend and Scott Bauhs continued his remarkable and undefeated fall campaign by getting the win over Andrew Carlson on the men's side, while Rebecca Donaghue got the win on the ladies' side as Cornell alum Toni-Lynn Salucci was 2nd.

More: *Club Nats Men's Results *USATF Club Cross Recap
Bauhs has always been a blue collar runner and it showed in the snowy conditions (check out this video) in Spokane as he prevailed over Andrew Carlson, who was an emerging star in 2008 (US 15k title and runner-up at 8k).
Women: Rebecca Donaghue Of New Balance Boston Over Toni Salucci
*Message Board Thread On Races

Other News:
There was some other relevant news that might be worth catching up on if you weren't able to visit the site much last week. Thankfully, it doesn't require much commentary by us so we'll call it a week by leaving it to you to read:
*Boaz Lalang Signs With Adidas
*New World Marathon Majors Tie-Breaking Procedures Announced
*Yusef Saad Kamel Claims Bahrainis Lied About His Age So He Could Run Junior Races According to him they changed his birthdate from 1983 to 1987.
*Delaware Makes Indoor Track A Club Sport But To Keep Outdoor And XC
* Foreign Affairs Ministry Looking To Recover Body Of Barnabas Kipkoech He died while racing in Brazil and is survived by two young sons aged eight and nine.