"Last year was about gaining experience, just going around and learning what it's all about. And that was a great year for me, but I have my goals set high this year. Every day when I'm out running, all I think about is Olympic gold."
-Nick Symmonds in a Eugene Register Guard profile in advance of this weekend's USATF champs in Boston
LetsRun.com: The Week That Was
An American record in the mile (not master's or juniors either), total absolute domination by Shalane Flanagan, domination by Dathan Ritzenhein, how to improve 30 minutes in your next marathon and run 2:08, Asbel Kiprop, the quote of the week, Hook 'Em Horns, John McDonnell saying it how it is, and more. We've got it all covered.
Upcoming:
Gate River Run: Deena Kastor to Run Gate River Run This Year
Japanese Olympic Qualifier: Field Announced for March 2nd Biwako Mainichi Marathon (2nd Placer at Worlds Mubarak Hassan Shami and 4th Placer Running)
Japan: Sammy Wanjiru to Run Fortis City-Pier-City Half-Marathon in the Hague on March 15
2009 XC: 2009 US XC Champs to Be at ... Agricultural History Farm Park (Outside DC)
Drug News:
*Dwain Chambers Will Wait Until after World Indoors Whether to Challenge Olympic Ban Times of London
*Liz McColgan Ban Drug Cheats for Life BBC
* Seb Coe: "We cannot have another five years like the one we've just been through because I'm not sure the sport would survive that"
Kara Goucher Talks About Running 8:57 for 3k in Birmingham (She Says She Was Under the Weather)
On the boards:
*Give CHRISTIN WURTH-THOMAS some love!! CLEAN AR!!
*Viktor Rothlin and his Training
*My Alan Webb predictions for this season
Former NCAA Champ Julius Achon Wants to Set Up Traning Camps in Uganda allafrica.com
Phenomenal Weekend of Running Action:
Saturday: Norwich Union Grand Prix -Full Results
*Watch Birmingham Meet on WCSN
*Bekele Breaks 2 Mile World Record as Lagat Dominates 1,500!! The great Ehtiopian had to hold off a challenge by Kenya's Paul Koech but a 29 last lap gave him an 8:04.34. Amerca's Bernard Lagat dismantled a very quality 1,500 field to win by more than a second in 3:35. Ethiopia's Geleta Burka ran 8:31 for 3k.
*Jenny Meadows Wins W800m
*Galen Rupp 3:43 For 1,500
Friday - Tyson Invite *Results *Watch College Events Here
ADAM NELSON 73' 6"
#3 throw ever in the shot to steal the show in Arkansas. Nelson's throwing at Millrose was incredible but this was sick and an American Record in our book (Randy Barnes was a busted druggie). Wallace Spearmon won the 200 but let up before the line preventing him from possibly breaking the American record.
*Allen Johnson Wins Hurdles
Blast from the Past: Look at This Link on Barnes' Website on Roids
Arkansas Papers:
*Wallace Spearmon Close to His American Record
*Adam Nelson Does Well In Front of His Extended Family


World Record Attempts at 2 Miles by Defar and Bekele, Fabulous Men's 1500 It's one of the top indoor meets in the world and has loaded fields. World "best" attempts at 2 miles by Bekele and Defar with (Kara Goucher in the field, plus a loaded men's 1500. Bernard Lagat will have his hands full with Dan Komen who ran 3:34.80 on Wednesday and World Champs bronze medallist Shadrack Korir.
*Start lists/Results
*Birminaham Meet Will Be on WCSN on Sunday 10am Eastern
More Birmingham News: Mo Farah Wants British 2 Mile Record in Birmingham
*Craig Pickering Out of This Weekend's Birmingham Meet with a Virus
Wednesday's Action:
Athens: Athens Recap: Daniel Komen Runs 3:34.80
*Results
*Watch the meet on WCSN
High Jump Meet: Blanka Vlasic Gets Her 20th Straight High Jump Win
Dathan Ritzenhein and Ryan Hall Talk to the Press Before 2008 US Cross Country Hall is ahead of schedule and Ritz a bit behind due to an IT band problem. But America's two young distance stars can relax as they both have booked their tickets to Beijing.
*US Cross to Be Televised Next Weekend
*Ritz Has Sore IT Band Heading into US Cross
News We Missed: Bekele Says Wind Prevented Him From Indoor World Record Attempt Last Weekend "The weather conditions were very difficult. It was windy. I could feel it while running on one side of the track. Maybe there was a window open?"
LetsRun.com The Week That Was Being the kind souls that we are, we recap the last week in the track and field world. World records galore, the world's richest half marathon, human rights, drugs, Alan Webb, Jeremy Wariner, NCAA action, and the incredible Wesley Korir. We have it all. We give big thumbs up to Webb who hasn't even raced this year and big thumbs down to reigning Olympic champ Yuriy Borzakovskiy who has been setting the world on fire.
Japanese 10k Record Holder Toshinari Takaoka Runs 47:40 for 10 Miles in Japan
World Records Galore: Yelena Soboleva 3:58.05 A day after she ran 1:56.49. Plus the women's 4*800 record fell.
*Susanna Kallur Breaks 60m Hurdles World Record to Highlight Karlsruhe Meet IAAF
And all of Britain is Horrified: Dwain Chambers Storms to 6.55 Victory at British Trials
*British Champs Recap and Results
*Jason Gardener, The Fastest All Time Clean 100m Runner in Britain, Says Drug Free Athletes Can Succeed
*Dwain Chambers Win Leaves British Selectors With a Quandary
*Dwain Chambers in No Win Situation Times of London
More Indoor News: Kenenisa Bekele Defeats His Brother in 3k in 7:36 in Valencia IAAF
Olympic News: British Athletes Being Told to Sign a Clause Saying They Won't Criticize Chinese Human Rights Record The Brits also made their athletes give the Nazi salute back in 1938. When in Rome...
New Zealand Athletes May Have to Pay Out of Their Own Pocket to Go to 2012 Olympics
Ras Al Khaimah Half Marathon
*Photos Finishes Galore
Patrick Makau won a 2 way photo finish on the men's side as Salina Kosgei won a 3 way photo finish on the women's side. Each got $25,000 for their efforts. This is the richest half marathon in the world.
*2008 RAK International Half Marathon Results
4 guys went under the 1 hour barrier, Million Wolde clearly needs to lose a lot more weight as he ran 1:12 (after going out at only 33 minutes for 10k)
Move Over Liu Xiang: Dayron Robles Runs 7.33 in Dusseldorf, #2 Time Ever, Borzakovskiy Dominates Xiang now officially has his hands full. Robles is younger and keeps getting faster and faster. IAAF
*Video Highlights of Dusseldorf Meet (Robles race, women's hurdles, and last part of Borza's 800)
Saturday XC Action: Prisons and Police Recap in Kenya: Gideon Ngatunyi 4th at Last Year's World XC Wins Prisons Title
It's Official: Ryan Hall Running US Cross Country
As We Predicted: Another Marathon Major: Tokyo Talks About Adding Women's Field, Big Prize Money
LetsRun.com: The Mythical Steve Sherer
Who is the unknown, unsponsored American who ran a startling 3:56.00 full mile on Saturday in his first time under 4? Learn all about the man who openly admits that he's "kind of a princess with my training" and that "coaches hate me." His self-designed training philopsopy is revealed and bound to create lots of discussion on the message boards. An Olympic hammer thrower advises him, he does NO long runs, he has no traning partners, but he had enough belief in himself to move across the country and do it his way. And with a drug reference from Rojo, Wejo feels proud.
*Audio Interview here
LetsRun.com! The Week That Was Jan. 29 - Feb 3, 2008 Millrose, Stuttgart, Mo Greene, Jeremy Wariner stabbing Clyde Hart in the back, and more. We've got it all covered letsrun.com thumbs up, thumbs down style.
Audio Weekly Review: Runnerville Podcast #3 Wejo chimes in for the first time thanking Mo Greene, plus Millrose, and running as a cash cow.
A Legend Calls it a Career: Mo Greene Retires 2 Olympic Golds, 5 World Champ Golds. A 100m World Record. And a lot of personality.
The Australian Age: "That's "greatest of all time," in case you missed it, and if Greene may have fallen just short of that status, it wasn't for want of self-belief. It also wasn't by much."
*Message Board Thread on Mo Greene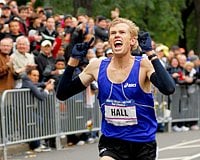 RYAN HALL 2:09:02 Ryan Hall put on one of the most impressive performances ever in American marathoning history, as he destroyed the field and coasted to victory in an incredible 2:09:04 (after a 1:06:17 1st half, yes that's a 1:02:47 2nd half on the hills of Central Park) on the very difficult NYC course. Dathan Ritzenhein ran a very impressive 2:11:07 to get 2nd while Brian Sell got the 3rd Olympic spot in 2:11:40. Former World Record holder Khalid Khannouchi ran a very gutsy race to finish 4th.
Ryan Hall is the real deal in case you didn't know. Here are his 5k splits on the very difficult NY course to prove how incredible he is at the marathon: 16:44, 15:41, 15:27, 15:12, 15:05, 14:48, 14:28. Yes that's right a 14:28 from 30 to 35k. Hall pumped his fist, pointed to the heavens, and waved to the crowd the final mile savoring the incredible run and still ran a 15 minute 5k pace for the final 7.2k (14.56 from 35 to 40k)
*Results
Race Recap From RunnersWorld's Amby Burfoot Amby did an excellent job covering the lead up to the Trials so it is fitting we link to his race article.
*NBCOlympics Recap of 2008 Olympic Marathon Trials: Triumph and Tragedy
*Quotes
*Video: Watch the on Demand (For Free, Skip to Any Crucial Point Instantaneously. Thank you NBC)
*Post Race Press Conference Videos Top 3, Meb, Culpepper, Khannouchi, Lehmkuhle
*Dathan Ritz Quotes
*Brian Sell Quotes
*Khalid Khannouchi 4th at Trials A great great run for Special K. He got 4th hobbling around the park.
*Photos Excellent ones from letsrun.com message boarders skylon
2007 ING NYC Marathon: Paula Radcliffe and Martin Lel Win With Big Finishing Kicks For the second straight day, there was thrilling action in New York's Central Park. Paula Radcliffe led for nearly 26 miles before Gete Wami took her first lead with less than a half mile to go. That move sparked an amazing finishing kick by Radcliffe who got her second NY title in her first marathon in two years. Wami gota nice consolation prize - the $500,000 world marathon majors title. In the men's race, Martin Lel outsprinted Abderrahim Goumri just as he did in London.
Video: Highlight Video from NBC Sports (3:47) NBC did a great job on its coverage this weekend. You can watch for free the entire men's trials here on demand (skipping to any point you want). If you paid $3.99 using code RUN2007 you can watch the full NYC marathon on demand.
World Indoor News: Bekele to Run World Cross Not World Indoors
*Tirunesh Dibaba Left Off Ethiopia's World Indoor Squad There are only 3 women on the team, but the problem is sub 8:35 doesn't cut it in Ethiopia in the 3k. IAAF
*World Indoor 60m Hurdle Champ Derval O'Rourke Will Not Defend Her Title Due to Slight Injury
Thursday: Asafa Powell Uncertain, Jeremy Wariner Ready for Thursday's Melbourne Grand Prix Joel Milburn, who ran 45.19 last week and might have been able to challenge Wariner, is out with an injury although Darold Williamson is in the field. IAAF
Due to Drought Peachtree Road Race Has to Move Finish Line
On the boards:
*HELP: MARATHON WITH GIRLFRIEND -
*What do runners have against racewalk?
Most Popular Threads from Yesterday:
*picture of Ritz lapping some guy at USAXC (not sure what this means about the sole of letsrun.com viewers)
*Man asks woman to marry him on the court of an NBA game......woman says NO!
Tariku Bekele Pulls Out of Scheduled Matchup With Mottram over 5k on Thursday in Melbourne It would have been a great race. Asafa Powell may run at the meet and Jeremy Wariner is supposed to run the 400.
Leipzig Recap: Abubaker Kaki Runs 1:46.06, 2000 Olympic 800m Champ Nils Schumann Trying to Make Olympics IAAF Schumann's coach got busted for doping and using Repoxygen on his athletes although the investigation into Schumann was dropped.
British News: Craig Pickering's Indoor Season Over, Dwain Chambers May Still Go to Court to Try and Compete in the Olympics
*Simeon Williamson Assured of Final British 60m Spot at Worlds with Pickering's Injury Guardian
*UK Athletics Boss Niels de Vos Wants at Least 4 Year Bans BBC
Tokyo Marathon: Switzerland's Viktor Rothlin Wins & Sets New Swiss Record of 2:07:23! The world championship bronze medallist proved that he is a serious Olympic medal contender as he was aggressive throughout. Unknown individual entrant Arata Fujiwara had an unbelievable day as he came up with a nearly 30 minute PR to run 2:08:40 to finish 2nd and likely make the Olympic team. Sydney 5k Olympian Julius Gitahi of Kenya was third (2:08:57). Japanese favorite Toshinari Suwa was 4th (2:09:16) and the defending champ Daniel Njenga was 13th (2:14:11). Jon Brown who was trying to secure a Canadian Olympic spot after getting 4th in the last two Olympics for Britain apparently dropped out.*2008 Tokyo Marathon Messageboard Thread Here
2008 US Cross Country Champs:
Dathan Ritzenhein Runs Away With Title As Shalane Flanagan Steals The Show Ritz pulled away from Jorge Torres and Ryan Hall on lap three to earn an impressive 26 second victory as marathon star Hall faded to 5th. But the story of the day had to belong to Shalane Flanagan who obliterated the women's field and won by a staggering 70 seconds. Unbelievable.
*San Diego Tribune's Recap of Race
*David Monti's Recap of Race - With Link To Full Results
*Mesageboard thread here
*Junior races: Californians Jordan Hasay and German Fernandez Win. Former New York phenom Ryan Sheridan was the runner-up on the men's side. Messageboard thread on Sheridan here.
*Results
*Photos
*Post Race Interviews Here

Great Sign A Busy Weekend of XC In Kenya As Three Regional Championships Are Held In Eldoret, the revelation of 2007, Asbel Kiprop, showed that he's going to be a force to be reckoned with in 2008 as he sprinted to the title - beating Hosea Macharinyang who wasi top 5 at last year's senior worlds.
European Indoor Cub (Team Competition): Russians Win Men's And Women's Competition
Full results can be found here.
Positive Drug News: The Tide Is Turning
*Edwin Moses Says Drug Cheats Deserve Four-Year Bans
*Seb Coes Says Drug Cheats Deserve Four-Year Bans
*Seb Coe Supports European Promoters Ban of Dwain Chambers
*30 Leading Agents Have Signed Agreements Stating They Won't Represent Athletes Given 2 Year Doping Bans
Nice Recap Of Sydney Grand Prix - This is the meet where Jeremy Wariner opened up faster than he did last year (at least according to Wariner's own quote in the article but we found him opening in 20.81 in April last year) but still got spanked. It also featured two Aussies going sub 2 in the same race for the first time ever. *Messageboard thread about Wariner's loss here
Yelena Isinbayeva Sets New Pole Vault World Record of 4.95 In 2008 Debut
Random Country./Area Championships
French Champs: Full Results
Day 2 Report Three men with qualifying times battling it out for two 1,500 spots resulted in an exciting 1,500 final. The winning time was over 4:00, the last lap - 25.8
Day 1 Report
Asian Champs
Day 3 Recap: Yousef Saad Kamel Wins M800
Day 2 Recap:

Paul Tergat
Paul Tergat Pulls Out of London - Fitness Lacking Due To Military Training - Message-board thread here.- He says he's only at 40% fitness and that's he's going to focus on the Olympics (we thought London was going to be the qualifier but maybe he's being automatically being selected?). Anyway, we're not sure why one of the greatest runners in history is missing training to due military training as he'd make way more in one appearance fee in running than in years in the military. He also previously pulled out of December's Fukuoka marathon because of 'special military' training. Bizarre if you ask us. But we did find the following see below):
$2 Million Zayed Marathon To Be Held in Abu Dhabi On Feb 28th And The Half-Marathon To Feature Paul Tergat and Lornah Kiplagat The Arabs have already bought up horse racing. looks like they are trying to buy up distance racing as this race is at a totally different level. Last week the Ras Al Khaimah Half Marathon was supposedly the world's richest half-marathon with $200,000 in total prize money ($25,000 for first). This race will have a $2 million purse with $300,000 for first. 15 TIMES BIGGER? Seems too good to be true. Old blog post here. *Race Website Here
Also This Weekend: Moscow: Yuriy Borzakovskiy Star at European Indoor Cup in Moscow IAAF
*Also Saturday: Isinbayeva Opening Season in Donetsk on SaturdayIAAF

Olympic Marathon Champ Mizuki Noguchi's 30k World Record Attempt Next Weekend is Off Because She's Not Fit Enough
Roger Clemens Steroid Hearing: Editorial: Roger Clemens - Drug Cheat and A Liar Rojo breaks down the steroid hearing. You learn about Clemens' nanny, Clemens' butt, Clemens' MRI, and why Rojo will never vote Republican again.
More Coverage:
*Clemens' Incredibly Unpersuasive Testimony to Congress Slate.com
*Body Language Expert Says Clemens Came Off Looking the Worst ESPN.com
*New York Times Talks About Abscess on Roger Clemens Ass New York Times
*MRI Testimony Seems to Hurt Clemens New York Times
*Did Clemens Try and Influence the Testimony of His Ex Nanny?
*NYTimes: Republicans Seem to Back Clemens, Dems McNamee
*ESPN: Party Line Differences at Hearing
Poll: Sports Illustrated Poll On Who You Thought Was More Believable
Jeremy Wariner Talks About Running 42 Seconds for 400, Coaching Change, and Opening Season This Weekend at 200 This is a great weekend for track and field fans. US Cross, Wariner opening up down under, the Tyson Invite, and perhaps the top indoor meet in the World outside of Worlds, the Norwich Union Grand Prix.
USATF Pacific Association to File Grievance over Awarding of 2012 Olympic Trials
We're glad to see someone pressing this issue.
*Message board thread
Dwain Chambers Speaks about Being a 'Leper'
*EuroMeeting Promoters Say Dwain Chambers is Not Welcome Guardian
World Champion Luke Kibet Survives Blow To Head/3 Week Hospital Stay and Is Looking Forward To His London Debut The 24 year old is now training again and amazingly wants to run world cross next month and London as well. He is ashamed Kenya has turned to tribal warfare and amazingly holds no ill-will towards his attackers. If it wasn't for the great anti-drug quote from Coe, the following quote from Kibet would certainly be our quote of the day. Kibet: "I hold no ill feelings against the perpetrators of the act that nearly changed my life. I have forgiven them and put that behind me. I will still hold high the Kenyan flag that unifies all Kenyans irrespective of their ethnic affiliation. We must redefine the essence of patriotism."
Footlocker XC
Girls: 2007 Footlocker Girl Recap: Ashley Brasovan Wins
Brasovan the LetsRun.com darkhorse pick for the meet came out on top as she stayed off of the suicidal opening pace set by Jordan Hasay and rallied for the win over the final mile. Next year, the past 3 champs will all be back to race one another for supremacy.
*Results
*Foot Locker 2007 Webcast Archive
*2007 Foot Locker Girls Race Photos
*Photos of All 40 Footlocker Girls
*More Post Race Coverage: Dyestat, Milesplit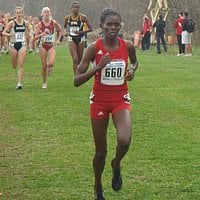 NCAA Women:
LetsRun.com Women's Recap: Stanford Three peats, Kipyego Dominates Sally Kipyego showed she is still head and shoulders ahead of the competition and Stanford showed there was a reason they were #1 in the country all year. Plus we take a look at next year's NCAAs. The Pac10 is so tough Stanford could go from three peating at nationals to 4th in their conference.
*Results:
*Women's Team Results
*Women's Individual Results
*LetsRun.com 2007 NCAA Cross Country Women's Photo Gallery
More: Sally Kipyego Cruises to Another NCAA XC Crown www.tribstar.com
*The Oregon Women Hadn't Made NCAAs Since 2000 and They Leave the NCAA Runnerups www.oregonlive.com
Olympic Champ Noguchi Wins Tokyo Marathon in 2:21:37 She booked her ticket to Bejing with the win.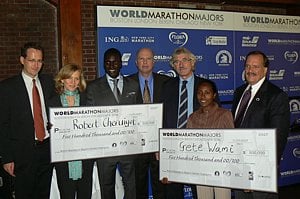 Robert Cheruiyot and Gete Wami Honored With Inaugural World Marathon Majors Titles and Their $500,000 Checks in NYC Both athletes were very humble as they accepted their prizes and were already focused on the future instead of spending their paydays. Cheruiyot is the greatest rags to riches story in sport. Text, photos and video.
*NY Times Article on World Marathon Majors Awarding $500,000 to Cheruiyot and Wami
*London Director Dave Bedford Expects World Marathon Majors to Raise Purse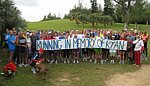 Ryan Shay Run in Bermuda a Huge Success
Organizers Ashley Couper Estwanik and Chris Estwanik were expecting a handful of people, but instead hundreds showed up.
LaSalle Bank Chicago Marathon Women
Unbelievable
Adriana Pirtea Blows It
Just watch the video above. Shorter video here if you're impatient
*Chicago Tribune Recap of Ivuti's Narrow Win
Adriana Pirtrea, a runner basically no one has heard of (including ourselves) (she did finish 2nd at an NCAA indoors once), was on her way to winning the Chicago Marathon. She had been clear of Berhane Adere for miles. Pirtrea, as she took the final turn, was high fiving the crowd. She had a 15 second lead with 58 seconds of runing left. Little did she know that Adere had overcome whatever problems she had had and was quickly making up ground. Pirtrea never looked back and was strolling into the finish thinking about her career changing win. Meanwhile, Adere was in an all out sprint on the other side of the road. She flew by Pirtrea and Pirtrea had no chance to respond. A truly incredible turn of events as Adere made up a 15 second deficent in 47 seconds. Watch it to believe it.
*Former Yalie Kate O'Neill 3rd in Her Debut
*Wheelchair Race Decided by 1 Second All the races in Chicago were close.
AL OERTER 1936-2007 The death of this legend basically is being ignored in the US but thankfully the NYTimes gave him the homage he was due in this tremendous article by Frank Litsky on Oerter. And we like Oerter's anti drug stance and honesty (admitting to trying roids in 1976). When he quit competitive throwing he said, "The drug culture had taken over."
*Daily Telegraph in Britain Remembers Al Oerter
*Kansas City Star Remembers Al Oerter
*More Oerter: *Message Board Thread
*More on Oerter from Florida Paper
*Article on Oerter and His Painting: "I know this won't sound right but painting is the same dadgum thing I found in training for the Games"
LetsRun.com 2007 World's Coverage:
*Sunday Homepage Ndereba marathon
*Saturday Homepage
*Friday Homepage Tyson Gay
*Thursday Homepage Lagat
*Wednesday's Homepage Lagat
*Tuesday's Homepage Bekele 10k
*Monday's Homepage Tyson Gay
*Sunday's Homepage Dibaba/Goucher 10k
*Saturday's Homepage Kibet Marathon
LaSalle Bank Chicago Marathon Men
Unvelievable:
Invuti Wins Unbelievable Finish in Chicago Words don't do it justice just watch the video above.
*Chicago Tribune Recap of Ivuti's Narrow Win
It's hard for words to describe the greatest finish in (Chicago) marathon history. It came down to two time world champ Jaouad Gharib and former track/xc star Patrick Ivuti, fresh off his 59:27 half marathon. Gharib surged ahead going up a slight incline down the finishing straight. Ivuti then battled back and took the lead on the downhill. Gharib dug back and retoook the lead as they barreled towards the finish and the two guys still standing there with the finish tape which is only about 5 feet wide. Ivuti surged back right at the finish and it was too close to tell but Ivuti got the win. Hot weather took its toll on everyone.
*Video: Patrick Ivuti Talks About His Narrow Win In Chicago
Millrose
*Results

LetsRun.com! 2008 Millrose Games Recap: Lagat Gets #6, Nelson Entertains, and Goucher Gets It Done Track and field's biggest indoor event saw Bernard Lagat capture his 6th Wanamaker mile, Kara Goucher get an exciting woen's mile win, and our hero Adam Nelson throws some bombs and entertains the crowd. Plus, upsets in the women's pole vault, women's hurdles and more.
*NY Times: Lagat Outduels Mottram
*LetsRun.com! Recap of 2008 Millrose Games High School Miles The boys mile is always the loudest event at Millrose.
*On the boards: Congrats to LetsRun.com Poster Crazystreaker on Winning the Boys' High School Mile
*Distance Photos