FLANAGAN & RITZENHEIN DOMINATE U.S. CROSS COUNTRY CHAMPIONSHIPS
By David Monti
(c) 2008 Race Results Weekly, all rights reserved. Used with Permission.

SAN DIEGO (16-Feb) -- Shalane Flanagan and Dathan Ritzenhein each brought their "A" game to Mission Bay Park here today, running away with their first long-course U.S. Cross Country titles in commanding fashion.

Flanagan, who struggled with the high altitude in Boulder at last year's championships where she was soundly beaten by Deena Kastor, jumped quickly to a five second lead after 2 km of the 8 km race, and expanded it with each lap. She was unrelenting, pressing all the way to the finish line to win by a whopping 70 seconds in 25:26.


"I had a blast," said a beaming Flanagan who liked the grass course and the warm conditions. She added: "If we could have venues like this I would be coming every single year."

Flanagan, who won the U.S. 4-K cross country title in 2004 and 2005, said that she continued to press so hard even though she had the race well in hand because it is an Olympic year. She's also contemplating a debut at 10,000m and saw today's 8-K as a great build-up race. "I've been training hard," she said. "The thought of Beijing, the thought of the Trials. I have to practice: I just can't expect to show up in Beijing without have already practiced that mental toughness."

Behind Flanagan, Renee Metivier held off constant challenges from a surprising Emily Brown and an in-form Katie McGregor, both of Team USA Minnesota, to take second in a three-up sprint to the line. Metivier, who has qualified for the last four U.S. teams for the IAAF World Cross Country Championships, relishes cross country running.

"I'm pretty muscular, I'm pretty short," said a smiling Metivier of why she excels in cross country. "I feel at home on a cross country course."

Metivier was clocked in 26:36 to Brown's 26:37 and McGregor's 26:38. Molly Huddle took fifth (26:52) and Blake Russell took sixth (26:54), locking up the final places on the U.S. team for Edinburgh next month.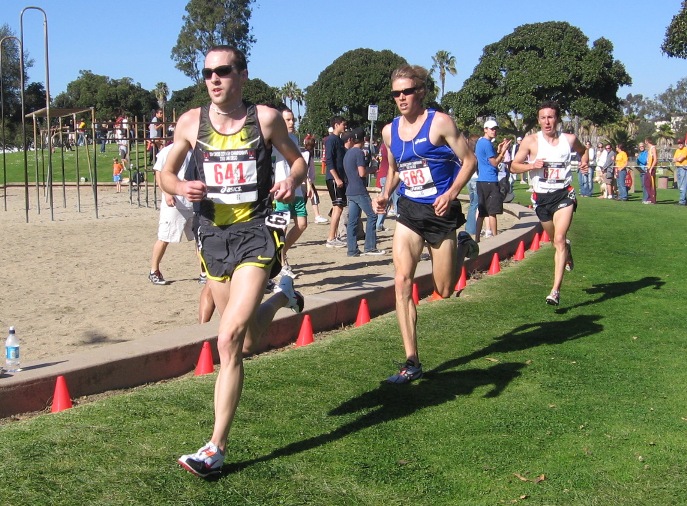 For Ritzenhein, the victory was particularly sweet after he faded to third place in last year's championships in front of big crowds in Boulder where he had competed for the University of Colorado. He was more patient in this year's race, but began to pull away from his biggest rivals, Ryan Hall and Jorge Torres, after 5-K. He ended up running the last half of the race alone, winning by 26 seconds in 35:03 over 12-K.

"I didn't expect it that much," said Ritzenhein of how easily he was able to win despite nursing a leg injury. "I didn't expect to do it like that, either."

Hall, the U.S. Olympic Marathon Trials Champion from last November, struggled a bit in the final laps, fading to finish fifth. He said he had no physical problems, but his legs felt a little tired from his preparations for the Flora London Marathon on April 13.

"I felt very similar to how I felt in other tune-ups prior to a marathon," Hall explained. "The turnover just wasn't quite there."

Finishing behind Ritzenhein was his old Colorado teammate, Jorge Torres, who clocked 35:29. Josh Rohatinsky, the 2006 NCAA Cross Country Champion, finished third in 35:41, while former William & Mary Star, Ed Moran, came home fourth in 35:42. James Carney, the reigning U.S. half-marathon champion, was sixth while Oregon Track Club Elite teammates Max King and Ryan Bak finished seventh and eighth, respectively.

In the junior women's race, Jordan Hasay defended her title, using a more conservative strategy than last year when she bolted to the front and nearly exhausted herself in Boulder's thin air. The high school junior from Arroyo Grande, Calif., who is only 16, covered the 6 km course in 20:32, 13 seconds up on Stanford's Alex Gits.

"At Foot Locker (last December) I went out really fast, so today I just wanted to stay in the pack for the first two laps, and just give it all I had in the last 2-K," said Hasay who grew a little taller since last year.

The junior men's 8-K race came down to a thrilling sprint between high schooler German Fernandez of Riverbank, Calif., and Iona College's Ryan Sheridan. The two entered the top of the finish straight together, but it was Fernandez who hit the tape first in 24:18, just one second up on Sheridan.

"It was a hell of a race," said Fernandez who has yet to select a university for next year. "I'm just looking to go to Scotland," he added. "It's my dream."

Top Results Appear Below.

Open Women's 8 km
1 29 Shalane Flanagan Nike Pittsboro NC 26 25:26
2 58 Renee Metivier Nike Boulder CO 26 26:36
3 10 Emily Brown Team USA Minnesota Minneapolis MN 23 26:37
4 56 Katie McGregor Reebok Saint Louis Park MN 30 26:38
5 44 Molly Huddle Saucony Elmira NY 23 26:52
6 71 Blake Russell Reebok Marina CA 32 26:54
7 64 Katherine Newberry New York Athletic Club Williamsburg VA 29 27:07
8 37 Amy Hastings adidas Flagstaff AZ 24 27:12
9 50 Julia Lucas Reebok Mammoth Lakes CA 23 27:13
10 73 Sara Slattery adidas Lafayette CO 26 27:19
11 54 Maureen McCandless New Balance Syracuse NY 24 27:27
12 82 Kathleen Trotter Peninsula Distance Club- Brook Palo Alto CA 22 27:28
13 20 Colleen De Reuck Nike Boulder CO 43 27:31
14 78 Kara Storage unattached Beavercreek OH 26 27:39
15 28 Catherine Ferrell Oregon TC Elite Eugene OR 23 27:50
16 22 Delilah DiCrescenzo unattached Conshohocken PA 25 27:52
17 59 Sally Meyerhoff unattached Tempe AZ 24 27:58
18 61 Tera Moody Boulder Running Company/adidas Boulder CO 27 28:01
19 91 Mandi Zemba Team USA Minnesota Minneapolis MN 24 28:03
20 12 Serena Burla unattached Columbia MO 25 28:10
21 79 Tara Storage unattached Beavercreek OH 26 28:10

Open Men's 12 km
1 641 Dathan Ritzenhein Nike Eugene OR 25 35:03
2 671 Jorge Torres Reebok Boulder CO 27 35:29 |
3 643 Josh Rohatinsky Nike Beaverton OR 25 35:41
4 616 Edward Moran Nike Williamsburg VA 26 35:43
5 563 Ryan Hall Asics Mammoth Lakes CA 25 35:50
6 523 James Carney New Balance Boulder CO 29 35:56
7 584 Max King Oregon TC Elite Eugene OR 27 35:57
8 503 Ryan Bak unattached Eugene OR 26 35:59
9 670 Edwardo Torres Reebok Boulder CO 27 36:01
10 508 Scott Bauhs Cal. State University, C Danville CA 21 36:16
11 633 Jonathan Pierce ZAP Fitness Blowing Rock NC 24 36:18
12 611 Lucas Meyer Oregon TC Elite Eugene OR 24 36:23
13 618 Thomas Morgan ZAP Fitness Blowing Rock NC 26 36:26
14 659 Josh Simpson NYAC Morgantown WV 23 36:31
15 522 Andrew Carlson adidas Bloomington MN 25 36:39
16 513 Fasil Bizuneh New Balance Flagstaff AZ 27 36:49
17 560 Sean Graham Oregon TC Elite Eugene, OR 27 36:51
18 591 Travis Laird unattached Valley Center CA 26 36:54
19 518 Benjamin Bruce unattached San Luis Obispo CA 25 36:54
20 637 Jon Rankin Nike Chula Vista CA 26 36:56

Junior Men's 8 km
1 1524 German Fernandez unattached Riverbank CA 17 24:18
2 1586 Ryan Sheridan Iona College Melville NY 18 24:19
3 1540 Emil Heineking University of Virginia Chardon OH 18 24:34
4 1571 Bobby Moldovan North Carolina State Universit Fort Wayne IN 18 24:38
5 1602 Kevin Williams unattached Lakewood CO 17 24:39
6 1547 Benjamin Johnson unattached Albuquerque NM 18 24:41
7 1530 Brendan Gregg Stanford University Davis CA 18 24:41
8 1553 Ryan Little Oklahoma State University Eden Prairie MN 18 24:50
9 1564 Joshua Mathis Oklahoma State University Potosi MO 18 24:56
10 1595 Matthew Tebo University of Colorado Albuquerque NM 18 24:58


Junior Women's 6 km
1 1026 Jordan Hasay Arroyo Grande CA 16 20:32
2 1023 Alex Gits Stanford University Edina MN 18 20:45
3 1046 Emily Reese unattached Dunwoody GA 17 21:26
4 1060 Marissa Treece Notre Dame Notre Dame IN 18 21:33
5 1052 Emily Schwitzer Duke University Durham NC 18 21:34
6 1051 Lauren Saylor unattached Clovis CA 18 21:36
7 1014 Laurynne Chetelat Buffalo Chips RC, Davis CA 17 21:51
8 1058 Jacque Taylor Buffalo Chips RC, Petaluma CA 16 21:53
9 1064 Colleen Wetherbee NCSU Yarmouth MA 18 21:53
10 1013 Megan Burrell Univ. of Colorado 19 21:58

Masters Women's 8 km

Masters Men's 8 km

PHOTO: Dathan Ritzenhein leads Ryan Hall and Jorge Torres in the men's 12-K race (Photo by Jane Monti).

---
Runner's World &
Running Times



Combined Only $22
a Year
Save $87

---

Running & Track and Field Posters
---

Great Offer: Nike Lunar Glide Sale Multiple colors of this shoe available.

*Nike Air Max Moto 7 Get 2 Pairs for a Crazy $112
---