Nikki Hiltz Wins US 1500 Title As Athing Mu Runs 7-Second PB for 2nd
By
Jonathan Gault
and
Weldon Johnson
EUGENE, Ore. — Nikki Hiltz's dream 2023 campaign ratcheted up another level on Saturday evening as Hiltz outkicked Athing Mu to win a thrilling women's 1500m at the 2023 USATF Championships at Hayward Field in 4:03.10. Mu turned more than a few heads by finishing second in 4:03.44 — a seven-second pb — just ahead of Cory McGee, who ran 4:03.48 to make her third straight US team. Reigning US champ Sinclaire Johnson's dive at the line came up just short as she finished .01 behind McGee in 4th.
Johnson could still go to Worlds if Mu chooses to focus on the 800 only in Budapest; Mu said she still has to decide whether she will run the 1500 as well. Nineteen-year-old Addy Wiley of Huntington University rounded out an incredible freshman campaign by finishing 5th in 4:04.25.
Hiltz, a biological female who identifies as transgender non-binary and uses they/them pronouns, has now won all three US 1500/mile titles on offer in 2023, adding the outdoor 1500 to the indoor 1500 and road mile titles they won earlier this year.
The Race
Article continues below player.
The buzz for this one got started before the gun went off as Athing Mu toed the starting line. Many track fans thought Mu wouldn't run the final as she has a bye to Worlds in the 800, but she not only ran it but contended for the win to the very end.
Laurie Barton opened up a gap on the chase pack on the opening lap (63.79), but when she slowed the second lap (2:12.29), that let the chase pack, led by Mu, catch back up. Mu then took the lead and would lead at the bell as Wiley and others moved up trying to get the lead but Mu held them off impressively.
At 1200 (3:19.52), the pace was relatively modest with everyone jockeying for the final kick.
Mu led on the backstretch but around the final turn she did her trademark drift to the outside of lane one, which let McGee try to come by on the inside but she could not get the lead. With 100m to go, Mu, McGee, Hiltz, Johnson, and Wiley were close together kicking for the three World Championship spots.
Mu would stay ahead of McGee the entire homestretch but just past halfway down the homestretch Hiltz pulled up on Mu on the outside and would go by. Hiltz held on to get the win with a terrific sub-59 last lap as they pumped their arms in celebration after the finish. Johnson was the only other athlete to close in sub-59 (58.94) but left herself too much work to do as she was only 7th at the bell and blocked from moving up.
Top 10 results (full results with splits)
(Note: Hiltz's final 400 split is inaccurate below but they were 4th at the bell so they definitely closed in sub-59)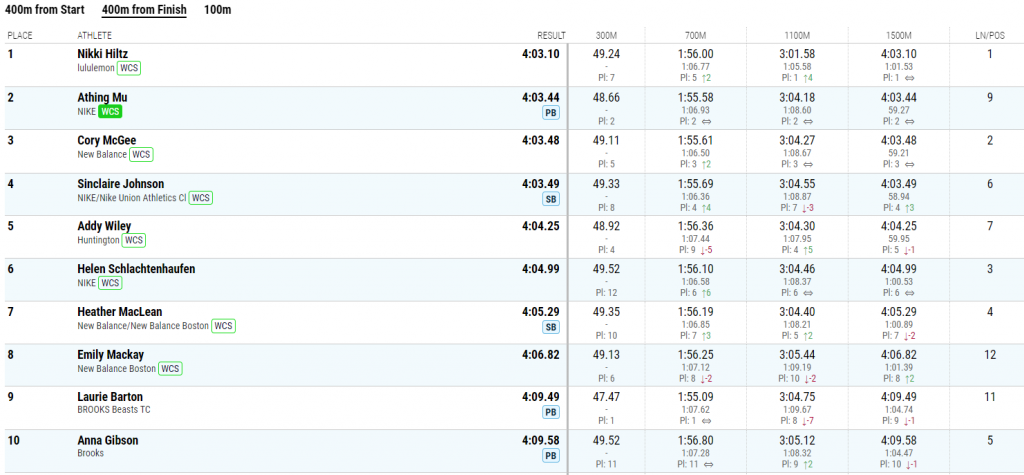 QT: Big win for Nikki Hiltz
Hiltz ran 4:01 and made a Worlds team in 2019 but struggled to regain that form in the ensuing years, finishing 13th at the 2021 Olympic Trials and 10th at USAs last year. It was fair to wonder if Hiltz had peaked as a 1500 runner.
Clearly they hadn't. Hiltz made a big change last year by moving to Flagstaff in March to train under Mike Smith. It can take sea-level athletes some time to get adjusted to training at 7,000 feet, and Hiltz said that the three months between March and last June's USA meet were not enough to make that transition. But now, with a year to get adjusted, Hiltz is seeing real results and tonight's win was the biggest yet.
Hiltz said they saw a transgender flag in the stands on their way to the start line and said it provided an extra dose of motivation ahead of the race.
"I was like, that person, I don't know their pronouns or who they are, but they brought that flag and I bet they're here for me," Hiltz said. "I saw them after the race and I gave them my bib. I did a whole victory lap holding my bib. I was like, I want to give it to that one person because they were the reason that I won — or one of them. They pulled it out of me."
MB: Congrats HILTZ for WINNING the 1500m not coming second
QT: Athing Mu is a unicorn
When Mu's coach Bobby Kersee announced in May that Mu would be racing the 1500 and potentially eyeing an 800/1500 double at the 2024 Olympics, many in the sport wondered if he and Mu were making a huge mistake. And you can count the LetsRun staff among them. Mu was a 400/800 runner in college and Kersee had no experience coaching the 1500.
The fact is, there is no historical precedent for someone with Mu's 400m speed (49.57) having success in the 1500. Of the 105 women in history to have broken 50 seconds in the 400, only two others even have a 1500 pb listed on Tilastopaja: Ana Fidelia Quirot of Cuba (4:13) and Caster Semenya of South Africa (3:59), who is a special case considering she's XY-DSD. The 400 and 1500 require such different skillsets that you are not supposed to be able to be world-class in both. Mu proved many wrong by showing today that she can be.
If Mu's aim is to medal at a global champs in a second event, her chances are still better in the 400 (remember, she ran her 400 pb shortly after her 19th birthday), but it is clear she has potential in the 1500 as well as she just finished second at USAs and ran 4:03 despite never having run the event as a professional before Thursday's prelim. Mu also showed impressive tactical ability, putting herself in good positions and responding well when challenged. Her only flaw is that, as in the 800, she has a tendency to run unnecessary extra distance on the turns.
"I'm sure no one really expected me to do too much," Mu said. "Except for Bobby because he, of course, believes in me."
Mu said that she has no idea how good she can be in the 1500 but is confident she can break 4:00 if she gets in a fast race — and potentially run much faster than that if she decides to pursue the event more seriously.
"I definitely know that I can break 4:00," Mu said. "I feel like it's not just breaking 4:00. I think we can go much further than that because we haven't put too much effort into training for the 1500 this year."
As for Worlds, Mu said she will definitely run the 800 but has yet to decide whether to add the 1500 as well. While the double is doable, the 1500 — Mu's weaker event — comes first and she may not want to run it and tire herself out for the 800.
"Bobby has mentioned [the double] numerous times this year," Mu said. "So we'll have a conversation, we'll talk about it. I won't say that it's not likely, but I also won't say that there's a guarantee that I'll do it."
MB What do you imagine Bobby Kersee 1500 training looks like?
MB Athing Mu- "All I can say is Bobby Kersee is a genius"
MB Should we all apologize to Bobby Kersee and Athing Mu? Mu 2nd in 1500 at USAs.
QT: 10 years in, Cory McGee keeps making teams
McGee made her first Worlds team 10 years ago when she was still at the University of Florida. She then went eight years between making her next outdoor team but after making the Olympics in 2021 has now gone on to make Worlds in 2022 and 2023. McGee is the only athlete, male or female, to make each of the last three US Worlds teams in the 1500.
QT: Sinclaire Johnson was disappointed with how she ran
Johnson said she wanted to follow a similar game plan to last year by sitting in 3rd and then attacking with 150 meters to go. But Johnson could not get into a good position — she was only 7th at the bell and blocked from moving up, and wound up having to run the entire final turn in lane 2. Johnson, who was just .01 behind McGee and wound up losing her balance late due to exhaustion, felt that had she executed her race better, she would have been in the top three.
"I raced really poorly today and I really only have myself to blame for that," Johnson said.
There's a decent chance Johnson still goes to Worlds since Mu may opt for the 800 only, but Johnson didn't care much about that today.
"Probably [I'll be at Worlds] but I think personally I'd much rather earn that top-3 spot," Johnson said.
QT: Addy Wiley does not regret decision to attend and stay at Huntington
Wiley is only 19 years old but ran like she belonged in her first US final, running on Mu's shoulder in second at the bell and staying in the hunt for a spot on the team until the final 100m. She was a little down on herself for not making the team but said once time passes she may feel differently.
"I'm disappointed in every race that I don't win, especailly when there's a team on the line, at least being top three," Wiley said. "But I'm young. This was a great experience, so I'm happy for that, but I think I need to just let it sit a little bit more."
Fifth at USAs as a 19-year-old is a phenomenal performance but a cloud has hung over the Huntington University track and field team for a while now and in October allegations of coach-athlete sex, rape, and doping centered around former coach Nick Johnson led to the school placing coaches Lauren Johnson (Nick's wife) and Curtis Hines on leave. LetsRun has recently become aware that a police report says Lauren Johnson told the cops Nick had prescriptions for both testosterone and EPO.
When Wiley decommitted from Colorado last year to run for Huntington, she said she did so to stay with Lauren Johnson, who coached her as a high schooler. Johnson has not been the Huntington coach since the fall but Wiley has still thrived this year, running a 4:03 personal best in June. Wiley added that if she could do things over, she would still go to Huntington as it has enabled her to run races such as USA indoors and the US road mile champs that she may not have been able to do as an NCAA athlete. She said she is planning on returning to the school next year.
While Nick Johnson is currently banned by the US Center for SafeSport, Lauren Johnson is not and Wiley said the two still talk frequently as their families are friends. She added that Lauren Johnson was in the stands with her mom watching tonight's race.
"Me and my family never saw a reason [to cut ties with Lauren]," Wiley said. "We know Lauren personally, not just the story about her that's online so we have a great relationship with her and there's no reason to change that."
Wiley has maintained that she is coached by Huntington coaches Austin Roark (whose specialty is jumps/field events) and Josh Neideck, not Lauren Johnson. But that seems hard to believe given how central Johnson was to Wiley's decision to attend Huntington and the close ties the two still have. Wiley was spotted running with Johnson this morning but denied that when asked about it on-camera.
MB Wiley post race interview with Jonathan Gault
Discuss the race on the LetsRun messageboard
MB Athing Mu Admits US Women are AWFUL at 1500m
MB Congrats HILTZ for WINNING the 1500m not coming second
MB What do you imagine Bobby Kersee 1500 training looks like?
MB Athing Mu- "All I can say is Bobby Kersee is a genius"
MB Should we all apologize to Bobby Kersee and Athing Mu? Mu 2nd in 1500 at USAs.
MB Sinclaire Johnson
MB Here is the police report where it says Lauren Johnson told the cops Nick Johnson had prescriptions for both EPO and testosterone