5 Takeaways From An Incredible 2023 Bislett Games: A 1500m and 5000m For the Ages
By
LetsRun.com
and
Robert Johnson
What a track and field meet.
The 2023 Oslo Diamond League delivered. World-leading sprint times were sprinkled throughout the meet with Femke Bol (52.30) at the start, Marie-Josee Ta Lou (10.75) in the middle and Karsten Warholm (46.52) in the final sprint event of the day.
But for LetsRun viewers this meet will be long remembered for two amazing distance performances.
(We recapped the meet as a podcast immediately after the meet for our LetsRun.com Supporters Club members. Join today and use code GOAT50 to save 50% on your first year).
In the men's 5000m, two-time world indoor 3000m champion Yomif Kejelcha of Ethiopia and world XC and world half marathon champ Jacob Kiplimo of Uganda put on a battle for the ages as they raced neck-and-neck to the line and both finished in 12:41.73, with Kejelcha getting the win. Never in history had anyone run sub-12:45 for 5000m and had any other competitor within 2.80 seconds of them. But today despite a final 2000m in a blistering 4:54.53, virtually nothing separated these two at the finish.
The meet promoters were most excited about the men's 1500m, as they put it as the final event of the TV window, and Norway's own Jakob Ingebrigtsen delivered the goods. Taking the lead when the rabbits dropped out, Ingebrigtsen was stalked by Mohamed Katir and a slew of contenders, until he put them away the final 150m as the exuberant Olympic champion got the win and PB (3:27.95) to his and the hometown fans' delight.
Behind Ingebrigtsen there were a slew of fast times, as for the first time ever eight men went sub-3:30 in the same race. It was an amazing night of track and field and we share our major thoughts below.
Article continues below player.
#1 – What a 1500
As noted above, Ingebrigtsen did what everyone in Oslo wanted, win and run very fast.
But making this one even more special was that Jakob did this versus a LOADED field that brought their "A" game. Meet promoters could have watered down Jakob's competition, but they didn't at all.
The coolest thing about this race may have been seeing Ingebrigtsen so excited to win. He punched his fist in the air and had a celebration that rivaled any we've seen from him.
Was he so excited because for the first time, he saw a 7 pop up — as in 3:27.95 — or was it because if he hadn't won this race with magnificent rabbiting when he's in the shape of his life as shown by the 2-mile WR last week, how could he possibly be expected to win the 1500 in Budapest without the help of rabbits?
Everyone behind him ran fast as well as eight guys broke-3:30 for the first time in history and all-time marks for place were set in positions 5-6-7-8-9. 
Oslo 1500m Results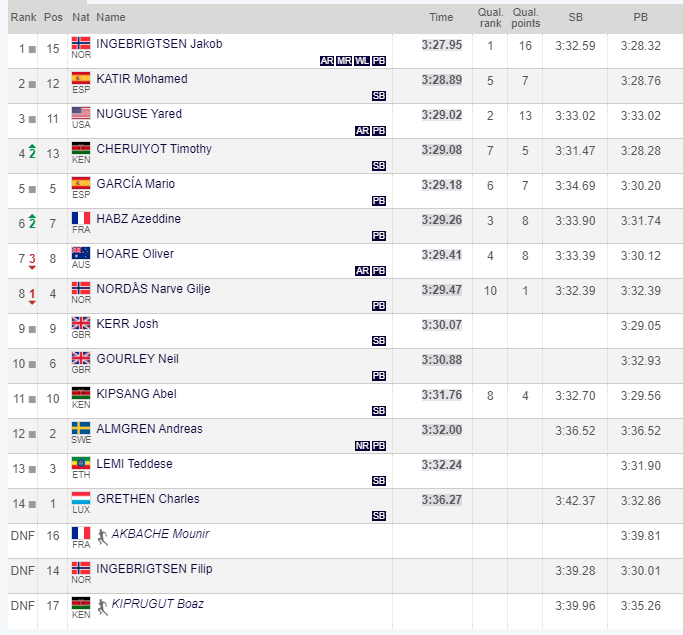 (Need a VPN to watch the video below? We recommend NordVPN).
Was this the greatest non-championship 1500m ever run? Our initial reaction was with super shoes and the most guys ever going sub-3:30 it had to be, but check out how the finishing times today compared to 2015 Monaco.
2015 Monaco
2023 Oslo
1 Asbel Kiprop KEN 03:26.69

1 Jakob INGEBRIGTSEN

NOR

03:27.95

2 Taoufik Makhloufi ALG 03:28.75

2

Mohamed KATIR

ESP

03:28.89

3 Abdelaati Iguider MAR 03:28.79

3

Yared NUGUSE

USA

03:29.02

4 Mo Farah GBR 03:28.93

4

Timothy CHERUIYOT

KEN

03:29.08

5

Nick Willis

NZL

03:29.66

5 Mario GARCÍA ESP 03:29.18

6

Elijah Manangoi

KEN

03:29.67

6 Azeddine HABZ FRA 03:29.26

7

Robert Biwott

KEN

03:30.10

7 Oliver HOARE AUS 03:29.41

8

Aman Wote

ETH

03:30.29

8 Narve Gilje NORDÅSNOR 03:29.47

9

Collins Cheboi

KEN

03:30.34

9 Josh KERR             GBR 03:30.07
10 Matthew Centrowitz USA 03:30.40

10

Neil GOURLEY

GBR

03:30.88

11

Morhad Amdouni

FRA

03:34.05

11 Abel KIPSANG KEN 03:31.76

12

Charles P.t-Thiboutot

CAN

03:34.23

12 Andreas ALMGREN SWE 03:32.00

13

Leo Manzano

USA

03:36.16

13 Teddese LEMI ETH 03:32.24

14

Henrik Ingebrigtsen

NOR

03:38.35

14 Charles GRETHEN LUX 03:36.27
4 of the top 5 finishers in Monaco were actually faster than today. While super spikes were involved tonight, performance-enhancing drugs may have been in the equation in 2015 with Kiprop's subsequent drug bust.
While it was an amazing night for Jakob Ingebrigtsen, it was also an amazing night for his dad, Gjert, who coaches 8th placer Narve Gilje Nordas of Norway who ran 3:29.47 for 8th. Jakob is thriving without his dad's coaching when at the same time his dad took a 3:36 guy from his own hometown (Sandnes, population 72,900) and had him run 3:29.47 today. One town of 72,900 has two-sub 3:30 guys not in the same family? Crazy.
Narve Gilje Nordås ran 3:36, 13:15, and 28:04 last year and today he ran 3:29.47.
Yared Nuguse 3:29.02 American Record* 
We're nearly done discussing the men's 1500m and we haven't even mentioned that Yared Nuguse ran 3:29.02, the fastest time ever by an American-born 1500m runner. It is considered the American record by World Athletics, but not by USATF as Bernard Lagat in 2004, while an American citizen but still representing Kenya (and not telling anyone publicly he was actually American) ran 3:27.40.
Whatever you want to call Nuguse's run, it is the fastest time ever run by an American-born athlete. Nuguse has done something recent medallists Centrowitz and Manzano never did, go sub-3:30.
Coming in we thought Nuguse was the #2 miler in the world, and we'd put him at #3 now, so this run was not a surprise as Nuguse has been at a high level every time out in 2023.
The crazy thing is Nuguse was barely the best guy in his training group. He only beat Mario Garcia Romo by .16 and Ollie Hoare by .39. The On Athletics Club clearly is the best 1500m training group in the world.
All-time USA 1500m lists according to World Athletics:
| Rank | Mark | Competitor | DOB | Nat | Pos | | Venue | Date | Results Score |
| --- | --- | --- | --- | --- | --- | --- | --- | --- | --- |
| 1 | 3:29.02 | Yared NUGUSE | 01 JUN 1999 | USA | 3 | | Bislett Stadion, Oslo (NOR) | 15 JUN 2023 | 1259 |
| 2 | 3:29.30 | Bernard LAGAT | 12 DEC 1974 | USA | 1 | | Rieti (ITA) | 28 AUG 2005 | 1255 |
| 3 | 3:29.77 | Sydney MAREE | 09 SEP 1956 | USA | 1 | | Köln (GER) | 25 AUG 1985 | 1248 |
| 4 | 3:30.40 | Matthew CENTROWITZ | 18 OCT 1989 | USA | 10 | | Stade Louis II, Monaco (MON) | 17 JUL 2015 | 1239 |
| 5 | 3:30.54 | Alan WEBB | 13 JAN 1983 | USA | 1 | | Paris (FRA) | 06 JUL 2007 | 1237 |
| 6 | 3:30.90 | Andrew WHEATING | 21 NOV 1987 | USA | 4 | | Stade Louis II, Monaco (MON) | 22 JUL 2010 | 1232 |
| 7 | 3:30.98 | Leonel MANZANO | 12 SEP 1984 | USA | 8 | | Stade Louis II, Monaco (MON) | 18 JUL 2014 | 1231 |
| 8 | 3:31.01 | Jim SPIVEY | 07 MAR 1960 | USA | 1 | | Koblenz (GER) | 28 AUG 1988 | 1230 |
| 9 | 3:31.40 | Cole HOCKER | 06 JUN 2001 | USA | 6 | | National Stadium, Tokyo (JPN) | 07 AUG 2021 | 1225 |
| 10 | 3:31.52 | Steve HOLMAN | 02 MAR 1970 | USA | 6 | | Bruxelles (BEL) | 22 AUG 1997 | 1223 |
#2 – What a 5000
Since Jonathan Gault, our resident historian/employee with an incredible memory, is off today, we can't tell you what the greatest 5000 race ever run was.
It probably has to be some championship 5000 like the 2004 Athens Games where Bekele, El Guerrouj and Kipchoge were all in great form. But was today's race the greatest non-championship/non-world record 5000 in history? Two guys both ran 12:41.73 and both did a ton of work and both were lunging at the line.
We're not fans of the much-publicized ties in track and field, but both guys were winners tonight in our book.
The final 2km of this race (4:54.53) was sensational. The final 5 laps were 60.18, 60.09, 60.07, 58.42 and 55.75. 
If you want to know why American-based runners Joe Klecker (12:56.69) and Luis Grijalva (12:56.63) weren't even on the screen when this one finished despite both running 12:56, it's because Kejelcha and Kiplimo put on an exhibition the final 3k. As poster John Wesley Harding notes, the last 3k was 12:31.4 average pace and that with no rabbits.  
At the 2022 Worlds Ingebrigtsen ran 2:23.1 the final 1km (faster than tonight's 2:24.2) to destroy the field but that was in a 13:09 race with a 2:41.3 km before it. Tonight the final 2km were 2:30.3 and  2:24.2.
Top 10 Results from Oslo (Full results here)

#3 The World XC champ Beatrice Chebet is legit
Do you remember when American Alicia Monson almost won the 3000 in Lausanne last year?
It wasn't like that was some scrub field. It included Sifan Hassan, Francine Niyonsaba, Beatrice Chebet, the 5k silver medalist at the time and now the World XC champ, and others.
But today we were reminded that Monson almost got the win because the others were off their game. The close today was much better than in Lausanne.
Other than the close, today's 3000 in Oslo was similar to Lausanne. The 2k split in Lausanne was 5:42.2. Today it was 5:41.9. But the winning time in Lausanne was just 8:26.80 as the last lap was just 63.3. Today, the winning time for Beatrice Chebet was 8:25.01 and Chebet was letting up after closing in something like 60.4 (leader to leader last lap was 60.83).
Another way to think of it: the winning time tonight was almost exactly equal to Monson's American 3000 record — 8:25.05 for Monson and 8:25.01 for Chebet — but Chebet's last 1k was way faster (2:43.2 for Chebet and 2:45.2 for Monson).
It's hard to believe Chebet's 5k pr is only 14:34 as she has a World Championship silver at 5000m and a World XC gold. The next time she runs a rabbited 5000m, look out.
#4 Cory McGee breaks 4*
In the women's mile, Birke Haylom, the 17-year-old Ethiopian who won world juniors last year and had already run 3:57.66 this year, was super impressive as she boldly took off midway through the race and held on to win in 4:17.13. Behind her, American Cory McGee had the race of her life to finish second in 4:18.11. Even though she's an Olympian, McGee has never broken 4:00 for 1500. And that's still true today although her time converts to 3:58.95 for 1500 if we use the 1.0802 conversion.
McGee has run 4 DL 1500/miles this year and gotten faster in each one:
May 5 – 4:06.03 in Doha

May 28 – 4:03.09 in Rabat
June 2 – 4:01.45 in Florence
June 15 – 3:58.96* in Oslo
(McGee was the guest on the LetsRun.com Track Talk Podcast before Doha)
#5 Welcome back Wayde van Niekerk — 400m world record holder wins 1st DL in nearly 6 years
For the first time in nearly 6 years (since July 2017), South Africa's Wayde van Niekerk returned to the Diamond League* and his return was victorious in 44.38, beating the world leader Muzala Samukonga of Zambia, who ran 44.49. Eight men worldwide have broken 45.00 this year but van Niekerk is the only man to have done it three times (Samukonga has now done it twice as has NCAA runner-up Ryan Willie).
*Van Niekerk did win the "B" 400 in Zurich last year.
Talk about 2023 Oslo on our world-famous fan forum / messageboard.