2022 Lausanne DL: Alicia Monson Almost Wins the 3K as Jakob Ingebrigtsen & Soufiane El Bakkali Dominate
By Jonathan Gault and Robert Johnson
August 26, 2022
While some aspects of the 2022 Athletissima Lausanne went exactly according to form – Jakob Ingebrigtsen running a world-leading 3:29.05 to win the 1500, Noah Lyles taking another 200m victory in 19.56 – there were some surprising results at the Stade Olympique de la Pontaise 
American Alicia Monson almost stunned the world by winning the women's 3,000 meters but was ultimately edged at the last second by Francine Niyonsaba, 8:26.60 to 8:26.61, as Niyonsaba leaned at the line and Monson did not. The star-studded showdown in the women's 100 did not materialize as Shelly-Ann Fraser-Pryce withdrew with injury and Elaine Thompson-Herah false-started; instead it was American Aleia Hobbs who earned an unexpected win over Worlds silver medalist Shericka Jackson in 10.87.
In other distance action, world champ Soufiane El Bakkali destroyed the men's steeple field, running 8:02.45 to win by 10 seconds, and France's Renelle Lamote beat American Allie Wilson in the 800, 1:57.84 to 1:58.09, as both women ran personal bests.
Full recap and analysis below. Full results here.
Women's 3000: Niyonsaba edges Monson in an epic
With a few strides left to run in the women's 3000 meters, American Alicia Monson was on track for a famous victory. With 30 meters to go, the list of women in her wake read like a who's who of women's distance running.
Olympic 1500 silver medalist Laura Muir? 25 meters behind.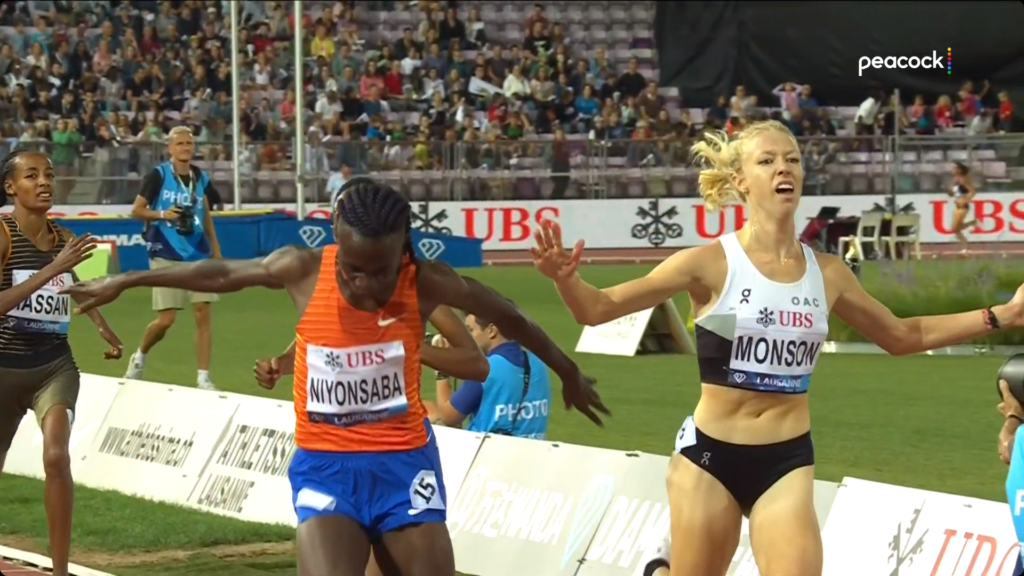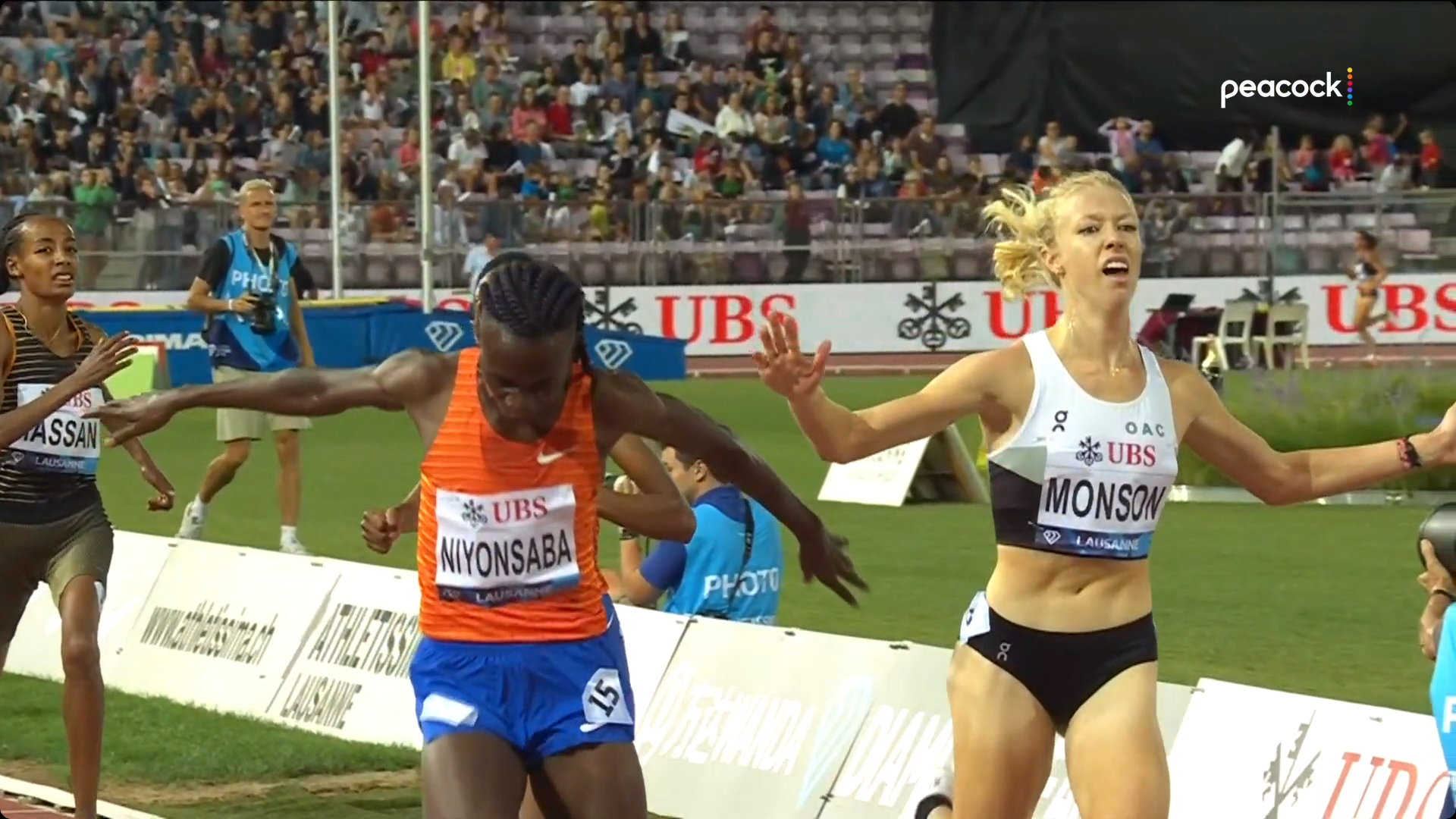 Olympic 5k/10k champ Sifan Hassan? Eight meters back and fading.
Kenya's Beatrice Chebet, the 5k silver medalist at Worlds a month ago, was three meters back but not gaining at all.
There was just one problem. Francine Niyonsaba, a distant fourth halfway down the home straight, was closing furiously like the 1:55 800m runner she is. Five meters back with 35m to go, Niyonsaba threw herself across the line with a perfectly-timed lean just as Monson leaned back ever so slightly, spreading her arms in a half-hearted celebration. That may have proved the difference in a race that went right down to the wire, Niyonsaba winning it in 8:26.80 to Monson's 8:26.81.
The rabbits were tasked with running 8:20 pace but no one wanted to do that, with Monson instead leading the racers shortly after the pack hit 1k in 2:51.1. Monson would keep a similar pace for the second kilometer, passing 2k in 5:42.2 (8:33 pace) before ratcheting it down. Monson dropped a 67.04 penultimate lap to trim the lead pack to seven, but surely it was a matter of time until the big guns Muir, Hassan, and Niyonsaba came by?
Instead, it was the opposite on the back straight. Monson kept accelerating and what had been a two-meter lead over some of the world's best distance runners at the bell had grown to four with 200m to go, Hassan moving up into second. It would not be quite enough, Monson's 63.3 last lap (closing out a 2:44 final 1k) bested by Niyonsaba's 62.7, but it was still a huge leap forward for the Wisconsin native, a five-second pb that claimed the scalps of some of the best runners in the world and makes Monson the second-fastest American ever outdoors and fourth overall. 
Further back, US 5k champ Elise Cranny ran a small pb of 8:29.95 (previous best: 8:30.30) to dip under 8:30 for the first time.
Quick Take: What a brilliant, gutsy run from Alicia Monson
Monson must surely have bittersweet feelings about tonight – as incredible as she ran, she was just inches away from victory. Monson in the final meters tonight was not quite Molly Huddle in Beijing – she didn't exactly let up – but she didn't lean across the finish line. Niyonsaba did, and that was the difference tonight.
That said, this was an outstanding performance for the 24-year-old Monson and a huge breakthrough for American distance running in general. While three American women have won a Diamond League 3k/5k (Lauren Fleshman in London in 2011, Shannon Rowbury in London in 2013, and Katie Follett in Stockholm in 2015), those victories came against severely watered-down fields. 
Not only was the field in Lausanne strong, but Monson bossed the race, leading the final two kilometers and gapping some incredible athletes in the process. A run like that, with an American taking it to the world's best, is exceedingly rare on the Diamond League circuit. Emma Coburn pulled it off in Shanghai in 2014 and Evan Jager almost held on in Paris in 2015 (Jager ran 8:01 from the front to win Monaco in 2017, though Conseslus Kipruto and Soufiane El Bakkali weren't in that race).
Point is, this sort of thing doesn't happen often.
All-time US 3000m list
1. 8:25.70i Karissa Schweizer 2020
2. 8:25.83 Mary Slaney 1985
3. 8:26.66i Shelby Houlihan 2020
4. 8:26.81 Alicia Monson 2022
5. 8:28.71i Colleen Quigley 2020
Quick Take: Francine Niyonsaba never gave up
Niyonsaba looked out of it midway down the home straight, but we've seen before how dangerous she can be in a kick, and in the final 30 meters she shifted to a gear no one else had. Remember, earlier this year she outkicked Faith Kipyegon to win the 3000 in Doha, and if you can outkick Kipyegon, you can outkick pretty much anyone in a 3000.
Niyonsaba has now won her last nine races – including six Diamond Leagues – since her last defeat at the 2021 Olympics in the 10,000, though she missed Worlds due to a stress fracture in her foot. The more she wins, the more you have to wonder whether World Athletics will try to expand the number of distances covered by its DSD guidelines for athletes with XY chromosomes like Niyonsaba.
Men's 1500: Ingebrigtsen wins in world leader
Jakob Ingebrigtsen's return to the Diamond League for the first time in over two months (June 16 Oslo was his last DL) was a successful one as Jakob got a dominant win in a world-leading 3:29.05.
Embed from Getty Images
Ingebrigtsen, who came into the meet after having won double gold in the 1500 and 5000 at Euros, got the win in typical Ingebrigtsen fashion – stick with the early leader or rabbit and then push the pace when it starts to lag.
The pace was hot early (55.13/1:51.58, pacing lights were set for 3:29.51) and Jakob was the 2nd racer behind Commonwealth Games champ Oliver Hoare. But when Hoare started to slow ever so slightly, Ingebrigtsen took the lead just before 900 meters and led all the way home. At the bell (2:33.9), he had 3-4 meters on the field and he ended up getting the win in 3:29.05. Kenya's Abel Kipsang had the fastest last lap on the night (55.0) to grab second in 3:29.93 as Aussie Stewart McSweyn started to look like the McSweyn of old as he was third in 3:30.18.
Quick Take: Ingebrigtsen deserves props. He's so consistently good.
Coming in, we were wondering if Ingebrigtsen might be physically or mentally tired after his double at Europeans. Much of the rest of the field looked tired. Not Jakob. The other guys in the world aren't nearly at his level right now on a consistent basis. Kipsang, who was second tonight, didn't even medal at Worlds or Commonwealths for example.
Men's Steeplechase: El Bakkali dominates
On paper coming into this one, Olympic and world champ Soufiane El Bakkali appeared to be the obvious class of the field as his seasonal best of 7:58.28 was more than 8 seconds better than anyone else in the field (3 guys had run 8:06). Once the gun went off, El Bakkali was indeed way better and dominated the race as he won by nearly 10 seconds in 8:02.45 as Ethiopia's Hailemariyan Amare edged out Leonard Bett 8:12.07 to 8:12.08 in controversial fashion for second. American Evan Jager ran a seasonal best in this one but it was only a tiny sb (8:16.99 vs 8:17.29) and he was just 8th.
Quick Take: Take a look at Amare running from lane 1 to lane 3 at the end of this one – he should have been DQ'd
In the past, World Athletics would DQ someone for stepping on the lane in the midst of a 3000 steeple. That's crazy. But also not DQing someone for running from lane 1 to lane 3 in the final 50 is also crazy. World Athletics and/or USATF should compile a list of recent videos where shenanigans like this occur and tell people, "In 2023, this isn't going to be allowed. Period. You will be DQ'd. When you come off the turn, run in a straight line to the finish unless you are moving outside or inside to pass someone in front of you."
MB: DQ or not? Is this fair racing or an obvious DQ? Should Hailemariyam Amare be DQd from the steeple in Lausanne
Women's 800: Renelle Lamote holds off Allie Wilson as both women PR
European silver medalist Renelle Lamote of France held off American Allie Wilson in the home straight to win this non-Diamond League event as both women ran personal bests.
With 11 women in the field plus a rabbit, this one needed to get out quickly and it did, with the pacer hitting 400 in 57.41 just in front of Swiss 18-year-old Audrey Werro, the silver medalist at World U20s. Werro held the lead until the back straight, when Lamote went by, with Wilson quickly passing into second as well. Those two would separate on the final turn, with Lamote a couple steps ahead, and Wilson could never close that gap on the home straight, Lamote holding on to win in 1:57.84 (previous pb: 1:57.98) and Wilson bettering her own pb as well by running 1:58.09.
American Sinclaire Johnson also PR'd, running 1:59.90 to finish 6th and shave .01 off her best.
Quick Take: Allie Wilson's incredible season continues
At the start of 2021, Wilson, who runs for the Atlanta Track Club, owned a pb of 1:59.02. She blasted past that in May with a pb of 1:58.18 at the Track Meet in California and has now run 1:58 five times this year.
Tonight was particularly impressive as Wilson was a narrow second behind Ajee' Wilson at NACACs on Saturday in 1:58.48 and then flew across the Atlantic for today's race.
Sprints
Men's 200: The Noah Lyles trains keeps on rolling
Noah Lyles has only lost one Diamond League 200 in his life and that was to Michael Norman in Rome in 2019. Tonight, Lyles got yet another Diamond League win but he had to come from behind to do it. Norman led early, but Lyles ran him down over the final 100 to win in 19.56 to Norman's 19.76 as Jereem Richards took third in 19.95. Teen sensation Erriyon Knighton was only 6th in 20.13.
Final, Wind: +1.3
Women's 100: Hobbs win as marquee showdown fizzles
What was supposed to be one of the highlights of the meet was dampened first by the pre-race withdrawal of Shelly-Ann Fraser-Pryce due to hamstring discomfort and then by the disqualification of Elaine Thompson-Herah for a (blatant) false start. The field almost wound up losing all three Jamaicans as Shericka Jackson also clearly flinched in her blocks before the gun (unrelated to Thompson-Herah's false start) but was allowed to run.
Despite Jackson's presence, however, it was American Aleia Hobbs who took the win in 10.87 to Jackson's 10.88.
Final, Wind: 0.0
Men's 110 hurdles: Broadbell becomes 23rd man in history under 13.00
Jamaica's Rasheed Broadbell did not even make the final at the World Championships in July, but right now he is the hottest 110m hurdler on Earth. The 22-year-old Jamaican had a pb of 13.10 at the start of the month, but he lowered that to 13.08 in winning Commonwealth gold and now 12.99 tonight as he ran down world champ Grant Holloway over the final two hurdles to earn his first Diamond League victory. In between those two races, he also beat Holloway in Székesfehérvár on August 8.
Holloway was outleaned for second by fellow American Trey Cunningham, who celebrated his 24th birthday by beating Holloway for the first time since high school.
Final, Wind: 0.0
Women's 100 hurdles: Camacho-Quinn wins showdown with Amusan
This one was set to be fast on paper with Olympic champ Jasmine Camacho-Quinn taking on world champ/world record holder Tobi Amusan, and in the end Camacho-Quinn broke Gail Devers' 20-year-old meet record of 12.40 by running 12.34. Amusan did not start as quickly and was always fighting to keep up, finishing 2nd in 12.45.
Final, Wind: -0.9
Women's 400 hurdles: Bol keeps winning
This was a competitive race through 250 meters as former world record holder Dalilah Muhammad got out hard in lane 4, as did Ukraine's Anna Ryzhykova in lane 3. But neither could hold it – Muhammad, in fact, completely fell apart, fading to last – as European champion Femke Bol came on strong and won handily in a meet record of 52.95. Bol has won all six of her 400m hurdle races this year that did not involve Sydney McLaughlin-Levrone.
Women's 400: Paulino hangs on
Without Shaunae Miller-Uibo in the field, this race was expected to come down to the other World Championship medalists, Marileidy Paulino of the Dominican Republic and Sada Williams of Barbados. That is exactly what happened, and just as in Eugene, Paulino edged Williams, this time 49.87 to 49.94, to take the victory.
Women's 4×100: Switzerland wins it in front of the home crowd
Lausanne likes to end with a 4×100 and in this case it was a happy ending as the Swiss team defeated the Netherlands, 42.91 to 43.02 – more than a second faster than Switzerland ran in the 4×100 prelims at Euros when it failed to advance to the final.
Field Events
Men's triple jump: Cubans go 1-2-3
Only one Cuban man made the triple jump final at Worlds last month, but they went 1-2-3 in Lausanne on Friday led by Andy Diaz Hernandez' 17.67m winning jump in round 2. World Indoor champ Lazaro Martinez was second with an outdoor pb of 17.50m with Jordan Alejandro Diaz Fortun third at 17.44m.
Women's pole vault: Sutej wins it
With neither of the American stars, Katie Nageotte and Sandi Morris, in the field, the win was up for grabs and it went to Slovenia's Tina Sutej, the bronze medalist at Euros who turned the tables on Euro champ Wilma Murto of Finland and the rest of the field to win with a best jump of 4.70m. Commonwealth champ Nina Kennedy of Australia also cleared 4.70 but it took her three attempts to Sutej's two.
Men's javelin: Chopra goes long
Olympic champ and Worlds silver medalist Neeraj Chopra was forced to miss the Commonwealth Games with a groin injury but returned in fine fashion in Lausanne by throwing 89.09m in round 1 to get the win, just off his 89.94m Indian record.
Women's triple jump: Rojas cruises
World champ Yulimar Rojas got the lead early by jumping 14.99m in round 1, then locked it up in round 5 by going 15.31 – farther than any other active women's triple jumper has ever leapt. She fouled her other four attempts, but it turns out one is all she needed as runner-up Shanieka Ricketts had a best jump of 14.64m.
Men's shot: Ryan Crouser's outdoor win streak snapped at 24
Ryan Crouser's win streak in the shot put came to an end tonight as Joe Kovacs won with a 22.65 as Crouser only had one throw over 22 and had to settle for second in 22.05. Crouser hadn't lost an outdoor shot competition since the Doha Worlds on October 5, 2019 (he lost World Indoors this year on March 19). If we counted correctly, that was 24 outdoor wins in a row before tonight.

After the meet, Crouser revealed he's been battling COVID and hadn't trained recently.
"I have just recovered from a long COVID and have not had any training in the last three weeks. Considering that tonight was not at all bad, Joe had a great series and I felt I was in the mix with the other guys," said Crouser. "There are a few more meets left this season I would like to get close to my best shape and finish the season strong."
Kovacs bested 22 meters and was happy with his series.
"I'm pretty happy today espeically with my series of throws, perhaps even more so than the big one. It's important that I throw far consistently and I was able to do that today. Throwing over 23m is on my mind, I think it's about time and I'll have to just trust myself and start taking more risks to get it," said Kovacs who has a 22.91m best.
Talk about the meet on our world-famous fan forum / messageboard.