Yared Nuguse Dazzles Millrose Games with 3:47.38 to Arrive as a Star
By Jonathan Gault
February 11, 2023
NEW YORK – Study the digits: 3:47.38.
That's what 23-year-old Yared Nuguse ran on Saturday evening to win the Wanamaker Mile at the 115th Millrose Games. No American has ever run faster indoors. In fact, no other American has even come close: Nuguse's time took more than two seconds off the previous record of 3:49.89 set by two-time world outdoor champion Bernard Lagat way back in 2005.
Only one man has ever run faster indoors, period: Ethiopia's Yomif Kejelcha, whose 3:47.01 world record set at the lightning fast Boston University track just barely survived. And only one American has run faster, indoors or out: Alan Webb, 3:46.91, Brasschaat. So yeah, 3:47.38. Worth remembering.
But maybe you're not the sort for times. In the year 2023, they can cause one's head to spin. Fifty-two men broke 4:00 at the Valentine Invitational in Boston today, a meet that offers zero prize money. Fifty-two. In one meet. The American records in the mile, 3000, and 5000 meters, records previously established by some of the United States' greatest-ever distance runners, have all fallen in just the last 16 days. 
So let's consider who Nuguse beat today. Australia's Ollie Hoare ran 3:50.83 to win this race last year. Way back in 2022, that was considered pretty fast (#3 in Millrose history). It augured a season in which Hoare became one of the world's top milers, winning a stacked Commonwealth Games and finishing 3rd in the Diamond League final. Hoare ran the same time this year, 3:50.83, and was barely in the picture as Nuguse streaked to glory on the NBC broadcast. Mario Garcia Romo, last year's 4th placer at the World Championships, ran a Spanish record, and was even farther back, in 3:51.79. Neil Gourley became the sixth-fastest indoor miler in history, 3:49.46, to finish second and was still more than two seconds behind Nuguse. These were some of the world's top milers, and Nuguse destroyed them.
Let's also consider how Nuguse did it. With two laps to go, this was still a race. After a perfectly-paced opening half mile by Erik Sowinski (1:52.99), the field slowed for the third quarter (59.70 leader to leader, 59.32 for Nuguse) to hit ¾ of a mile in 2:53.15. Nuguse looked smooth. But Nuguse almost always looks smooth, almost lackadaisical, with his loping stride and high arm carriage, his fists bobbing gently by his chest like a boxer. When he eased past Hoare, he picked it up for the next 200 (28.17), but Nuguse looked mostly the same.
Then the bell rang. Nuguse's eyebrows furrowed. His jaw clenched. His arms and legs pumped with maximum purpose and power. He covered the 200m segment from 1400 to 1600 in 25.94, insane closing speed for a 3:47 race. (His 400m split from 1200 to 1600 was 54.09).
This was the final salvo in one of the finest demonstrations of strength and speed ever by an American distance runner. If you can close a 3:47 in 25, if you can crush a field of this caliber on a stage like Millrose, you can win a global 1500 medal. You can win a gold medal. That's his ceiling. Nuguse is that good.
Article continues below player.
It's way too early to say whether Nuguse reaches it. He's never competed at a global championship, never had to put his best race together after three grueling rounds against the world's best. Staying healthy, so far, has been an issue – a quad injury cost him the 2021 Olympics after he finished 3rd at the US trials to make the team, while a hamstring injury derailed his 2022 season.
What we do know: Nuguse has just obliterated two American records in the span of 16 days (he ran 7:28.24 in Boston on January 27), with the chance to add a third later this month (he runs the 1500 in Madrid on February 22). It's also clear that Nuguse – who was already operating at a historically high level as a collegian, setting NCAA records at Notre Dame in the 1500 and 3000 and winning the NCAA 1500 title six days past his 20th birthday – has gone up a level since turning professional last summer. After just a few months in Boulder – where he has the benefit of training at elevation for the first time, alongside world-class training partners and a top coach in Dathan Ritzenhein – Nuguse has made improvements that can take years to achieve. And he's still only 23.
So remember 3:47.38. It could be the start of something big.
Race Video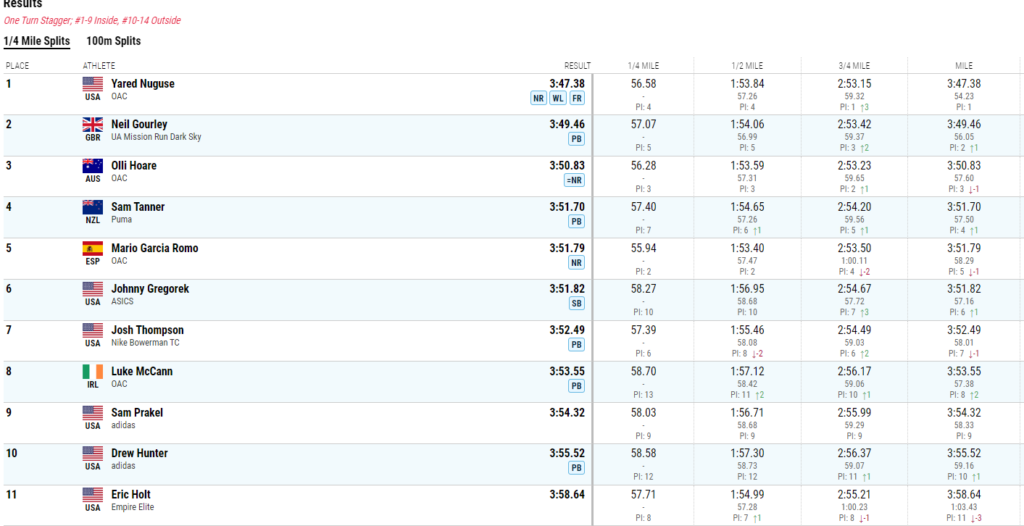 Post-race interview with Nuguse
Talk about Nuguse and 2023 Millrose on our world-famous fan forum / messageboard. *Full Results
More: Complete 2023 Millrose Coverage
Talk about 2023 Millrose on our world-famous fan forum / messageboard. *Full Results
More: