Woody Kincaid (12:51) & Yared Nuguse (7:28) Break American Records on Historic Night in Boston
Sam Atkin Breaks Mo Farah's British Record As Well
By Jonathan Gault
January 27, 2023
Update on February 3, 2023: Woody and Yared appeared as special guests of the LetsRun.com Track Talk podcast this week.
BOSTON – The Boston University Track & Tennis Center has been hosting meets for 20 years. In that time, it has seen collegiate records, American records, and two world records.
Friday, January 27, 2023, may have been its greatest night.
Inarguably, it was BU's fastest night in the men's 3,000- and 5,000-meter runs. At 5:30 p.m. ET, Yared Nuguse ran 7:28.24 to break Galen Rupp's 10-year-old American record in the 3,000. Nuguse's time was also faster than the 7:28.48 outdoor record Grant Fisher set last summer in Monaco.
Barely two hours later, Woody Kincaid used a brilliant 26.27 final lap to run down Joe Klecker and win the men's 5,000 in 12:51.61, shaving more than two seconds off Fisher's American indoor record of 12:53.73 set on this track in 2022.
This time last year, no American had ever run 12:51, indoors or out. Now we have to debate whether it was even the best run by an American that day. Heady times for American distance running.
Nuguse and Kincaid weren't the only men to run fast. Klecker's 12:54.99 made him the 11th American under 13:00 and moved him to #4 on the combined US indoor/outdoor list. Sam Atkin, unsponsored a year ago, ran 7:31.97 to break Mo Farah's British record (his time was faster than Farah's 7:32.62 outdoor record, too). Northern Arizona's Drew Bosley took almost two seconds off Nuguse's collegiate record by running 7:36.42. And 19-year-old American Hobbs Kessler ran 7:39.00.
Article continues below player.
Any of those performances could have been a headline on another day. But tonight belonged to Nuguse and Kincaid, two record breakers entering new phases of their careers.
Men's 5,000: Kincaid breaks American record in first race after taking "Rumschpringe" from Bowerman TC
Tonight's race was billed as a sub-13:00 attempt by reigning US 10,000 champ Joe Klecker, and with his On Athletics Club teammate Olli Hoare scheduled to pace through 4k, all the pieces were in place for a fast time.
Things went mostly according to plan. With Cruz Culpepper and Atkin helping Hoare with pacing duties, the leaders hit 1600 in 4:11. By 3k (7:48), Klecker and Kincaid were the only ones still with Hoare, with NCAA 10,000 champ Dylan Jacobs of Tennessee five meters back. Jacobs would fall off the pace but as Hoare stepped off at 3400, Klecker was ready to go faster and began ripping off low-30-second splits.
With 600 to go, Klecker had gapped Kincaid. But there is a significant difference between gapping Woody Kincaid and dropping Woody Kincaid, something Klecker found out first-hand tonight. Though Klecker led by eight meters at the bell, he was rigging up while Kincaid was heating up. Kincaid quickly erased the deficit and then some, blowing Klecker away with a 26.27 last lap (Klecker closed in 31.03) to take almost seven seconds off the 12:58.10 outdoor pb he ran in September 2019. Klecker took second, his OAC teammate Jonas Raess of Switzerland was 3rd (13:10.96), and Jacobs finished 4th in 13:11.01, #3 on the all-time NCAA indoor list (and an improvement on his own American collegiate indoor record).
Results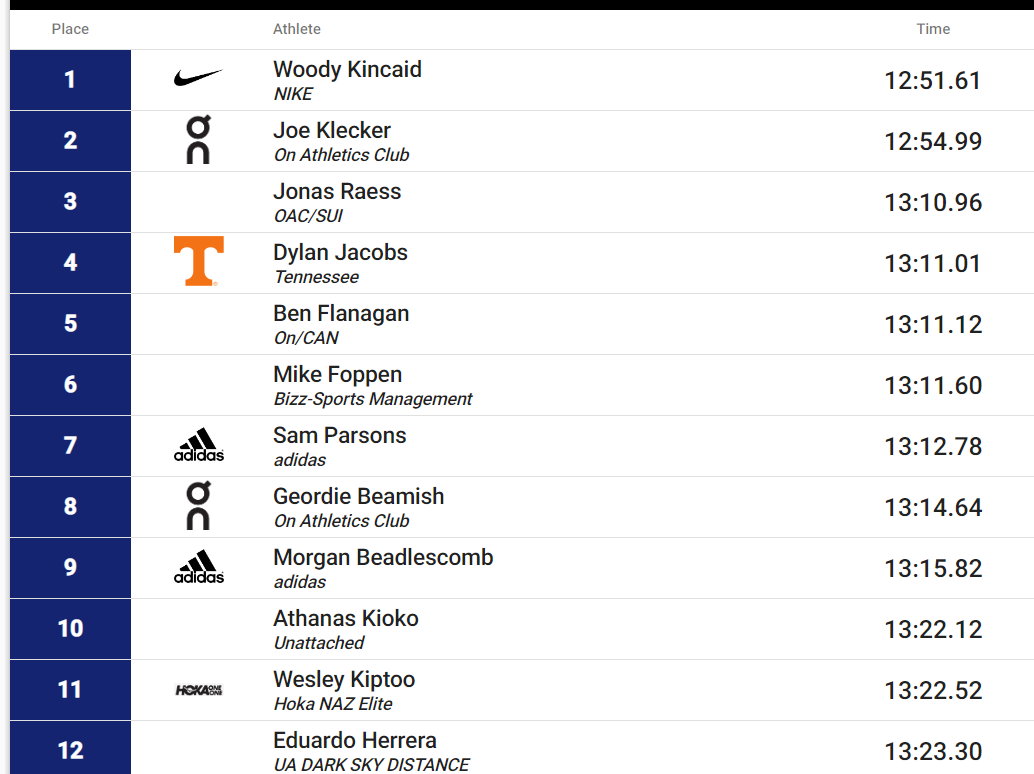 Quick Take: Woody Kincaid sends a message
How fast is 12:51.61? Well, it moves Kincaid to #4 on the all-time world indoor list. The only humans to have run faster indoors: Kenenisa Bekele, Haile Gebrselassie, Daniel Komen. Not bad company. He's also the third-fastest man ever, indoors or out, who was born outside of Africa. Only Fisher and Jakob Ingebrigtsen have gone faster.
Kincaid ran 12:58 in 2019 and won the Olympic Trials in the 10,000 in 2021, but today's run might have represented a breakthrough. Kincaid has run at the Olympics and Worlds but has not been competitive once he got there. He was 14th in the 5,000 in Tokyo and 15th in the 10,000, then failed to make the 5,000 final at Worlds last year after falling in the prelims.
Among distance men, Kincaid has the best kick in America. The question is whether he can put himself in position to be a factor in the biggest races. He has made a habit of getting gapped – he did it at BU last year against Lopez Lomong (when he was in the 'slow' heat which he won in 13:05.56), USAs last year against Abdihamid Nur, and tonight to Klecker – before coming roaring back on the last lap (though he was beaten by Fisher in the USA final). That strategy can work domestically but won't cut it if you want a World or Olympic medal – too many bodies to navigate, and all of those dudes can kick. The good news for Kincaid is if he can close in 26.27 in a 12:51 race, the pace is going to have to be pretty fast at Worlds to drop him.
Quick Take: Woody Kincaid is still figuring out his future. But his present is pretty freakin' good.
Kincaid, notably, was wearing the basic Nike pro singlet tonight rather than the Bowerman Track Club kit he has donned since 2017. He said that he has yet to decide whether he has permanently left BTC, but he stopped training with the group in the fall and began coaching himself. Earlier this week, Kincaid's agent Dan Lilot described his current situation as a bit of a running "Rumschpringe" – the period in an Amish adolescent's life where they get to explore the real world before deciding whether they want to become a full member of the Amish community.
So far, Kincaid's Rumschpringe has consisted of a lot of double-threshold workouts – for example, six miles at threshold pace in the morning followed by six more at threshold in the afternoon – a session he has enjoyed but one he never ran under Schumacher. Since January 6, Kincaid has been in Flagstaff training under NAU coach Mike Smith – whose love of double-threshold workouts is well-known.
Kincaid said there was no specific reason for his decision to step away from BTC. He was upset about Schumacher's decision to move the team from Portland to Eugene (Kincaid was not alone in this) but that wasn't what prompted the move. Kincaid turned 30 in September, and after six years under Schumacher, he just felt it was time to experience something different.
"I'm getting older, I want to try different training," Kincaid said. "…My dad passed away [last year]. I kind of just needed a change in my life, in general. It's not really a team thing."
Part of that change was proving to himself – and to Schumacher – that he could succeed outside of BTC.
"Jerry told me when I left the team, he's like, I think you're throwing away your career by leaving," Kincaid said. "He didn't want me to leave. And I said hey, I can do this. I think it's what I have to do, and I'm glad I did."
For now, Kincaid says he is having fun training in Flagstaff under Smith, who between Kincaid, Grijalva, and 2022 Worlds finalist Abdihamid Nur suddenly has a powerhouse 5,000m group on his hands.
Related: Why Woody Kincaid Backed Himself & Stepped Away from Bowerman TC
Quick Take: Joe Klecker wasn't sure he was going to make it over the final 200
Klecker, who ran 13:04 twice last year, was very happy to break 13:00 for the first time – especially considering that he wasn't sure he was going to make it at the bell.
"With a lap to go, I needed a 37-second 200 to break 13:00 and I was questioning whether I could do it," Klecker said.
Klecker, who looked incredibly smooth for the first 4k, was hurting badly and had to dig deeper than he ever has in a race but was able to summon a 31.03 last lap before staggering off the track.
"I was almost unconscious," Klecker said. "I've never really pushed myself like today."
Kincaid certainly owes the OAC a few beers after tonight. The pacing at the start was perfect as they eased into it before picking it up (4:12.44 first 1600 for Kincaid, then 4:07.56) and together, Hoare and Klecker pushed the pace for almost the entire race. Without them to chase, Kincaid likely doesn't get the AR tonight.
Quick Take: The Dutch and German indoor records also went down
In 5th place, Mike Foppen ran 13:11.60 to take more than 20 seconds off the Dutch indoor record (it's also faster than the Dutch outdoor record of 13:13.06, which Foppen shares with Kamiel Maase). And in 7th, Sam Parsons ran 13:12.78, which improved the German indoor record of 13:17.71 set last month in Boston by another American-based athlete, Amos Bartelsmeyer.
Men's 3,000: Nuguse levels up
On February 12, 2022, Nuguse ran 7:38.13 at BU. It was a very big deal: his time broke Alistair Cragg's NCAA record of 7:38.59, which had stood for 18 years. Less than one year later, Nuguse took almost 10 seconds off his personal best by running 7:28.24 and vault to #9 on the all-time indoor list. The difference between 7:38 and 7:28 is enormous. Run 7:38 and you're one of the best in the country. Run 7:28 and you're one of the best in the world – only two men ran faster last year, indoors or out.
The pacing in this one by former UVA/Providence runner AJ Ernst was terrific as he towed the field through 1600 in 4:01 (he even overcame a hiccup when World U20 5,000 champ Addisu Yihune of Ethiopia, running just his second indoor race, got a little too excited and took the lead after 1400 meters). By that point, only Nuguse, Yihune, and Sam Atkin remained.
Once Ernst stepped off at 1800, it was all Nuguse. His final eight laps were divine: 29.91-30.38-29.95-29.18-29.93-30.26-30.27-29.43-27.59 for a sensational 3:56.96 last 1600. Nuguse was so smooth, so dominant, that you almost forgot anyone else was in the race – and that's hard to do when 2nd place runs 7:31 and six men in all go under 7:40.
Results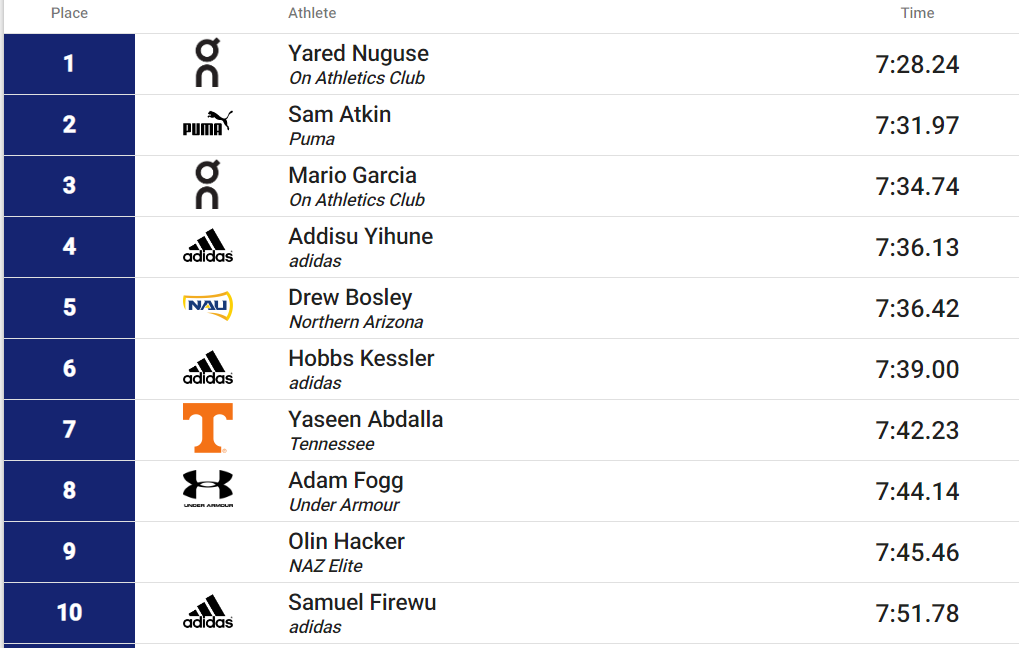 Quick Take: Get ready for a big year from Yared Nuguse – but don't expect him to wear any more speedsuits
Nuguse was already a very accomplished runner when he joined OAC last summer. At Notre Dame, he set collegiate records in the 1500 and 3000, won NCAA titles in the 1500 and DMR, and made the Olympic team in 2021. But he took his studies seriously, and since relocating to Boulder and embracing the professional lifestyle – where he trains with two of the world's top milers in Ollie Hoare and Mario Garcia Romo – Nuguse has jumped to an even higher level.
"The lack of school gives you a lot more free time to relax and rest," Nuguse said. "That was the one thing I was missing. I never had a consistent sleep schedule or all this other stuff that I was forced to lay off when I was at school. And I think the altitude definitely helps. No secret there."
Nuguse was prepared to run fast, but even his coach Dathan Ritzenhein told me he was thinking "fast" would mean 7:30 or 7:31. Not 7:28.
"I didn't really come in thinking I'm gonna get the record, I'm gonna get the record," Nuguse said. "It just kind of happened."
About the only thing that went wrong for Nuguse today was his choice of racing kit. For the first time, he wore a speedsuit, but it felt so tight that with 380m to go he had to unzip it. Expect to see him back in a singlet next time out.
Nuguse is just getting started this season, too. He's entered in the Wanamaker Mile at Millrose on February 11 and plans to run the 1500 at the World Athletics Indoor Tour meeting in Madrid on February 22.
Quick Take: Get ready for a monster year from Hobbs Kessler as well
With his 20th birthday coming up on March 15, Hobbs Kessler is no longer eligible for U20 US records but his 7:39.00 was easily the fastest 3000 ever by a teenage American, surpassing the 7:47 that both Jim Ryun and German Fernandez ran when they were teens according to TFN.
Counting Drew Bosley tonight, only three NCAA athletes have ever broken 7:40, so for Kessler to do it at 19 (yes, I know he is a pro) is great. When Nuguse set his CR last year, he was 22 years, 8 months, and 11 days old. Drew Bosley is 22 years, 3 months, and 20 days old. Kessler is 889 days younger than Bosley.
Quick Take: It's time to start fearing Drew Bosley
Drew Bosley has been one of the NCAA's top cross country runners since the moment he stepped foot on NAU's campus – he was their top finisher at NCAAs as a true freshman in 2019. But Bosley has struggled to replicate that success on the track – he's only made it to NCAAs once, finishing 8th in the 5,000 indoors last year.
That may be changing. Two months after finishing 3rd at NCAA XC, Bosley took 17 seconds off his 3,000 pb by running a collegiate record of 7:36.42 (he's also #5 all-time indoors among Americans).
Bosley was sporting a new look for this race, a dark brown mustache, and, well, I'll let him explain why:
You walk into the bar and you're about to get in a bar fight. And before you get in a fight, I grab a glass bottle and just smash it over my own head before we even fight. So the guy that I'm fighting is like, What can I do to this guy that he hasn't already done? How can I hurt this guy? So when I line up on the race and people look from side to side and see Bosley with the 'stache, they're like, this guy doesn't care already. I can't hurt him in the race.
Here's some simple math. Mustache + 7:36 = scary.
Quick Take: Sam Atkin's perseverance pays off
Atkin, who graduated from NAIA Lewis-Clark State in Idaho, has run fast times in recent years (13:18 and 27:26 in 2020, 7:39 in 2021) and ran at the 2021 Olympics for Great Britain but did all of that without a sponsor, scraping out an existence while living with his college coach, Mike Collins, for three years.
Finally, last spring, Atkin inked a sponsorship deal with Puma that allowed him to stop worrying about finances and focus 100% on his running. His results last summer were middling – he didn't make the final at Worlds and dropped out of the Commonwealth and European 10,000 finals – but he started 2023 in style by running 7:31.97, breaking Mo Farah's British record for 3,000 meters.
Quick Take: Some context
Friday was a historic night for American distance running. And while I don't want to rain on anyone's parade, some context is important. With supershoes and super tracks, records that once stood for years are being blown away with regularity. Nuguse set NCAA records in the 1500 and 3000 while at Notre Dame; he's been out of college for less than a year and both are now gone. Grant Fisher broke four American records on the track in 2022 alone. And after tonight, five of the six fastest indoor 5,000s ever by Americans have been run at BU within the last 12 months.
One veteran observer of the sport turned to me after Kincaid's 12:51 and said he was finding it hard to get excited about the parade of fast times. Another suggested we might be on the brink of a second wave of the shoe revolution as athletes begin to reap the benefits of several years of not just racing in supershoes but training in them, too.
That is not to say that all these records aren't impressive – Fisher, Nuguse, Kincaid, Bosley, et al. are top athletes producing terrific performances. But the results of the past few years have shown that we need to recalibrate what is considered fast, especially in a setting like BU where everything (shoes, pacers, track) is optimized.
(Related: EIGHT University of Washington Runners Go Sub 4 in the Same Mile with Joe Waskom Running 3:51)
Men's 800/mile
Earlier in the day, Texas's Crayton Carrozza got things started by running an NCAA-leading 1:46.24 in the 800. For Carrozza, who ran the 800 leg on Texas's NCAA-winning DMR last year, it was an improvement on his 1:46.89 pb from the 2022 outdoor season and broke the Texas school record of 1:46.93 set by NCAA indoor runner-up Jonathan Jones last year.
Luis Grijalva won the mile in dominant fashion in a personal best of 3:53.53, making a hard move with 600m left to which no one could respond. Back in 3rd, 20-year-old Cruz Culpepper of HOKA NAZ Elite ran a pb of 3:57.19 in his pro debut. Culpepper is still getting used to the professional lifestyle under coach/dad Alan Culpepper but is hoping to finally have some stability after changing coaches in each of the last three years.
Heat 2 in the mile was pretty cool as well. The first seven men broke 4:00, and for six of them, it was their first time under 4:00. Over 600 Americans have now broken the barrier – a record 62 did it in 2022 alone – but it's still pretty awesome to see someone do it for the first time. Just look at the reception for the winner of heat 2, Steven Jackson, who closed in 26.54 for his last lap to run 3:57.70 and become the first Boston College athlete ever under 4:00.
Etched his way into the history books 📖

A look at Steven Jackson's historic finish from the infield 🎥#ForBoston🦅 pic.twitter.com/WPUxziO0Wo

— Boston College Cross Country and Track & Field (@BCXC_TF) January 27, 2023
Another fun side note: back in 6th, Dage Minors ran 3:59.35 to become the first athlete from Bermuda to break 4:00.
Talk about 2023 BU and NCAA track on our world-famous fan forum / messageboard.
BU wasn't the only place people were running fast on Friday: EIGHT University of Washington Runners Go Sub 4 in the Same Mile with Joe Waskom Running 3:51
More: Why Woody Kincaid Backed Himself & Stepped Away from Bowerman TC Kincaid says BTC coach Jerry Schumacher advised him not to leave the team but Kincaid told him, "Hey, I can do this and I think it's what I have to do."
Update on February 3, 2023: Woody and Yared appeared as special guests of the LetsRun.com Track Talk podcast this week.
More: Breaking Records and Breaking Free: Woody Kincaid's Opens Up about Leaving Bowerman
*After AR, Yared Nuguse Discusses His Dream of Olympic Gold, Training with OAC, and…. Racing to McDonald's and Dental School?