Katelyn Tuohy Shatters NCAA 3000m Record at Millrose Games
By LetsRun.com
February 11, 2023
NEW YORK – Katelyn Tuohy's assault on the NCAA record books continued at the 2023 Millrose Games in New York City, as she was third in the professional women's 3000, running 8:35.20 to shatter Karissa Schweizer's previous collegiate record of 8:41.60.
The performance was Tuohy's second collegiate record in two weeks at the Armory, as on January 28 the NC State star ran 4:24.26 to break the NCAA record in the mile.
Tuohy Shows Patience to Get the Record
Facing a very strong professional field led by Alicia Monson, who set an American record of 8:25.05 and won the race, Tuohy was content to go out in the back half of the field of 14. At 1600m (4:36.62), Tuohy had moved up to 6th and was on 8:35 pace after running consistent 68-second 400s.
During the last half of the race, there was some carnage in front of Tuohy with two-time USATF champion Elise Cranny falling off the pace. While Tuohy herself slowed for her third and second to last laps (the only ones in the race she ran over 35 seconds), she continued to pass the pros in front of her, and had a little kick left in her on the last lap (34.61).
Article continues below player.
Collegiate Records > High School Records
While Tuohy has raced at the Armory since she was 12 years old and rewrote the high school record books here, racing versus the pros requires a different skill set.
"You know, it's a lot different from high school where I would kind of just go from the gun. It took me a while to like learn how to race within a race," she said. "I was just realistic [going out with the pack]. I knew I couldn't be with that top group. So I tried to run my own race plan that Coach Henes kind of made for me, and she knows what she's doing. I just follow what the Boss Lady says, and usually it works out."
When asked which was a bigger deal breaking high school or collegiate records, Tuohy said, "Every time you climb the ranks and whatever level you're competing at, it's just bigger and bigger… The high school ones were fun and all, and, um, it set me up well for college… [but] when you break these records, it's kind of names you know."
There is a lot of speculation this may be Tuohy's final year in the collegiate ranks, but she showed today, so far she is more than pretty good when she moves up a level. But up first is the ACC Championships and NCAA Indoors.
Tuohy's Full Post-Race Comments
Quick Take: Tuohy is Crushing It
While Tuohy shattered Schweizer's record, Tuohy had the advantage of racing in super spikes. For tonight, we don't need to debate which mark is superior (we lean towards Tuohy's), but can just appreciate how well Tuohy is running as a collegian right now. Back-to-back NCAA records. Going sub-15 for 5000m will likely have to wait for outdoors, but she seems poised to do it.
Here is the previous all-time NCAA indoor list from USTFCCA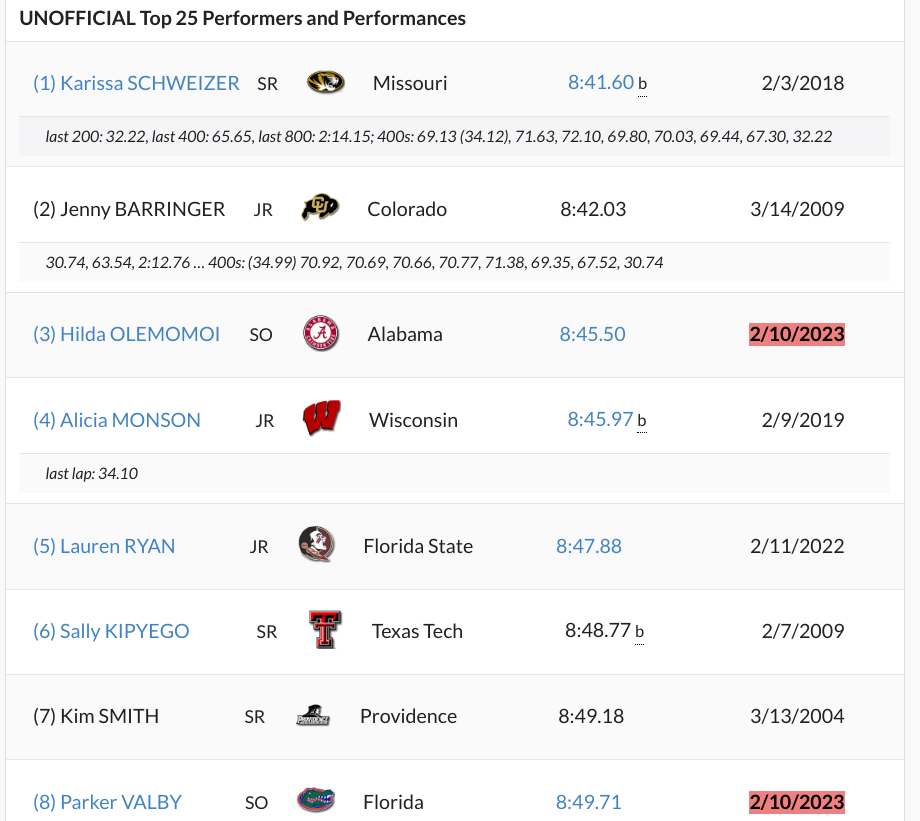 Talk about 2023 Millrose on our world-famous fan forum / messageboard. *Full Results
More: