Peres Jepchirchir Wins 2022 Boston Marathon After Thrilling Final Mile Duel With Ababel Yeshaneh
By LetsRun.com
April 18, 2022
BOSTON – Reigning Olympic and New York City Marathon champion Peres Jepchirchir has won another one. The 28-year-old Kenyan dug deep and came out on top after a terrific final mile battle with former half-marathon world record holder Ababel Yeshaneh of Ethiopia.
After the leading duo hit 25 miles, there were seven different lead changes in the final 1.2 miles as Jepchirchir kept attacking but Yeshaneh repeatedly refused to give in. Finally, Jepchirchir took the lead with a little bit more than 200 to go and went on to win in 2:21:01, the second-fastest winning time in Boston history, with Yeshaneh settling for second in 2:21:05. The final mile split was 5:23. This is the 5th straight marathon the Jepchirchir has won.
The Race
The race started very modestly for the first 5 miles which were run in 28:04 (2:27:11 pace). But miles 6-16 were the fastest 11 miles ever run in a women's race in Boston history – 5:12, 5:13, 5:08, 4:59, 5:05, 5:11, 5:04, 5:13, 5:06, 5:24, 5:03. That 11-mile stretch took a cumulative 56:35, which is 2:14:52 marathon pace.  The lead pack was decimated as a result. Eleven were in it at 10k, but only three remained a little bit after 15k — the eventual top two as well as reigning London champ Joyciline Jepkosgei. The leading trio, who hit halfway in 69:41, would run together until mile 23 when Jepkosgei was dropped, but the pace slowed as every mile between 16 and 23 was over 5:20 — and the 21st mile, which takes you to the highest point of the course, was 5:52. The downhill 24th mile (5:17) was the lone mile of the final 10 under 5:20, before we got to the thrilling finish.
Olympic bronze medallist Molly Seidel ran with the leaders early and hit halfway in 11th in 71:44. By 25k, she had slowed to 2:24:17 pace and would drop out before 30k. After the race she released the following statement regarding her DNF:
I've been dealing with a hip impingement on and off through the build. It was feeling good the last few weeks and no indication that it would hurt today. I went out aggressively in the race but wasn't able to hang with the leaders but tried to give it my best shot even though the hip started to lock up around halfway. By mile 16 I was in a good deal of pain and had I had to make the difficult call to stop at a medical tent to avoid really damaging anything. 
Top American honors for the second straight Boston went to Nell Rojas in 10th in 2:25:57 (72:05 1st half) as she ran 1:40 faster than what she ran in Boston in October (2:27:37) but finished four spots lower. Brit Charlotte Purdue took top non-African honors in 9th in 2:25:26 (71:39 1st half).
Top 20 results and then a full analysis appear below.
Top 20 Results. More results here.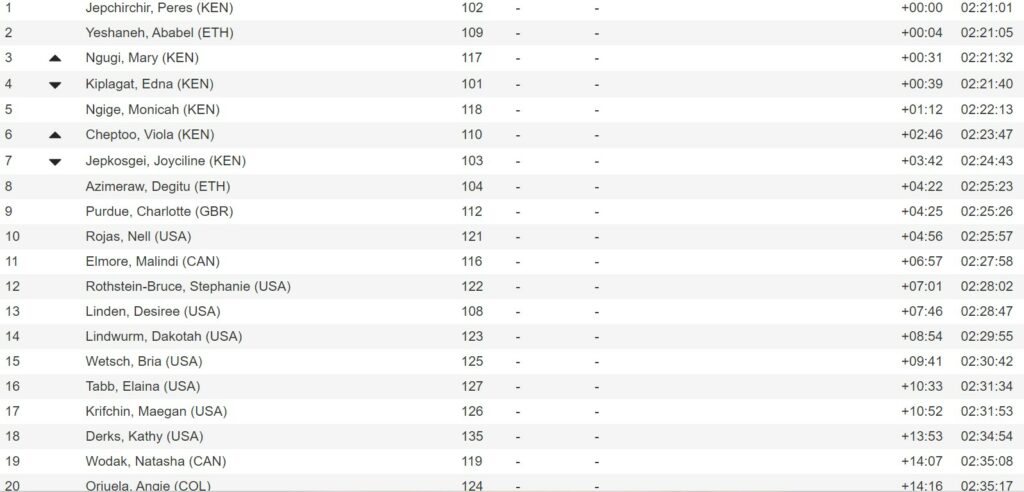 Quick Take: The women's finish was an epic duel 
Article continues below player.
This wasn't the closest women's finish in Boston (see next point), but it might have been the best battle the final mile. Jepchirchir kept surging to drop Yeshaneh and each time Yeshaneh would battle back. Yeshaneh then would get in front of Jepchirchir, who would slip into Yeshaneh' slipstream before trying to make another surge. Yeshaneh looked fresher than Jepchirchir, but Jepchirchir had what it took and her final surge was enough to win the title and keep her status as the #1 female marathoner in the world.
This one goes down in the record books along with Wanjiru versus Kebede in Chicago in 2010 (for $500,000), as one of the epic duels in the sport. Speaking of Wanjiru, today's third placer Mary Wacera Ngugi was married to the late Sammy Wanjiru.
Quick Take: This was the 7th time a women's Boston Marathon has been decided by less than 5 seconds but only, but first since 2015
Between 2008 and 2012, the Boston marathon featured a super tight women's women's finish as for five straight years the gap between first and second was at most 3 seconds. The 2015 race also was close (4-second gap) and then today.
The closest finish ever came in 2009 when Kara Goucher had the lead in the last mile and three women battled it out. You can watch the finish below.
Quick Take: Age is just a number for Edna Kiplagat
The remarkable Edna Kiplagat ran well yet again in Boston today. The 42-year-old, who won the race in 2017 and was second in the last two Bostons in 2019 and 2021 (also 8th in 2018), finished 4th today in a Boston masters course record time of 2:21:40, smashing her old masters record she ran to get second in October of 2:25:09. It also was a personal best for Kiplagat in Boston as she won in 2017 in 2:21:52.
Quick Take: Nell Rojas was the top American in Boston yet again and yet again she was unsponsored
After finishing as the top American in Boston last year, Rojas signed an endorsement contract with adidas. One small problem. She didn't like the way their shoes felt so she got out of the contract and ran for herself today in a pair of Nike Alphaflys.
"Unfortunately it just didn't work for me and I had to make a really tough decision to wear a shoe that works for my foot and that I'm confident in and that I knew I could stand on any start line and be competitive," said Rojas. "Unfortunately, I decided to run in a different shoe today."
Quick Take: Des Linden wants to come back, gives herself B+

Besides Rojas, three other American women broke 2:30 today as 38-year-olds Stephanie Bruce and Des Linden were 12th and 13th in 2:28:02 and 2:28:47 respectively and 26-year-old Dakota Lindwurm was 14th in 2:29:55. Lindwurm (nee Bullen) has come a long way for the Minnesota Distance Elite as in college she was far from a star for DII Northern State (34th in XC, track pbs of 16:43/34:57), but this was her second sub-2:30 marathon (she ran 2:29:04 at Grandmas last year).
Afterward, Linden said based on her less than optimal build-up she gave herself a "B+" on her performance today. Des did what she usually does when she starts a World Marathon Major — perform nearly to her best that day.
"If they keep inviting me — I'm not sure if you've heard this before — but I'll keep showing up," said Linden.
Be a fan and talk about Boston on our world-famous messageboard.
More: Men's Recap: Evans Chebet Flies Downhill to Win Boston Marathon in 2:06:51 Evans Chebet blasted a 13:55 5k from 35k to 40k to get the win in Boston.
*Full 2022 Boston Marathon Coverage