Evans Chebet Flies Downhill to Win Boston Marathon in 2:06:51
13:55 5k from 35k to 40k Blows Open Race
by LetsRun.com
April 18, 2022
BOSTON – 4:27. 4:26. 4:26. 4:37. 
Article continues below player
Like our coverage from Albuquerque?
Those were the mile splits for Evans Chebet of Kenya for miles 22-25 coming off Heartbreak Hill, as he put on a running exhibition to blow open the 2022 Boston Marathon and win in 2:06:51, the third-fastest winning time in race history. He covered the downhill 5k from 35k to 40k in a staggering 13:55.
A lead pack of 20 was still together at halfway in an honest 1:03:24 with three Americans (CJ Albertson, Elkanah Kibet, and Mick Iacofano) in the lead. 15 people were still together atop Heartbreak Hill until Chebet made his move on the downhill 22nd mile.
Gabriel Geay of Tanzania was the only runner who stayed with Chebet, but by mile 23 Chebet was all alone. He flew down the downhill 22nd to 24th miles in 4:27, 4:26, and 4:26, but victory was not guaranteed as defending champ Benson Kipruto and Lawrence Cherono were leading the chase about 15 seconds back.  
But once Chebet followed up with a 4:37 flatter 25th mile, victory was his as he won by 30 seconds over 2019 champ Cherono (2:07:21), who was six seconds up on Kipruto (2:07:27)with Geay holding on to nab fourth (2:07:53). 
Unsponsored Scott Fauble, who was not with the lead pack at halfway, but 1:02 behind them, ran a tremendously controlled race to nab first American honors in 7th place in 2:08:52. He ran dead-even half marathon splits of 64:26-64:26 as American Elkanah Kibet also got a pb in 9th in 2:09:07.
Top 20 results. Full analysis appears below results. More results here.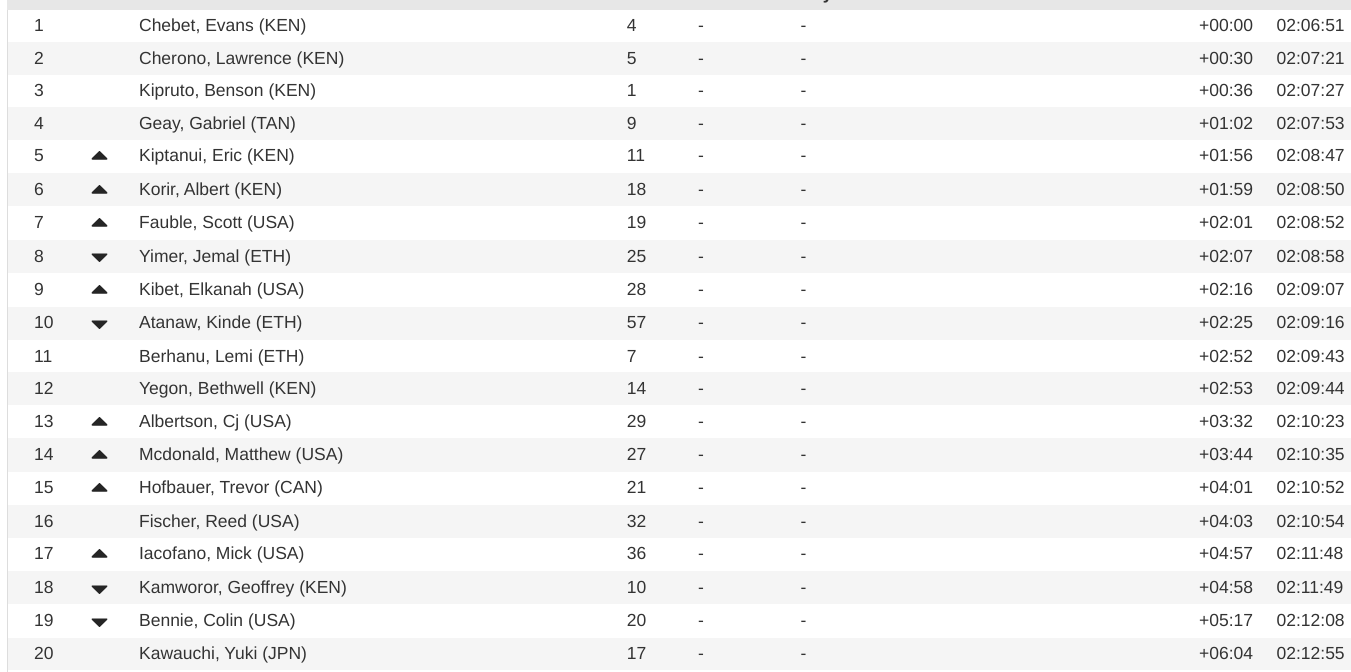 Quick Take: Evans Chebet's segment from 35k to 40k was absolutely sick
When you have five miles to go and 15 men still in the lead pack in the deepest Boston Marathon in history, it is going to take something pretty special to blow that pack apart. And that's exactly what Chebet delivered. He ran 13:55 (1:57:26 marathon pace) for the downhill 5k segment from 35k to 40k, building an 18-second lead that would grow to 30 seconds by the finish (Benson Kipruto's winning move came at the same point of the course in 2021 but he covered that segment 11 seconds slower, in 14:06).
Obviously, the downhill nature of that segment can make it easy to get going. But it also comes 21 miles into the race, right after four tough climbs in Newton. By comparison, Geoffrey Kamworor, who many felt would be well-suited to a race with a hard final 10k, was broken by the same segment, covering it in just 15:42 and ultimately faded all the way to 18th.
Considering Chebet's winning margin, the quality of the field, and his winning time of 2:06:51, this has to go down as one of the most impressive Boston Marathon performances of all time. 2:06:51 is the eighth-fastest time ever run in Boston, but six of the seven times ahead of Chebet came in the wind-aided 2011 race. Outside of that day, only one other man, Robert Kiprono Cheruiyot (2:05:52 in 2010) had ever broken 2:07 in Boston. 
Today's win was Chebet's first major win in career marathon finish #14 (this was his 5th run in a major and 2nd run in Boston – he DNFd the 2018 Boston race like many elites), but his 2:03:00 win in Valencia in 2020 should certainly be considered a major win as it featured the most sub-2:04s ever in a marathon (4).  Chebet rarely ever has a bad day at the office but he's only recently started winning. Of the first 9 marathons he finished, Chebet didn't win any of them but he finished second in six of them and ran 2:05 or faster in 3 of his last 4 . He's now won 4 of his last 5 marathons, running 2:05 or faster in 4 of them. All told, in the 14 marathons he has finished, he's finished 1st or 2nd in 10 of them.
MB: Evans Chebet drops a sub-14 5k after mile 21!!! 4:27, 4:26, 4:26!!! 2:06:51 FTW WIN at 2022 Boston Marathon
Quick Take: Lawrence Cherono's consistency is also remarkable
Lawrence Cherono has run 15 marathons since the start of 2016. He has finished outside the top 2 in precisely two of them – and one was last summer's Olympics in Sapporo, where he was just two seconds away from winning a medal. Before today, Cherono was probably the #2 marathoner in the world behind Eliud Kipchoge, based on his body of work over the last few years, and it's hard to drop him much after today. But considering Cherono lost to Chebet both in Boston today and in Valencia in 2020, perhaps Chebet should be #2 behind Kipchoge now.
Here's a look at Cherono's remarkable run of consistency:
2016 Hamburg: 2nd, 2:12:14
2016 Prague: 1st, 2:07:24
2016 Hengshui: 2nd, 2:11:13
2016 Honolulu: 1st, 2:09:39
2017 Rotterdam: 2nd, 2:06:21
2017 Amsterdam: 1st, 2:05:09
2017 Honolulu: 1st, 2:08:27
2018 London: 7th, 2:09:25
2018 Amsterdam: 1st, 2:04:06
2019 Boston: 1st, 2:07:57
2019 Chicago: 1st, 2:05:45
2020 Valencia: 2nd, 2:03:04
2021 Olympics: 4th, 2:10:02
2021 Valencia: 1st, 2:05:12
2022 Boston: 2nd, 2:07:21
Quick Take: Scott Fauble ran an incredibly smart race and was rewarded with a pb and top American honors
Today's race started fairly quickly, with the leaders running the downhill first 5 miles in 23:56 – 2:05:30 pace. Scott Fauble was in that group, but then he saw leaders CJ Albertson and Bethwell Yegon increase the pace even more (they would run the next mile in 4:40). He made the decision to back off.
"I was like, that's 2:06 pace," Fauble said. "If these guys go run 2:06, then more power to them. There's nothing I can do about that."
At halfway, Fauble was in 22nd place, coming through in 1:04:26 as part of a large second pack, 1:02 behind the 20-man lead group. But as they hit the big downhill during mile 16, Fauble was still feeling full of run and decided to use the hill to make his move. By 35k, he was up to 15th, and by the finish he had passed eight more people to move up to 7th, thanks in part to a 4:54 final mile. He wound up running perfectly-even splits, 64:26 for each half – though the second half is tougher as it includes the Newton hills.
Fauble has now finished as top American in two of the last three Boston Marathons, which double as the two greatest marathons of Fauble's life. He was 7th in 2019 in 2:09:09 and 7th again in 2:08:52. Among Americans, only Fauble and Ryan Hall have run 2:09:09 or faster twice in Boston.
We'll have more on the unsponsored Fauble's decision to bet on himself and run Boston without a sponsor but it paid off.
Quick Take: Elkanah Kibet is the 13th American to break 2:10 in Boston
After finishing as the top American in New York last fall (4th), Kibet now sits at #9 on the all-time US list of fastest runs in Boston.
Ryan Hall, 2:04:58 (2011)

Meb Keflezighi, 2:08:37 (2014)

Bob Kempainen, 2:08:47 (1994)

Alberto Salazar, 2:08:51 (1982)

Scott Fauble, 2:08:52 (2022)

Dick Beardsley, 2:08:53 (1982)

Greg Meyer, 2:09:01 (1983)

Elkanah Kibet, 2:09:07 (2022)

Scott Fauble, 2:09:09 (2019)

Jared Ward, 2:09:25 (2019)
Three other Americans joined the top 20 performers list for Americans in Boston today.

CJ Albertson 2:10:23 (15th all time)
Matt Mcdonald 2:10:35 (17th all time)
Reed Fischer 2:10:54 (18th all time)
One guy at 2:08, another at 2:09, and three more in the 2:10's constitutes a very solid showing by the American men in Boston. Frankly, it would have been a disappointment if we didn't see multiple Americans under 2:10 given the great conditions today, but Fauble and Kibet didn't allow the opportunity to go to waste as they ran the two fastest times by an American in Boston since Meb's win in 2014.
MB: ALL-TIME TOP 10 BOSTON MARATHON LIST (AMERICAN, ALL-CONDITIONS) 
Quick Take: CJ Albertson ran a pb of 2:10:23 but was not pleased with his close
Albertson finished 13th, three places lower than last year, but he ran 2:10:23, over a minute faster than 2021 and an overall pb.
"My one big goal was to make a move and try to hurt people," Albertson said. "I wanted to be with the leaders at mile 15, because at 15.2, you hit this big old downhill and I just wanted to hammer and get people to somewhat to go with me and just break the race open."
The other reason Albertson wanted to push then was to put a sting into his rivals legs, making them less reluctant to push the pace up the Newton Hills. And the strategy kind of worked – he ran mile 16 in 4:34 and was still with the leaders cresting Heartbreak Hill. Pre-race, that is exactly where Albertson wanted to be, as he felt he would be able to close well on the downhills through Brookline. Instead, Albertson cramped up and slowed down, splitting 16:15 between 35k to 40k and fading to 13th by the finish. That segment of the race left him demoralized by the finish line.
"I kind of think I'm invincible, so I didn't think that would happen to me," Albertson said. "I was successful in breaking at least one person. That was me."
Albertson is harder on himself than most. His goal is to break the American record one day and that frames his outlook on training and racing. So even though most would view today's run as a solid result, from that perspective, Albertson still has a long way to go.
"It was really disappointing, but it was one step closer to where I want to be, competing with the world's best and kind of doing what I wanted to do and felt like I was controlling the race," Albertson said. "And I just didn't have it the last 8k when I thought I would."
He still believes his big breakthrough is coming. But it will have to wait.
"No one likes to be patient," Albertson said. "I want it to be now." 
Quick Take: Geoffrey Kamworor totally cratered after 35k
According to the LRC pre-race polls, Geoffrey Kamworor was the favorite. At 35k, Kamworor was still in the hunt in 7th just 4 seconds off the lead. He crossed the finish line nearly 5 minutes behind the winner in 2:11:49 (4:58 behind first). He ran his final 7.2 k in 25:04 (5:36.4 mile pace), which is just 2:27 marathon pace. His final mile was just 6:54.
We didn't get to talk to Kamworor after the race, but we did see him limping through the Fairmont Copley Hotel propped up by a support person. It appeared to be an injury and not just marathon fatigue.
Quick Take: Jared Ward feels he's on his way to regaining his old form
The 2016 Olympian finished 26th in 2:15:24, not a very strong performance for a guy who was 8th here in 2019 in 2:09:25. And while Ward finished in the top 10 in New York last year (10th in 2:14:06), he has struggled in the marathon since the end of 2019. After searching for answers, Ward began taking thyroid medication this January. He also scaled back his mileage as he tried to get his body back on track. Ward said the lack of mileage caught up to him today, but said he felt more like his old self, the first half of the race (64:26).
Be a fan and talk about Boston on our world-famous messageboard.
More: Women's Recap: Peres Jepchirchir Wins 2022 Boston Marathon After Thrilling Final Mile Duel With Ababel YeshanehThe middle miles were the fastest in race history and the finish was one for the ages as there were 7 lead changes in the final 1.2 miles.
*Full 2022 Boston Marathon Coverage