Evans Chebet (2:03:00) and Peres Jepchirchir (2:17:16) Set Valencia Marathon Course Records As Genzebe Dibaba (65:18) Wins Her Half Marathon Debut
By LetsRun.com
December 6, 2020
The Valencia Half Marathon and Valencia Marathon were held on Sunday, and they did not disappoint. With a race budget of over $6 million and dozens of the world's top athletes hungry for the opportunity to face top competition, elite athlete coordinator Marc Roig assembled some incredible fields, which in turn produced some incredible performances on a good day for racing.
The highlight was the absolutely bonkers men's half marathon, in which the top four men ran under Geoffrey Kamworor's 58:01 world record, led by Kibiwott Kandie's 57:32. That race gets its own recap here: LRC Utter Insanity at the Valencia Half: Kibiwott Kandie Runs 57:32 as the Top 4 Finishers Break the WR.
But the men's half was far from the only compelling result of the day. In the women's half, 1500-meter world record holder Genzebe Dibaba ran 65:18 to win her half marathon debut, with American Emily Sisson running 67:26 — a personal best and just one second shy of Molly Huddle's American record.
Article continues below player.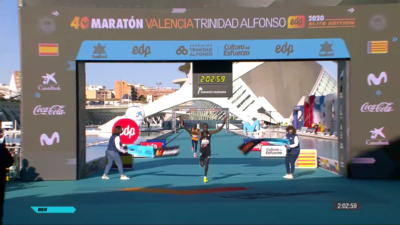 After 12 men hit 30k in 1:27:42 (that's 2:03:19 pace), the men's marathon came down to a three-way battle between pre-race favorites Birhanu Legese of Ethiopia and Lawrence Cherono of Kenya and the unheralded Evans Chebet, but it was Chebet, the winner at Lake Biwa earlier this year, who closed best. Battling it out in the final hundred meters, Chebet took advantage of Cherono losing his balance entering the home straight and sprinted to the win in 2:03:00 to become the sixth-fastest man of all time. Cherono, the 2019 Boston and Chicago champ, lost for just the second time in seven starts but did improve his pb from 2:04:06 to 2:03:04 (#7 all-time). In all, four men broke 2:04, the most ever in a single race.
Finally, in the women's marathon, Kenya's Peres Jepchirchir closed out a dominant 2020 season by running 2:17:16 to win and move to #5 on the all-time list. Jepchirchir had previously won the World Half in October, where she set the women's-only half marathon world record for the second time this year. Farther back, American Jordan Hasay finished 27th in 2:33:51, almost 13 minutes slower than her personal best.
A few takeaways from Valencia…
Thank you, Valencia
In a year that saw four of the six World Marathon Majors cancel their races (only Tokyo and London were determined to hold elite-only races), Valencia demonstrated its deep commitment to elite sport by pouring millions of dollars into staging a truly world-class event. Kudos to Valencia and the Trinidad Alfonso Foundation for giving the athletes a great opportunity to race and the fans some terrific races to watch.
Peres Jepchirchir proves she is an elite marathoner/why did World Athletics hand out its Athlete of the Year before 2020 is over?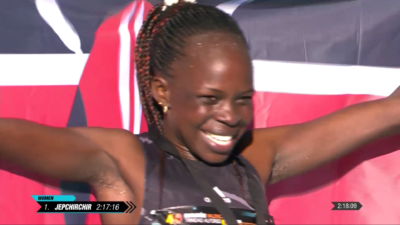 Entering Valencia, we knew Peres Jepchirchir, the two-time World Half Marathon champion, was one of the greatest half marathoners the world has ever seen. The question was whether she could translate that success to the full 26.2. The answer? A resounding yes.
This was just Jepchirchir's second marathon outside of Kenya, and it was her second win as she took over six minutes off her pb to run 2:17:16 and move to #5 all-time. A fantastic win over a deep field containing multiple major champions.
One thing that bugs us: earlier today, World Athletics named Colombian triple jumper Yulimar Rojas its 2020 World Athlete of the Year. Jepchirchir was one of the five finalists, but one of her biggest races didn't even count toward the award. Last time we checked, December was still a part of 2020.
Both the men's and women's marathons were super deep
Before the race, we showed you the numbers to explain why Valencia was the deepest marathon field ever assembled. And the results backed that up. In the men's race, four men broke 2:04 for the first time in one race, and all-time best marks for place were set for 8th through 15th place (and probably several more beyond).
Check out these stats.
# Sub-2:04s: 4
# Sub-2:05s: 6
# Sub-2:06s: 11
# Sub-2:07s: 13
# Sub-2:08s: 17
# Sub-2:09s: 20
# Sub-2:10s: 30
Yes, 30 men broke 2:10 in a single race, and 41 ran the Olympic standard of 2:11:30 or faster. Both of those marks are records as 28 men broke 2:10 and 30 2:11:30 in Tokyo earlier this year. Along the way, there were national records for Eritrea (Oqbe Kibrom, 2:05:53), Spain (Ayad Lamdassem, 2:06:35), and Germany (Amanal Petros, 2:07:18).
The women's race saw six women break 2:20 for the first time in history and a world masters record (40+) of 2:19:52 for Namibia's Helalia Johannes. All-time best time for places 6-7-8 were also set as it took 2:19:56 to get 6th, 2:20:05 to get 7th, and 2:20:57 to get 8th.
Evans Chebet arrives; now Athletics Kenya have an Olympic dilemma
It is fair to call Evans Chebet a late bloomer. The 32-year-old has been racing marathons since 2013, and while he'd rarely been bad (he's finished on the podium in nine of his 11 marathon finishes), he had never won a marathon until last fall and never one as big as Valencia. But he entered Valencia after back-to-back wins in Buenos Aires and Lake Biwa (the former in a pb of 2:05:00), suggesting he could be capable of more against a field that could test him. Chebet aced his test today, as the #2 and #3 finishers here today, Lawrence Cherono and Birhanu Legese, finished 1-2 in our 2019 World Rankings.
Chebet's win presents an interesting dilemma. Back in January, Athletics Kenya selected its Olympic marathon team. One of those picks, Eliud Kipchoge, was obvious. The other two (Cherono and Amos Kipruto) were racing in Valencia today, and though both ran well (Cherono 2nd in 2:03:04, Kipruto 4th in 2:03:30), Chebet beat both of them. Is that enough to earn him a spot on the team? Or will AK stick to their original decision?
Emily Sisson PRs, Jordan Hasay struggles
Two top Americans made the trip to Valencia, with differing results. For the second time in the last two years, Emily Sisson just missed breaking sometimes training partner Molly Huddle's 67:25 American record in the half marathon.
In Houston in 2019, Sisson ran 67:30 and today she ran 67:26. Sisson ran incredibly even in Valencia as she ran 32:02 for her first 10k and 32:00 for her second, meaning she was on 67:33 pace at 20k. She picked it up a little bit at the end, but not quite enough.
Jordan Hasay, meanwhile, ran just 2:33:51 to finish 27th in the women's marathon. Going into the race, Hasay's coach Paula Radcliffe told us she didn't have a time goal in mind, hoping instead that Hasay could get back to racing without stress after several injury-plagued years. The good news is that Hasay made it through the race (hopefully in one piece). The bad news is that she ran almost 13 minutes slower than her pb. And it's not like she went out super aggressively. Her first 5k was 17:23 (2:26:42 pace) and her 10k split was 34:55 (2:27:20 pace). Overall, her half splits ended up being 74:23-79:28.
Next year, an even better schedule
Four world-class races in one day is a lot — much of the excitement of a couple of great marathons was overshadowed by Kandie's record and the ridiculously entertaining men's half.  We're assuming that the decision to combine the half marathon and marathon (they're usually contested on separate weekends) was COVID-related, and if that is the case, we can't really fault Valencia. But we're glad that they're moving back to separate dates in 2021; that way each race gets its proper due.
Talk about 2020 Valencia on our fan forum / messageboard.
Other Recaps: Utter Insanity: Kibiwott Kandie Runs 57:32 as the Top 4 Finishers Break the World Record in the Valencia Half Marathon The Valencia Half Marathon was incredible as not 1, not 2, not 3 but 4 men broke the old WR of 58:01.
Emily Sisson Comes Up 1 Second Short of American Half Marathon Record in Valencia Oh so close. Sisson missed the American record by a single second in Valencia this morning.