Donavan Brazier Is Back. So Is Craig Engels. And About That Name…A Look at the Union Athletics Club Ahead of Millrose
By Jonathan Gault
January 27, 2022
(In-depth features like this are written for our Supporters Club members. Support independent journalism and become an LRC VIP by joining our Supporters Club. After 24 hours, this article will go behind the SC paywall so be sure to come to LRC each and every day if you aren't an SC member.)
Let's start with the name. After two years of post-Oregon Project purgatory, Pete Julian's training group finally has one. The Nike Union Athletics Club.
Article continues below player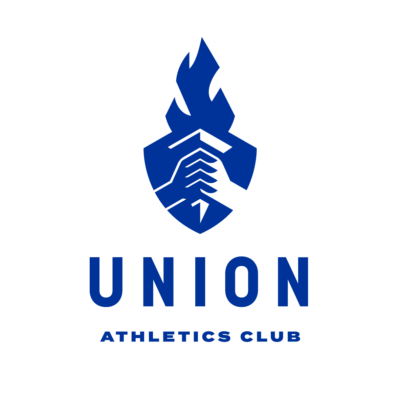 It's…fine. A bit boring, if we're being honest, the logo of interlocking white and blue hands grasping a torch calling to mind an international aid organization rather than elite track & field team. But by the end of the process, after cycling through hundreds of possibilities, Julian and his charges realized the name wasn't all that important.
"For me, the name doesn't really matter," says UAC athlete Craig Engels. "If you put it out of context and said Apple, the technology company, people would have been like, 'that's the dumbest name ever.'"
What Julian and his athletes wanted, most of all, was a name that they themselves could come to define. That's why catchy but corny nicknames like Pete's Dragons or Phil's Knights weren't going to work. Too many prior associations. The Nike Oregon Project, the group from which Union splintered in 2019 following Alberto Salazar's four-year ban from the sport, may have met an ignominious end, but there's no denying NOP's power as a brand. For better or worse, the words Nike Oregon Project meant something in the minds of track fans. But it wasn't always that way.
"When you think about some of these team names, just on the surface, you're always like, well that's not great," Julian says. "But what made the Nike Oregon Project the Oregon Project? Well it was Mo, Galen, and Centro and those kind of things."
Union was a suggestion from Raevyn Rogers, the group's star 800-meter runner, and while there was no moment of realization — "it wasn't like immediately everybody's like oh wow!" Julian says — the name, sufficiently broad, began to grow on Julian. They decided upon Athletics Club because the team, featuring nine Americans, two Australians, and two Germans, is a global squad, and outside of the US, the sport is known as "athletics," not "track."
But it took a while to go from concept to reality. The pandemic limited the ability of Nike stakeholders to get in a room and iron out all the details, and Nike was also in the midst of a transition from John Capriotti to Craig Masback as head of running sports marketing. Now, Julian says, almost all of the t's have been crossed with only a few i's remaining to be dotted. The team has a website, a color scheme (primarily blue), and jerseys, though those are still waiting to be unveiled. For the indoor season, the team will continue to compete in Nike's regular pro kit.
Some have noted that the name Union Athletics Club seems awfully similar to On Athletics Club, the Boulder-based pro group that launched in 2020. Julian says the other group's name never entered his mind when they were considering options. Engels is firmer when it comes to OAC.
"Never when we were forming the group did we think about that group in any capacity," Engels says. "We discussed Tinman and how good they are with their marketing, we discussed the Brooks Beasts and how unified they are. It's funny, I don't even know what their group's called, they just never came up in discussion for anything."
The Return of Donavan Brazier
Whatever the origin, it's fitting Julian's team has a new name, because 2022 represents a new beginning for many of his athletes. Of the 12 members of the team, five of them — Charlie Hunter, Jordan Hasay, Shannon Osika, Sinclaire Johnson, and Ella Donaghu — were not on the team a year ago (Eric Jenkins, who as a 5k/10k type did not have any real training partners, has also left the team). And while some of Julian's athletes saw major success in Tokyo — Hull ran an Australian record of 3:58.81 in the 1500, while Rogers ran a personal best of 1:56.81 to earn bronze in the 800 — two of the group's biggest names, Engels and Donavan Brazier, did not make it to the Olympics at all. Both will be looking for redemption at a home World Championships in Eugene in July.
On Saturday at the Millrose Games, Brazier will line up for the 400 meters, his first race since the Olympic Trials 800m final in June. In second with 200 to go and on course to make his first Olympic team, Brazier faded to last place, struggling to generate his usual late-race power. In the biggest shock of the Trials, the reigning world champion who had not lost an 800 for over two years failed to make the team.
At the time, Brazier deflected claims of an injury, not wanting to dim the accomplishment of those who made the team. But privately, Brazier was in a lot of pain. Prior to the Trials, an MRI had revealed a bony growth on his lower left tibia that would eventually have to be fixed, but his medical team cleared him to compete in Eugene.
"They're like, it's going to be an issue, but we're going to be okay through Tokyo," Julian says.
What had been soreness before the Trials morphed to outright pain after Brazier won his opening-round heat in 1:45.00, but through two more rounds, Brazier put on a game face. Only in the moments after the final did a teary Brazier let his guard down to Julian, explaining how it had been a struggle to even get up and run on his toes during the second lap.
"It was Donavan's decision to run the final at that point," Julian says. "Going into it, we had the medical information that we had. And so after he got through the semifinal, he was like, 'Hey coach, I can do this. I can get through this.' So I don't think he has any regrets at all. It's the Olympic Games. This is something that was very important to him and he obviously was going in as one of the favorites."
An MRI after the race revealed a fractured tibia — the fracture likely occurring during one of the races at the Trials — which required surgery and the insertion of a pin. Brazier spent the rest of the year recovering and rehabbing, progressing from crutches to a boot to the pool to the AlterG. By November, he was back to running fartleks on grass. Now, after battling plantar fasciitis in his right foot in 2020 and the fractured tibia in 2021, Julian says Brazier is no longer compensating when he runs.
"He looks like the Donavan Brazier we remember from when he was really rolling," Julian says.
In his last two appearances at Millrose, Brazier has broken the American indoor record for 800, but this year is running the 400, an event he has not contested anywhere since January 2018.
"It's something that we've always talked about over the last couple years is really trying to pay attention not just to speed maintenance but to speed development…we'd like to get his 400m time down, but there's only one way to execute that and that's actually to really do it."
Don't expect many more indoor races for Brazier this year, though. He will run the 600 at the Lilac Grand Prix on February 11 in Spokane, Wash., a meet UAC is staging with the help of Tracklandia, but that may be it. US Indoors and World Indoors appear to be a no-go. With the tight turns and crowded races, Julian says the indoor 800 "is a pretty dangerous event — you've got a lot of parity there, a lot of people flying around" and given Brazier's recent injury history, he wants to do everything he can to ensure he is ready for the World Championships outdoors.
"I'm just really enjoying having a healthy Donavan right now, and I know he is too," Julian says.
 

View this post on Instagram

 
Craig Engels Looking for Redemption
Brazier is not the only UAC athlete attempting a comeback in 2022, though the obstacle in Craig Engels' case was a little different: he departed last year's Olympic Trials not with a broken leg, but a bruised ego. In evaluating his fourth-place performance in the 1500 meters — one place and half a second behind Notre Dame's Yared Nuguse for the final spot on Team USA — Engels blamed a combination of hubris and tactics for his inability to make the team.
"If I could redo that race 100 different times, I think I would be third 95 of those times," says Engels, who entered the race as the reigning US champion after his triumph at USAs in 2019. "I should have never ever lost to Yared that day."
Engels was just ninth at the bell, boxed in on the rail, and was still eighth with 200 to go. Coming off the final turn, he drew himself within half a step of Nuguse but was outrun over the final 100.
"Tactically I should have been where Centro was, I should have been up towards the front with 500, 550 to go," Engels says. "But I was boxed in. And then I was like, I'm faster than all these guys, Cole Hocker's been overhyped. But everyone proved themselves that day except for me."
Even a perfectly executed race, Engels concluded, would not have been able to bridge the gap that night between himself and Hocker, the man who inherited his title as US champion. So he asked himself a question: Do I suck, or was I just being an idiot? And another: Is this what I want to be doing with my life?
Engels' Nike contract was up at the end of 2021 and he seriously considered retirement at the age of 27. Julian wanted him back — "Craig is a cornerstone to our team," he says — but knew that it was Engels' decision, not his.
"He lost his way a little bit after the Trials and I gave him some space and some time," Julian says.
Engels had wanted to make the Olympics not just for himself but, more importantly, for the family and friends who had supported his journey.
"I felt a lot of shame and disappointment when I didn't make it and all my friends and family were there [in Eugene]," Engels says. "But they were all still there for me. So it was really cool realizing that they care, but they also don't care."
Last fall, he headed back to his old college stomping grounds at Ole Miss to finish up his MBA. He roomed with former teammate Robert Domanic, tailgated at football games, and fell back in love with the sport of running.
"During COVID, [running] wasn't fun for me," Engels says. "But as soon as I got down to Ole Miss and I was training with those guys and getting to travel a bunch and do everything on my own, I realized I'd be pretty bored without running."
He knew he wanted to stay in the sport. And he knew he had to change the way he approached it. Do I suck, or was I just being an idiot? Engels had his answer.
"My mindset before was that once I was US champion then I was always going to be [US champion]," Engels says. "And I was so wrong, obviously. I feel like I was slacking, I wasn't doing things right in training.  I wasn't treating it as seriously as it needed to be treated."
At the highest level of the sport, many runners live a monkish existence. Eat, train, recover, sleep. Engels, the mullet-sporting, mustache-twirling life of the party, was not made for that way of life. Too boring. He'd blow off second runs or spend hours performing manual labor working on his RV. And at the end of the day, he'd feel tired and sapped of energy.
At Ole Miss last fall, Engels was taking classes and no longer on his feet 15 hours a day. He noticed an immediate difference.
"I was like, why do I have so much extra energy?" Engels says. "I'm totally relaxed running 75 miles a week where before it was so hard."
Suddenly the workouts were coming easily and Engels was ripping long runs. He believes placing a bigger emphasis on recovery was the main reason why (though admits that training in Nike's supershoes may have helped).
Engels: "Hopefully, I can prove indoors that I'm still … the best miler in America"
Engels had made the biggest decision: he would return for the 2022 season. But he still needed to decide on a training group, sponsor, and agent after dropping Ray Flynn.
"At this point in my career, I have enough contacts with meet directors and people that write contracts," Engels says. "I could find the numbers from mutual friends and everything. So I didn't feel that Ray was adding 15% value (the standard industry commission for agents). It just felt like once I got signed, I was just a paycheck to them."
When reached by LetsRun.com by email, Flynn, who also serves as Millrose Games meet director, wrote, "Craig did have his agent enter him this weekend and I am delighted that he choose to run at Millrose Games in the Wanamaker mile. I hope that he has a great race."
Engels was open to returning to Julian's group, but had been frustrated with his lack of training partners — Brazier was the only other man on the team, leaving Engels no one to work out with while Brazier was hurt. He visited other groups but ultimately opted to re-up and sign a long-term deal with Nike with new agent Mark Wetmore representing him.
"Mark Wetmore, he didn't just add 15% value to my contract, he added about 150% because I was doing it all of it on my own," Engels says. "I was doing all the contract negotiations and then I started working with Mark and the value of my contract went up immensely."
Engels says there were a few reasons he decided to stay with Nike. He loves Julian, and with the addition of Hunter, he now had an additional training partner (women still outnumber the men at UAC, nine to three, but Johnson's boyfriend Craig Nowak, an 8:27 steepler, will also hop in workouts). But most of all, he got to stay with Brazier, whom Engels considers a brother.
"[Donavan] was basically the anchor," Engels says. "It would have been so hard to leave Donavan if it had to come down to it."
So far this year, Julian says Engels' training has been incredible. But, three years removed from his last US title, Engels knows he has to prove himself again. That's the motivation driving him now, and it's a quest that begins in earnest on Saturday against a Wanamaker Mile field featuring Hobbs Kessler, Olympic finalist Ollie Hoare, and Olympic medalists Clayton Murphy and Josh Kerr. Engels is ready for the challenge.
"Hopefully, I can prove indoors that I'm still the US champion and the best miler in America," Engels says. "I've been tracking training way more seriously and doing everything right and trying to do the small things, so hopefully it reflects in my race this coming weekend and USAs and Worlds."
---
Be a fan and talk about this article on our world-famous fan forum / messageboard: MB: C. Engels: "I should have never ever lost to Yared… Hopefully, I can prove indoors that I'm still…the best miler in America"