WTW: Why Weini Kelati May Be America's Next Great Distance Star And Is Sean Brosnan Great Or Just Lucky?
The Week That Was in Running, November 22 – 28, 2021
By Robert Johnson 
November 30, 2021
Past editions of the Week That Was can be found here. Got a tip, question or comment? Please call us at 844-LETSRUN (538-7786), email us, or post in our forum.
Talk about this article on our messageboard. MB: Shhhh… Rojo thinks Weini Kelati may be the next great American distance runner + Is Sean Brosnan great or lucky?
****
Shhh…We May Have Found America's Next Great Distance Runner / Weini Kelati Please Move Up To The Marathon Now
On Thanksgiving Day, Under Armour's Weini Kelati ran an incredible 22:55 course record to win the 2021 Manchester Road Race, which is 4.748 miles long.
Most of us aren't familiar with 4.748-mile races so let's try to put her time in perspective.
Kelati broke Buze Diriba's course record of 23:57 by 62 seconds. If she ran another 62 seconds faster, she would have beaten male pro Drew Hunter, who just won the USATF 5k road champs (Hunter was 7th in the men's race in 21:54).
Kelati almost ran fast enough to cash a check in the pro men's race — just 15 seconds out of the money (15th was 22:40).
Second-place female Keira D'Amato, a 2:22 marathoner, broke the old women's course record by eight seconds and ended up nearly a minute behind Kelati (54 seconds). Afterwards, D'Amato told Race Results Weekly, "Weini just went out so fast; it made me feel like I was walking."
Kelati's pace was 14:59.7 per 5k, but she ran it for almost 5 miles. If she kept the same pace up for 8k, it would have been 23:59.8 (24:08 for 5 miles).
And don't forget, the Manchester Road Race is a hilly race. It's a loop course with an elevation profile that looks like this:
Article continues below player.

I asked LetsRun.com coaching/stats guru John Kellogg to convert Kelati's performance to a 5k for us. He estimates it's equal to a 14:32 if you factor in the hills. If you think that's crazy, please realize an online calculator at hillrunner.com converts it to a 14:37 and that's if the course is flat. That much uphill has to be worth something like 10-15 seconds.
Plus, a 14:30 5k isn't what it used to be in the age of super shoes. Kelati, who won NCAA titles at 10,000 and in XC in 2019, was a better collegiate runner than Alicia Monson and Monson ran 14:42 last summer.
Now do I expect Kelati to run 14:3x in the 5k soon? Not necessarily, as she probably skews to long distances, but no one in North America right now can even come close to her on the roads. On October 16, she won the Boston 10K for Women by 39 seconds over Sharon Lokedi in 31:18, breaking Molly Huddle's course record by three seconds. On November 6, she won the US 5k road title by a ridiculous 27 seconds in Central Park in 15:18, breaking Huddle's course record by six seconds.
After that race, Kelati, who lived in Eritrea until age 17 and became a US citizen in June, told us she plans to try to make the US Worlds team in the 5,000 and 10,000.
Why? So she can slaughtered by the likes of Letesenbet Gidey and Sifan Hassan?
If I was her, I wouldn't even bother with the track. I don't want to hear about how at 24 she's too young to do the marathon and needs to make a Worlds team on the track. The last three women's Olympic marathon champions made their marathon debuts at at the age of 20 (Peres Jepchirchir), 21 (Jemima Sumgong), and 22 (Tiki Gelana).
Plus Kelati doesn't have the speed (4:10 1500 pb) to contend for a win in a major on the track. On the track, if you aren't one of the top five runners in the world, you have almost no shot of winning a global final as there is only one of those a year and everyone is in it. But if you are one of the top 25 marathoners in the world, you are a contender for every major you run as the talent is spread out over many races and crazy things happen in marathons.
If I was Kelati, I'd run the US Half Marathon Championships this weekend in South Carolina (she's never even run a half marathon). Assuming that goes well (and why wouldn't it?), then I'd sign up for my marathon debut in Boston as she'd get a nice appearance fee and does well on hills.
Come on Weini, follow the example of Molly Seidel.
Is Kelati does run Boston, the similarities between her and Seidel will be striking.
In high school, both won a Foot Locker XC title (Seidel in 2011 and Kelati in 2015).
In college, both won the NCAA 10,000 and XC crowns in the same year (Seidel in 2015, Keltai in 2019; Seidel also won indoor 3k and 5k titles in 2016) and their collegiate 5000 pbs were one second apart (15:15 for Seidel, 15:14 for Kelati).
Seidel made her marathon debut at age 25 after only having made her half marathon debut four months before.
Kelati turns 25 on Wednesday and Boston is just over four months away.
##
In the men's race at Manchester, Canadian Ben Flanagan, 2018 NCAA 10,000 champion, of the misnamed Reebok Boston Track Club (the group is based in Charlottesville, Va.) continued to show he is made for the roads as he won by 12 seconds in 21:23 over Leonard Korir. Flanagan is 26 and needs to move to the marathon as well.
More: RRW Weini Kelati DESTROYS Manchester Road Race Course Record, Ben Flanagan Dominates Men's Field Kelati was incredible as she broke the course record by more than a minute and only was 1:31 behind the men's winner Ben Flanagan, who himself won by 12 seconds.
*MB: Weini Kelati SMASHES Manchester Road Race (Ben Flanagan as well)
***
Last Week By the Numbers
8,519 – number of finishers at Buffalo's YMCA Turkey Trot 8K. The nation's oldest continuously-run race (every year since 1896) only had 125 people last year due to COVID-19. *Kenmore man who first ran Turkey Trot at age 9 wins annual race
21 – number of guys that broke 28:00 in heat 6 of the Hachioji Long Distance Meeting on Saturday in Japan. That's the most ever in a single race, surpassing the 20 that broke 28:00 in the 2008 Olympic final. What's not getting as much attention is that while 21 men broke 28:00 in heat 6, another 14 did it in heat 7 in Hachioji.
16 – number of points scored by the Newbury Park boys' cross country team on Saturday, when they won the California Division 1 state title in record fashion. The Panthers were led by Colin Sahlman, who ran 14:26.5 for the 5k course, who was less than three seconds shy of German Fernandez's 14:24 Woodward Park course record. He wasn't the only Newbury guy to run fast as Nico Young's younger brothers Leo (14:28.0) and Lex (14:30.3) also ran fast, as did Sahlman's younger brother Aaron (14:46.4).
This year's Newbury Park team now owns 4 of the top-15 all-time CA state championship xc finishes. pic.twitter.com/EK95neH9Ox

— FloTrack (@FloTrack) November 28, 2021
More: Bill Meylan of Tully Runners has written an interesting piece comparing Sahlman's time to Fernandez's: A Quick Look at Newbury Park Boys 2021 at CA States Compared to German Fernandez 2007
14:40.5 – average time for Newbury Park's top five on Saturday at Woodward Park, which broke the old record of 14:43.8 (set by NP in October) while setting an overall team time record of 73 minutes, 23 seconds. Those are easily the two greatest performances ever at Woodward Park; before this year, the fastest average team time was 15:05.4, also set by Newbury Park's 2019 NXN title team.
3 – number of seconds that Connecticut high schooler Gavin Sherry took off of the Eastbay (formerly Foot Locker) Northeast Regional meet record at Van Cortlandt Park. Sherry ran 15:05.8 for the 5k course to take down the meet record set by two-time Olympic steeplechase finalist Donn Cabral in 2007.
2 – number of marathons won by Kenya's Titus Ekiru in 2021. After dropping out of London in October, the world's fastest marathoner in 2021 (2:02:57 in Milan) won Abu Dhabi on Friday in 2:06:13 after going out in a quick 61:46 before fading in the heat. Compatriot Judith Jeptum Korir, 24, won the women's race in a pb of 2:22:30. That's her fourth marathon win in five tries. Her previous pb was 2:28:31 at altitude in Kenya.
1 – number of athletes that were DQ'd last week after dominating a race. At the 39th Cross International de la Constitución — a World Athletics Cross Country Tour Gold event in Spain — Burundi's Rodrigue Kwizera, who has been the top guy on the World Athletics circuit so far this year, crossed the line first in 29:09 (second was 29:23) but was DQ'd for not wearing the bib of his Spanish club.
*Spain's Abdessamad Oukhelfen and Eritrea's Dolshi Tesfu Win At Alcobendas, Spain XC Meet
*MB: Fair or Foul: Guy DOMINATES IAAF Gold level xc meet in Spain but is DQd because he wasn't wearing the shirt of his sponsor
****
Quote of the Week (that wasn't quote of the day)
"I think they put on a show, and at the end of the day, you know, what do they say? [Did] you finish on empty? And they did. I'm proud of them."
– Newbury Park coach Sean Brosnan talking to the Los Angeles Daily News after the 2021 California state meet. I loved that quote as focusing on the process of training and effort in races is critical in running (particularly for teams where anything less than a win is going to be viewed as a failure). It is something the NAU men did tremendously well at the NCAA level this fall and Newbury Park did well at the high school level. In running, people often forget we often have little control over the outcome, unlike in traditional sports where what you do greatly impacts what the other athletes do. So focusing on yourself and your training and effort is the best way to do things.
Individual winner Colin Sahlman had similar sentiments as he said, "I gave it all out there, 100%, and you know, Lex and Leo, they were really pushing me that whole race. Especially that last 400 meters, I felt like I was sprinting forever."
###
Now let's get to the controversial topic. Is Sean Brosnan a great coach?
Or is he just lucky?
One California coach recently said something to me along the lines of, "If you simply take two families away from Newbury Park's district — the Sahlmans and Youngs — he's nothing special. They'd be really good like the girls' team (second at state) but nothing amazing."
My response: I don't get why these "debates" are always presented as either-or situations. Why can't the answer be "yes and yes"?
I don't care what sport you are talking about, a great coach can't win consistently and win big without talent, whether it's Mark Wetmore at Seton Hall or Nick Saban with the Miami Dolphins. But that doesn't mean that great teams don't often times have great coaches.
Even if you take the Youngs and Sahlmans off the scoreboard, Newbury Park's 5-6-7 runners are better than everyone else in the state's top 3 by a wide margin.
Top 3 Scores
(Newbury Park without the Sahlmans/Youngs)
1 Newbury Park 20 2-3-15
2 San Clemente 40 9-13-18
3 Great Oak 43 7-16-20
4 Davis 51 1-24-26
5 Loyola 56 11-21-24
*What Makes Newbury Park Cross Country So Dominant? Hint: It Starts With The Coach
*MB: CA State Meet Saturday — How many Newbury Park boys can break the Woodward Park course record: 0, 1, 2, 3, or 4?
*MB: Would Newbury Park have won D3?
*From The Archives: Sean Brosnan was the featured guest on our Track Talk podcast on March 26, 2020.
***
Stat of the Week
Ok, this isn't technically from last week but since last week's WTW was devoted exclusively to NCAA XC, I wanted to point out the following.
56:54 – half marathon pace that Jacob Kiplimo was on at 15k (40:27) when he ran his 57:31 half marathon world record in Lisbon on November 21. And that 15k split is record-eligible. So assuming everything gets certified as being accurate, it means that Kiplimo ran his first 15k at an average of 4:20.4 per mile pace, then he slowed to 4:30.3 for the final 6.0975 km.
MB: Jacob Kiplimo is an Absolute Phenomenon : 57:31 completely solo in Lisbon
****
Recommended Reads/Listen
If you haven't listened to the Conner Mantz interview we had on our special free edition of the Friday 15 podcast, please do so now. To hear him break down what was going through his mind when he was racing NCAAs was fascinating. And to hear him say how he views big races as fun, and how he wanted to fly to Valencia to go for the US half marathon record (he mistakenly thought there was a half in Valencia this weekend, there is just a marathon) made me think he's going to be a great pro. If you don't have time to listen to the podcast (which also includes an interview with NCAA women's XC champ Whittni Orton), read the highlights at the link below.
To see our favorite reads from other weeks, 
go here.
***
Quotes Of The Day And Last Week's Home Pages
To see the quotes of the day from last week or last week's home page or any home page, go to our archive page.
Got a tip, question or comment? Please call us at 844-LETSRUN (538-7786), email us or post in our forum.
Talk about this article on our messageboard. MB: Shhhh… Rojo thinks Weini Kelati may be the next great American distance runner + Is Sean Brosnan great or lucky?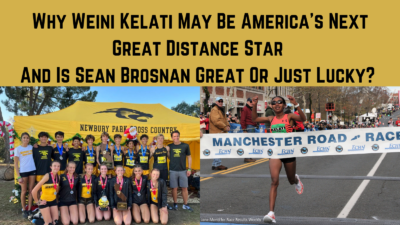 tw