Weini Kelati DESTROYS Manchester Road Race Course Record, Ben Flanagan Dominates Men's Field
By David Monti, @d9monti
(c) 2021 Race Results Weekly, all rights reserved
MANCHESTER, CONN. (25-Nov) — On a clear, cold and windless morning here Ben Flanagan and Weini Kelati ran away from strong fields at today's Manchester Road Race, held as an in-person event for the first time in two years due to the pandemic. Flanagan, a Canadian who lives and trains in Charlottesville, Virginia, slipped away from the field just before the two mile mark of the 4.748 race and won by 12 seconds. Kelati, an Eritrean-born athlete who became a USA citizen last June, zoomed away from the field just after the gun. She was never seriously challenged and set a new course record of 22:55, knocking an incredible 1:02 off the old record.
FLANAGAN SLIPS AWAY
Flanagan had run the race before in 2019 when he finished eighth, and he knew the course. After a flat and cautious opening mile (4:33) he was nestled in a big lead pack which included pre-race favorites like Drew Hunter, Leonard Korir and Sam Chelanga. As the course turned uphill for the notoriously-difficult second mile, Chelanga began to pull away from the field to try for the special "King of the Hill" bonus just before the two-mile mark on Highland Street. Flanagan was ready for that, and had prepared well under Reebok Boston Track Club coach Chris Fox, himself an excellent road runner.
"Anyone that comes to Manchester, 'King of the Hill' is a hot topic," Flanagan told Race Results Weekly. "They always run pretty hard and it's a very challenging stage of the race, because even after 'King of the Hill' there is one more really, really ugly hill that you got to get up. Training with Chris Fox in Charlottesville, we train hills all the time and I felt really comfortable, confident at that point in the race."
Article continues below player.
Just before the two mile mark (9:27/4:55) Chelanga accelerated to capture the $1,000 'King of the Hill' bonus. Flanagan didn't challenge him, but as soon as Chelanga eased-up Flanagan surged catching the rest of the field off guard.
"As soon as Chelanga slowed down after winning that 'King of the Hill' move I was like, 'we've got a good lead and I'm going to press, get by Chelanga, then I'm going to take on that downhill and grow that lead as big as I could."
The third mile at Manchester is steeply downhill. Flanagan made the left-hand turn onto Porter Street with a 10-second lead and barrelled down the hill. Chelanga was running alone in second and the rest of the field was further behind. A few minutes later, Flanagan was still striding smoothly but Chelanga had drifted back to the chase pack.
Flanagan ran the third mile in 4:18 and his lead had grown to 13 seconds. From the lead truck two-time Manchester champion Kim Smith (2004 and 2005), who often employed front-running tactics, looked admiringly at Flanagan.
| | |
| --- | --- |
| Overall | |
| Comfort | |
| Cushioning | |
| Durability | |
| Appearance | |
| Value | |
"It's like my kind of race strategy," a smiling Smith told Race Results Weekly. "Go out hard."
Flanagan held his pace for the flat fourth mile (4:20) and the field wasn't getting any closer. Victory would be his today, and Flanagan broke the tape smiling broadly with his index finger raised in the air. He became just the second Canadian man to win here; the first was Christian Weber in 1990.
"It was a calculated risk but fortunately it paid off," said Flanagan who is also a two-time Falmouth Road Race champion.
Behind Flanagan, Chelanga and Leonard Korir engaged in a a half mile-long battle for second on Main Street. Korir finally got the best of Chelanga inside of the last 10 meters, 21:35 to 21:37. Korir, a 2016 Olympian who is in the U.S. Army, said he was doing mostly military training for the last month and didn't know what kind of shape he was in.
"I was just coming here to test my training from the military and I wanted to see what I can do," said Korir. "I'm surprised I got second."
John Dressel (21:42) and Joey Berriatua (21:47) rounded out the top-5. Drew Hunter, who had won the USATF 5-K road running title in New York City 19 days ago, had an off-day and finished seventh.
KELATI LED FROM GUN TO TAPE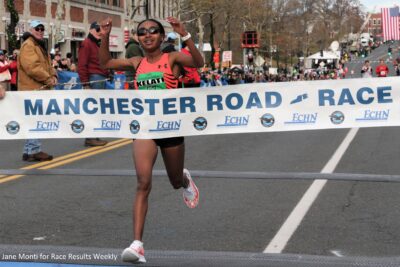 Kelati, who like Hunter had won the USATF 5-K road running title earlier this month, zipped away from the field from the gun and never looked back. Keira D'Amato, the 2:22 marathoner who hoped to challenge Kelati today, was in awe of Kelati's aggressive start.
"It's not the marathon," quipped D'Amato. "I thought it was going really well for me until I just got crushed. Weini just went out so fast; it made me feel like I was walking."
Indeed, D'Amato broke Buze Diriba's 2017 course record of 23:57 by 8 seconds, yet finished nearly a minute behind Kelati who clocked a neck-snapping 22:55. She averaged 4:50 per mile and picked up a total of $10,000 in prize money and bonuses.
"It was great," said Kelati moments after crossing the finish line and not looking the least bit tired. She continued: "I felt confident from the beginning, even though I go out fast I can handle it pretty well, and it works."
Third place went to two-time world marathon champion Edna Kiplagat of Kenya (24:04), fourth to Canada-based Briton Sarah Inglis (24:06), and fifth to Fiona O'Keeffe (24:15).
Behind the elite athletes, former Runners' World Editor-In-Chief Amby Burfoot completed the race for a record 59th consecutive year (he ran virtually last year).
Nearly 8,800 runners entered today's race.
Talk about the race on the LetsRun.com Messageboard: MB: Weini Kelati SMASHES Manchester Road Race (Ben Flanagan as well) .
Top 10 Men's Results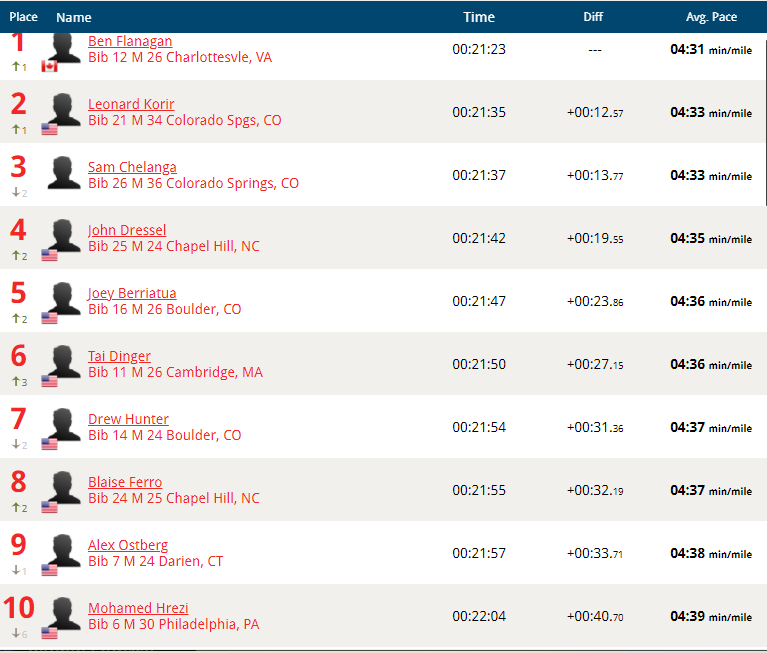 Top 10 Women 19-29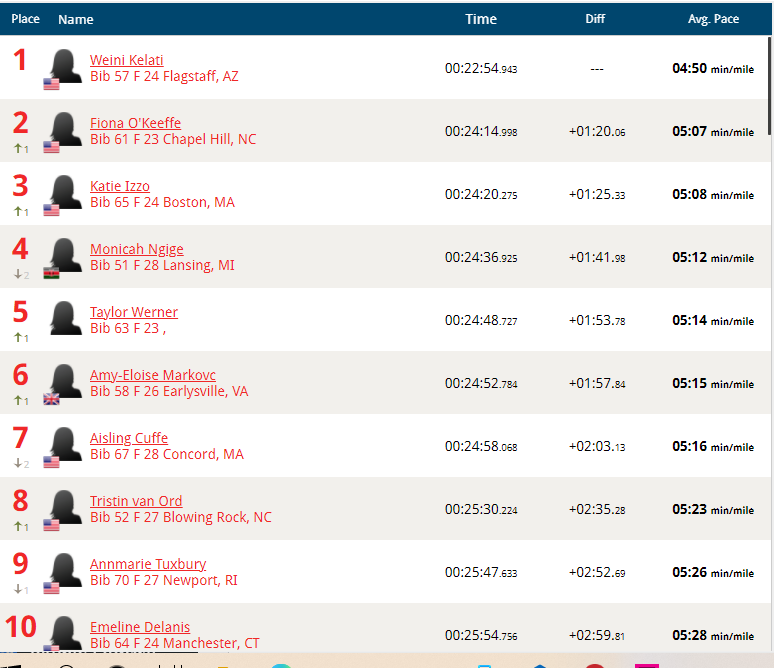 Top 10 Women 30-39
Top 10 Women 40-49