Drew Hunter and Weini Kelati Win 2021 USATF 5k Road Champs in New York
By LetsRun.com
November 6, 2021
NEW YORK — In December 2015, Drew Hunter and Weini Kelati stood atop a podium together in San Diego as Foot Locker national champions. Six years later, the two were reunited in Central Park as national champions once again, as each claimed a victory at this morning's USATF 5K road championships as part of the Abbott Dash to the Finish Line 5K.
The wins came in contrasting styles. Kelati, who entered as pre-race favorite after a commanding 31:18 victory at the Boston 10K for Women three weeks ago, wasted no time asserting herself on a crisp, sunny morning in New York. By 400 meters, she had gapped the field, and the 24-year-old would run unchallenged the entire way, breaking the tape in 15:18 to move to #6 on the all-time US road list. The Mammoth Track Club's Grace Barnett finished a distant second in 15:45, outkicking recently-crowned US 20K champ Erika Kemp (15:46).
Article continues below player
Hunter employed a more patient approach. The men's field featured a pair of Olympic medalists in Paul Chelimo and Matthew Centrowitz, and both would make bids to the lead. First it was Chelimo, who got out hard off the line and made another push up front at the one-mile mark. But he could not sustain it and would finish well down the field.
Instead, it was Sydney Gidabuday, the former DII star at Adams State, who led the way for most of the race, but he could not gain any meaningful separation. There were still a dozen men in contention during the final mile, and surprisingly it was the man with the fastest mile pb, Centrowitz, who hit the front with 800 to go. He succeeded in stringing out the field but could not drop everyone, and in the end it was Hunter who came over the top with a move of his own in the home straight to win it. Centro outkicked Gidaybuday right at the line to get second as all three men were credited with a time of 13:53; the top eight all finihed within five seconds of each other.
Analysis and athlete interviews below results.
2021 USATF 5k Road Results
Men's results
1.Drew Hunter 13:53
2. Matthew Centrowitz 13:53
3. Sydney Gidabuday 13:53
4. Graham Crawford 13:54
5. Eric Avila 13:55
6. Brian Barraza 13:56
7. Andrew Jordan 13:56
8. Joe Berriatua 13:56
9. Abbabiya Simbassa 13:58
10. Kasey Knevelbaard 14:00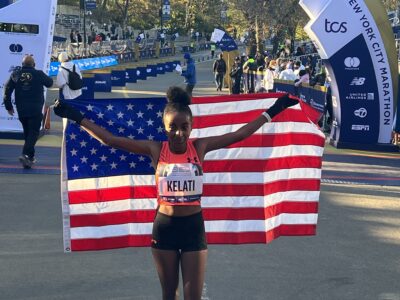 Women's results
1. Weini Kelati 15:18
2. Grace Barnett 15:45
3. Erika Kemp 15:46
4. Natosha Rogers 15:48
5. Lauren Paquette 15:49
6. Gwen Jorgensen 15:50
7. Amy Davis 15:51
8. Kim Conley 15:53
9. Sammy George 15:53
10. Maggie Montoya 15:55
He's back! Drew Hunter wins US title, excited by future prospects
2021 has not been an easy year for Drew Hunter. Before today, he had only raced once this year, a 3:40 indoor 1500 in February, after which he tore his plantar, which killed his spring track season — including the Olympic Trials. In the midst of all that, Hunter and his training group, Tinman Elite, went through a messy divorce with the team's coach and namesake, Tom "Tinman" Schwartz. When asked about his biggest challenges recently, he had a laundry list prepared.
"A torn plantar, the whole running world making fun of me all the time, a bunch of false accusations against my family and myself," Hunter said. "What else?"
Yet here Hunter is, still only 24 years old, and winning his second national title, to go with the indoor 2-mile crown he claimed on Staten Island in 2019. He was pleased with his run today, particularly because he is still only running 50-60 miles per week (he no longer has pain in his foot but still cross-trains a lot). But he is keeping his victory in perspective. It's nice to be fit now, but it doesn't mean much if he's not ready to go when it counts at USAs in June.
"This race is great, but nobody cares if you run really well here and nobody cares if you run super poorly here," Hunter said.
Staying healthy is the key moving forward, said Hunter, who is now being coached by his mother, Joan, who has moved to Boulder. The Hunters are in the process of selling their house in Virginia and moving to Colorado.
Even Drew's best year, 2019, was cut short as he had to give up his spot on the World Championship team due to injury.
"I feel like I've always belonged with all these guys, I just cannot put together six months of healthy training."
Discussion: 2021 US 5k champs official thread – He's BAAAACK. Hunter FTW over Centro!!!!
Weini Kelati is DOMINATING This Fall
Kelati has been on a roll this fall and taking advantage of her US citizenship which she got before the Olympic Trials, where she dropped out of the 10,000m.  
Kelati dominated the Boston 10K for Women last month, setting a course record and winning by nearly 40 seconds. Today she got another course record, beating Molly Huddle's 15:24 from 2017 by six seconds, and won by a whopping 27 seconds.
Kelati will run the Manchester Road Race later this month in Connecticut and then turn her sights to making the Worlds team in both the 5,000 and 10,000m.
Matthew Centrowitz is undecided between the 1500 and 5k for 2022
Centrowitz ran much better today than his last trip to New York, when he finished 14th at the Fifth Avenue Mile in September. That result was due in part to a calf injury, which caused him to take some time off from running. As a result, Centro didn't take his normal post-season break and instead headed to Flagstaff for an altitude camp this fall.
He hasn't been doing any crazy workouts, but after evaluating his 2021 season, Centrowitz realized that he may have left himself too much work to do too late. He didn't race at all indoors and raced 1:50.97 in his season opener. Centrowitz didn't show any serious fitness until running 3:35 in mid-May — just a month before the Olympic Trials.
If he is to compete with the Ingebrigtsens and Cheruiyots of the world, Centrowitz believes he needs to get fitter earlier. In his best season, 2016, he was on fire indoors and carried it through the whole year. He is hoping to do the same in 2022 — though, as with Hunter, staying healthy will play a big role in determining whether that happens.
"At my age, the longer you take off, the harder it is to get back into shape…" Centrowitz said. "When I have good years, I'm rolling all year. I'm not MIA during the indoor season and having a slow start."
We also asked Centrowitz whether he would focus on the 1500 or 5k in 2022. He said that he will make that decision later as his training over the next few months would look the same regardless of what event he chooses.
But he did get a reminder of what could have been when he saw his old Oregon roommate Chad Hall (2006 Foot Locker champ, brother of Ryan) in Flagstaff recently. Remember, Centro was the national 2-mile champion as a high school senior (running 8:41 in a memorable duel with Craig Forys) and was viewed as more of a 5k prospect than a miler.
"He's like, 'I can't believe you stuck with the 1500 for so many years,'" Centrowitz said. "I was like, 'I know, I was supposed to go to the 5k back when I was 19 years old.'"
Sydney Gidabuday mixes it up with the big boys
The last time Gidabuday ran this race in 2019, he finished 20th in 14:58. Today he was much improved, finishing third in 13:53, just behind Centrowitz and Hunter
Until this year, Gidabuday was among Hunter's training partners at Tinman Elite and in early March ran a personal best for 5,000 meters of 13:22 at the Sound Running Invite in California. Then after that race, he learned that Tinman Elite was firing Tom Schwartz.
"That was a huge PR that I had waited three years for," Gidabuday said. "So I felt very frustrated and I definitely spoke that out to the guys, and they understood."
In search of a steadier situation, Gidabuday left the team and started training with Richey Hansen and Roots Running, a group that also includes Noah Droddy and Frank Lara. So far, so good: Gidabuday ran 46:36 for 10 miles to take third at the Broad Street Run on October 10 and now has his first podium finish at a national championship.
Big Performance by Grace Barnett
Barnett was a surprise 2nd today. She has quietly been moving up the pro ranks. Originally a walk-on at Clemson, where she was the school mile record holder and 2nd team All-American, she joined the Mammoth Track Club but has a side job as a part-time STEM teacher. She finished 7th at the Olympic Trials in the 1500 this year, but showed today she has some pretty good endurance as well.
She said her goal coming in was to get top 10, and then it shifted to top 5. Beating everyone not named Weini Kelati was about as good as one could do today.
Paul Chelimo 16th place
Paul Chelimo had a fabulous 2021, winning the bronze medal at the Olympics. He then took a little time off and has only been training again for three weeks. The lack of fitness showed over the final half of the race and he finished 16th. Paul said he is focused on bringing home the 5,000m gold on home soil in Eugene next year.
Discussion: 2021 US 5k champs official thread – He's BAAAACK. Hunter FTW over Centro!!!!