Conner Mantz Wants to Break Ryan Hall's American Half Marathon Record
by LetsRun.com
November 28, 2021
Two-time reigning NCAA cross country champion, Conner Mantz, joined us on a special edition of the Friday 15 LetsRun.com Track Talk podcast and he revealed he may target Ryan Hall's American record in the half marathon at next week's USATF Half Marathon Championships at the Mortgage Network Half Marathon in Hardeeville, South Carolina.
Article continues below player.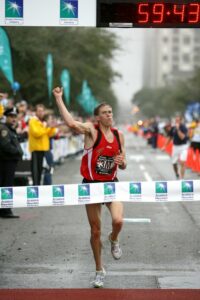 The American record is 59:43 set by Hall 15 years ago at the Aramco Houston Half Marathon. Hall's run was revolutionary at the time, but it was set a decade and a half ago.
"Super shoes weren't a thing when Ryan Hall was running… I think the half marathon might be, just how my training's been going and everything, that might be my best distance, like as of right now. And so I was thinking about it and I was like man… why not just go for it. I think it might be the easiest American record to break right now with super shoes being a thing," said Mantz.
Before the hype train totally leaves the station, a few caveats. Mantz said it's possible that he may not run the USA Half Marathon champs and even if he does, he may decide to just race and not go for the American record.
"It depends on a few things. If I get a contract in time [and] we're trying to see how the legs feel cause I really want to race cause I'm really fit right now," Mantz said.
Mantz said he started thinking about doing a half marathon before he defended his NCAA title, but coach Ed Eyestone told him to focus on NCAAs.
Now that Mantz has another NCAA title the American record attempt is appealing to him.  Mantz said Frank Lara's attempt at the American record in Valencia inspired him as did Jacob Kiplimo's 57:31 world record in the half marathon last weekend in Lisbon. "I don't think the American record should be that much slower than that. And so that gave me a little bit of confidence," he said.
Mantz knows the American record is a big ask in his first serious half marathon as an adult. "Maybe I'm my eyes are too big," he acknowledged.
You can listen to everything Mantz had to say about the possible half marathon record attempt and repeating as NCAA cross country champion in the podcasts player below or here on your favorite podcast app.
At the conclusion of the podcast, off-air Mantz said, "I'm not even sure I'll go for the American record" and acknowledged it isn't definite he does the race. "I'm 90% sure I'm going to do it [the race]."
Discussion: Conner Mantz may try and break Ryan Hall's American record in the half marathon THIS weekend