Conner Mantz and NAU Repeat as 2021 NCAA Cross Country Champions
by LetsRun.com
November 20, 2021
TALLAHASSEE, Fla. — Déjà vu.
Conner Mantz of BYU and the Northern Arizona men's team won the 2021 NCAA Cross Country titles to match the 2020* titles they won in March of this year.
Mantz became the first American male since Bob Kennedy to win multiple NCAA Cross Country titles, while NAU won its fifth title in the last six years. Can you say dynasty?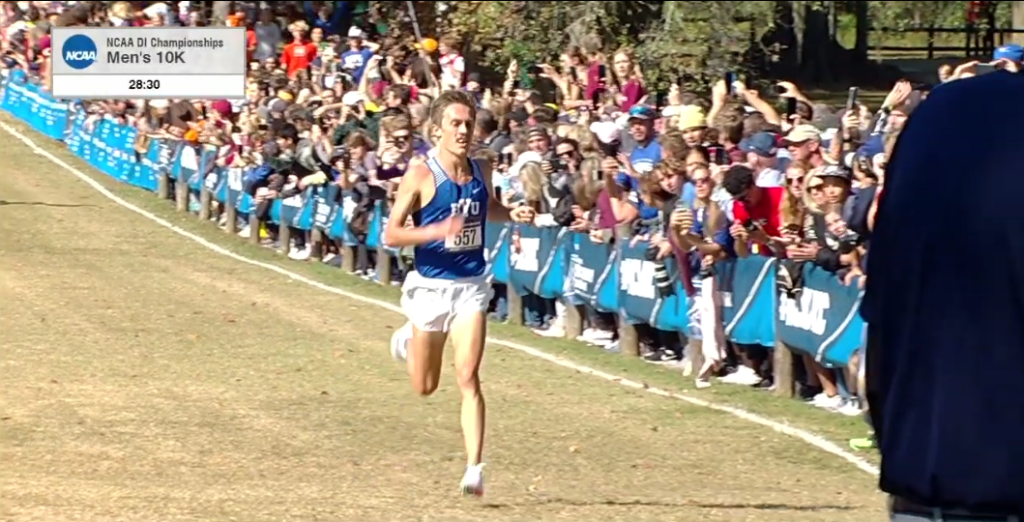 Notre Dame, the 2020 runner-up to NAU, got out hard and led at the 1k, 2k, and 3k splits. But once NAU took the lead at 4k, they were never challenged, as Notre Dame would fade to 9th. NAU scored 92 points and was led by Abdihamid Nur in 7th, Nico Young in 11th, and Drew Bosley in 13th. Iowa State, only ranked 6th in the last coaches' poll, finished second with 137, with Oklahoma State third (186), and Arkansas (195) rounding out the podium.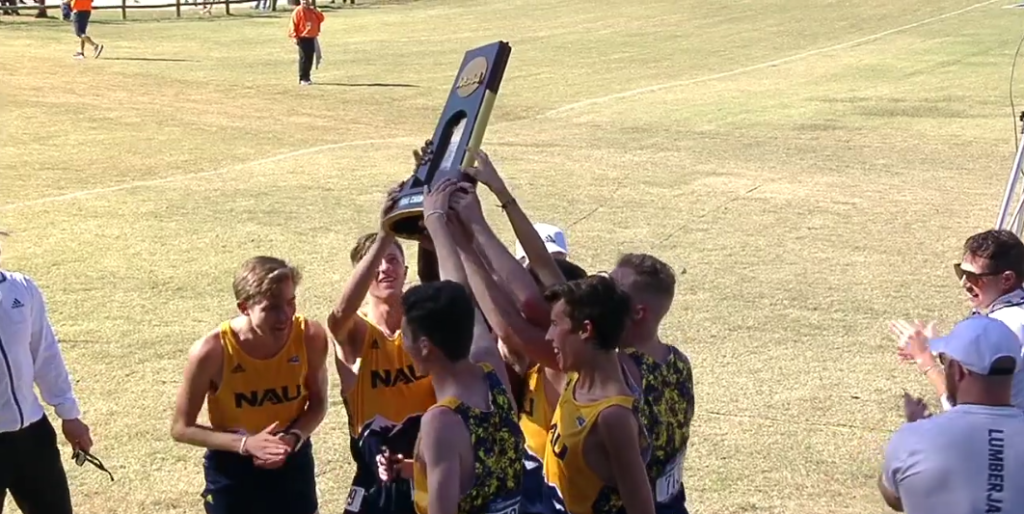 The individual battle was a great one. With a kilometer to go, the lead pack consisted of three: Mantz, Wesley Kiptoo of Iowa State, and Athanas Kioko of Campbell. Mantz began pushing on "the Wall" — the course's biggest hill — with 800m to go and it soon was single-file with a gap to Kiptoo and then a gap to Kioko. 
Kioko was not done, however. He would battle back on the final straight, passing Kiptoo, then Mantz. 
Kioko's move was not a winning one as Mantz had one more move in the tank. Kioko looked over his shoulder to see if he had dropped Mantz and the answer was he had not. Mantz went by in the final 400m and Kioko was done as Mantz cruised to his repeat title. Kioko had no response when Kiptoo went by and would finish third with Charles Hicks of Stanford a distant fourth.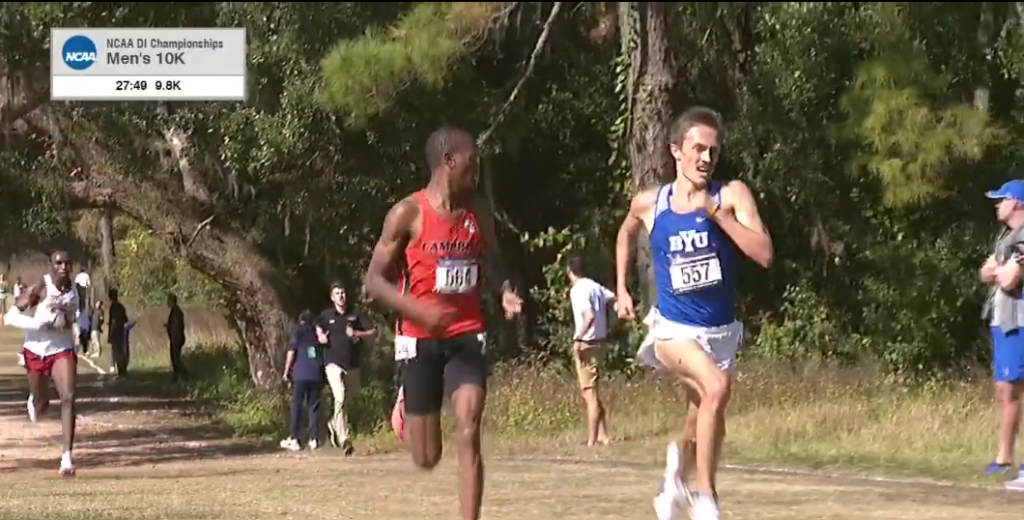 Mantz's winning time of 28:33.1 for 10k was a course record by almost 20 seconds and the fastest winning time at NCAAs since Texas Tech's Kennedy Kithuka ran 28:31.3 in Louisville in 2012.
Full analaysis with post-race video interviews appear below results. A full race replay appears at the bottom of this article.
Live thread: Official 2021 NCAA Cross Country Nationals DI Live Discussion Thread 
Top 10 Men's Results (More results here)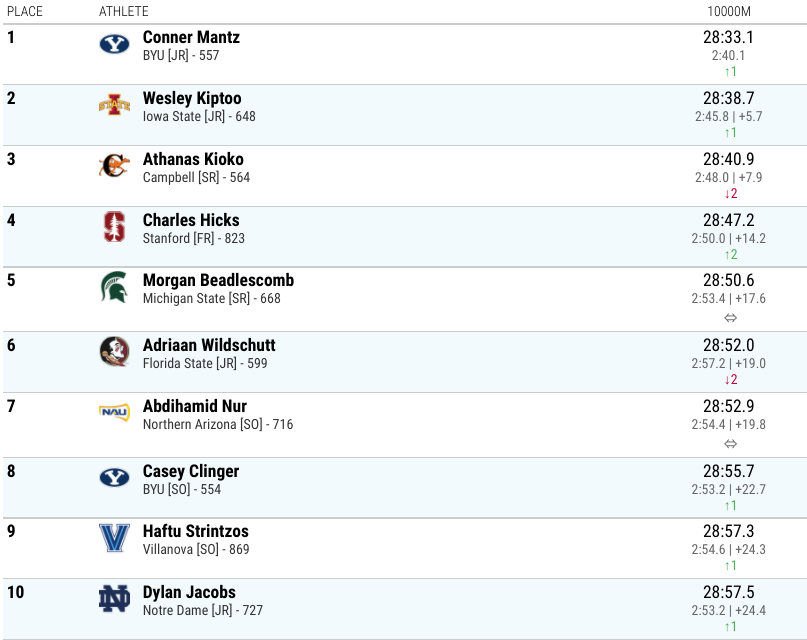 Top 20 Teams (More results here)
Quick Take: They don't come any tougher than Conner Mantz, who established himself as an NCAA legend today
Thirteen men have won multiple NCAA cross country titles. But in the last 50 years, only three Americans have done it: Steve Prefontaine, Bob Kennedy, and Conner Mantz. Not bad company.
Sometimes an athlete's brilliance is in how they make the incredible look routine. When Edward Cheserek was sitting and kicking his way to three NCAA XC titles, it made you wonder, why doesn't everyone just do that?
Mantz reminds you just how difficult these things are to win. When he won title #1 in Stillwater in March, he was dropped three times before finally dropping the hammer himself with two kilometers to go. Today, Mantz was gapped in the final straight, but grimaced his way through it, reeled in Kioko, and streaked his way to a second straight NCAA crown.
Article continues below player.
"It seemed like every so often, somebody new was taking the front and pushing it," Mantz said. "It wasn't just Kiptoo this time. I don't know if that was better or worse for me, but it all worked out. It was a tough W."
Mantz is more than just a pain-absorbing machine, however. He's also incredibly talented and today demonstrated his racing brain by holding off when Kioko made his move late.
"It was like an all-out sprint all of a sudden," Mantz said. "It was like, go with him [but not right with him] because this move is much too quick for anybody unless it's maybe Cheptegei or something like that. If he's as good as Cheptegei, he's going to beat me."
Mantz, who turns 25 next month, has another year of cross country eligibility, but confirmed he'll be turning professional now. He will be in high demand. Remember, until Mantz won in March, it had been 12 years since an American man won NCAA XC. Now Mantz has a rare honor: the first and (barring another pandemic) last man to win two NCAA XC titles in the same year.
Quick Take: The NAU dynasty rolls on…and shows no signs of stopping
We don't know what's scarier for the rest of the NCAA: that NAU won the NCAA title by 45 points today — or that their top five today consisted of a freshman, three sophomores, and a junior. When NAU coach Mike Smith took over the program in 2017, he inherited a national championship team from Eric Heins. All of those guys have since moved on, yet NAU remains the sport's dominant force.
Historically, NAU now ranks among the greatest dynasties in the history of NCAA XC. Only UTEP (six in seven years from 1975-81) and Arkansas (1990-95) have won five titles in six years. 
For more context, consider this. Colorado and Wisconsin, two of the most storied programs in collegiate distance running, have each won five NCAA men's team titles in XC, ever. NAU has now won the same amount — in just six years.
NAU coach Mike Smith said all season long the team focused on the process and themselves. He never mentioned the name of another team all season long or even talked about winning the NCAA XC championship.
Quick Take: NAU showed up, Notre Dame did not
We knew going into today's race that Northern Arizona had little margin for error. The Lumberjacks' established top four of Nur, Young, Bosley, and Kusche had to do their thing, and someone needed to step up at the #5 spot. And that's exactly what Brodey Hasty did. Hasty was 46th at NCAAs in '19 and 44th in '20, and he needed to produce another run like that today for NAU to win.
The catch? Hasty was only NAU's third man at Pre-Nats — in the B race. He then sat out of NAU's conference meet to get more training in and was only 30th at the Mountain Regional last week. But NAU coach Mike Smith believed in Hasty's experience, and Hasty rewarded his coach's faith today with a 39th place finish.
NAU — and specifically, Hasty, ran their best race of the season when they needed to. Theo Quax, was 114th. They would have lost without Hasty. 
On the other end of the spectrum, Notre Dame had its worst race in a number of years. The Irish, running five of its top six from the team that finished second in March with 87 points, got out hard and led at 3k but totally fell apart over the final 7k. At 3k, ND had all seven runners in the top 50. Over the final 7k, they collectively lost 439 places. Notre Dame's depth was supposed to insulate them from bad days, but when four of your guys have awful days, there's no way back from there.
Coach Sean Carlson had no regrets. The Irish ran to win and came up short. Behind NAU, the other teams on the podium all came from off the pace. At 4k, Iowa State was sixth, Arkansas was fifth, and Oklahoma State was 7th.
Quick Take: Wesley Kiptoo was proud to finish second and lead the Cyclones to their best finish in 27 years
Last year, Kiptoo may have cost himself the NCAA title by going out in 2:31 for the first kilometer, something that came back to bite him on a windy day in hilly Stillwater. Today, he barely led any of it. And while part of that was an effort on Kiptoo's part not to repeat last year's strategy, the truth is that he probably wouldn't have been able to gain much separation if he tried. The pace was fast from the gun (4:22 first mile), fast at 5k (14:16.4), and fast at the finish (Mantz ran the downhill final kilometer in 2:40.1). Put 255 of the best runners in the NCAA on a fast course on a perfect day for running, and there were going to be fireworks.
"Fastest course ever," Kiptoo said.
How fast were the NCAA guys today? Well before today, the course record was 28:52.5 by Shadrack Kipchirchir at the 2018 USATF XC champs. Kipchirchir is a 27:07 guy on the track, and Mantz broke his CR by almost 20 seconds.
Kiptoo said he felt "great" about second place — and he should. Trying to break everyone when the pace was this hot probably would not have ended well for Kiptoo. The fact is, Conner Mantz is just better than Kiptoo right now — Mantz is 4-0 in their meetings this year across track and two XC seasons.
Kiptoo was doubly happy as he led Iowa State to a runner-up finish, the program's best result since winning it all in 1994. Aside from Kiptoo, the Cyclones used a veteran roster to finish second today, with sixth-year senior Thomas Pollard (21st), fourth-year freshman Gable Sieperda (41st), fifth-year senior Festus Lagat (44th — a great run from a 1:45 800 guy stepping up), and sixth-year senior Ryan Ford (47th) all finishing in the top 50.
It's worth noting that in June, Iowa State parted ways with coach Martin Smith, with a curiously vague press release from Iowa State AD Jamie Pollard (Thomas's father), stating that "my personal observations over the last year convinced me that a change needs to be made." Smith was replaced as director by his longtime assistant Jeremy Sudbury, who is just 32 years old. So far, so good for Sudbury.
Quick Take: Oregon star Cooper Teare gained a ton of fans while finishing 4th-to-last
Teare, the 2021 NCAA 5000 champ who was 4th at the US Olympic Trials, was dreaming of a win coming into this one but he totally cratered over the final 1k and ended up crawling across the line.
He may have been 4th at the Olympic Trials but this was pure guts by @CooperTeare pic.twitter.com/9yjn23BtYU

— LetsRun.com (@letsrundotcom) November 20, 2021
Teare ran in the top 10 for the first 2k and was still in the top 25 at 7k but he totally cratered over the final 1k when he went from 40th to 247th.
"I'm just glad I gave it everything I had. I wanted to come away with this not having any regrets and not having anything left in the tank and I think I did that to the best of my ability today and it just wasn't my day. I think at a certain point you learn so much about yourself on these days than on the days when you have it all and it's easy. It's the hard days that really build the character," said Teare, who added that he was inspired by the "community" as in the last 400 many other competitors were trying to help him get to the finish line.
Harvard had three All-Americans and was led by Graham Blanks who was 23rd
Blanks entered Harvard this fall with the fastest 5000 pb by an American who had never run in the NCAA as the US HS record is 13:37 and Blanks ran 13:27 last year during a Covid-19 gap year. He'd been a bit under the radar all year as he wasn't Harvard's #1 man until regionals, but today he led the way again with a 23rd-place finish, as Matthew Pereira, the Ivy champion, was 35th and Acer Iverson was 40th as Harvard finished 12th.
The 23rd-place finish for Blanks made him the #2 American from the class of 2020 (Nico Young was 11th).
Talk about the race on our world-famous fan forum / messageboard.
Full Race Replay