Benson Kipruto Blasts 14:06 5k to Win 2021 Boston Marathon In 2:09:51 After CJ Albertson Tries To Steal the Show
By LetsRun.com
October 11, 2021
BOSTON — 26.2 miles. An entertaining 2021 Boston Marathon reminded the world that a lot can happen over that distance, especially on the unique Boston course.
Kenya's Benson Kipruto, the 2018 Toronto and 2021 Prague winner (2:05:13 pb), was the worthy winner after blasting a 14:06 5k from 35k to 40k to get the 46-second win in 2:09:51 ahead of 2016 Boston champ Lemi Berhanu of Ethiopia (2:10:37), who was one second ahead of countryman Jemal Yimer (2:10:38), the Ethiopian national record holder for the half marathon.
This was all after American CJ Albertson ran an incredibly gutsy race to steal the show the first 20 miles of the race — on his 28th birthday, no less. Albertson, the seventh placer at the 2020 US Olympic Marathon Trials (2:11:17 pb) who was best known before today for running a 2:09 treadmill marathon in the midst of COVID-19, setting an indoor marathon world record, and 50k world record (never ratified), is a strong downhill runner, and he wasted no time in going to the front as he seized the lead with a 4:32 downhill first mile. 
From there, he only extended his lead. At 10k he led by 1:37, at halfway (1:04:08) his lead was up to a lengthy 2:13.
The chase pack then started chipping away at his lead. At 25k he still led by 1:41, but his lead was quickly eaten into in the Newton Hills. Going up Heartbreak Hill on mile 21, the pack of 14 caught Albertson and went by him.
Article continues below player.
However, he was far from done. Once they started heading downhill again, Albertson rallied again to get back into second place, but soon the pack would run away from him. Albertson would hang on very well and manage a 4:51 final mile to nab 10th place.
The pack ran away from Albertson thanks to Kipruto. The Kenyan, with a 2:05:13 PB who won the Prague Battle of Teams Marathon this year in 2:10:16, made his push for home after mile 22 and it was no contest after that. Kipruto flew down the streets of Brookline and Bostoe with mile 23 in an unofficial 4:29, mile 24 4:25, mile 25 4:37, and from 25.2 to the finish in 4:34. The 2021 Boston Marathon was rightfully his.
Barhanu, who was a DNF in both Tokyo and Valencia last year, outkicked countryman Yimer in his marathon debut for second.
Colin Bennie of the Reebok Track Club was first American in 2:11:26 in 7th.
Analysis below results.
Top 25 Results
Weather: 62 degrees, cloudy, 90% humidity. Wind 8 mph out of the NE
 1 Kipruto, Benson (KEN) 2:09:51
 2 Berhanu, Lemi (ETH) 2:10:37
 3 Yimer, Jemal (ETH) 2:10:38
 4 Ayana, Tsedat (ETH) 2:10:47
 5 Barsoton, Leonard (KEN) 2:11:11
 6 Teshager, Bayelign (ETH) 2:11:16
 7 Bennie, Colin (USA) 2:11:26
 8 Debela, Dejene (ETH) 2:11:38
 9 Chebet, Wilson (KEN) 2:11:40
 10 Albertson, Cj (USA) 2:11:44
 11 Kandie, Felix (KEN) 2:11:48
 12 Robertson, Jake (NZL) 2:11:56
 13 Kirui, Geoffrey (KEN) 2:12:00
 14 Mengstu, Asefa (ETH) 2:12:11
 15 Gezahegn, Kelkile (ETH) 2:12:37
 16 Fauble, Scott (USA) 2:13:47
 17 Smith, Scott (USA) 2:14:29
 18 Nelson, Harvey (USA) 2:14:47
 19 Kiprotich, Filex (KEN) 2:15:03
 20 Mcdonald, Matthew (USA) 2:15:47
 21 Hogan, Paul (USA) 2:15:51
 22 Maiyo, Augustus (USA) 2:16:27
 23 Abdirahman, Abdi (USA) 2:19:23
 24 Toth, Thomas (CAN) 2:21:01
 25 Ndhlovu, Pardon (ZIM) 2:21:04
Quick take: This was super entertaining and major props to CJ Albertson
Sure, the most likely outcome was Albertson would get caught, but the fact he built such a big lead made the race interesting in a way that no other major marathon can be. The hills are what make Boston truly unique.
Albertson revealed afterward that he ran to his strengths. 
"My belief in myself is that I'm the best downhill runner in the world," said Albertson on the NBCSN broadcast after the race. "I wasn't running hard. I was just running ([to] what my strengths are. I'm good on downhills, not so great on uphills. For me to do as well as I could, I had to take advantage of the downhills as I'm not going to fly up the uphills like some of the runners."
Well, Boston is a net 480 feet downhill so he pressed where he felt he had an advantage and said he was content to chill on the uphills.
Plus he showed tremendous grit. With a mile to go he was in 14th, 16 seconds behind 10th place. He had been overtaken by the entire pack. Yet somehow he managed a 4:51 final mile to get 10th place? That really isn't supposed to happen to someone who had started out with a 4:32 first mile.
MB: CJ Albertson Appreciation /Prediction Thread 
Quick Take: Benson Kipruto's winning move was impressive
At 22 miles, the 2021 Boston Marathon was anyone's race. A dozen men ran bunched together in the lead pack, and the stage seemed to be set for an epic kick to the finish like the last Boston Marathon in 2019.
When you have that many guys still together late in a race, chances are a bunch of them are still feeling good. It takes something truly special to break them apart. And Benson Kipruto was truly special today. Kipruto's move, which he made coming out of Cleveland Circle onto Beacon Street, was so vicious that no one even tried to come with him. A 4:29 23rd mile gave him a lead of 20+ meters, and his sensational 14:06 5k from 35k to 40k left the pack 37 seconds in arrears and turned a close race into a laugher.
Now, that 5k segment features a big downhill. Mile 23-25 are 135 feet net downhill, which would help you roughly 24 seconds (the 3rd mile is aided by about 10 seconds by itself).
Regardless, Kipruto's first major victory was a long time coming: he's 30 years old, and this was his 10th career marathon. Kipruto has made steady progress since debuting with a 2:13 in Athens in 2016, and his last two results (6th in London last year, 1st in Prague in May) were encouraging. But for him to win in such dominant fashion today was a surprise.
Quick Take: Kipruto did not realize Albertson had dropped the pack until they wound up passing him
One of the great things about championship-style marathons like Boston is that you never know what is going to happen. Races like Berlin and London produce faster times, but there is rarely any drama during the first 30k of those races because all of the major players stay with the pacemakers until that point.
Remove the pacemakers and all sorts of things can happen, such as Meb Keflezighi breaking away early to win Boston in 2014 or CJ Albertson opening up a two-minute gap at halfway today.
Amazingly, Kipruto revealed in the winners' press conference that he did not even realize Albertson was leading until the chase pack caught him at 21 miles. Good thing someone was paying attention!
Quick Take: Some may have viewed what Albertson did as a stunt. Not us.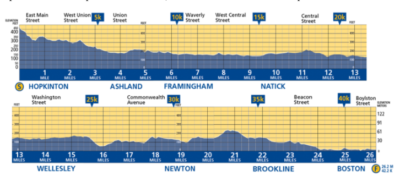 The first 4 miles of Boston are WAY downhill. The first mile is a net 130 feet downhill, the second loses 40 feet, the third 55, and fourth 85. 
According to LetsRun.com coaching/stat guru John Kellogg, each 10 feet in elevation loss is worth 1.8 seconds. So the first 4 miles is 55.8 seconds fast due to the downhill.
Albertson said after the race he planned on running the first four miles in 19:00 flat. So that would be the equivalent of a 19:55.8. 19:55.8 is 2:10:38 marathon pace and CJ came into the race as a 2:11 guy.
Now, he got a little jazzed up and ended up running it in 18:47. Add 55.8 seconds to that and he ran it in the equivalent of 19:42.8 — that's 2:09:13 pace, which isn't crazy for a 2:11 guy. Though it was being run into a slight headwind (7-8 mph).
Most observers assumed that once the pack caught Albertson on Heartbreak Hill that he would fade horribly. But that was not the case. He was dropped initially, but rallied by running his 22nd and 23rd miles in 4:47 and 4:44 and was back in second when Kipruto began his winning move. He actually caught four guys in the final mile to finish 10th in 2:11:44.
Albertson said that his plan was to open a big lead early to help drive up traffic on LetsRun.com.
"I wanted to give your guys, your messageboard something to talk about, give you guys some hits, try to help you guys out," Albertson said.
Thank you, CJ. 
CJ said he was joking about the hits to LetsRun.com. In reality, he said his key was to "know the runner you are." And that meant taking advantage of the early hills.
Did Albertson expect to open up a two-minute gap and lead through 20 miles?
"Never in a million years."
But overall, Albertson said, he executed the race the way he wanted to. He would have liked to have closed faster — "ideally I'd like to be able to go out at 64:00, come back at 64:45" — but whether he was speeding down the early downhills or slowing up the Newton Hills, Albertson said he wanted to stay within himself. He felt he did that, and it's hard to argue with the result. 
Quick Take: Colin Bennie continues his terrific start to his marathon career
Colin Bennie is officially one of the best marathoners in the United States. The 26-year-old has been overshadowed for pretty much his entire running career. Though Bennie was a 9:07 2-miler and Massachusetts state champion in high school, he was initially overshadowed by older brothers Graham and Jeremy, a senior and sophomore, respectively, when Bennie joined the team at Wachusett High School as a freshman.
In college at Syracuse, it was two-time NCAA champion Justyn Knight who earned most of the plaudits.
And even now as a pro with the Reebok Boston Track Club, Bennie has been overshadowed by his teammate (and fellow Syracuse alum) Marty Hehir. Bennie was 9th at the Olympic Trials last year in his debut and ran a 2:09:38 pb at the Marathon Project, taking 3rd. But Hehir was 6th and won the Marathon Project in 2:08:59.
But today, Bennie got the spotlight all to himself, running a smart, patient race to finish as the top American in 2:11:26 in his "hometown" marathon (Bennie grew up in Princeton, Mass., 60 miles west of Boston). Ever modest, Bennie was asked after the race on the WBZ4 broadcast if he now had the best Boston result in his family and would not even go that far. But it's obvious that Bennie is a terrific marathoner, and at age 26, he still has room to grow.
Quick Take: Jordan Tropf completes an amazing triple

Medical resident Jordan Tropf of the US Navy had an amazing weekend. Tropf, who sports a 2:25:23 marathon pb, successfully completed his three marathons in three days challenge today with a 2:32:13 clocking after a 73:31 first half.
This came after he ran 2:27:23 on Saturday in Baltimore and 2:31:54 in Chicago yesterday. How in the world he only slowed by 19 seconds from yesterday is beyond us.
Total cumulative time: 7:31:30. Average time: 2:30:30. 
That's got to be a world record. If it hadn't been so windy yesterday and there hadn't been a headwind today, he could have averaged under 2:30.
MB: Resident in orthopedic surgery runs 2:27:23 on Sat. in Baltimore, 2:31:54 on Sun. in Chicago and 2:32:13 on Mon. in Boston!!
Boston Discussion below: