2021 Monaco Women's Recap: Kipyegon Runs 3:51.07 to Beat Hassan, Coburn Falls in Sub-9:00 Chase & Muir Runs Huge PB (1:56) to Win 800
By LetsRun.com
July 9, 2021
The star-studded fields at the Monaco Diamond League promised fast times, and there were plenty of them on Friday, led by Faith Kipyegon's stunning 3:51.07 to defeat reigning world champion Sifan Hassan in the 1500 meters. Kipyegon missed the world record by exactly one second to move to #4 on the all-time list.
There was also a win for Laura Muir (1:56.73), who went 1-2 in the 800 with training partner Jemma Reekie (1:56.96) to become the second and third Brits ever under 1:57 (American Kate Grace PR'd again in third in 1:57.20). Grace's Team Boss squadmate Emma Coburn was not as fortunate, as she fell on the final water jump chasing her first career sub-9:00 and had to settle for fourth in the women's steeple in 9:09.02 as Hyvin Kiyeng won in 9:03.82.
In non-distance action, Shaunae Miller-Uibo won the much-hyped 200 in a somewhat-disappointing 22.23, while American Katie Nageotte kept rolling by winning her fifth pole vault competition in a row.
Full recap and analysis of the women's events in Monaco below. The men's recap is here: 2021 Monaco Men's Recap: Timothy Cheruiyot Wins (Again) in 3:28 PB, Nijel Amos Is Back, & Chaos in the Steeple After Bell Is Rung a Lap.
Women's 1500: Kipyegon takes down Hassan to move to #4 all-time
On the same track where Genzebe Dibaba set the 1500 world record in 2015 and Sifan Hassan set the mile world record in 2019, Kenya's Faith Kipyegon added to Monaco's rich middle-distance history by running 3:51.07 to move to #4 on the all-time list, missing the world record by exactly one second.
With Hassan requesting world-record pace (61 seconds per lap), the early going was quick, with the field strung out behind pacer Chanelle Price just 300m into the race. After a 61.41 opening lap, Price stepped off after reaching 800 in 2:03.55. Only three women remained behind her: Hassan, Kipyegon, and Ethiopian Olympic trials winner Freweyni Hailu. Shortly after the bell, Hailu fell off, leaving Hassan and Kipyegon to battle it out as they did in Florence a month ago. This time, however, Kipyegon was stronger, going wide with 110 meters to go and attacking with a move that Hassan could not match. She put over two seconds on her down the home straight to win thanks to a 59.7 final 400 — a seriously fast close in a race won in 3:51.
Article continues below player.
Hassan still managed a fine run for second — her 3:53.60 today was actually faster than what she ran in Florence — while Hailu was third in a pb of 3:56.28.
Quick Take: Kipyegon is your Olympic favorite…and may have just scared Hassan away from the 1500 in Tokyo
Until this year, Kipyegon did not have the PRs to match Hassan or Dibaba. But based on her hardware — two global golds (2016 & 2017) and two silvers (2015 & 2019) — Kipyegon has a strong case as the greatest 1500 runner of her generation. That's probably already the case, but a win in Tokyo would cement it, and that appears quite likely now.
Leading up to Monaco, Hassan, perhaps buoyed by her win over Kipyegon in Florence, floated the idea of an Olympic 1500-5k-10k triple. And if you're beating the reigning Worlds silver medalist in Kipyegon, why not try it?
As track fans, we'd love to see Hassan still go for the triple. But the manner in which Kipyegon destroyed her over the final 100 today might convince Hassan and her coach Tim RowBerry to stick to just the 5k/10k, because based on today's result, Kipyegon is on another level.
Kipyegon was a teenage phenom, winning the World Youth title in 2011 at age 17 and the World Junior title in 2012 at age 18. But now, at age 27, and after giving birth in 2018, she is running faster than ever.
"I came back after giving birth and I feel like a role model for the young mother out there and the young athletes," Kipyegon said after the race. "I hope to show them that when you go for maternity leave, this does not mean the end of your career. You can come back strong and win races." 
Kipyegon is now #4 on the all-time list, behind only Dibaba (3:50.07), Qu Yunxia (3:50.46), and Jiang Bo (3:50.98). Any time run by a Chinese woman in the '90s is suspect, and thought there is no evidence linking Dibaba directly to performance-enhancing drugs — she's never tested positive or served a ban — there have been questions about Jama Aden, the man who coached her to a world record in 2015.
Quick Take: Americans come up short in PR chase
Soon-to-be US Olympians Heather MacLean and Cory McGee came to Monaco in search of fast times. Neither MacLean (4:03.63) nor McGee (4:04.20) ran poorly tonight — MacLean ran her second-fastest time ever, McGee her fifth-fastest — but if you don't bring your A game in Monaco, you will finish way down the field, and that's what happened tonight as MacLean was 10th and McGee 11th. 
McGee might have actually had something close to her A game. She ran very aggressively and went for a big one as she hit 800 in 2:07.4 and was in 5th place. She actually was still in 5th place with 100 meters to go but took nearly 18 seconds to run that (17.9 – splits here).
Women's steeple: Kiyeng wins again, Coburn falls on final water jump and misses another chance at sub-9
American steeplechase fans experienced shades of Evan Jager's 2015 Paris Diamond League performance in this race, as Emma Coburn missed out on a chance at her first Diamond League win in seven years and first career sub-9 minute performance (and American record) when she fell off the final water jump. Coburn was running a strong race and neck-and-neck with leader Hyvin Kiyeng at the jump, but she struck the front of the barrier with her midfoot and landed awkwardly in the water, stumbling, falling, and slapping the track in frustration. Unlike Jager's race, in which there's no question that he would have broken 8:00 and won the race before he fell on the last barrier, there's no telling whether Coburn would have broken 9:00 or even won this race, but she closed a big gap to Kiyeng on the final lap and would have been close.
Instead, 2015 world champ Kiyeng won in 9:03.82 for her second Diamond League victory in six days, while Coburn faded to fourth in 9:09.02, still less than a second off of her seasonal best. World record holder Beatrice Chepkoech and Bahrain's Winfred Mutile Yavi passed Coburn after the fall and finished second and third, respectively.
Former Princeton runner Elizabeth Bird ran a British record of 9:22.80 for 7th.
The race
Unlike her race in Stockholm, Chepkoech did not go out too hard, allowing Kiyeng to lead the racers behind pacemaker Fancy Cherono. Cherono perfectly paced the field through 1k in a quick 2:58.78 and from there, Kiyeng controlled the race, adding surges to try to break the field. With four laps to go, Kiyeng opened up a small gap on Coburn and the field, but the top four runners bunched up again with three laps to go.
Kiyeng led at 2k in 6:00.84 and threw in another surge, gapping Coburn with 2 laps to go. At the penultimate water jump, Kiyeng led Coburn by 10+ meters and Coburn was 10+ meters ahead of Chepkoech and Yavi. Kiyeng was at 7:45 at the bell while Coburn was around 7:49, but Kiyeng looked spent, slowing down with 400 to go. Kiyeng mentioned after the race that she kicked a lap too early.
"There was some confusion because you saw I was starting to go very fast because I saw one lap remaining and after that one I heard the bell again, so that confused me, but I still won, so I am very happy," Kiyeng said.
Coburn closed the big gap and pulled even with Kiyeng with 200 to go, but did not pass. She went to the inside on the water jump but misjudged her leap and fell. The lost time cost her second place as Chepkoech and Yavi kicked away to run 9:04.94 (seasonal best for Chepkoech) and 9:05.45.
Quick Take: Coburn flew too close to the sun but still ran well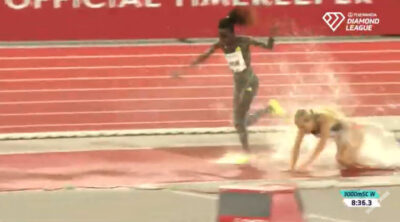 The fall was clearly disappointing for Coburn, as she's been chasing the sub-9 for years and opportunities for fast races can be limited. She may have bitten off slightly more than she could chew by trying to cover Kiyeng's various surges, as she looked tired before the fall, but this performance should not be discouraging. Coburn ran 9:08.22 to open her season May 28 in Doha, nearly six seconds behind Yavi. Today she ran 9:09.02 with a fall and getting up slowly. She would have been well under 9:08 and beaten Yavi soundly had she not fallen. Clearly Coburn's fitness is good and she will be a major player in Tokyo.
Ugh that was was 99% perfect….but it has to be 100%. Big fall on the last water jump cost me the win and a potential PR and record. Damn damn damn. Onto the next.

— emma coburn (@emmajcoburn) July 9, 2021
Quick Take: Kiyeng is your Olympic favorite
Kiyeng is a former world champ, current Kenyan champ, and won two Diamond Leagues against good fields in six days. Today her pacing was uneven and she kicked a lap too early and yet she still won with a seasonal best. Chepkoech broke the road 5k world record this year and improved in each of her three steeple races, but lost to Kiyeng in all three and looks to be far from her 2018 (world record) and 2019 (world champion) form. Unless world leader Norah Jeruto, who has not raced since May and is reportedly attempting to compete for Kazakhstan, finds a way into the Olympics, it will take a big performance for anyone to beat Kiyeng in Tokyo. Coburn, Chepkoech, Yavi and 20-year-old Ethiopian Mekides Abebe (9:02.52 this year) are the biggest threats to join Kiyeng on the podium.
Women's 800: Laura Muir wins a wild race
Many of the races in Monaco were billed as Olympic previews, but two of the top three finishers in tonight's women's 800 will not be running the event in Tokyo. Race winner Laura Muir, who took almost two seconds off her personal best to win in 1:56.73, was named to the British Olympic team in both the 800 and 1500 but announced yesterday she would only contest the 1500 in Tokyo. Third-placer Kate Grace — who ran 1:57.20, her third pb in nine days — did not make the US 800m team as she was only 7th in the Olympic Trials.
The race itself was crazy, and it began before the gun was even fired. Despite 10 women starting the race, lane 6 was inexplicably empty (Grace was listed as starting in lane 6 but she shared lane 8 with the pacemaker instead).
Once the race began, pacemaker Sahily Diago Mesa went out way too quickly even though the track featured pacing lights. Despite slowing before the end of the first lap, she still came through in a ludicrous 54.80, well ahead of the 57-second first 400 that was assigned. Mesa's Cuban countrywoman Rose Mary Almanza, the winner in Stockholm on Sunday, was the only one who came close to following Diago Mesa, and though she hit 400 as the first racer in 55.7, the rest of the pack was already starting to reel her in and she would fade to last in 1:58.51. (Yes, the race was that deep that Almanza ran 1:58 and finished last).
Jamaica's Natoya Goule, the runner-up in Stockholm behind Almanza, took the lead with 300 to go, with Grace sliding into second just before the final turn. Entering the home straight, Goule still led by a meter, but Grace, Muir, and her training partner Jemma Reekie were coming for her hard.
That remained the case midway down the home straight, but with Grace drifting (legally) away from the rail to prepare to pass Goule, Muir found herself squeezed out and blocked behind them. Which was unfortunate, because she had the most left of anyone in the race.
With 50 meters to go and no room to move in lanes 1 or 2, Muir took four steps to her right into lane 3. Finally, she had room to run, and she took advantage. Just 25 meters from the finish line, barely two seconds after Reekie had passed Goule into the lead, Muir passed Reekie on the outside to claim the win as the two training partners became just the second and third Brits to break 1:57 — Muir winning in 1:56.73 and Reekie second in 1:56.96.
Quick Take: Is Muir regretting her decision to focus on the 1500 in Tokyo?
In our race preview, we wrote that Muir should ditch the 800 in Tokyo if she didn't contend in this race. Muir didn't even wait to see the outcome, announcing on Thursday that she would run the 1500 only and ceding her 800 spot to Alexandra Bell.
Muir may be rethinking that decision given what unfolded in Monaco tonight. Racing against most of the top Olympic 800 contenders (minus the Americans), Muir won in a huge personal best of 1:56.73. Meanwhile in the 1500, Faith Kipyegon ran 3:51.07 — a time over four seconds faster than Muir's personal best — to win in dominant fashion.
That being said, 1500 is still Muir's best shot at a medal. The runner-up in the 1500 tonight, Sifan Hassan (3:53.60), may not even run the 1500 in Tokyo, and outside of Kipyegon and Hassan. Gudaf Tsegay and Shelby Houlihan won't be running the 1500 at the Olympics either, which means of the four women who beat her at the 2019 Worlds, it's possible only Kipyegon will be in Tokyo. Meanwhile, in the 800, if you add in Athing Mu, Raevyn Rogers, and Ajee' Wilson, Muir could easily be pushed off the podium.
But if she wants the gold, the 800 could be Muir's best shot. Mu is in incredible form right now, but Kipyegon is even better and has an incredible championship record.
Laura Muir on whether she regrets dropping the 800m for the Olympics after going second on British all-time list:

"No. I wanted to give myself the best chance of winning an Olympic medal. The 1500m is my stronger event. There's an awful lot of people who can run 1.56 for 800m."

— Ben Bloom (@benbloomsport) July 9, 2021
Quick Take: Kate Grace's fine European season continues
After failing to make the US Olympic team in the 800 meters, no one would have blamed Kate Grace for staying home and enjoying the Fourth of July weekend with a barbecue. The 32-year-old Grace had other plans, running a 1:57.60 pb to win in Oslo just four days after the Trials. Grace PR'd again with her 1:57.36 in Stockholm on Sunday and again today with her 1:57.20. That is how you bounce back from disappointment.
Quick Take: The world champion PR'd and finished 7th
This was an exceptionally deep race, with six women breaking 1:58 and all nine finishers running 1:58.51 or faster. It was so deep, in fact, that Halimah Nakaayi of Uganda, the reigning world champion, ran a personal best of 1:58.03 and still only finished in 7th place.
Women's 200: Miller-Uibo comes from behind to win
Midway through the women's 200, Shelly-Ann Fraser-Pryce and Marie Josée Ta Lou were way ahead of Shaunae Miller-Uibo but Miller-Uibo ran them down and got the win in 22.23, just ahead of Ta Lou who ran 22.25 as Fraser-Pryce totally misjudged this one and faded to a 22.48.
American Gabby Thomas, the world leader, scratched from this event yesterday. Considering Thomas ran 21.61 at USAs, the times tonight won't intimidate her in the least. But by the transitive property, the winner tonight ran fairly similar to what Thomas did at USAs. At USAs, Thomas beat Tamara Clark by .37 and Dezerea Byrant by .63. Tonight Miller-Uibo beat Clark by .72 and Bryant by .56.
Final, Wind: +0.7
Field events
Women's triple jump: Rojas is beaten for the first time since 2019
Two-time defending world champion Yulimar Rojas of Venezuela entered tonight's competition riding a 10-meet winning streak that dated back to the end of the 2019 season. She had — by far — the longest jump of the competition tonight, going 15.12 meters in round two, well ahead of Shanieka Ricketts' 14.75. Yet because of the Final 3 format, Rojas had to have the best jump in round 6 to win the competition, and though she uncorked a monster, she also stepped beyond the line and fouled, leaving Ricketts as your winner (she went 14.29 in round six as the other finalist, Patricia Mamona of Portugal, also fouled).
Women's pole vault: Nageotte stays hot
US Olympic Trials champion and world leader Katie Nageotte continued her hot streak today, winning her fifth consecutive competition with a clearance of 4.90 meters. She was the only woman to clear 4.90 and then took three attempts at her PR height of 4.96. Reigning world champion and Authorized Neutral Athlete Anzhelika Sidorova was second with a 4.80 clearance, but she passed her second attempt at 4.90 and could not clear 4.96. Two-time global champ Katerina Stefanidi of Greece also cleared 4.80. American Sandi Morris was jumping on borrowed poles, as hers didn't make it to Monaco on time and she borrowed some from Renaud Lavillenie, but she could only manage an opening-height clearance at 4.50 meters.
Women's javelin: Spotakova wins
40-year old Barbora Špotáková, the 2008 and 2012 Olympic champ, came up clutch in round six with a 63.33 throw – her longest of the season (previous sb was just 61.38) and that was enough to give her the win in the "best 6th round throw wins it" format. 2021 world leader Maria Andrejczyk of Poland, the third longest thrower in history, only managed a 58.01 in round six. Andrejczyk did have the longest throw of the night, however: 63.63 in round 1.
Špotáková's mark was a new masters WR. We're wondering if she's the oldest DL winner in any event?
MB:Barbora Špotáková won the javelin in Monaco at 40 today. Is she the oldest DL winner ever?
BARBORA SPOTAKOVA WORLD MASTER RECORD (40+) WITH 63.08m 🔥🔥🔥

— tms (@TnFtms) July 9, 2021