Scott Fauble: Does HOKA's Fastest American Pro Get to the Top of American Distance Running at the Trials?
HOKA Trials Athlete of the Day #15
by LetsRun.com (sponsored by HOKA ONE ONE)
February 24, 2020
February is Marathon Month on LetsRun.com as the month ends with one of the greatest events on the athletics calendar, the 2020 US Olympic Marathon Trials in Atlanta. From the contenders, to the dreamers, to the mountain men and women, HOKA ONE ONE has 17 athletes competing at the Trials, and LetsRun.com is partnering with HOKA to profile all of them. We hope these profiles not only show you the cool stories of the people who will be racing in Atlanta, but also help get you pumped for the Trials, and gives you some advice for your own running. 
Article continues below player
Our last HOKA male profile is on the fastest HOKA ONE ONE American pro, 2:09 marathoner Scott Fauble.
This content is sponsored content for HOKA, but not approved by them.
Scott Fauble is in one of the most enviable and least enviable positions in all of America running. Heading into the Olympic Marathon Trials, he's the most credentialed guy in the field who has not made an Olympic team.  At the last Olympic Marathon Trials, he finished 4th in the 10,000m. Since then, he's run 2:09:09 in the marathon to finish as the first American in Boston last year. The only guys in the Trials field who have run faster, Galen Rupp (2:06:07) and Leonard Korir (2:07:56) both were 2016 Olympians and so was Jared Ward, the only other guy under 2:10 in the field.
Scott is right on the cusp of making his first Olympic team, but there are a slew of guys knocking on the door right behind him, as 4 other Americans in the field have run 2:10 in the marathon, and 9 have run 2:11, including his HOKA NAZ teammate Scott Smith. Fauble is so close to the Olympics, yet so far away. He represents the beauty of the Trials better than anyone.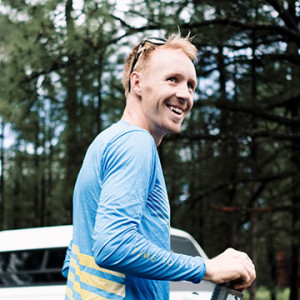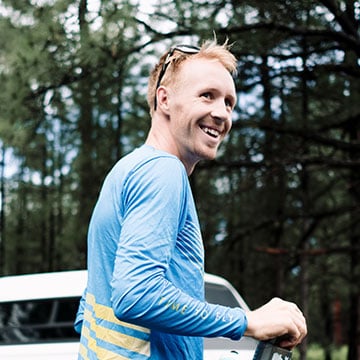 We're going to drop a special podcast with the NAZ Elite Pro men tomorrow, and in it Scott talks about how he is fit and ready for his chance in Atlanta. Since his Boston marathon run, he took off the fall marathon season and sorted out some biomechanical issues. "I think I'm smoother than ever. I'm moving a little bit better than ever. And I think physiologically, I'm just as fit as I was before Boston. So hopefully, all those rehab exercises will put me at a level that I wasn't at before Boston," he said.
In high school, Fauble was a Foot Locker finalist, but not on the podium. In college he was better with two top 20 NCAA XC finishes, but not on the podium. Does he get on the podium in Atlanta?
Here's Scott' Trials Q&A:
---
Name /Nickname: Scott Fauble/ Faubs
Age: 28
Hometown: Golden, CO
High school: Wheat Ridge High School/ 2010
College: University of Portland/ 2015
Occupation: Professional Runner
Training Group: HOKA NAZ Elite
Top qualifying mark for  Trials? 2:09:09 Boston Marathon
High school claim to fame: State Championship Cross Country team, State Champion Cross Country, Footlocker National Finalist, State Champion 4 X 800m relay, State Champion 1600m
College claim to fame: 3 time Cross Country All-American, 28:43- 10,000m, 2 time nationals qualifier in the 10,000m
Post college claim to fame: 4th place 2016 Olympic Trials 10,000m, 2017 World Cross Country Championships Competitor, 2018 NYC Marathon 7th Place, 2019 Boston Marathon 7th place. 28:00- 10,000m, 1:02:18- Half Marathon, 2:09:09- Marathon
Training shoe: Clifton 6 or Rincon
Racing shoe: Carbon Rocket
One random fact about myself I want people to know: My hidden talent is using a very large knife to poke holes in beer cans for the purpose of shotgunning that beer. I am very good at not spilling the beer when I stab the can.
Road to the Trials
How did you start running?  
I started running in 5th grade. I pretty much played every sport growing up and one summer, my mom signed me up for the local track program. I found out that I was pretty good right off the bat. After that, my parents and I started looking for more and more opportunities to run and race. So, I did Junior Olympics, cross country races, road races, kind of everything I could and as I got older and proportionally smaller compared to my peers, other sports slipped away. When I was in high school, I had a really good coach, and a really good team. I was working out with guys who were older than me and that was kind of when I really started to get a lot better- especially at cross country. Eventually that took me to college where I had a great time under coach Rob Conner. I always liked racing, but I think I started to love training when I was in High School. I didn't have a lot of close friends at my high school but I really felt like I bonded with the older guys I was training with and that was really fun- to get to spend time outside with friends. Then in college, I made some friends that remain my best friends to this day and that also made me fall in love with training. There's something about logging 100 mile weeks in the Portland rain that bonds you with the people you're around.
How long have you dreamed of the Trials/Olympics?  
I guess since I started running, but I always thought that I would be a miler.
What does it mean to make the Trials?
This is my second Olympic Trials so I think maybe the mystique and romanticism has worn off a little. I am mostly excited to race really really good people and to compete with the best runners in the country.
What's your goal for the Trials?
To win.
What do you think of the course?
It's hilly, it's going to be hard, but I think that suits me. There are going to be lots of opportunities for other people to tap out, and I think I am good at staying dialed in even when I am going through a rough patch- which I will given the terrain of this course.
How has your training gone in the buildup for the Trials?  
So far training has gone well. The only thing we've changed a little bit is that we've pushed the mileage up and condensed the segment. So we had a little 6 week block where we had a ton of huge workouts back to back to back to back. So, my legs haven't felt as poppy as during other segments and the splits haven't been quite as fast but I think the work at a whole is better than any other segment I've had. (Scott filled this out in late January.)
How long was your buildup?
About 16 weeks, but 10 really hard ones.
What was your highest mileage week? Your average week?
Highest week was about 120, average was probably in the 100ish range
What is your favorite workout?
I really enjoyed this one session where we did 12 X 1k in 2:58, then a 5k time trial with our whole team men and women. The women got a 1:46 head start and we had to chase them down. It was super hard, but we had a big group, good energy, and we beat the women after a week of trash talk. So that was pretty great, @aliphine.
How much sleep do you get a night?
About 9 hours, and I try to nap a few times a week for about an hour.
Free Training Advice
What one piece of advice would you give to a high school/ younger runner?
Listen to your coaches, make sure it's always fun.
What one piece of advice would you give to a first-time marathoner?
Get all the details dialed in during your training. You should already have tested your socks, nutrition, shoes etc. before race morning.
What is the #1 piece of training advice you'd give another runner? 
Train for the specific challenges of the race- if its going to be a hilly course, you have to run hills, if it's going to be warm- prepare for that.
What one piece of advice would you give to a runner pursuing their dreams?
Success comes slowly and then all at once. You have to do a lot of work without any evidence of progress before the breakthrough comes.
What would you be doing if you weren't a pro runner?
It's hard for me to imagine what I would be doing- I am all in on this, I have never really had a plan B.
What is your favorite running memory?
Winning the first trophy in Portland XC history in my 5th year at Portland.
What is your race day routine?
I just try to make it the same as before every day of training. Get up, eat my breakfast, drink some coffee, meditate, stretch out.
Why do you run?
Because it's fun.
---
Previous HOKA ONE ONE Takes On The Trials Sponsored Stories:
* HOKA NAZ Elite Coach Ben Rosario Talks 2020 Marathon Trials Expectations, Shoe Technology, Jim Walmsley, & Even Galen Rupp
HOKA Trials Athlete of the Day #14: Aliphine Tuliamuk Hoping to Cap her American Dream with a Spot on US Olympic TeamAliphine Tuliamuk represents the American dream. Can she cap it with a spot on the US Olympic team?
HOKA Trials Athlete of the Day #13: Sid Vaughn: From Unsigned Out of College to HOKA NAZ Elite Pro Dreaming of Tokyo 
HOKA Trials Athlete of the Day #12: Stephanie Bruce: From Beating Boys in Grade School, to Partying in High School, to First National Title at 34, to the Olympics? Stephanie Bruce has nearly done it all in the sport. But two big things remain. Conquering the marathon and making an Olympic team.
HOKA Trials Athlete of the Day #11: Scott Smith: Can He Get Top 3 Like His Dog at the Dog World Championships?Scott Smith is dreaming of the Olympics after his 2:11 in Chicago.
HOKA Trials Athlete of the Day #10: Rajpaul Pannu – From Being an Overweight Highschooler to the Olympic Marathon Trials Rajpaul Pannu started running to lose weight in high school. Now he'll be toeing the line at the 2020 Olympic Marathon Trials in Atlanta. Read his cool story.
HOKA Trials Athlete of the Day #9: Tyler Andrews The Male Trials Runner Who Didn't Break 18 Minutes in High School Who Now Trains with Kenyans in Ecuador Tyler Andrews has a true where your dreams become reality story as he didn't break 18 minutes for 5k in high school and now is training with Kenyans in Ecuador and running the Olympic Marathon Trails and winning US championships.
HOKA Trials Athlete of the Day #8: Jim Walmsley Looking for Advice Before His First Marathon
HOKA Trials Runner of the Day #7: Brandon Johnson: From Sports Illustrated Steeplechase Fall to the Marathon Trials This HOKA field rep recruited by Pete Julian in college first made national news by face planting in a steeple pit, but has been climbing up the distance ranks since.
HOKA ONE ONE Trials Athlete Of The Day #6: Clinical Cancer Rearcher Manager Liza Reichert 

Who says you can't be an Olympic Marathon Trails qualifier and have a very important job? Meet Liza Reichert.

HOKA ONE ONE Trials Athlete Of The Day #5: Texan and US Mountain Team Member David Fuentes Meet the two-time Trials qualifier who has never broken 2:20 in a marathon. Will the hills of Atlanta result in a big breakthrough for this US Mountain team member? Not only does he work a full-time job, he also has a cool side hustle.
HOKA ONE ONE Trials Athlete Of The Day #4: Swarnjit Boyal's: Incredible US Olympic Trials Story 

Learn how Boyal has progressed from being cut twice in college, to being a walkon, to a conference champion, and now a US Olympic Trials qualifier.

HOKA ONE ONE Trials Athlete Of The Day #3: Meet Addi Zerrenner The Trials Qualifier Who Taped a Picture of Shalane Flanagan on Her Wall in High School During her 1st week of HS track practice, Zerrener was told she "ran like Shalane Flanagan" and she's been hooked ever since.
HOKA ONE ONE Trials Athlete Of The Day #2: Former US Marathon Champ Sergio Reyes Ready to Excel at Possibly His Final Trials at Age 38 How many 38 year olds do you know that run up to 140 mpw.
HOKA ONE ONE Trials Athlete Of The Day #1: 2007 Foot Locker Champ Ashley Brasovan In HS, she beat Jordan Hasay to win the crown and later was told by doctors she would never "run again, let alone compete, after being diagnosed with osteoporosis and having 4 femoral stress fractures." Yet she's become a professional trail runner and 2X Olympic Marathon trials qualifier.
Introduction: HOKA ONE ONE Is Ready To Take On The Marathon Trials