Be Inspired By Swarnjit Boyal's Incredible US Olympic Trials Story
by LetsRun.com (Sponsored by HOKA ONE ONE)
February 8, 2020
February is Marathon Month on LetsRun.com as the month ends with one of the greatest events on the athletics calendar, the 2020 US Olympic Marathon Trials in Atlanta. From the contenders, to the dreamers, to the mountain men and women, HOKA ONE ONE has 17 athletes competing at the Trials, and LetsRun.com is partnering with HOKA to profile all of them. We hope these profiles not only show you the cool stories of the people running the Trials, but also help gets you pumped for the Trials, and gives you some advice for your own running.
Today's HOKA ONE ONE Takes on the Trails Athlete of the Day is Swarnjit Boyal. Boyal really represents the "where your dreams become reality" mantra of LetsRun.com as he went from an unrecruited club runner rejected twice from the college team at Cal Poly San Luis Obispo, to a Division 1 runner, to a multi-time NCAA D1 conference champion, and now to a Marathon Trials qualifier. His very interesting and inpsiring story below.
This content is sponsored content for HOKA ONE ONE, but not approved by them.
Article continues below player.
---
Name / Nickname: Swarnjit Boyal/ Swarn
Age: 25
Hometown: Yuba City, CA
High school: River Valley High School / 2013
College: Cal Poly San Luis Obispo (2017 undergrad / Masters 2018)
Occupation: Civil Engineer
Training Group: Hoka ONE ONE Aggies / Joe Rubio
How did you qualify for the Trials? Marathon / CIM (Sacramento) 2019, 2:17:47
Running bio/notable achievements: I started running and competing in middle school. Began loving and enjoying it more and more and took it serious in high school. As a high schooler, my mentality was I had to go hard every day, and I trained that way, whether that be an "easy" run or workouts. By senior year, I was able to get down to 4:25 [for the] mile and 9:27 [for the] two mile. I realized when I didn't qualify for CIF Championship that I still wasn't done competing at a high level. It was May and I knew I was going to Cal Poly, but I knew I didn't have a spot on the team and was going to have to try out. I worked my butt off the summer going into college in 2013, but as school rolled around at the end of September, the team was in the full swing of the season and I wasn't good enough for a squad that was full of 25-30 solid runners all with better resumes and talent than me.
I remember meeting with Coach Conover [and him] telling me that maybe we can see [about me joining the team in track] but in the meantime [I needed to go join] the club team. I remember leaving his office and being like, 'I'll be back here with a different outcome.' From that day on, I was on a mission to make the team and call myself a 'D1 Athlete'.
As my freshman year went, I ran with the club team and won some open [races] and ran a 25:40ish 8k. As track came around, I emailed Conover and coach wanted me to get my times down and continue working with the Cal Poly Distance Club and with Coach Armando Siqueros (Mondo). So I did just that and was able to run a 5k in 15:08. With this time I felt I was close and was excited and trained hard that summer and ran consistent 70-80 miles. I was excited to tryout in September 2014 but than was hit with the news the roster was full and that I should continue running with the Club Team. I was mad leaving that meeting and took it out on my workout that afternoon. I ended up running my best workout to date, 5×1 mile starting at 5:05 and getting down to 4:50 all by myself. After seeing this workout, Mondo decided to talk to Conover for me.
Mondo and Conover go back in time and have been great friends for years and have been close through their days in the 80's. I got a text that night and coach told me to come out to practice tomorrow. At that moment I realized I had made it. I met the team and was so honored to be part of a strong united family. But when I finished that easy run, I knew it was time to go to work, learn what it takes to be on top, and then take it to the next level. Within that one year, I went from running 80 to 120 miles in less than a year and from being on the bottom to being one of the top runners on the team and the conference. In the next 3 years on the team, I won 2 cross country conference team [titles], 2 10k track titles, and a 5k title while running 14:01 and 29:05 10k. I graduated in 2018 and joined the Hoka Aggies which are based out of San Luis Obispo and joined a select group of dedicated hard working runners with high dreams while working full time jobs. Fast forward a year and a half later, I've been able to run a 29:03 10k on the track and a 2:17:47 marathon on the road. I look forward to see where running takes me next. #HOKAAGGIES #GARDENSTREETAGGIES #BLUECOLLARRUNNING
High school claim to fame: 4:25 mile / 9:27 two mile.
College claim to fame: 14:01 5k/ 29:05 10k. Big West Track Athlete of the Year (2018).  Cal Poly Student Athlete of the Year (2018)
2X 10K Conference Champion (2017-2018). 1x 5k Conference Champion (2018)
Qualified for Nationals my senior Year for Cross Country (10th in the West Region)
(Only person in school history to make it from the club team to the Cal Poly Cross Country team. Didn't make the team my freshman year and just squeaked in my sophomore year).
Post college claim to fame: 29:03 10k (Portland Track Festival) / 2:17:47 Marathon debut at 2019 CIM
Training shoe: Clifton & Bondi
Racing shoe: Hoka Carbon X
One random fact about myself I want people to know: I enjoy writing free verse poetry when I have the time and have performed it in front of audiences.
Family: Kulwinder Singh (father), Kamaljeet Kaur (mother) and two younger brothers Amrit Singh Boyal (23) and Simranjit Singh Boyal (15)
Road to the Trials
How did you start running?  
Started running in middle school and fell in love with it in high school. The desire to be a D1 athlete made me live and breathe it every moment. To take it to the next level (make an Olympic trials),  I had to live the lifestyle and sacrifice more and train harder but smarter and have it be my top priority.
How long have you dreamed of the Trials/Olympics?  
It started in College in junior year. I decided to fully dedicated myself to running and in 6 months literally jumped from 70 to 90 to 120 miles weeks and said if I can sustain this I can go far and I've been able to do high mileage for 4 years now and decided that I'd do a marathon and go for the trials in December and it fortunately worked out for me.
Going from 70 to 120 miles in 6 months is amazing. How did you not get injured making such a big jump? Was your coach behind you running so much more or was it something you just decided to try on your own?
I knew if I wanted to be great I had to take leaps and jumps. To be great you have to be a little crazy. My summer going into junior year I heard the concept of doubles and didn't realize people would run twice a day. I stayed in San Luis Obispo that summer and my teammate Dimitri would do doubles and I joined him and he would do 4-5 mile doubles after we ran 10-12 in the morning. After a while, I felt like I could do more and my doubles [increased] from 5 to 8 [miles] and in a sense the more I did the better I felt. I always had a chip on my shoulder and felt like I needed to do more to be not only the best on the team, but a great collegiate runner in the nation. From there I just kept it up. My coach (1988 Olympic Marathon Trails Champ Mark Conover) was not too keen on me running that much but he realized that I had the same mindset and determination that he had and could see I can handle the mileage because he himself did 120-140 miles a week in college and would later on in his career win the Olympic Marathon trials. We had this trust and respect when it came to my mileage.
What does it mean to make the Trials?
Being Indian, and coming from a small town where running is done by very few I'm very proud of how far I've come with the cards I was dealt. I never qualified for state in track in high school. Was offered zero scholarships out of high school. Wasn't good enough for the Cal Poly team my freshman year. Just made the cross country team barely sophomore year. Worked my butt off and always wanted to break 14 and 29 for the 5k and 10k but was always close but couldn't do it. Never qualified for track nationals. Had zero professional contract offers but still throughout all this I never gave up and believed in myself and let my legs do the talking while I kept my mouth shut and just put in the work day in and day out. Making the Olympics trials is a proud moment knowing I did it off working 45 hour weeks and running on average 110-120 mile weeks.
What small town are you talking about?
I was born in San Francisco and at the age of 7 I moved to Yuba City, 45 minute north of Sacramento.
As you noted there aren't a lot of Indian American runners. Because of that was it hard to believe you could be good at this sport? How did you overcome that self doubt if you had it?
I feel growing up as a child, I didn't choose running, rather it choose me. As I stated earlier, for me running as a young child was a stress reliever. I grew up with a strong mother who was the only female presence in the family as there was my father and us boys so she was our rock, but even as strong-minded as she was, she dealt with depression. She came to the states as a young girl with no money but this concept of the "American Dream". She was born in New Delhi and came from a rough area absorbed with crime so as a young child she was ridden with fear and trauma. She had lost two of her brothers, one was gunned down a day before he became a doctor and one died of a car accident. She had a close relationship with her father, but was unable to see him since she had moved to the States and he sadly passed away, almost 20 years without being able to [em]brace him. That's all she ever wanted to do but couldn't and once he passed away I noticed her depression would get worse and worse. And days when I could see her being depressed and she would try to hide it from us, I could still see it. Days like this I had to put on my running shoes and just run. I didn't want my brothers or mom seeing me get emotional. I had to leave the house and just run, no matter the time of day and run as fast as I could in any direction. I didn't care where I went and how long I went. I would go until I couldn't go any farther and when the emotions calmed down I would turn back and run home. When I would get home and I would just be relaxed and do what I could to make my mom laugh which is why I gained a sense of humor at a young age, it was always to make and keep my mom happy and proud and there's nothing I loved more than watching funny Indian films for hours with my mother. That's why my roommates and those that know me know my golden rule which is the 3 M's and the 3rd M being the most important.
1.) Make that money
2.) Run them miles, and
3.) Make Momma Proud.
My father taught me work ethic. Growing up as a child, my father would work 12-16 hours days, making sure we had food on our plates, clothes on our back, and showed if you ever wanted something in life you had to go work for it, you have to earn it, you have to put in the time. My dad didn't get to attend most of my races because he was always working, but he always made sure I played sports, had running shoes, shorts, tees, was training, and taught me discipline and for that I'm always grateful for him and that's why I knew growing up, I had 3 goals. 1.) make sure my parents don't ever have to worry about my college and not having my dad, at an old age, working 12-16 hour shift. I didn't want them to pay a single penny for me when I go to college. I was going to pay for it all on my own and I did. 2.) to makes sure I do whatever it takes to make sure my younger brothers were educated and directed in the right path 3.) to make my family proud and make sure their sacrifices weren't in vain. In terms of the "American Dream", not everything is a fairy tale and for my parents it wasn't their Dream, they did everything for us. I'm here to make sure to do everything in my power to represent them with honor and be the best version of myself in anything and everything I do and that brings me to running. I've always had this self-belief that I can be a great runner,  with the values my parents taught me, even as a minority and American Indian that represents a small pool, if my parents could endure and do what they did, I can do anything, no matter my size, color, looks, etc. What keeps me going and never doubting myself is my mom. If she could overcome what she has, I can get the miles in and push myself. When I'm tired at 5 am and don't feel like running, I think of the times my dad woke up at 4 Am to work and wasn't back til 8 PM. The name of the game is sacrifice and my parents made them and that's what drives me and gets me out of my bed in a jolt.
Running has always been there for me when I needed it so for me it's been a scapegoat from anything ever going on in life and is my outlet during times of stress or pain which allows me to be free and open and consume all my raw emotions, all of my feelings, all the things going on life and just bundle them up and be free for that hour or two and collect yourself to let you know that everything is going to be ok, you're going to weather the storm, you're going to come out stronger, keep pushing, keep putting that one foot in front of the other. It's ok to hurt, it's ok to feel pain, it's all ok because it's life and life is complicated and it puts you in difficult situations and makes you vulnerable and scared and that's this balance I've learned from life and running, which is so interconnected and when I doubt whether I can be a great American Indian runner or be one of the best, I see what my mother and father have gone through and know there's nothing I can't do and the struggles makes the journey that much more beautiful that I wouldn't want it any other way because it has made me who I am today.  This is why I don't fear doubt and I have been doubted and one of [my] sayings is "When You Doubt, I Conquer" and I am excited because it's now my TIME TO FLY and make my friends and family proud.
(LRC note: After the personal and inspirational response, Swarnjit asked to share two running poems with the LRC audience that we have included at the bottom).
What's your goal for the Trials?
I want to run top 20-30 for my first trials. I want to represent Indians in running and athletics because there are very few of us out there. I want to give it all I have and lay it out there once that gun goes off.
What do you think of the course?
Looks Hilly, should be a fun challenge I look forward to the beautiful pain. Good thing I live in San Luis Obispo and there's a lot of hills which I hope will be to my advantage.
How has your training gone in the buildup for the Trials?  Did you do anything different because it's the Trials? Do you feel extra pressure?
Lots of miles. Lots of running in the morning (usually 5:30 Am) and after work (around 6 PM). Lots of long threshold tempo runs and repeats. Wasn't the ideal build-up because I finished CIM in December 8th and ran Club nationals 6 days later. Took it easy for two weeks and have had 8 weeks to get ready but it's all about the process and adapting to your circumstance because that's life and that running so you just grind with the time you have and adjust accordingly with fitness and time you have while not trying to do too much and just maximizing training with the time you have. Everyday is a new day to get better and if you have a great attitude with it the rest will just follow through.
What prompted you to run the club XC champs 7 days after your marathon debut? How hard was that in terms of recovery?
Actually 3 weeks prior to club nationals, I almost dropped out of the CIM, because training was not going well and I had a nagging numbness in my leg and felt my leg couldn't handle the marathon and I felt I could handle a 10k and wanted to be on that line with my teammates who I've been training day in and day out with. I was already signed up for CIM, so I ran it and had a good debut, but my heart still wanted to be with my teammates at Club Nats, so I told the coaches I'm still doing it no matter how crappy I feel. Leading up to it my legs were dead the first couple days. I could only run a couple miles at like 8:30 pace and gradually by Friday I got to 5 miles easy. My race day Saturday I just spiked up and just ran. I knew I wasn't going t be a low stick after the marathon but I still wanted to run as hard as I could because I knew my teammates were giving it there all in the rainy and muddy conditions. I was able to be our 6th man that day but was so proud our team was able to get 3rd and we were less than 10 points from 2nd and am excited to see what we can do next year as we were missing some of our top guys in that race.
How did you find out about the Aggies?
Going to college in San Luis Obispo, the main training group and coach Joe Rubio are based in SLO so I always knew about the program but what attracted me to it was they're well known, have that blue collar work ethic, and individuals that truly sacrifice and love the sport of running while being the most diverse running group in the nation, so I always knew going out of college I was going to be an Aggie.
How long was your buildup?
About 10 weeks but used my base from the Fall from Cross Country and training from CIM.
What was your highest mileage week? Your average week?
Highest mileage week has 130 miles, and I'll have a 6 week average of about 115.
What is your favorite workout?
My favorite workout is 6 x mile with 400 meter rest in between.
How much sleep do you get a night?
Rest is one of the most important things as a runner and marathoner so I try to get 8-9 everyday. That means going to bed at 8:30 PM most days.
Free Training Advice
What one piece of advice would you give to a high school/ younger runner?
Just get out the door. It's the hardest part. The rest will take care of itself. There are good days and bad days. And even if you have a bad run or workout, but just getting out the door your getting better and one step closer of reaching your goals as a runner but it starts by getting out the door.
What one piece of advice would you give to a first-time marathoner?
The race doesn't start until Mile 20. Be patient, be relaxed, and it's ok if you miss some of your bottles. Ok, that was 4 pieces but all useful none the less.
What is the #1 piece of training advice you'd give another runner? 
Don't worry about what other people are doing or running. Run within yourself and know what works for you and use that to your advantage. This will allow you to enjoy the process and be the best runner you can be. Also, protein after runs within 30 minutes cause your body will love you for it.
What one piece of advice would you give to a runner pursuing their dreams?
Those who say they can and those who say they can't are both usually right. If you truly want something, you have to believe before you can achieve so never give up on them and know that you can do it or else your dreams will just be dreams. Everything starts with a positive attitude and self belieg.
How do you balance training and working or training and being a parent?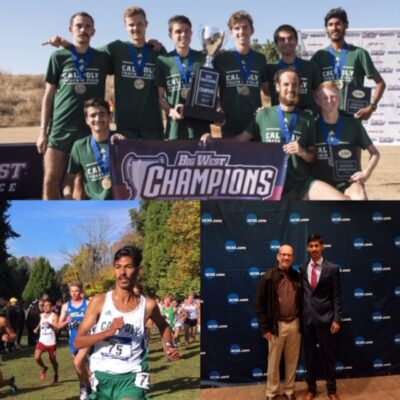 Lots of sacrifices, time-management, and sleep. My work week is composed of 45 hour weeks and 100+ mile weeks together. A typical day is waking up at 5:15 Am and running at 5:30. Usually finish up around 7:00 Am, stretch out, protein shake with some light breakfast, hit the showers, and then head to work. I works from 8 AM – 6 PM and run my double and usually finish around 7:15. Usually I get dinner started and cooking and go shower in the mean time. I'm usually eating dinner by 8 and try to get in bed by 8:30 or 8:45…. and then repeat. It's not a lifestyle for everyone but to achieve my dreams and goals, I'm willing and happily ok with making the sacrifices, and getting my sleep to be able to train and work at a high level. Welcome to the blue collar running lifestyle.
What would you be doing if you weren't a pro runner?
Must be nice (to be a pro), maybe one day I can have that answer for you. Stay tuned folks.
What is your favorite running memory?
Winning my first conference championship in Cross Country for Cal Poly in Hawaii. We went 1-2-3 and won with a total score of 19 points.
Who inspired you as a runner as a kid?
Honestly, I was never inspired by a runner, rather a basketball player. One of my idols, Kobe Bryant, who sadly passed away on January 26th, 2020, was the ultimate competitor. This man is up early, the first one in the gym and the last one to leave. He had a killer instinct to win and be the best and wanted the pressure. He has the mamba mentality and I try to resemble his work ethic and commitment to excellence as best as possible. Thank you for everything you did Kobe. As Kobe Bean Bryant best put it, heroes are remembered, but Legends never die… and your legacy will always live on. R.I.P Kobe
What is your race day routine?
Pretty simple, usually a PB bagel and rap music.
Why do you run?
It's a great stress reliever, great way to stay healthy, and it's a sport that your time dictates how good you are, not what a coach thinks of you. It puts me in a euphoric state of mind like no other. Nothing like the feeling of a runners high.
Anything else you want to share?
Thank you to my family for always having my support and being there for me, Joe Rubio for believing in me and pushing me as an athlete, Armando Siqueros (Mondo) being the best landlord and former Aggie himself,  Hoka ONE ONE as our team sponsor for the Aggies, and my roomates and teammates, Mark Huizar, Aaron Potts, Nicholas Wolf, Will Geiken, Dustyn Saloman, and Bryan Guijarro pushing me to be the best version of myself as an athlete and person. This ones for all you guys fam.
Poems of Inspiration
This is something I would love to share if there is room for it in the article and feel runners could relate, these are two of my poems about running I've written.
[For all runners], I feel like running has brought us through highs and lows and we've all had to come through obstacles and I feel like if you're someone out there that feels like you're alone, you're not; if you have a dream, keep pursuing it and running has been a part of my life and journey and I hope you can relate. These are a few of the pieces I've written throughout my running time. To achieve you have to believe and never stop believing and dreaming.
The ups and downs of running
Running can be so cruel, but yet so kind
For the times we were in front, for the times we were behind
We work so hard, it's truly a constant grind
We ride the highs, but the lows can make our vision blind
This sport takes over our life, it takes control of our mind
We wish we would have run better, we wish to just rewind
To be the best is the ultimate gain
But to get to the top, it can be such a drain
We'll train in the hot, cold, dry, or rain
We'll put our body to the maximum strain
Blood, sweat, and tears, it never forgets to leave its stain
But it's all worth the trouble, it's all worth the pain
It makes me who I am, my DNA it contains
It's like a love hate relationship, what can I say
It can take you to glory, it can take you astray
Sometimes it can be black and white, other times so grey
We're constantly thinking about it, every single moment, every single day
When we're eating, in class, even in bed, as we lay
Thinking about winning, in our mind we put that on replay
We truly love it so much, for this is why we stay
For this, we wouldn't want it any other way
Injuries
I'd be lying if I said we all don't run with a desire
Run with a certain passion, run with a burning fire
To the extremes we push ourselves, the way our brains are wired
Continuously moving forward, even when were tired
Looking to leave a legacy, for others to be inspired
But injuries can hold us back, and make us feel alone
Getting us out of our daily routine, getting us out of our comfort zone
Changing how life is perceived, changing our whole tone
The thing that made you the happiest, now makes you feel like stone
Looking at others success, as you swipe through your phone
Why can't things just be the way they were, where did I go wrong
How can I feel so weak from the one thing that made me so strong
Why does the healing process hurt, why does this short bump in the road take so long
Why does it feel as if I no longer matter, no longer belong
Will I ever be the same, it would be easier if I just didn't care
But as you look at yourself in the mirror, at yourself you begin to stare
You realize why you love it so much, why it is so special, why its so rare
Nothing makes you more happier, than lacing up your favorite pair
Just you and your favorite trail, feeling the breeze of the beautiful air
Running is a part of you, something you and your heart share
Giving up isn't in your blood, we understand life always isn't fair
As long as we give it our all, the pain we will be able to bare
Injuries can't hold you back, face it head on, ow how I dare
I promise you there's nothing you can't do, I pinky pinky swear
This content is sponsored content for HOKA ONE ONE, but not approved by them.
---
Previous HOKA ONE ONE Takes On The Trials Stories:
* HOKA NAZ Elite Coach Ben Rosario Talks 2020 Marathon Trials Expectations, Shoe Technology, Jim Walmsley, & Even Galen Rupp
*HOKA ONE ONE Trials Athlete Of The Day #3:

 Meet Addi Zerrenner The Trials Qualifier Who Taped a Picture of Shalane Flanagan on Her Wall in High School During her 1st week of HS track practice, Zerrener was told she "ran like Shalane Flanagan" and she's been hooked ever since.
*HOKA ONE ONE Trials Athlete Of The Day #2: Former US Marathon Champ Sergio Reyes Ready to Excel at Possibly His Final Trials at Age 38 How many 38 year olds do you know that run up to 140 mpw.
*HOKA ONE ONE Trials Athlete Of The Day #1: 2007 Foot Locker Champ Ashley Brasovan In HS, she beat Jordan Hasay to win the crown and later was told by doctors she would never "run again, let alone compete, after being diagnosed with osteoporosis and having 4 femoral stress fractures." Yet she's become a professional trail runner and 2X Olympic Marathon trials qualifier.
*Introduction: HOKA ONE ONE Is Ready To Take On The Marathon Trials
Complete HOKA ONE ONE Take on the Trials coverage can be found here