Former US Marathon Champ Sergio Reyes Ready to Excel at Possibly His Final Trials at Age 38
by LetsRun.com (sponsored by HOKA ONE ONE)
February 6, 2020
February is Marathon Month on LetsRun.com as the month ends with one of the greatest events on the athletics calendar, the 2020 US Olympic Marathon Trials, February 29 in Atlanta. From the contenders, to the dreamers, to the mountain men and women, HOKA ONE ONE has 17 athletes competing at the Trials, and LetsRun.com is partnering with HOKA to profile all of them. We hope these profiles not only show you the cool stories of the people running the Trials, but also help gets you pumped for the Trials, and gives you some advice for your own running.
Today's Q&A is with Sergio Reyes. Reyes won the US Marathon Champs in 2010 and represented the US at the World Champs in 2011. Now 38, he's still running well (he ran 2:16 at CIM in 2018 after going out in 1:06).
---
Name: Sergio Reyes
Age: 38
Hometown: Los Osos, California
College: Cedarville University, 2003
Occupation: Flight Test Safety Engineer
Training Group: HOKA Aggie Running Club / Joe Rubio
PBs: 1500m – 3:49 5000m – 13:52 10000m – 28:29 Half Marathon – 1:03:17 Marathon – 2:13:34
How did you qualify for the Trials? 2:16:18 Cal Int'l Marathon, Sacramento, CA 2018
High school claim to fame: Hmm, well there was this one race right before High School…. https://www.youtube.com/watch?v=4XYDQBFap04  haha
College claim to fame: Yikes, my memory's gettin sketch. I think for CA Community College State Champs there were a number of 2nd place finishes on the track and XC. Think I broke 31min in the 10k there one season. Nothing huge, but a solid challenge for the avg 17 yr old. At Cedarville, snagged one NAIA title in the 10,000m.
Article continues below player.
Post-college claim to fame: Never a mid-D guy, so was happy to break 3:50 in the 1500m, a couple sub-14's, and 28:29 in the 10k. Competed at the US T&F Champs over several years. Definitely found my niche in the marathon winning the US Champs in 2010. Reppin' the US squad at the 2011 WC's, and running a 2:13:34 in 2013 at the US Champs.
Family: Pretty sure my family is more dedicated to traveling to watch me race than I am to running.
Training shoe: HOKA Bondi 6
Racing shoe: HOKA Carbon Rocket
One random fact about myself I want people to know: If you're on the plane in front of me, I'm silently judging your deboarding skills or lack thereof.
Road to the Trials
How did you start running?

Started somewhere between 2-3 yrs old. The fam would either hit the track early mornings or run up a local mountain on Saturday and race each other back down. Though I'd trained and raced plenty as a kid, I kinda got off the wagon and didn't love it again until I was 17 and started racing for the community college. A classmate in calculus introduced himself and told me to come out and run for the team. That was the turning point and when the sport called me back to action.
How long have you dreamed of the Trials/Olympics?  
Been a fan since watching the Olympics on tv as a kid. Think it was 1988 where I actually sat to watch. I thought what better way to represent your country doing something you love.
What does it mean to make the Trials?
I certainly don't take making the Trials for granted. This is my 4th Trials and they've all meant something a bit different to me. After having heel surgery before the '16 trials and then suffering through whatever I could run in the race, I didn't know if I'd make another one. We're not promised another day let alone another race. So, I'll be seeking to enjoy every moment of what could be my last Trials, knowing I've been blessed to have come this far and I've much to be grateful for.
You've competed at so many different levels in the sport: running at community college, then winning a national championship, now still hoping to be super competitive at the Trials as you approach 40. In terms of competing, does it all feel the same, or is each level unique from one another?
[It] absolutely feels all different as you mature. Initially, you feel like the rookie of the year and you're such a gritty racer because you haven't been through the grind for long and feel you don't have anything to lose. Then as you come into your own, you become much more calculative and cautious because you know what's waiting for you the last 10k of a marathon. At this point in my career, you face a new competitor, your most challenging yet, spoiler: it's yourself. Whereas [with] other folks I can let [them] go and get away from me if it's to be their day, [but] I can't let go of the reality of a PR in the marathon distance and so in effect I am racing against the best of myself through the ages. It's what will [always] be the honest challenge when things begin to hurt, am I willing to not pack it up for the day, but to keep racing myself all the way through the line? Experience is tremendously helpful, but endurance over spring in the step is what I'm banking on.
What's your goal for the Trials?
I can say it's not a time goal. For me, it'll all be about finishing the race while still racing.
What do you think of the course?
I haven't seen it. I've heard it's hilly. I've run Peachtree, if the most recent course changes still means there's any overlap. For me, I'll just focus on how cool it is to be on the sacred city grounds that has hosted the world's biggest sports spectacle.
How has your training gone in the buildup for the Trials?  Did you do anything different because it's the Trials? 
No two buildups have been alike for me. I haven't mixed it up too much but rather stayed true to what's worked in the past. Like others before me have attested to, it's less about doing the same workouts and instead more about incorporating serious recovery efforts into their routine. Any pressure I feel is self-induced. I know the race day recipe for success is the proper amount of anxiety and excitement balanced with the confidence in the hard work that has been put in.
How long was your buildup?
Uh, 4 years? I skipped a Fall marathon though I'd been training for one, so I've had 9 months to train since my last marathon. Focus has really picked up in the 12 or so weeks leading up to the Trials.
What was your highest mileage week? Your average week?
I don't think I've gone above 140, though I'm usually above 100.
What is your favorite workout?
Fartlek. Usually a dozen or more reps of 3 mins on, 90 secs off. I don't like knowing the distance. I like going off the effort and this keeps it more interesting than just a long effort tempo.
How much sleep do you get a night?
7-8 hrs, sometimes less.
Free Training Advice
What one piece of advice would you give to a high school/ younger runner?
You'll end up pushing yourself so much further if you can start, continue, and end having fun doing it. Don't put the pressure on yourself, the sport's not for everyone, you must enjoy doing it.
What one piece of advice would you give to a first-time marathoner?
In a flight test, we use the crawl-walk-run analogy in a build up test effort. Your first-time goal should be just to get across the finish line. Trust me, that's hard to do even as an elite on a bad day, which we certainly do have. After that, goal should be to finish without walking. Third phase is focusing on a time goal. Then, if there's a 4th goal/marathon in the books, like Boston, the Olympics, or a World Record.
What is the #1 piece of training advice you'd give another runner?
Maybe not #1, but still a good piece of advice. Plan a real vacation directly following the big race. It will help with the celebration or the coping of whatever the results may be. It also helps to mentally keep things in perspective.
What one piece of advice would you give to a runner pursuing their dreams?
Surround yourself with those that either share those dreams or are fully supportive of you pursuing yours.
How do you balance training and working or training and being a parent?
Running is my escape and what helps to balance the stress at work. My family is my support team and they constantly remind me that all of life does not depend on where I finish at the end of the day.
What is your favorite running memory?
Every scenic place it's taken me. I have vivid memories of mountaintops, creekside trails, long strips of beaches, paths through the redwoods, and I haven't had the need to bring a camera along to capture it. If you want to see it, go run it for yourself. Trust me, it's worth it.
What is your race day routine?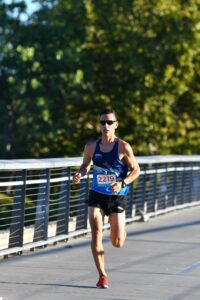 Hydrate. Simple breakfast so gut ain't empty. Hydrate. Get in line early at the restrooms. Warmup. Hydrate. Address undesirable friction areas. Easy strides. Pray. Run my own race.
Why do you run?
Because of a firm belief that this was a God-given ability entrusted to me to take as far as I could all the while shaping me as a person.
Anything else you want to share?
I probably can't express enough my gratitude to the monumental undertaking that the Atlanta Track Club has signed themselves up for to make this day happen for us. This field will be incredible, and I feel so fortunate to be a part of it. Can't wait to make my family in attendance, my family back home, my HOKA family, and my Aggie family, all so proud.
This content is sponsored content for HOKA, but not approved by them.
---
Previous HOKA ONE ONE Takes On The Trials Stories:
*LRC HOKA NAZ Elite Coach Ben Rosario Talks 2020 Marathon Trials Expectations, Shoe Technology, Jim Walmsley, & Even Galen Rupp
*HOKA ONE ONE Trials Athlete Of The Day #1: 2007 Foot Locker Champ Ashley Brasovan
*Introduction: HOKA ONE ONE Is Ready To Take On The Marathon Trials W
*Complete HOKA ONE ONE Take on the Trials coverage here