Hoka Trials Runner of the Day: Texan and US Mountain Team Member David Fuentes
by LetsRun.com
February 10, 2020
February is Marathon Month on LetsRun.com as the month ends with one of the greatest events on the athletics calendar, the 2020 US Olympic Marathon Trials in Atlanta. From the contenders, to the dreamers, to the mountain men and women, HOKA ONE ONE has 17 athletes competing at the Trials, and LetsRun.com is partnering with HOKA to profile all of them. We hope these profiles not only show you the cool stories of the people running the Trials, but also help gets you pumped for the Trials, and gives you some advice for your own running.
We at LetsRun.com love Texans. David Fuentes is a Trials qualifier and US Mountain team member who doesn't live in the mountains. However in our book, he trains in the next best place, the Texas Hill Country. This will be David's second Trials.
---
Name /Nickname: David Fuentes
Age: 33
Hometown: Boerne, Texas & Austin, Texas
High school: Boerne High School 2005
College: St. Edwards University 2009
Occupation: Owner of Tin Can Travel Co. and a Software Engineer
Training Group: Matt Hensley – Boulder Underground
How did you qualify for the Trials? Garry Bjorklund Half Marathon – 1:03:37
High school claim to fame: We were two-time State Champions XC Champions at Boerne High school. I placed 6th overall my Junior year and 3rd overall my senior year. 15:35 – 5k 4:35 – 1600 9:39 – 3200
College claim to fame: DII All American in Cross Country at St. Edwards University
Article continues below player.
Post college claim to fame: Rock n Roll San Antonio Marathon Champion – 3X Austin Half Marathon Champion – 2X USA World Mountain Team Member – Member of 2016 Gold Medal USA Mountain Running Team – Qualified for the 2016 and 2020 Olympic Marathon Trials.
5K – 14:15 10K – 29:50 15k – 46:15 10mi – 48:24 13.1 – 1:03:37 26.2 – 2:23 (womp womp)
Training shoe: Hoka Clifton 6
Racing shoe: Hoka Carbon X
One random fact about myself I want people to know: I qualified for two USA Mountain Teams living and training at sea level
Road to the Trials
How did you start running?  
I played soccer for the majority of my youth, and when I didn't make the team my sophomore year of high school, I decided to just run track. Once I started doing really well, and realized it came natural to me, I knew it was something I had to stick with. Plus I knew I wasn't going to be able to afford to pay for college, so I had to run.
How long have you dreamed of the Trials/Olympics?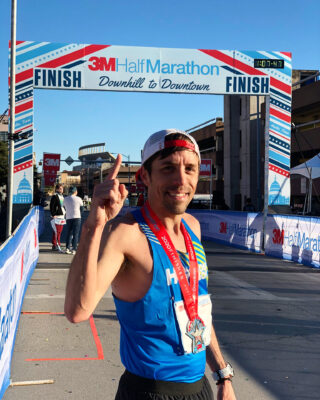 When I ran my first half marathon in 2010. I wanted to have a shot at the big leagues.
What does it mean to make the Trials?
I feel it as an incredible accomplishment and I know that I am considered the to be in the upper echelon of American distance running.
What's your goal for the Trials?
To compete, to place well, and to crush my opponents.
What do you think of the course?
I love hills, so I think it's going to be great.
How has your training gone in the buildup for the Trials? Do you feel extra pressure?
I don't feel all that much pressure as I know I am competing against the best American men. I have been putting in more long runs through the hill country here in Texas, so I know I will be ready.
You've got to be one of the few Trials qualifiers who is in there 2nd Trials but hasn't run under 2:20 in the marathon. Personally we at LRC think it's kind of cool because we all have to figure out the marathon.  What's do you think has been holding you back in the marathon? Or have you just not been focusing on them?
The marathon has been a super interesting race for me. I would say on paper I should be way faster, but a combination of many things has led to my unsuccessful attempts at running a good marathon. I have had a bit of a lazy attitude towards the marathon distance. I have picked numerous bad marathons (meaning not fast) to race at, and looking back, I have more often than not (accidentally or intentionally) self sabotaged my build for each of my marathon races. I have also been a little put-off over the years by building for so long for one race, and then [have] something small happen either during my build, weather related, or during the race, that has really made me not want to focus on the marathon. But I do feel as though I am getting close to hopefully popping off a great race that is more indicative of my fitness.
Have you ever thought of moving to the mountains? Granted you're in the Texas hill country, but would your mountain running be even better if you were in the mountains and at altitude?
My wife and I have talked about moving to the mountains not necessarily for training solely, but for a change of pace. But we are Texans to the core, and with her company she started (Rise Runner), and my full time job of software engineering and my side hustle (Tin Can Travel), it presents a challenge of just starting over somewhere in New Mexico or Colorado. We would love to hopefully split time somewhere (summers in the mountains, winters in Texas), but for now I will just make due with doing a million hill repeats and logging countless miles here on the central texas trails, haha! Although, post-trials I definitely will be moving up in distance, and getting more into the trail, mountain, ultra racing scene. (And by ultra I most likely will stay below 50 milers lol. I still feel as though I have too much speed left).
How long was your buildup?
I have been building for this since I started running!
What was your highest mileage week? Your average week?
I usually average between 80-90. I am fairly more conservative as I have a full time software job, as well as moonlighting building and restoring old vintage vehicles for my other company, Tin Can Travel Co.
What is your favorite workout?
Long run with a fast finish
How much sleep do you get a night?
8-9 Hours
Free Training Advice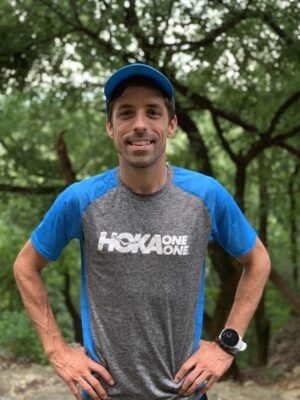 What one piece of advice would you give to a high school/ younger runner?
Discipline and consistency go a long way.
What one piece of advice would you give to a first-time marathoner?
Enjoy the parts that really suck because it builds character.
What is the #1 piece of training advice you'd give another runner? Or feel free to share a mental tip.
Just be consistent and stay healthy. The training is a compounding effect, that over time will pay big dividends.
How do you balance training and working or training and being a parent?
I know that I have to put in the work if I want to be the best version of myself. I have been competing at a high level for over a decade, while holding various full time jobs. Discipline and dedication have taking me this far, and will continue to take me as far as I can go with my running.
What is your favorite running memory?
The moment in a race, when you know you are going to win, or know you are going to qualify.
Who inspired you as a runner as a kid?
The OG Prefontaine.
What is your race day routine?
First I wake up, then I eat some food, drink some coffee, then use the bathroom a bunch.
Why do you run?
I don't know why I do just yet, but i think when I finish running I will have a better perspective on why I spent so much time logging miles
---
Previous HOKA ONE ONE Takes On The Trials Stories:
* HOKA NAZ Elite Coach Ben Rosario Talks 2020 Marathon Trials Expectations, Shoe Technology, Jim Walmsley, & Even Galen Rupp
*HOKA One ONe Trials Athelte of The Day #4: Be Inspired By Swarnjit Boyal's Incredible US Olympic Trials Story Learn how Boyal has progressed from being cut twice in college, to being a walkon, to a conference champion, and now a US Olympic Trials qualifier. Read his incredible story.
*HOKA ONE ONE Trials Athlete Of The Day #3:

 Meet Addi Zerrenner The Trials Qualifier Who Taped a Picture of Shalane Flanagan on Her Wall in High School During her 1st week of HS track practice, Zerrener was told she "ran like Shalane Flanagan" and she's been hooked ever since.
*HOKA ONE ONE Trials Athlete Of The Day #2: Former US Marathon Champ Sergio Reyes Ready to Excel at Possibly His Final Trials at Age 38 How many 38 year olds do you know that run up to 140 mpw.
*HOKA ONE ONE Trials Athlete Of The Day #1: 2007 Foot Locker Champ Ashley Brasovan In HS, she beat Jordan Hasay to win the crown and later was told by doctors she would never "run again, let alone compete, after being diagnosed with osteoporosis and having 4 femoral stress fractures." Yet she's become a professional trail runner and 2X Olympic Marathon trials qualifier.
*Introduction: HOKA ONE ONE Is Ready To Take On The Marathon Trials
Complete HOKA ONE ONE Take on the Trials coverage can be found here