HOKA Trials Athlete of the Day #8 Jim Walmsley Looking for Advice Before His First Marathon
by LetsRun.com
February 16, 2020
February is Marathon Month on LetsRun.com as the month ends with one of the greatest events on the athletics calendar, the 2020 US Olympic Marathon Trials in Atlanta. From the contenders, to the dreamers, to the mountain men and women, HOKA ONE ONE has 17 athletes competing at the Trials, and LetsRun.com is partnering with HOKA to profile all of them. We hope these profiles not only show you the cool stories of the people running the Trials, but also help gets you pumped for the Trials, and gives you some advice for your own running. This content is sponsored content for HOKA, but not approved by them.
Just like all the other HOKA athletes running the Olympic Marathon Trials, we had ultra running star Jim Walmsley fill out a questionnaire on his path to the Trials. We also spoke to him at length and have an article on his trials preparations here, With Secret "Trials Dagger" Shoes, Ultra Star Jim Walmsley Is Ready To Take On The 2020 US Olympic Marathon Trials and will be dropping a 1 hour podcast with Jim this week. Subscribe to the LetsRun.com Track Talk podcast here to get the Walmsley podcast when it drops.
---
Article continues below player
Name: Jim Walmsley
Age: 30
Hometown: Flagstaff, AZ
High school: Horizon High School 2008
College: United States Air Force Academy 2012
Occupation: Ultrarunner
Training Group: HOKA ONE ONE/ Coconino Cowboys
How did you qualify for the Trials? Houston Half 2019 with 1:04:00
Running bio/notable achievements: A top ultra runner in the US trying to do something note worthy at the US Olympic Marathon Trials.
High school claim to fame: 4:17/9:13 1600/3200, 23rd at Footlocker Nationals
College claim to fame: 4:04 mile, 8:03 3k, 13:52 5K, 29:08 10K, 8:41 SC
Post college claim to fame: Western States Champion 2018, 2019 and course record holder; 50 Mile World Record Holder 4:50:08
Training shoe: Bondi 6
Racing shoe: Carbon Rocket
Road to the Trials
How did you start running?  
I started playing soccer at a young age. When I went to high school, I joined the cross country team for extra fitness. I found some of my best friends on the cross country team so I started to go all in on running in my sophomore year of high school.
How long have you dreamed of the Trials/Olympics?  
Since I was little, I've always dreamed of being a pro athlete and being on the biggest stage. As I learned more and more about running, the Olympics became the obvious pinnacle of the sport in my eyes. No one told me about the US Trials to get there the first time I heard about the Olympics. So here I am.
What does it mean to make the Trials?
I see this race and this training block as building into races later in the year, specifically Comrades Marathon in June, and maybe even another marathon in August.
What's your goal for the Trials?
I want to compete for a top 3 position. I think I will gain what I need shooting for an Olympic spot and who knows how the marathon will play out on the given day. Why not, right?
What do you think of the course?
The course will be really hard. It's very hilly, always up, always down, but luckily nothing too punchy. It still has rhythm and flow to the course.
How has your training gone in the buildup for the Trials?  Did you do anything different because it's the Trials? Do you feel extra pressure?
My training has gone well so far. I built up to my highest weekly mileage ever for this race at 176 miles in a week. I don't feel any extra pressure, it's just business as usual and it'll be about showing up healthy, fit, and ready for hell.
How long was your buildup?
5 week block of over 150 miles per week. Two of those weeks with workouts. One week for a half marathon effort. Then it'll be a 5 week block with specific work into the trails. One week taper.
What was your highest mileage week? Your average week?
176 mile was my highest week. I averaged 162 miles per week during my base weeks.
What is your favorite workout?
5 x 1 mile at 5 minute pace with 3 min recovery at 7000ft. That's my typical tune up workout for ultras. That workout won't cut it for the Trials.
How much sleep do you get a night?
Usually about 9 hours of sleep
Free Training Advice
What one piece of advice would you give to a high school/ younger runner?
Believe in yourself. Consistency is powerful. Stay healthy and keep training for your dream.
What one piece of advice would you give to a first-time marathoner?
I'd like to know this answer, please.
What is the #1 piece of training advice you'd give another runner?
Don't plan off days. Consistency is key so plan to run tomorrow. Take the off days in the spur of the moment when they will be most effective.
What one piece of advice would you give to a runner pursuing their dreams?
Believe in yourself. Consistency is powerful. Stay healthy and keep training for your dream.
What would you be doing if you weren't a pro runner?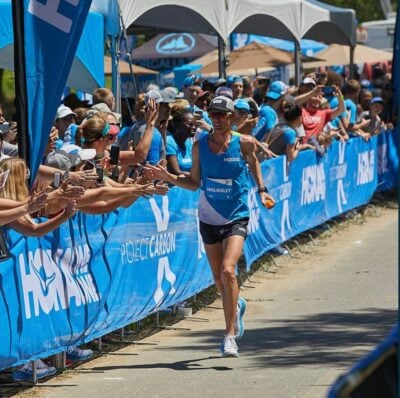 I would be trying to have a flexible enough job to do the same running on the side. I love my job, I love running, and I feel so fortunate for them to be one in the same.
What is your favorite running memory?
Western States 2018 was a long awaited victory after making mistakes in 2016 and 2017.
Who inspired you as a runner as a kid?
Kenny Cormier
What is your race day routine?
I get up 3 hours before the race start. I eat yogurt and granola, the same as every morning.
Why do you run?
Running is my therapy. I get depressed and anxious when I am not running.
This content is sponsored content for HOKA, but not approved by them.
---
Previous HOKA ONE ONE Takes On The Trials Stories:
* HOKA NAZ Elite Coach Ben Rosario Talks 2020 Marathon Trials Expectations, Shoe Technology, Jim Walmsley, & Even Galen Rupp

*HOKA ONE ONE Trials Athlete Of The Day #7: Brandon Johnson: From Sports Illustrated Steeplechase Fall to the Marathon Trials This HOKA field rep recruited by Pete Julian in college first made national news by face planting in a steeple pit, but has been climbing up the distance ranks since.
*HOKA ONE ONE Trials Athlete Of The Day #6: Clinical Cancer Rearcher Manager Liza Reichert Who says you can't be an Olympic Marathon Trails qualifier and have a very important job? Meet Liza Reichert.
*HOKA ONE ONE Trials Athlete Of The Day #5: Texan and US Mountain Team Member David Fuentes Meet the two-time Trials qualifier who has never broken 2:20 in a marathon. Will the hills of Atlanta result in a big breakthrough for this US Mountain team member? Not only does he work a full-time job, he also has a cool side hustle.
*HOKA ONE ONE Trials Athlete Of The Day #4: Swarnjit Boyal's: Incredible US Olympic Trials Story Learn how Boyal has progressed from being cut twice in college, to being a walkon, to a conference champion, and now a US Olympic Trials qualifier. 
*HOKA ONE ONE Trials Athlete Of The Day #3:

 Meet Addi Zerrenner The Trials Qualifier Who Taped a Picture of Shalane Flanagan on Her Wall in High School During her 1st week of HS track practice, Zerrener was told she "ran like Shalane Flanagan" and she's been hooked ever since.
*HOKA ONE ONE Trials Athlete Of The Day #2: Former US Marathon Champ Sergio Reyes Ready to Excel at Possibly His Final Trials at Age 38 How many 38 year olds do you know that run up to 140 mpw.
*HOKA ONE ONE Trials Athlete Of The Day #1: 2007 Foot Locker Champ Ashley Brasovan In HS, she beat Jordan Hasay to win the crown and later was told by doctors she would never "run again, let alone compete, after being diagnosed with osteoporosis and having 4 femoral stress fractures." Yet she's become a professional trail runner and 2X Olympic Marathon trials qualifier.
*Introduction: HOKA ONE ONE Is Ready To Take On The Marathon Trials