Stephanie Bruce: From Beating Boys in Grade School, to Partying in High School, to First National Title at 34, to the Olympics?
Hoka Trials Athlete of the Day #12
by LetsRun.com (sponsored by HOKA ONE ONE)
February 21, 2020
February is Marathon Month on LetsRun.com as the month ends with one of the greatest events on the athletics calendar, the 2020 US Olympic Marathon Trials in Atlanta. From the contenders, to the dreamers, to the mountain men and women, HOKA ONE ONE has 17 athletes competing at the Trials, and LetsRun.com is partnering with HOKA to profile all of them. We hope these profiles not only show you the cool stories of the people running the Trials, but also help gets you pumped for the Trials, and gives you some advice for your own running. This content is sponsored content for HOKA, but not approved by them.
This week we've started profiling the HOKA ONE ONE NAZ elite pros who will be contending for Olympic teams spots in Atlanta. Yesterday, we profiled Scott Smith who said his biggest college claim to fame was being teammates with Stephanie Bruce. So we think it is appropriate today to profile Stephanie.
Stephanie is a runner who keeps getting better with age and hasn't showed any signs of stopping even though she turned 36 in January. After being an All-American and school record holder at UC Santa Barbara, Bruce hit the pro ranks and has continued to improve. She didn't win her first national title until more than a decade later when she won the Peachtree Road Race and US 10k Championships in Atlanta (yes the same place where the Olympic Trials are) in 2018.  Then she was the first American finisher at the 2019 World Cross Country Championships on the ridiculously difficult Aarhus course, and then won her second national title at the hilly Pittsburgh Half Marathon. She followed that up with a 5,000m PR (15:17) and 4th place finish in the 10,000m at USAs (ahead of Marielle Hall who made the Worlds team) before ending the year with a PR in the marathon in Chicago (2:27:47).
In addition to her running exploits, she is one of the founders of Picky Bars, and inspired the world with her 'real' post-pregnancy belly pics. Bruce has two children, Riley and Hudson, with her husband Ben, who is a former Team USA steeplechase member and now an assistant HOKA NAZ Elite coach.
Stephanie was the guest on our podcast this past May and we encourage you to listen to her inspiring story or just click on this timestamp [spp-timestamp time="72:40″] to start listening while reading this article. (She also has Celiac disease and became a successful runner after dealing with the death of her dad from prostate cancer while in high school).
Article continues below player.
Stephanie is also the only runner LetsRun.com is officially allowed to root for, as way back in the day when she was college, and LetsRun.com was in its infancy, she came through Flagstaff and met LRC founder Weldon Johnson, when he was still training. Nearly 2 decades later, her Olympic dream is still alive. She still needs to figure out how to conquer the marathon, but has had great success on difficult courses at shorter distances (Peachtree, Aarhus, and Pittsburgh).
---
Name: Stephanie Bruce
Age: 36
Hometown: Flagstaff
High school: Xavier College Prep 1998-2002
College: UCSB 2002-2007
Occupation: Professional Runner
Training Group: HOKA NAZ Elite. Ben Rosario
How did you qualify for the Trials? I qualified in London, 2018, NYC 2018, CIM 2018, Chicago 2019
Running bio/notable achievements: Pro runner for HOKA NAZ Elite, co-founder of Picky Bars, coach and owner of Running with the Bruces. 2 time US national champ. Mother of 2, gluten free.
High school claim to fame: 4:58 mile PR, 2nd at Arizona State Meet. 2:16 800 part of state record 4 x 800m relay
College claim to fame: 2 time All American at UCSB in the 10,000m 8th in 2006, 5th in 2007. 33:27 PR
Post college claim to fame: PRs: 15:17 5000m. 31:59 10,000m. Half marathon 70:43. Marathon 2:27:47.
1st 2018 10k Road Champs Peachtree. 1st 2019 US Half marathon champs Pittsburgh. 2nd 2019 US 10k Champs NY Mini. 2nd 2016 CIM. 10th 2017 NYC Marathon. 10th 2018 London Marathon. 11th 2018 NYC Marathon. 2nd 2018 CIM. 6th 2019 Chicago Marathon. 2 time world cross member.
Training shoe: Clifton
Racing shoe: Carbon Rocket
One random fact about myself I want people to know: I love the Rocky movies and can quote any of them at any time.
Family: I have 2 sons Riley (5) and Hudson (4) and am married to Ben Bruce, pro runner and assistant coach for our team.
Road to the Trials
How did you start running?  
I began running when I was 5 years old, running around a cemetery with my dad (rather strange I know). I participated in PE in grade school where we did the 1 mile shuttle run and I really enjoyed it because I found I could beat boys. I didn't take running very seriously in high school, partied a lot, missed practices, and took any excuse to not run. My father passed away my senior year when I was 18, and I think I fell in love with running after that. Running became my savior, my 2nd chance. And I guess the rest is history.
What's your goal for the Trials?
To make the Olympic Team
What do you think of the course?
The course is one of the more difficult courses I have ever seen for a marathon. With no previous races on it, there is no data on how the course runs.
How has your training gone in the buildup for the Trials?  Did you do anything different because it's the Trials?
Training has gone well, no hiccups, just stacking week after week on tired legs. We have incorporated more hills in our workouts, long runs, and worried less about splits and more effort. No extra pressure.
How long was your buildup?
We started building in early December.
What's your mileage like?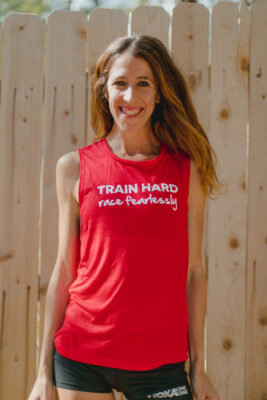 Haven't hit my highest mileage yet. 105-109 average. (LRC note: After filling this out Stephanie hit 119.85 miles in early February for a week. Her training like all the NAZ Elite members is online here.)
How much sleep do you get a night?
8-9 hours a night
Free Training Advice
What one piece of advice would you give to a high school/ younger runner?
Give yourself time, don't compare yourself to others. Don't limit your goals and dreams.
What one piece of advice would you give to a first-time marathoner?
Go out slower than you think.
What one piece of advice would you give to a runner pursuing their dreams?
Stick to your path and have patience.
What would you be doing if you weren't a pro runner?
I'm doing everything I want to be doing. Being a mom, running professionally, owning an energy bar company Picky Bars, and trying to inspire and motivate.
What is your favorite running memory?
Winning 2018 US 10k Road Champs at Peachtree.
Who inspired you as a runner as a kid?
My mom and dad. Deena Kastor (Drossin) as a highschooler
What is your race day routine?
Wake up about 3-4 hours pre race, get coffee (Starbucks dark roast), eat a Picky Bar, white rice, or sweet potato with nut butter. I will sometimes take a shower, watch part of a Rocky movie, get dressed, share something on social (maybe) and pack my bag.
To deal with life, to pursue a passion, to find purpose, and to test the limits of my mind and body.
*Podcast with Stephanie is here or in the player below. Click on [spp-timestamp time="72:40″] to listen to her
[spp-player track_player url="https://www.talkshoe.com/recording/inline/key/cf674bd6e9d127bd0c087163ccba8b25bb7ef6c4.mp3″ title="Stephanie Bruce starts at 72:40 mark"]
Previous HOKA ONE ONE Takes On The Trials Stories:
* HOKA NAZ Elite Coach Ben Rosario Talks 2020 Marathon Trials Expectations, Shoe Technology, Jim Walmsley, & Even Galen Rupp