Ranking the Top 10 Events at the 2020 NYRR Millrose Games
By Jonathan Gault
February 6, 2020
The Millrose Games never disappoint. Okay, it's not quite as big a deal as the old days when the meet was held at Madison Square Garden. But Saturday will be my fifth time covering Millrose for this website, and I've always come away dazzled by at least one performance (and usually more), whether it was Matthew Centrowitz's duel to the finish line with Nick Willis in 2015, Drew Hunter's 3:57 mile as a high schooler in 2016, or Yomif Kejelcha coming one-hundredth of a second short of a world record in last year's Wanamaker Mile.
And Millrose couldn't come at a better time. Football season's over. The NBA and NHL haven't gotten interesting yet. You're certainly not watching the XFL. Thankfully, Millrose will be shown on TV, and you don't need a fancy subscription package — or even cable. The meet is LIVE on NBC from 4-6 p.m. ET on Saturday.
There are tons of stars, from Allyson Felix and Grant Holloway in the sprints, to Joe Kovacs and Ryan Crouser in the throws, to Donavan Brazier, Filip Ingebrigtsen, and new phenom Jemma Reekie in the middle distances. It's going to be awesome.
To get you ready for the meet, I've taken the liberty of ranking the best events, from #10 down to #1. So read this article, watch the meet, and I'll see you at Coogan's afterward.
*Schedule/entries/live results
Article continues below player.
All times US Eastern
10. Men's 300 (4:51 p.m.): Could a high schooler beat Rai Benjamin?
Okay, the answer to that question is "probably not," but Justin Robinson is no ordinary high schooler. Last summer, after finishing up his junior year at Hazlewood West (Missouri) High School, Robinson ran 44.84 at the Great Southwest Classic — just .15 off the HS 400 record — and went on to earn bronze at the Pan Am Games. The two guys who finished ahead of him in that race went 3-4 at Worlds in Doha two months later.
So yeah, Robinson is a stud. But Benjamin, the World Champs silver medalist at 400 hurdles who has run 44.31 for 400 outdoors, will still be favored here. Benjamin's indoor 300 pb is 32.55; Robinson ran 32.87 earlier this season, the #5 HS time ever (but only good for second in the race behind fellow high schooler Cameron Rose).
Obi Igbokwe, who won the 400 at the New Balance Indoor Grand Prix two weeks ago, is also entered and could challenge Benjamin.
9. Women's 3,000 (4:39 p.m.): Kelati vs. Monson vs. Werner in an NCAA XC rematch
While there are some notable pros in this field, including former NCAA champs Marta Freitas and Allie Ostrander of the Brooks Beasts and Canada's Julie-Ann Staehli, who looked very comfortable in soloing an 8:47 at BU two weeks ago, the biggest storyline is the battle of NCAA studs Weini Kelati, Alicia Monson, and Taylor Werner.
Those three went 1-2-4 at NCAA XC back in November, and this race should be even better than that one, which Kelati turned into a runaway. All three women have the potential to go very fast here. Werner, of Arkansas, ran 15:11 for 5,000 in December, which would have been the NCAA record had she not decided to redshirt this season. New Mexico's Kelati posted the largest winning margin for 12 years at NCAA XC and was just behind Werner in that 5k at BU in 15:14. And Monson won this race at Millrose last year in a personal best 8:45. Karissa Schweizer's collegiate record of 8:41.60 — also set at Millrose, in 2018 — should be on alert.
8. Women's 60 (4:18 p.m.): Felix returns to Millrose to face young studs
Plenty to be excited about here. Allyson Felix, in her first Millrose since 2016, may be the headliner, but it's unlikely the 34-year-old, a 400 specialist at this point in her career, will be close to the win here. Instead, how about Briana Williams, the high schooler who just turned pro last month and ran 7.15 outdoors (into a 1.1 headwind) in Kingston on January 25? Or Javianne Oliver, the 2018 US champ who has the fastest pb in the field (7.02)? Or the reigning US 100m champ, Teahna Daniels?
While we're here, quick shoutout to the men's 60 (which just missed this top 10), which should feature a duel between reigning US champ Demek Kemp and Ronnie Baker, the third-fastest man of all time.
Ajee' Wilson's Armory Win Streak
| | | | |
| --- | --- | --- | --- |
| Date | Meet | Distance | Time |
| 1/10/14 | Gotham Cup | 1000m | 2:50.44 |
| 1/25/14 | New Balance Games | 600m | 1:28.27 |
| 2/15/14 | Millrose | 800m | 2:01.81 |
| 1/16/15 | Gotham Cup | 500m | 1:10.27 |
| 1/31/15 | Armory Track Inv. | 800m | 2:01.63 |
| 2/14/15 | Millrose | 800m | 2:01.57 |
| 2/6/16 | Armory Track Inv. | 800m | 2:02.15 |
| 2/20/16 | Millrose | 800m | 2:00.09 |
| 1/21/17 | New Balance Games | 600m | 1:25.23 |
| 2/4/17 | Armory Track Inv. | 600m | 1:24.48 |
| 1/27/18 | Dr. Sander Inv. | 800m | 2:00.90 |
| 1/26/19 | Dr. Sander Inv. | 600m | 1:25.91 |
| 2/9/19 | Millrose | 800m | 1:58.60 AR |
| 1/25/20 | Dr. Sander Inv. | 800m | 2:02.33 |
7. Women's 800 (5:42 p.m.): Wilson vs. Goule vs. Brown
Beating Ajee' Wilson at the Armory is like beating the Patriots in Gillette Stadium. Or the opposite of beating the Knicks at MSG.
The New Jersey native has won 14 straight races at the Armory, with her last loss coming all the way back in 2013, when Wilson was an 18-year-old in her first professional season. She's also won 18 straight indoor races across all distances against non-XY DSD women, and had just one loss to a non-XY DSD woman in all of 2019 (of course, that came in the World Championship final in Doha). So Wilson is very hard to beat no matter what.
Unfortunately, the biggest threat to Wilson, Great Britain's Laura Muir, had to scratch with this race with a calf issue. That leaves fellow 2019 World Championship finalists Natoya Goule and Ce'Aira Brown, plus World Indoor bronze medalist Shelayna Oskan-Clarke. Can any of them snap Wilson's streak?
6. Men's 60-meter hurdles (4:04 p.m.): World champ Grant Holloway debuts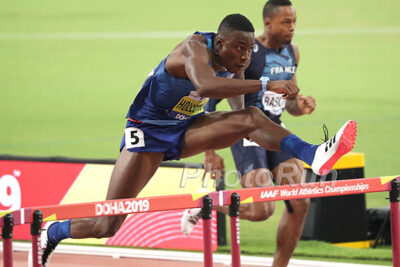 Few athletes are more exciting — on or off the track — than Grant Holloway. And few athletes had a better 2019 season. Last year, Holloway:
-won NCAA titles in the 60 and 60 hurdles
-broke the American record in the 60 hurdles (7.35)
-won his third straight NCAA 110 hurdles title
-became the first collegian to break 13.00 in the 110 hurdles, breaking Renaldo Nehemiah's 40-year-old NCAA record
-won the 110 hurdles world title in Doha
And he accomplished all that at the age of 21. What could he possibly have for an encore in 2020? We'll start to find out on Saturday, where Holloway will renew his friendly rivalry with last year's US outdoor champ Daniel Roberts. Olymic 110h champ Omar McLeod was also initially in this race but he pulled out with an injury earlier today.
5. Men's 3,000 meters (4:56 p.m.): NCAA champ vs. NXN champ (plus an Olympic silver medalist) as Nico Young goes for HS record
Whether you're a fan of high school, college, or pro running, this race has something for everyone. Up front, Olympic silver medalist Paul Tanui, who clocked 13:15 for 5k at BU two weeks ago, will be favored, though Hassan Mead, Justyn Knight, Hillary Bor, and Jordan Gusman could all factor. There's also a rematch between NCAA XC champ Edwin Kurgat of Iowa State and NCAA XC runner-up of Joe Klecker of Colorado. Both men have already run fast indoors (Kurgat clocked a 13:24 5k at BU; Klecker set a Colorado state record with a 4:01 mile at altitude last week), so don't be surprised if they mix it up for the overall win (remember, NCAA XC runner-up Grant Fisher beat NCAA XC champ Morgan McDonald to win this race last year).
Toward the back of the main pack, keep an eye on Nico Young. The senior at Newbury Park (Calif.) High School capped off a stellar 2019 cross country campaign with a dominant NXN title and heads to Millrose targeting not just Drew Hunter's high school 3k record of 7:59.33, but Chris Derrick's US U20 record of 7:56.31. Breaking a Drew Hunter record is no joke, but Young should be in the ballpark. Hunter ran 8:42 for 2 miles as a junior; Young ran 8:40 for 3200 meters. And last week, Young crushed a 1600-800-1600-800 workout with splits of 4:10-2:07-4:16-2:06 (video below). He should be ready to go on Saturday. (For more on Young's prep, check out this DyeStat story by Erik Boal).
MB: Nico Young runs 4:10, 4:16 in practice!
4. Men's shot put (4:39 p.m.): World champ Joe Kovacs battles Olympic champ Ryan Crouser
We're admittedly biased toward the distance races here at LetsRun.com so we thought you should know that field fans may argue that this should be #1, and they'd have a strong case. Last year's World Championships in Doha featured the greatest shot put competition in history, and two of the main players from Doha — gold medalist Joe Kovacs and silver medalist Ryan Crouser — will face each other here at Millrose. Neither has competed since Worlds, when Kovacs and Crouser went to #3 and #5 on the all-time list.
Considering the two were separated by just one centimeter in Doha, predicting a winner is foolish. But it should be noted that Crouser crushed Kovacs at this meet in 2019, uncorking a monster throw of 22.33m — the longest indoor toss since 2008.
3. Men's Wanamaker Mile (5:50 p.m.): Filip Ingebrigtsen heads west; is 8th time the charm for Nick Willis?
The Wanamaker Mile is always the final event of the night, and often it's the best. It could be again this year, depending on how it plays out. But based on recent history, 3:30/3:49 man Filip Ingebrigtsen will win this race if he's fit and healthy. And considering he just ripped off a world-leading 3:36 1500 in Dusseldorf on Tuesday in a race he won by almost three seconds, he certainly appears to be fit and healthy. The only question is cross-Atlantic travel and whether he'll be recovered for a second high-level race in five days.
Behind Ingebrigtsen, however, it's a free-for-all. Chris O'Hare nipped Nick Willis in Boston two weeks ago (both are racing Millrose), but the close (56.57 in a 3:59 race) wasn't anything to write home about. Willis has famously never won Millrose in seven attempts; at age 36, he may not get many more chances. Robby Andrews and 2017 Millrose champ Eric Jenkins are back; can either rebound after their 2019 seasons were derailed by Lyme disease (Andrews) and a torn plantar fascia (Jenkins)? Sam Prakel ran 3:50 last year indoors on the PR factory of the BU track, but only 4:03 last month in Seattle. 23-year-old Irishman Andrew Coscoran has impressed recently — he ran Craig Engels close in Boston two weeks ago and closed very well for a 3:37 against Josh Thompson last week — but how will he fare under the bright lights of Millrose (and outside of the fast BU track)?
There's also a fun college showdown pitting Australia/Wisconsin's Olli Hoare (2018 NCAA 1500 champ) against New Zealand/NAU's Geordie Beamish (2019 NCAA mile champ). Believe it or not, Beamish, despite winning NCAAs last year, has a mile PR of just 4:06. Expect him to smash 4:00 on Saturday.
2. Women's Wanamaker Mile (5:33 p.m.): Young phenom Jemma Reekie takes on Koko, GDS, Hiltz, & More
Where to start with this race? After last week, it has to be with Jemma Reekie, but there are plenty of storylines here. Reekie, a 21-year-old Scot who trains with Laura Muir and Gabriela DeBues-Stafford, shocked the running world with her 1:57.91 800 in Glasgow last week, the fastest time indoors since 2006. Not bad for someone who had a 2:01.45 pb beforer the race.
Now she's headed to the US for the first time to race in one of the world's most prestigious meets, and she could well win it. And as impressive as her run was, Reekie is no 800 specialist; in fact, she told Athletics Weekly that her focus was supposed to be on the 1500 this year (Reekie has a 4:02 pb and ran the 1500 at Worlds last year).
Before Reekie's breakout, either DeBues-Stafford, who ran 3:56 to finish 6th at Worlds last year or Konstanze Klosterhalfen (who ran 4:19 to win here last year and earned 5k bronze in Doha) would have gone off as favorites. Both women are still good enough to win, but both are coming off defeats; GDS ran 2:00.96 behind Reekie in Glasgow, while Koko clocked 4:04 behind Jessica Hull in Boston two weeks ago.
It would be impressive if any American could break up that top three. The best bet is Nikki Hiltz, a 4:01 1500 runner who finished 12th at Worlds last year, though NCAA 1500 champ Sinclaire Johnson (in her pro debut), Elle Purrier (who looked great in the 2-mile in Boston two weeks ago), and NCAA 5k champ Dani Jones could all be in that mix. Hiltz, Johnson, and Jones will all be battling it out for the non-Simpson/Houlihan spot on the Olympic 1500 team, so Saturday should offer a nice preview of what's to come in 2020.
1. Men's 800 (4:34 p.m.): How fast will Donavan Brazier go, and can Bryce Hoppel go with him?
While this race lost some star power with the withdrawal of Kenya's Michael Saruni — who became just the second man to break 1:44 indoors at Millrose last year — the headliner isn't bad: world champion Donavan Brazier, the American record holder indoors and out.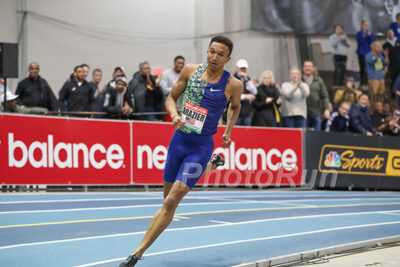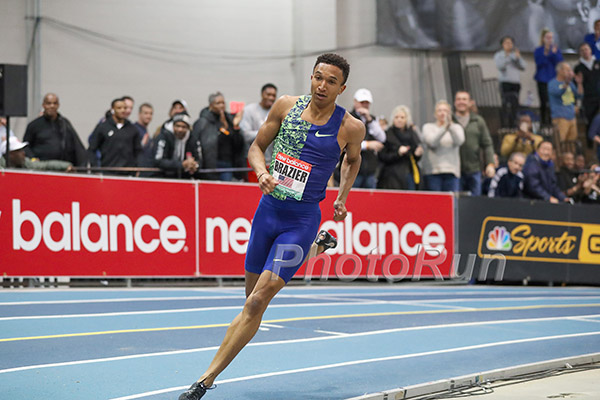 Amazingly, Brazier, who told LRC in Boston he wants to end his pro career with more wins than losses, is 0-3 at Millrose. He was just 4th in his Millrose debut over 1000m in 2017, and the last two years has lost to brilliant performances by Kenyans: a 1:44.21 by Emmanuel Korir in 2018 and Saruni's 1:43.98 last year.
Brazier will be favored on Saturday, and enters in great form — he just ran 1:14.39 for 600, the second-fastest time ever indoors (only behind his 1:13.77 from 2019). Brazier says he's further ahead right now than he was at this time in 2019, and he ran an American record of 1:44.41 last year at Millrose. He didn't want to put a time goal out there — his priority is the win — and it's asking a lot for him to challenge Wilson Kipketer's world record. But since Brazier is only 22 and still has room for improvement, it wouldn't hurt to remind you that Kipketer's world record is 1:42.67, set in March 1997 — one month before Brazier was born.
Brazier is the star attraction, but he's not the only reason this is the race of the day. Bryce Hoppel, the 2019 NCAA indoor and outdoor champ who also got 4th at Worlds last year, looked brilliant in the 1k in Boston two weeks ago and will get his first crack at Brazier since the World Championship final. And how does Isaiah Harris, who got a late jump on the 2019 season due to injury, stack up against two of his biggest rivals for an Olympic berth this summer? Heck, you may as well call this an Olympic Trials preview as five of last year's USA 800 finalists are in the field (Brannon Kidder and Robert Downs are the others). There's no Clayton Murphy (he's running Camel City instead), but otherwise we should get a good look at the current US 800m pecking order. And perhaps a very fast time up front from the world champ.
Be a fan, talk about the 2020 NYRR Millrose Games onour mesesageboard/fan forum: MB: Official 2020 NYRR Millrose Games Discussion Thread – We countdown the top 10 events for you