Oh So Close – Yomif Kejelcha Misses Breaking Mile World Record By .01 Of A Second at 2019 Millrose Games
By LetsRun.com
February 9, 2019
NEW YORK — Arrive one-hundredth of a second late to a doctor's appointment and no one notices. The A train's running late? No one bats an eye (which, by comparison, requires an enormous 30 to 40 hundredths of a second). It's a totally insignificant amount of time.
Until it's not.
Article continues below player
Miss the indoor mile world record by one-hundredth of a second, as Yomif Kejelcha did by running 3:48.46 to win the Wanamaker Mile at the 2019 NYRR Millrose Games, and you are liable to remember it for some time. Kejelcha's run this evening at the Armory was thrilling, audacious, and spectacular. But it was not a world record. That still belongs to Morocco's Hicham El Guerrouj, who ran 3:48.45 in Germany 22 years ago and can breathe a heaving sigh of relief.
There were 10 other men in this race, but once pacemaker Kejelcha passed pacemaker Rob Napolitano 750 meters into thrace, it soon clearly became one man against the clock. And through 809 meters, Kejelcha was winning; he came through in 1:52.99, well ahead of the 1:54.89 pace required to break the record. It was fast.
Maybe too fast, as it turned out. Kejelcha had come through 409 meters in 56.25 (3:41.33 mile pace), but with the rabbit Napolitano unable to make it even 800 meters, Kejelcha was left with a lot of work to do on his own. Running on his own, each lap got a little bit slower than the previous as he ran laps five, six, and seven in 28.80, 29.16, and 29.21 (28.39 is WR pace, the 4th lap had been a ). With the crowd roaring him on, Kejelcha summoned a 28.33 for his final lap, throwing his limbs forward desperately, but it was agonizingly too little slightly too late.
"I think the beginning was a little bit too fast," Kejelcha said after the race through translator Sabrina Yohannes. "The first lap or so was a little fast…I think I felt that in the end."
Kejelcha was handed a winner's bouquet, but he was only interested in the clock. It showed first 3:48.47, later adjusted to 3:48.46, and when he caught sight of it, he threw his body back, flower petals flying everywhere, not so much in disappointment, but frustration of doing something astonishing, but not quite unprecedented.
Watch the last lap and his reaction below:
Unbelievable.

Ethiopia's Yomif Kejelcha missed the new world record by 0.01 of a second in an incredible performance in the Men's Wanamaker Mile at the @MillroseGames. pic.twitter.com/3YtASyPZWe

— #TokyoOlympics (@NBCOlympics) February 9, 2019
Kejelcha's run was vastly superior to every other indoor mile in history, save El Guerrouj's world record. He smashed the Millrose and Armory record of 3:50.63 set by Olympic champion Matthew Centrowitz three years ago, and stands almost a full second ahead of the third-fastest indoor miler in history, Edward Cheserek at 3:49.44 (Cheserek was also second in the race tonight, clocking 3:53.29 to edge Kejelcha's Nike Oregon Project teammate Clatyon Murphy by .01).
Though Kejelcha said he was "very happy" with his performance, he is not satisfied. In his very first response to the assembled media scrum a few meters away from the track, he said that he will try once more to break it this season. And he expects a different outcome in attempt #2.
"I came very close to it, and I know I'm going to try it again and I think I can break it."
Quick Take: Not having a rabbit that could make it 800 and the 2nd lap of the race did Kejelcha in
We said in our pre-race preview that we were worried the rabbiting wouldn't be strong enough for the WR attempt and that proved to the case. It's an awful lot to ask a runner to run the entire second half of a WR attempt all alone. For comparison's sake, when Galen Rupp ran his 3:50 indoor mile and when Edward Cheserek ran his 3:49 indoor mile, they both had rabbits for 1200 meters (when Hicham El Guerrouj ran his WR in the outdoor mile, he also had a rabbit for 1200 meters).
UPDATE: LRC reader Ivan Sonck reports that for El Guerrouj's indoor WR, he had two pacers (Peter Stubbs and Rüdiger Stenzel) and was on his own shortly after 1000 meters.
In addition to not going far enough, the second lap of the race was way too fast and that might have cost Kejelcha the record. If one were to evenly split a 3:48.45, the splits at 409m and 809m would be 58.10 and 1:54.89. Kejelcha split 56.25 and 1:52.99. The real damage was done on the second lap of the race. Rabbit Rob Napolitano ran the first 209 in a near-perfect 29.62 (WR pace is 29.67 for the first 209 meters; Kejelcha was just off world record pace in 29.8) but Napolitano then blasted the next 200m in 26.37 (world record pace is 28.39 every 200m). Going two seconds too fast for a lap of the track is what likely did Kejelcha (who split 26.42 for that lap) in.
Kejelcha ran a little slower than record pace on lap #1 (but it does take a while to get going), then faster than the required pace for the first 3 laps of the race and then was slower than the required pace for the next 3 laps. He managed to kick on the final lap, but his 28.33 just wasn't quite fast enough and was only his third fastest lap of the day.
MB: The Guy That Was Suppose To Pace The Mile Cost Yomif The WR
Quick Take: Kejelcha ran out into lane 2 at the finish – that too could have cost him the record
We'll say it again. If you are leading the race, you should never leave lane one, particularly in this race when Kejelcha was WAY ahead. But as he was coming home, Kejelcha ran extra distance and drifted out into lane 2. That could have cost him the record as it looks like he was less than 3 inches away from tying it.
MB: Some free coaching advice for Alberto Salazar
Quick Take: The record attempts aren't done for Kejelcha
After the race, Kejelcha immediately said that he will target the mile world record again this season, and that he'd also like to break the world record at 5,000 (Kenenisa Bekele's has the indoor record of 12:49.60, the outdoor record is Bekele's 12:37.35; Kejelcha did not make it clear which record he would target). After the New Balance Indoor Grand Prix, Kejelcha mentioned Boston University, with its lightning fast track, as a possible venue, but he did not say today when or where the record attempts would come.
QT: Cheserek and Murphy ran 3:53 the hard way
Murphy and Cheserek tried to stick close to Kejelcha and they did so for most of the first half of the race. Then a bear jumped on their backs. They still ended up running decently fast — 3:53.29 and 3:53.30 — but they did so the hard way. Cheserek ran his first half in roughly 1:53.6 and second half in 1:59.7, whereas Murphy went 1:53.3 and 2:00.0. Josh Kerr also ended up running 3:53.65, but he did it with a big second half as the rest of the pack went out in 1:57 high-1:58 flat for the first half.
Results and Lap Splits Below.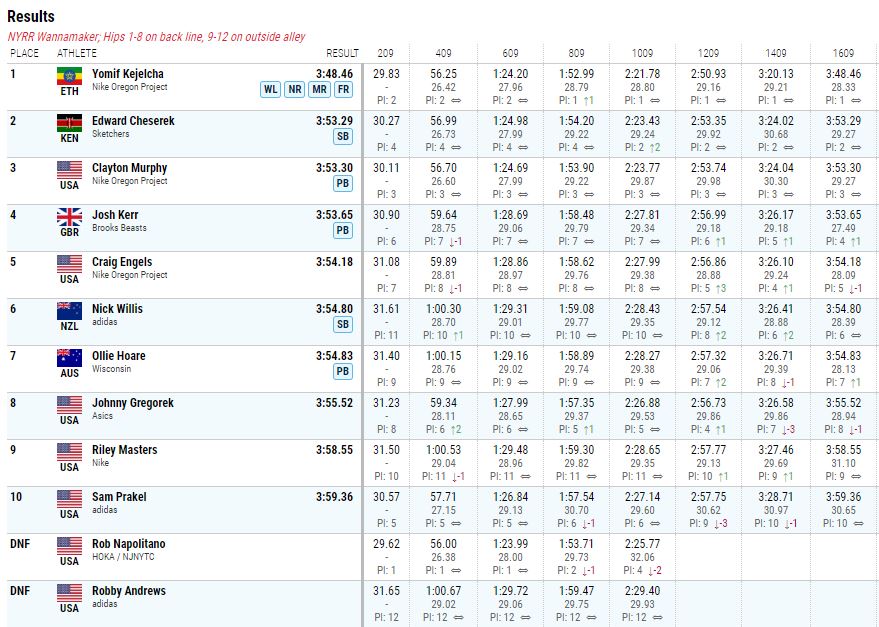 More: Talk about the race on our fan forum / messageboard.