Prayers for Kemoy Campbell, Fisher vs. McDonald Lives Up to the Hype, & Why Does Emma Coburn Keep Falling? 6 Thoughts on the 2019 Millrose Games
By LetsRun.com
February 9, 2019
NEW YORK — The 2019 NYRR Millrose Games are in the books, and what an evening of track & field action it was at the Armory. Anyone lucky enough to be on hand saw an American record in the men's 800, an American record in the women's 800, and a near-world record in the men's Wanamaker Mile. We've got separate articles on all three races below:
LRC So Close – Yomif Kejelcha Misses Breaking Mile World Record By .01 Of A Second At 2019 Millrose Games
LRC Michael Saruni (1:43.98) Becomes 2nd Man To Break 1:44 Barrier Indoors, Donavan Brazier (1:44:41) Breaks American Record In Millrose 800 
LRC Ajee' Wilson Gets Her American Record Back* By Running 1:58.60 To Win Millrose 800
Article continues below player
But there was even more action on Saturday, including a 3,000-meter showdown between the two best distance runners in the NCAA, Wisconsin's Morgan McDonald and Stanford's Grant Fisher, a historically fast 3,000 by Wisconsin's Alicia Monson, and struggles for world champs medalists Emma Coburn and Drew Windle. All of that action didn't feel quite as important and was put in perspective by a very scary moment for Reebok Boston Track Club runner Kemoy Campbell, who collapsed during the men's 3,000 and had to be taken to the hospital. The incident appeared to be very serious, and we have an update on Campbell's condition in the article below.
Read on for our final thoughts on 2019 Millrose.
If the men's 3,000 was an NCAA preview, sign us up
Three months ago, Morgan McDonald edged Grant Fisher by half a second to win the NCAA cross country title. Today's 3,000-meter race between the men was even closer, and this time it was Fisher who came out on top, running 7:42.62 to McDonald's 7:42.76 as they ran the third- and fourth-fastest times in NCAA history.
The two men are clearly the top two distance runners in the NCAA right now, and they have a ton of mutual respect for each other.
"It's always a good time," Fisher said. "I really enjoy racing him. He's a good competitor. I always want to beat him. I wouldn't call it revenge, I would just call it competitiveness."
Though the times were fast, this race was no time trial. It was the first individual race of the season for both McDonald and Fisher, and they were here to race, knowing that the pace would be fast enough up front for them to knock out their NCAA qualifiers.
Fisher won this race with his tactics. While most of the field was content to sit on Patrick Tiernan, who took over as the de facto pacemaker once Kemoy Campbell collapsed to the ground (see next point), Fisher was paying close attention and made sure he positioned himself just behind Tiernan.
"I really, really wanted to be in first with a lap to go," Fisher said. "And I thought it would be easier to be in second leading up to that to get to that position."
Fisher seized the lead from Tiernan with 300 to go, and though McDonald closed faster than Fisher over the final lap (26.47 to 26.56), Fisher's superior positioning won the day.
"I've made the mistake on 200-meter tracks, banked tracks like this, where I expect it to be as easy as an outdoor 400-meter track to pass, and it's just not," Fisher said. "Especially at the end of the race where those tenths are really important, I really wanted to have that pole position. When I got it, I had high confidence I could hold onto it, because in order to pass someone on these tracks, you gotta have a lot more than they do."
Afterwards, McDonald — who said he had been a little banged up in December and January — admitted that he made some tactical mistakes in the final laps today, but viewed the race as a learning experience.
"Hopefully I can fine-tune a little and come nationals, I'll have that stuff a little more down," McDonald said.
Given how their last two matchups have turned out, we can't wait until round three at NCAA indoors next month in Birmingham.
Kemoy Campbell had to be taken to the hospital after collapsing to the inside of the track
Campbell, a Jamaican Olympian who ran at the University of Arkansas and now runs for the Reebok Boston Track Club, was the pacemaker in the men's 3000 meters, but just after the one-kilometer mark, he slowed dramatically and collapsed, falling to the inside of the track. He spent the remainder of the race lying just inside the track surrounded by medical personnel. If you aren't squeamish, you can see a video of Campbell falling here. 
Campbell was given chest compressions and soon after that he was being shocked with a defibrillator. 
All in all, Campbell was laying on the inside of the track for roughly 23 minutes. It was a surreal scene as much of the arena did not comprehend the seriousness of what was going on. The introductions and smoke for the shot put finals ocurred just meters from where Campbell lay. It appeared that shouting from people in the crowd then caused the shot put final to be put on hold. Shot putter, Joe Kovacs, had initially helped clear photo equipment near Campbell so medcial personnel could get near Campbell. Now he and others realized the seriousness of the situation and they kneeled in prayer for Campbell and didn't resume the competition until Campbell left the track.
Campbell was then taken to New York Presbyterian/Columbia University Irving Medical Center, which is next door to the Armory. Jamaican journalist Andre Lowe gave an update on Twitter.
According to his agent Ray Flynn, Kemoy Campbell is in stable condition and is being treated by some of the best medical professionals. He had been complaining that he was not feeling well recently. His partner and brother are by his side at the hospital.

— Andre Lowe (@AndreLoweJA) February 10, 2019
Sources close to Campbell told LetsRun.com that Campbell has been sedated and likely will remain that way for a few days as his condition is monitored. An initial scan checking for damage to his brain found no serious issues.
Editor's note: The name of a witness to the incident has been removed from the blurb above as that person wished to remain anonymous.
KoKo crushed the field in the women's mile
If you didn't watch the meet and you glanced at the results and saw that Germany's Konstanze Klosterhalfen (who also goes by KoKo) won the women's mile in 4:19.98 (6th fastest performer in history) to Colleen Quigley's 4:22.86 in a race where 7 of the top 8 all ran personal bests, you might not be properly impressed by it.
A near three-second win is a BEAT DOWN in a pro mile. And what's even more impressive is her lead with 400 meters remaining was 3.45 seconds. Heck, halfway into the race, she led by nearly two seconds.
Here's a screenshot of how far ahead she was as she approached the bell: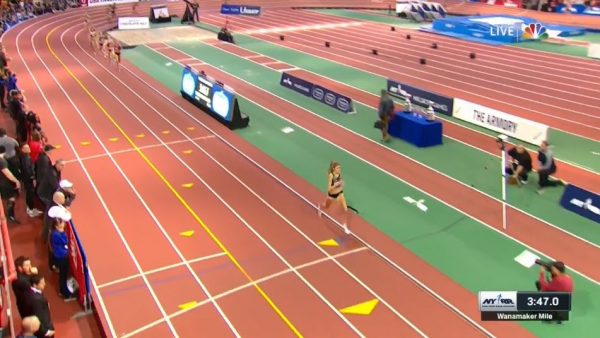 The top collegian in the race was Penn State's Danae Rivers, who moved to #10 all-time on the NCAA list with a 4:29.47 which placed her 8th.
Emma Coburn has now fallen more during the last three weeks than she has during her entire steeple career
Until last year in Rome, Coburn had never fallen during a steeplechase. But she has now fallen twice in two indoor races in 2019 as she hit the track in today's 3k (she got up and finished 5th in 8:52) and also fell in the mile in Boston two weeks ago.
Coburn wasn't quite sure why she suddenly has an attraction to the ground, but did point out that, because of the barriers, runners don't run quite as close to each other in the steeplechase. Quarters are a light tighter on an indoor 200m track.
"I just have to be aware and make sure I'm just on guard," Coburn said. "I thought I was. I thought I learned that lesson after Boston, but I guess I'm still learning it."
Wisconsin's Alicia Monson ran out of her mind today
Monson was one of the best runners in the NCAA last fall, finishing 4th at NCAA XC, and she had already got off to a fast start in 2019 with a 4:38 mile on January 12 and a 15:34 5k on January 26. But her performance today — taking down a field of pros to win the 3k in 8:45.97 — was the greatest of her career to date as she now sits #3 on the all-time NCAA indoor list. She's in pretty good company. Only Jenny Simpson and five-time NCAA champion Karissa Schweizer are above her — and Monson is ahead of Olympic silver medalist Sally Kipyego.
All-time fastest NCAA women, 3000m indoors
8:41.60 Karissa Schweizer, Missouri 2/3/18

8:42.03 Jenny Simpson, Colorado 3/14/09

8:45.97 Alicia Monson, Wisconsin 2/9/19

8:48.77 Sally Kipyego, Texas Tech 2/7/09

8:49.18 Kim Smith, Providence 3/14/04
Monson said the only goal today was to get the NCAA qualifier out of the way. Winning this race was a huge bonus and gives her a ton of confidence going forward.
Drew Windle is trying to figure it out
Windle was on fire at this time last year, as he ran 1:45.53 at Millrose to kick off a season that ended with a silver medal at World Indoors. But he struggled to regain that form outdoors, breaking 1:47 just once and running an SB of 1:46.88, and hasn't looked great so far in 2019. He could manage just 4:17 for the mile in his season opener on January 12 in Seattle and was last in the 800 today in 1:49.35.
Windle said he wasn't panicking and was generally upbeat during our interview. But he admitted that it's been tough for him as he doesn't know exactly why he's struggling. Last year's indoor season took a lot out of him, but he has been healthy for the last 12 months.
"It's really frustrating, but it's part of track and field," Windle said. "We're dealing with the human body here and there's thousands of variables. It's hard to figure out which ones are causing the issue. Training's been taking a slight uptick so hopefully the racing is just a couple steps behind that."
English Gardner is BAAACK
English Gardner had knee surgery at the end of 2017 that caused her to miss nearly the entire 2018 season. She has left old coach John Smith and moved back home to New Jersey to be coached by her dad.
The first race of 2019 was a huge success. She won Millrose in 7.10, which was a PR. She said the training with her dad has longer intervals and her plan is to try the 100-200 double if she can make the teams for Worlds.
She only had positive things to say about her former coach John Smith.
Twin Power in high school mile
LetsRun.com was started by identical twins so we were psyched when Matt Rizzo won the high school mile and his brother Alex was fourth. They talk below first about their race and then about going to separate colleges.
In the girls' high school mile, favorite Katelyn Tuohy did not run because she got sick.