Donavan Brazier Dominates, Bryce Hoppel Starts a New Win Streak, & More Thoughts from the 2020 New Balance Indoor Grand Prix
By Jonathan Gault
January 25, 2020
BOSTON — Track is back. Saturday's New Balance Indoor Grand Prix, the first meet of this year's World Athletics Indoor Tour, served as the de facto opening night for the 2020 indoor track season. And it reminded everyone of two things we learned over and over in 2019: all Bryce Hoppel does is win and Donavan Brazier is a monster.
Hoppel, the NCAA champion indoors and out last year for Kansas who placed 4th at Worlds in Doha, earned the victory in the closest and most competitive race of the night, coming from behind on the home straight in the men's 1000m. Hoppel edged Brit Jake Wightman, 2:17.41 to 2:17.51 — a British record for Wightman and the #3 time ever by an American for Hoppel.
Article continues below player
The final event of the night, the men's 600m, was set up as a coronation for Brazier, with highlights of his World Championship victory in Doha playing on the video board before the race to pump up the crowd. Brazier delivered, looking terrific as he sprinted to a comfortable 1:14.39 win, and the outcome was never in doubt — his 5.82-second winning margin was the largest of the night by far.
One athlete who didn't debut on Saturday was hurdle phenom Sydney McLaughlin; she was scheduled to run the 500m but her coach Joanna Hayes pulled her after McLaughlin felt tightness before the meet.
"She's got an exciting season ahead and her health is our first priority, so we want to make sure she takes care of herself," Hayes said in a statement provided to meet organizers.
Seven observations on Hoppel, Brazier, and everything else from NBIGP below.
Donavan Brazier isn't satisfied
Brazier's 1:14.39 was the second-fastest indoor 600 in history, behind only his 1:13.77 world best at USAs last year. But crossing the finish line, he was unimpressed, shrugging as he broke the tape.
"Because I knew I wasn't going to get [the world best]," Brazier said. "That was kind of me saying sorry, I messed up. First 300 was slow, that's on me…I can name like three things I did wrong."
Brazier conquered the world last year at the age of 22, but he says he's far from done.
"Even if I do nothing else the rest of my career, at least I have that [world title]," Brazier said. "But I'd like to get more accolades….that's the beauty of track and field. Yeah, I won last year, but there's so many more things you can possibly do. I've got more medals to win, I've got records to break, and I have so much more to do in the sport."
One of Brazier's goals? Win more races than he loses as a professional.
That's ambitious, but right now Brazier is on track to do it. Tonight's win brought his career record to 17-14 (.548) as a pro (counting his one DQ as a loss, but not counting prelims). 800 GOAT David Rudisha has a career record of 72-26 (.734), in case you were wondering.
Bryce Hoppel just wins, baby
Hoppel won his first 21 races (including prelims) of 2019, a streak that lasted almost seven months until it came to an end in the semis at USAs. Tonight, he began a new streak, in the process earning his first win as a professional. 
"Now it's definitely a whole new world with all these pro guys," Hoppel said. "I hope I can keep the streak going."
Hoppel got all he could handle tonight from Jake Wightman, who was 5th in last year's World Championship 1500 final, and showed impressive will to run Wightman down in the home straight. Hoppel held the lead until just under 400 meters to go, when Spain's Saul Ordonez moved by him, Wightman following close behind into second. The sudden move looked to throw Hoppel off his rhythm momentarily, but he didn't lose focus, even as Wightman threatened to run away with the race on the bell lap. Hoppel moved past Ordonez into second with 100 to go, and though he was clearly straining around the final turn, found enough to run down Wightman in the home straight. 
"I just try to race calm, and whatever the race does, I just try to go along with it," Hoppel said.
Among Americans, only the late David Torrence (2:16.76) and Matthew Centrowitz (2:17.00) have gone faster indoors over 1000m. But as good as Hoppel looked tonight, extending his win streak to two will be tough: he faces Brazier in the 800 at Millrose in two weeks' time.
Bethwell Birgen blasts Edward Cheserek in 3k; Ches declines to discuss his decision to run for Kenya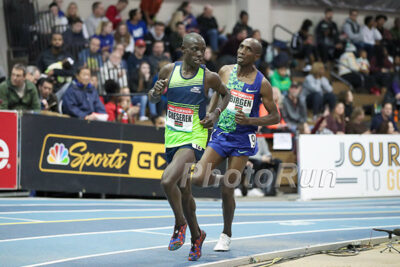 Yesterday, SI reported that Edward Cheserek, who has spent the past several years trying to obtain US citizenship, plans on competing for Kenya at this year's World Indoor championships and Olympics, if selected. His first chance to prove himself was tonight in the 3,000, and though he ran faster than the World Indoor standard of 7:50, he was outclassed by reigning World Indoor bronze medalist Bethwell Birgen, who closed in 26.33 for his last lap to steam away and win in 7:44.21 to Cheserek's 7:46.74.
Cheserek wasn't too down about the result, saying that he's been dealing with some Achilles issues, but he didn't say much more. Initially, he was asked by a PR staffer to move in front of the interview backdrop but mistakenly walked out of the mixed zone entirely. He then returned for 10 seconds, but as soon as I mentioned his decision to run for Kenya this year, he cut off the interview and left the mixed zone for good.
Cheserek has never enjoyed talking about his quest for American citizenship, usually offering no comment, and his agent/coach Stephen Haas told me that it's still a sensitive subject because Cheserek doesn't want to run for Kenya; he wants to run for the US. But to get to the Olympics — or any major international championship — before his prime is over, running for Kenya may be Cheserek's only option, and he's taking it.
So how realistic is it that we see Cheserek in a Kenyan singlet at World Indoors in March? Haas said that Athletics Kenya told him that the two fastest Kenyans this indoor season will be selected to the team. Right now, that's Birgen (who says he plans on running the 3k at World Indoors) and Cheserek. It remains to be seen whether those times will hold up, but Cheserek has a shot as many top Kenyans skip the indoor season entirely.
Jessica Hull has a busy winter ahead of her
Hull said she felt incredibly guilty sitting on kicking on teammate Konstanze Klosterhalfen to win the women's 1500 tonight — Klosterhalfen led almost the entire race until Hull edged by with 25 meters to go — but it proved an effective strategy as she won in 4:04.14 to Klosterhalfen's 4:04.38.
Hull will be spending a lot of time on airplanes over the next two months. Australia is holding its Olympic 5,000 trials as part of the Melbourne Track Classic on February 6, and Hull will be racing there before flying back to the US to train before heading to World Indoors in Nanjing in the middle of March. Then, from Nanjing, she'll fly back to Australia and run the 1500 at the Australian Champs in Sydney (should she have to choose, Hull said she'll figure out which event to run at the Olympics once she has completed both trials).
I also asked Hull, who is part of Pete Julian's unnamed training group, on what she'd like the group to be called. She suggested "Nike International."
"We have four or five Americans, a Kenyan, a German, and an Aussie," Hull said. "I think Nike International envelopes all of that. But I do really like Donavan's 'Phil's Knights.' I think that's pretty creative. But at the end of the day, I think we might need to open it up to the public. That would be pretty cool."
Nick Willis says 2020 will likely be his last year where running is his only priority
Willis looked lively tonight in the men's mile, finishing a close second behind Brit Chris O'Hare, 3:59.62 to 3:59.89. That gives Willis, 36, an astonishing 18 straight years with at least one sub-4:00 mile, which according to messageboard poster "Mark," ties him with Kiwi legend John Walker for most in history.
Making it to 19 straight could be tough, however.
"I'm really looking forward to getting into some other interests of my life after Tokyo," Willis said. "Doesn't mean I'm going to stop running, but I'm probably going to stop making it my only priority. Getting back on my snowboard and get on my skateboard and playing pickup basketball and all that sort of stuff, I'm really looking forward to doing. Who knows how many more races I'll do, but I still want to keep running. I just don't want to have to sacrifice all that stuff any longer…I'm not going to give the retirement word, because I do love running and I'll always want to jump in races."
Clayton Murphy not panicking after rough season opener
Murphy didn't look good in the mile today, as he never managed to pick it up during the second half of the race, finishing 6th in 4:03.37. But Murphy wasn't panicking after his first race of 2020. He said after the race he'd only put together three good weeks of practice so far, and with no indicator workouts or time trials, had no idea how tonight would go.
With his former coach Alberto Salazar banned, Murphy has been training in Akron under his college coach Lee Labadie, and while he says it feels like catching up with an old friend, it has presented challenges.
"I was just getting adjusted to the training I was doing for the last two years [under Salazar] and it kind of flipped gears again," Murphy said. "So anytime you have to switch training, it just adds a little bit of unknown factor to it."
Murphy's 2019 season didn't end the way he wanted it to, finishing dead last in the World Championship final, but he's ready for redemption in 2020.
"I don't think I'll ever be over it," Murphy said of his race in Doha. "It's something that kind of lingers over you forever, a performance like that, but it's a new season, Olympic year, and [I'm] focused on making the team."
One final observation…
This meet did not have a bell to signal the final lap. It felt wrong. Like Pavlov's dog in reverse, I've been classically conditioned to expect a bell with one lap to go at track meets. Its absence was jarring and wrong.
***
More athlete interviews
Lolo Jones on why she's still running at age 37
Cruz Culpepper after winning the junior mile
Culpepper, son of Olympians Alan and Shayne Culpepper, beat out William Coogan, son of Olympian Mark, to win in 4:11.44 thanks to a brilliant 56.14 final quarter.
Elle Purrier after dominating the women's 2-mile
James Randon after taking 3rd in the men's mile