Two World Records Fall + Emmanuel Korir Runs The Fastest Indoor 800 in 17 Years at 2018 Millrose Games
By LetsRun.com
February 3, 2018
NEW YORK — A jam-packed, star-laden 2018 NYRR Millrose Games did not disappoint as some of the world's best runners put up incredible performance after incredible performance on Saturday afternoon at the Armory. The 111th edition of the famous meet saw not one, but two world records, the fastest indoor 800 in 17 years, a daring solo run in the men's Wanamaker Mile and two super-tight finishes in the women's 3000 and women's Wanamaker Mile.
The first of the two world records belonged to Olympic 400 champion Shaunae Miller-Uibo of the Bahamas, who tied the world record in the 300 meters by running 35.45. Just over half an hour later, the U.S. quartet of Chrishuna Williams, Raevyn Rogers, Charlene Lipsey, and Ajee Wilson joined her in the record books by clocking 8:05.89 in the women's 4×800 relay. Wilson was the hero, delivering a clutch 1:58.37 anchor split to clinch the record.
The top men's performance on the day came in the 800 meters, where Kenyan sensation Emmanuel Korir blasted a 1:44.21 to move to #3 on the world all-time list indoors. He was followed by Donavan Brazier (1:45.35) and Drew Windle (1:45.53), who moved to #2 and #3, respectively, on the U.S. all-time list indoors.
Article continues below player.
Aisha Praught-Leer won a tight women's 3,000 over training partner Emma Coburn in a race that saw Karissa Schweizer break the collegiate record, while Colleen Quigley prevailed in a similarly tight race in the women's Wanamaker Mile, defeating new Bowerman Track Club teammate Kate Grace by just .03 of a second. Former Tulsa star and NCAA champ Chris O'Hare capped the night off with a win in the men's Wanamaker Mile by opening up a large mid-race gap after five laps and holding on to the finish.
Race recaps, results, and analysis below.
We start with the mid-d and distance results and go in the order it took place before going to the other events.
Women's 3000: Aisha Praught-Leer picks up the biggest win of her career as Karissa Schweizer breaks the collegiate record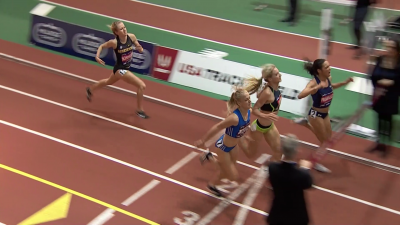 The field wanted a fast pace in this race to chase the World Indoor standard of 8:50.00, and at 1600 meters (4:42.42), they were dead on (8:50 pace is 4:42.67 for 1600) with Aisha Praught-Leer in front. The remaining 1400 meters were wild, with no fewer than four lead changes. First Emma Coburn moved by with six laps to go, then four laps to go three-time NCAA champion Karissa Schweizer of Missouri hit the front. But the field remained bunched with five women (Schweizer, Praught-Leer, Coburn, Dominique Scott, and Katie Mackey) all within half a second of the lead.
Praught-Leer quickly regained the lead on the backstretch and held it until 300 meters to go, when Coburn passed her training partner into first. Coburn's lead would not last long, however, as Praught-Leer went by at the bell and began her kick for home. Coburn was trying desperately to hang with Praught-Leer but Praught-Leer would not give in, and as they rounded the final turn, Praught-Leer still led with Coburn and Scott kicking desperately.
The latter two wound up coming very close on the outside as the top three all finished within .08, but it was Praught-Leer who held on for an unlikely victory in a massive pb (and Jamaican record) of 8:41.10 (her previous outdoor pb was 8:53; her previous indoor pb was 9:03). Coburn ran 8:41.16 for second (a seven-second PR), as Scott clocked a South African indoor record of 8:41.18 for third (an indoor PR of 11 seconds and .15 faster than her outdoor PR).
Schweizer also made history in third by running a collegiate record of 8:41.60 to erase Jenny Simpson's name from the record books. An incredible performance from the Missouri senior.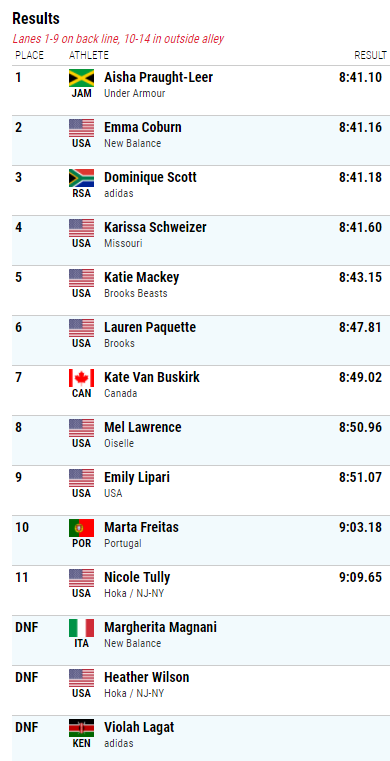 Quick Take: Schweizer should start calling herself an Olympian now
Check out the top 5 on the NCAA indoor 3000 list. All of the ladies behind Schweizer are very accomplished pros.
8:41.60 Karissa Schweizer (Missouri) 2/3/2018
8:42.03 Jenny Simpson (Colorado) 03/14/09
8:48.77 Sally Kipyego' (Texas Tech) 02/07/09
8:49.18 Kim Smith' (Providence) 03/13/04
8:51.91 Abbey D'Agostino (Dartmouth) 02/15/14
List via TFN.
Quick Take: The U.S. should be able to field a squad in this event at World Indoors now
Before today, only one American woman had the World Indoor standard of 8:50.00 — Shannon Rowbury. We don't know if Rowbury is racing this year indoors (signs point to no at the moment as she had run Millrose in each of the past three years), but even if she chooses not to run USAs, the U.S. now has seven women with the standard — Rowbury, Coburn, Schweizer, Katie Mackey, Lauren Paquette, Shelby Houlihan and Marielle Hall, the latter two of whom hit it at Boston University this afternoon.
Houlihan and Hall both ran faster than anyone in New York as Houlihan clocked 8:36.01 (#2 all-time US indoors) and Hall ran 8:40.20 (#4 all-time US indoors).
No disrespect to Mackey and Paquette, but Houlihan and Hall look like sure bets to make the U.S. team at this point as there are serious questions as to whether the other contenders will run USA Indoors. Rowbury hasn't raced at all in 2018, as we noted, Coburn has never run USA Indoors, and Schweizer is still in college and will be focused on NCAAs. That leaves only Houlihan, Hall, Mackey, and Paquette with the standard, and with USAs at altitude, it's unlikely anyone gets it there.
QT: Emma Coburn says don't be surprised by Aisha Praught's win
Aisha Praught is in Emma Coburn's training group and coached by Emma's husband Joe Bosshard. Until today not many viewed them as the same caliber of runner. Coburn won the world steeplechase title last year while Praught fizzled out in the final and was DQ'd after the race. Coburn said, however, that Praught runs workout after workout with her, often right next to her so she was not surprised by the result. Last year at Worlds, Praught hurt her foot on a barrier and didn't get to show her true fitness. Today she was able to show it. Coburn and Praught definitely have embraced the team concept as Coburn said Aisha's success is almost like her own success. Emma was pleased to get a PB (8:48 old PB) even if she didn't get the win.
Praught said she was not surprised to win even though it was the biggest of her career. She also lowered her PR a ton from 8:53.
Men's 800: Emmanuel Korir shines bright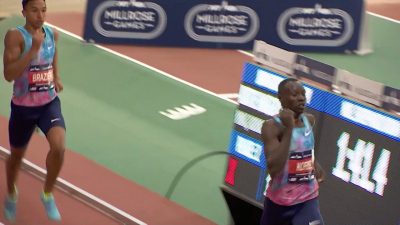 With 10 men in this race, the pace needed to be fast to avoid a major traffic jam, and it was indeed quick early on, with Donavan Brazier pipping Emmanuel Korir for the lead at 200 (24.65) behind rabbit Russell Dinkins.
The pace remained hot at 400 (50.77 for Brazier), and as they approached the bell (1:17:85), Korir moved up to Brazier's shoulder but could not get around him. The two young phenoms sprinted around the first turn and began to separate from the field. Despite the incredible pace, Korir had yet another gear and he showed it over the final 100 meters, passing Brazier entering the final turn and pulling away for what turned into a big win (1.14 seconds in the end).
Once Korir crossed the finish line, all eyes turned to the scoreboard, which revealed a shocking number: 1:44.21, the fourth-fastest indoor 800 ever run (Korir is the #3 performer of all time as Wilson Kipketer has the two fastest times ever).
Brazier wound up second in a well-deserved indoor PR of 1:45.35 — among Americans, only Johnny Gray (1:45.00) has run faster indoors. Brazier and Korir wound up dragging two more runners to fast times as well. Drew Windle ran 1:45.53 (previous indoor pb: 1:46.52) to move to #3 on the all-time U.S. indoor list and Great Britain's Kyle Langford clocked 1:46.43 (previous indoor pb: 1:46.79).
Clayton Murphy did not PR, but he ran significantly better than last week in New York (1:50.47) as he clocked 1:46.61 to take fifth.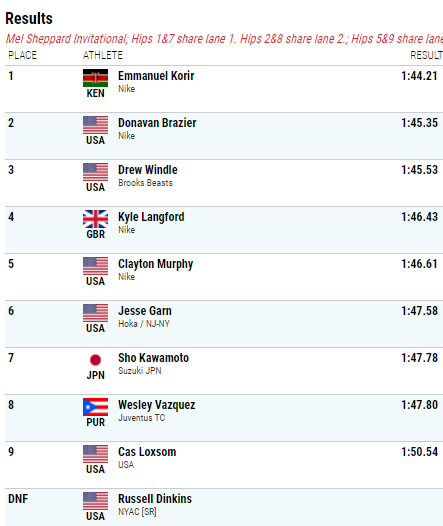 Quick Take: In an incredible race, Emmanuel Korir was in a class of his own
Normally if you run 1:45 indoors, you win the race and win it by a lot. Today, two Americans ran 1:45 and got totally destroyed as they ran into a Kenyan buzzsaw named Emmanuel Korir.
It had been almost four years since anyone broke 1:45 indoors (Ethiopia's Mo Aman and South Africa's Andre Olivier were the last to do it, in Birmingham).
There were some big talents in this race — Brazier ran 1:43 at age 19, Murphy ran 1:42 and medalled at the Olympics at 21 — but Korir, who has 44.53 400 speed, may be the biggest of them all. When a guy runs like Korir did today, there's not much anyone else can do.
All-time world indoor list
1:42.67 Wilson Kipketer, Denmark   Paris 3/9/97
1:43.96 Wilson Kipketer, Denmark   Paris 3/7/97
1:44.16 Yuriy Borzakovskiy, Russia   Karlsruhe 1/27/01
1:44.21 Emmanuel Korir, Kenya    New York 2/3/18
Yes, Kipketer ran the two fastest times ever indoors within a three-day span. He did it at World Indoors in 1997, running 1:43.96 in the first round and 1:42.67 in the final. The 1:42.67 was actually his third race in three days as Kipketer had to run a semifinal on March 8 as well (he ran 1:48.49 in that race).
Quick Take: The 800 at USA indoors is going to be ridiculous
Brazier and Windle just ran the second- and third-fastest indoor times ever by Americans. That alone would make for a phenomenal race at USAs. But add in Murphy — who looks to be coming around after a rough race last week — and Erik Sowinski, who has been running well in 2018 (twice under 1:47 already) and the 800 should be one of the events of the meet in Albuquerque. Oh, and reigning World Indoor champ Boris Berian is making his season debut next week in Boston.
QT: Korir happy but not surprised with time, Brazier content to PR, we didn't talk to Windle or Murphy
Emmanuel Korir has not missed a beat in his first year as a pro as his race today was spectacular. He said he's focused on trying to get the world indoor title and outdoors wants to run 1:42. He shied away from any world record talk.
Brazier wanted to win today, but tipped his hat to Korir, and said he would take the consolation prize of the PR. As for Windle, so much was going on at Millrose we didn't even get a chance to talk to the third-fastest American ever indoors. We also didn't get a chance to talk to Olympic bronze medallist Clayton Murphy who had a much better race than in his first two 800s for the Nike Oregon Project where he ran over 1:50.
Men's 3000: Shadrack Kipchirchir beats Justyn Knight for the second straight week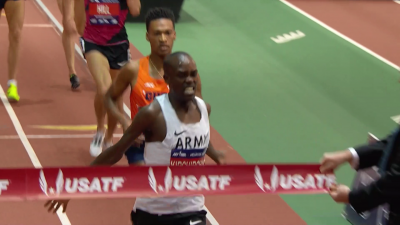 Nothing much happened in the men's 3,000 until three laps to go, at which point the entire field was still within 1.30 seconds of leader Andrew Butchart of Great Britain. Butchart dropped the pace to 30.69 for the next lap and held the lead until 300 meters remained, at which point the Army WCAP's Shadrack Kipchirchir went to the front. Big kicker Ryan Hill was readying himself, moving into second at the bell, while NCAA stud Justyn Knight of Syracuse also moved up, from 6th to 4th with 200 to go.
Knight came around Hill on the outside on the backstretch of the bell lap and struck out after Kipchirchir. Even though Kipchirchir's form was starting to lag — he momentarily lost his balance with a misstep on the final turn — he wasn't slowing down as he dropped a 26.69 final lap to win in 7:45.49. Just as he was in the mile last week in Boston, Knight finished second behind Kipchirchir, clocking an NCAA-leading 7:45.86. Hill ran decently in his season opener, but his patented kick wasn't there as he could only manage third in 7:46.65 (27.79 final lap).

Quick Take: Knight is now the 9th fastest 3000 man in NCAA history according to TFN.
Had he run just a little more than 1-second faster he'd be #4 as a bunch of guys are bunched at 7:44-45.
7:38.59 Alistair Cragg' (Arkansas) 02/14/04
7:40.51 Edward Cheserek' (Oregon) 02/20/16
7:42.79 Lawi Lalang' (Arizona) 01/26/13
7:44.69 Galen Rupp (Oregon) ,02/07/09
7:44.90 Nick Willis' (Michigan) 01/31/04
7:44.91 Eric Jenkins (Oregon)02/14/15
7:45.71 Will Geoghegan (Oregon) 02/14/15
7:45.75 Cam Levins' (Southern Utah) 02/04/12
7:45.86 Justyn Knight (Syracuse)02/03/18
7:46.03 Adam Goucher (Colorado) 03/14/98
Knight ran very well today, and he is obviously very fit, though Kipchirchir's superior positioning is what enabled him to claim the victory today. Kipchirchir and Knight ran near-identical splits for the final 200 (26.69 vs. 26.70), but Knight had to battle his way up as he was 6th with 400 to go and 4th at the bell. Kipchirchir, meanwhile, got into position earlier (he was 2nd with 600 to go and stayed there until he took the lead) and running the extra distance was one reason why he was able to hold off Knight.
The good news for Knight as he won't have to face anyone as good as Kipchirchir at NCAAs next month.
QT: Kipchirchir not taking making World Indoors for granted, Knight wanted to run faster
Kipchirchir trains with the top long distance group in America with Scott Simmons' WCAP/American Distance Project and knows the win today does not guarantee him anything at his next race, the USA championships, where he will take on, amongst others, his teammate Olympic and world medallist Paul Chelimo. He was pleased with the strong performance today.
Knight said he wanted to run a faster time but was very pleased with how he competed today.
HS girls' mile: Gabrielle Wilkinson upsets Katelyn Tuohy
Tuohy was the big favorite to win this race and she set the goal of breaking 4:40. But after going out hard (68.38 at 409, 2:19.18 at 809), she started to slow during the second half. At 1209 (3:31.16), sub-4:40 was slipping away, but the victory still appeared to be in hand as Tuohy led by 1.59 seconds. Unfortunately for Tuohy, her early aggression came back to bite her as she really struggled over the final 400 (75.94); instead, it was Gabrielle Wilkinson of Wynnewood, PA, who powered away to victory, winning by a second and a half in 4:42.94. Tuohy wound up fourth in 4:47.10.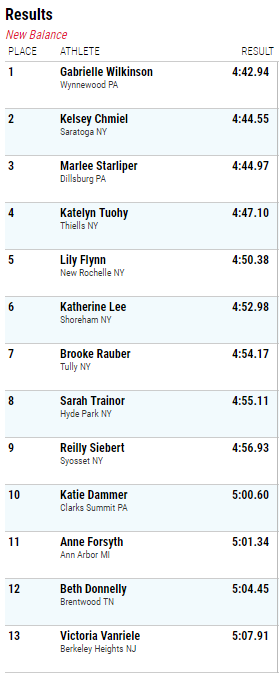 Quick take: Wilkinson: "Anything is possible. Believe in yourself. Believe in your training."
Wilkinson said she was a bit surprised to get the win but her coach told her to hang close and give it her all the last lap. She did a lot of training outdoors, sometimes in 17-degree weather, to get tonight's win. "I worked and put in a lot of mileage in… Anything is possible. Believe in yourself. Believe in your training." When other reporters expressed amazement at her doing workouts in such cold weather she responded like a pro, "You gotta do what you gotta do."
Women's Wanamaker Mile: Colleen Quigley earns  narrow victory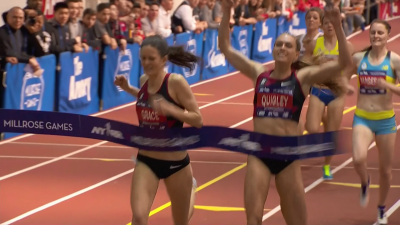 No one wanted to run fast in the women's Wanamaker Mile so it end up turning into a 200-meter dash for glory that ended up being a battle between new Bowerman Track Club teammates Colleen Quigley and Kate Grace. Grace was the lone person in the field who broke 30 on the last lap (29.60) but she didn't get the win as she only started the lap in 5th and had too much ground to make up. Quigley held on for the win by just .03 in 4:30.05 after a 30.02 last lap.
No one went with the rabbit early on and Alexa Efraimson had the lead at halfway in 2:16.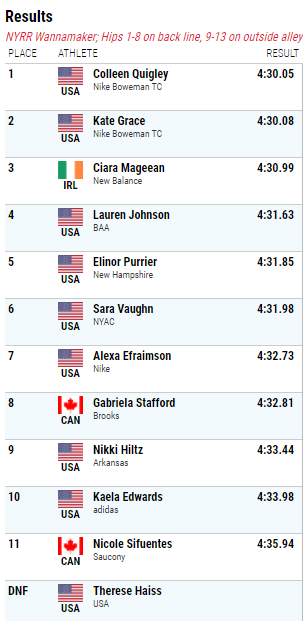 Quick Take: Tactics were why Quigley won this one.
Quigley was only 9th midway through the race but she realized it and moved up to 5th after 5 laps and third after 6 laps. Contrast that to Grace, who was sixth at halfway but allowed herself to drop back to 9th after 6 laps.
Without knowing it, Quigley affirmed one of LetsRun.com co-founders Robert Johnson's coaching mantras for the mile: "You can turn your brain off for the first 800. I don't care. Just make sure you are in a good position with 400 to go."
Lots of runners waste energy in the first half when positioning doesn't matter very much. The key is to be in a good position with 400 to go, particularly if it's tactical.
Quick take: Quigley almost celebrated too soon, has more speed than you think
Colleen Quigley threw up her arms before the finish and almost let Grace pass her. She had no idea Grace was closing fast. Quigley held on for the win and was glad she didn't embarrass herself on national television. Grace said she struggled tactically in this race and still is a better 800 tactical runner than 1500 runner. However, now that she trains with Quigley, she said Quigley has a lot of speed so don't be surprised if she starts doing things in the shorter distances.
Women's 4×800 relay: Team USA gets the world record thanks to a heroic anchor leg from Ajee Wilson
Based on last week's performances, the math said that the U.S. team of Chrishuna Williams, Raevyn Rogers, Charlene Lipsey, and Ajee Wilson would likely come up short in their attempt to break Russia's 8:06.24 world record. The record required an average of 2:01.56 per leg, and Wilson was the only member of the squad close to that last week as Williams ran 2:04.62 and Lipsey ran 2:03.74 at the Dr. Sander Invite (Wilson ran 2:00.90 while Rogers did not race at the meet).
The record attempt did not get off to a great start, either, as Williams, a 2016 Olympian, could only manage 2:05.10 on the opening leg, handing off in second place. But a 2:00.45 second leg by Rogers got the team back on track, and Lipsey split 2:01.98 to give Wilson a chance; she'd need to split faster than 1:58.72 in order to break the record.
At that point, the outcome was still in doubt (well, kind of — no one was beating Wilson on the anchor) as the NY All Stars (Cecilia Barowski, Lynsey Sharp, Ce'aira Brown, Kendra Chambers) reached the final exchange at the same time as Team USA. But Wilson quickly dropped NY anchor Chambers by splitting 56 seconds for her first 400 and hung on to come in just under the record at 8:05.69 (1:58.37 split), to the delight of the crowd.

Quick Take: Another incredible performance by Ajee Wilson
While Raevyn Rogers ran a very strong second leg and Charlene Lipsey did her job in keeping it close on leg 3, Team USA doesn't come close to the WR in this race without Ajee Wilson. Going out and splitting 1:58-low on your own, even with a running start, is not easy to do, but Wilson made it look routine. The 23-year-old Wilson is setting up for another big year, and based on today's run, she'll be a threat for another medal at World Indoors next month.
QT: What a training group Derek Thompson is going to have.
Raevyn Rogers has been coached by Wilson and Lipsey's coach Derek Thompson this year, with most of the coaching being remotely as Rogers is in Oregon finishing up her degree. But once she finishes her degree she will move to Philly to train with Lipsey and Wilson. While all four women were pleased to get the record, the 21-year-old Rogers seemed the happiest. Wilson takes her accomplishments in stride, but Rogers was very happy to get a world record in her first year as a pro.
Men's Wanamaker Mile: Chris O'Hare blows it open early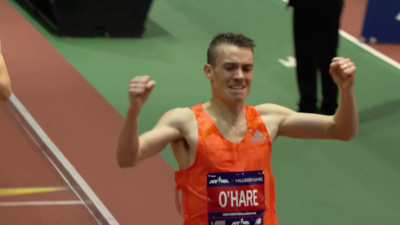 Britain's Chris O'Hare won the men's Wanamaker mile on the 5th lap. Yes, the fifth lap. After an opening half mile of 1:56, O'Hare kept the pedal down and opened up a near full second lead on the 5th lap. That lead stretched to more than 2 seconds a lap later (2:55.46 at 1209). At the bell, O'Hare led by 2.02 seconds and even though he was looking over his shoulder, he wouldn't relinquish it. O'Hare hung on and won his first Wanamaker Mile in 3:54.14 as reigning NCAA mile champ Josh Kerr of New Mexico moved up for second in 3:54.72, just ahead of Ben Blankenship (3:54.77).
Nick Willis, who has five times been top 3 at Millrose but never won, was a non-factor and ended up fifth in 3:57.71.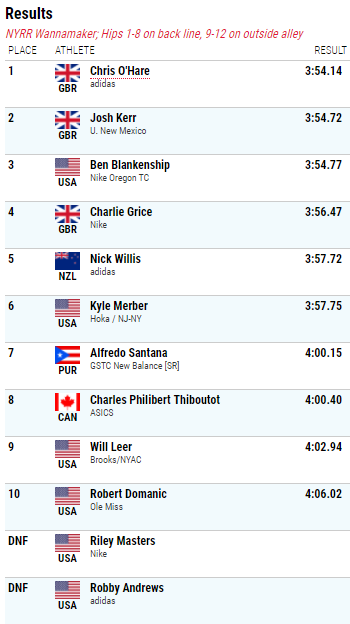 Quick Take: It's interesting to note that while this was his first Millrose victory, it may not have been O'Hare's best Millrose performance.
In running, you can't control what your opponents do and thus one thing people sometimes forget is that often winning and losing is out of your control. In 2016, O'Hare ran 3:52.91 at Millrose but was only third as Matthew Centrowitz ran 3:50.63. Today he ran 3:54.14 thanks to refusing to back off the pace. O'Hare didn't make one big dramatic surge — he just kept running 29s. O'Hare's final 5 laps were all in the 29s – 29.24, 29.01, 29.01, 29.02, 29.67 and that was enough to win.
Quick take: O'Hare training in Tulsa now
Afterwards Chris O'Hare said he's still coached by Terrence Mahon (former BAA Boston coach who has relocated to California) but that he's moved back to Tulsa to base his training. He works out with some guys in Tulsa where he went to school, but also recently did an altitude stint with Mahon's guys in Flagstaff. Clearly the new setup is working well. Erica Avila, who won the "B" mile, is also in Mahon's new group, as are Brits Lynsey Sharp and Andrew Butchart.
Nick Willis' wife wanted him to give this a shot
Willis had the flu last week and has a three-week-old baby at home but his wife encouraged him to go try and win his first Wanamaker Mile. Willis came up short and now will shift his focus to Commonwealth Games prep after a scan on his leg to make sure he's 100% healthy on Monday after a slight problem popped up this week.
B Men's Mile / HS Mile: Brodey Hasty just misses joining sub-4 high school club, Eric Avila in new training group
The B men's mile results appear below. This event actually took place before all of the other mid-d events. Eric Avila got the win in 3:57.45 and HSer Brodey Hasty just missed becoming the third HSer to break 4:00.00 at 4:00.05. Then there was a HS mile won by Josh Hoey in 4:07.42. 2017 Penn Relays champ Dalton Hengst led at 1200 but ended up 4th. After the race, Hengst didn't talk to the media to explain his much-publicized recent mid-year transfer.
Avila ran unattached today and said his Hoka One One contract expired at the end of the year. He's the one who told us about Terrence Mahon's new group out of San Diego mentioned above. Avila wasn't sure if he could publicize who was in the group but said to look at Andrew Butchart's social media. Avila said Mahon told him he couldn't guarantee him a contract, but he could let him train in California with some of the best in the world and it looks to be working.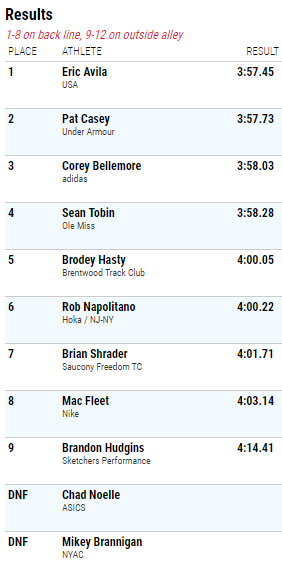 HS mile
Women's 60 hurdles
Tobi Amusan, last year's NCAA 100-meter hurdles champion at UTEP, got out well and crushed a quality field to win in 7.90 seconds. Lolo Jones was seventh in 8.37 in her first race since February 2016.
Lolo Jones talks about left off US Bobsled team because of politics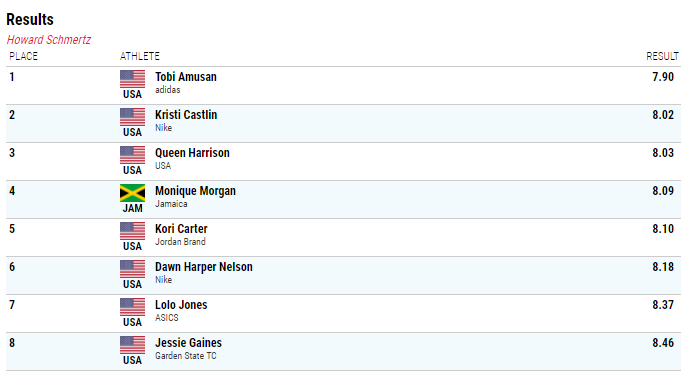 Men's 60 hurdles
Devon Allen and Aries Merritt waged a great battle in the middle of the track in this one, and though Merritt was the one who started best, Allen closed very well over the final hurdle and clocked a personal-best 7.50 to take the win.
Devon Allen not afraid to discuss world record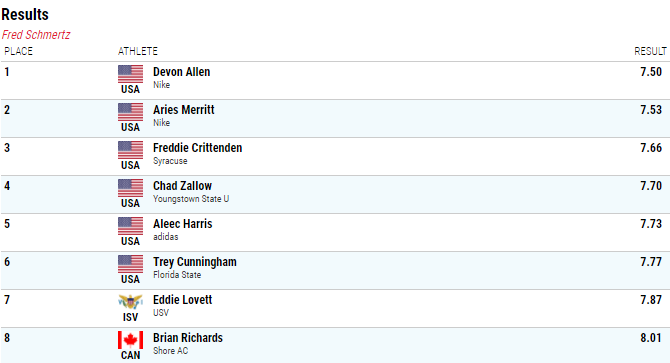 Women's 60
Tori Bowie ran Millrose to work on her start, and it was clear from today's race that her start still needs some work as Murielle Ahoure left her in the dust out of the blocks today. The rest of Bowie's race was strong, however, but it wasn't enough to catch Ahoure, the 2018 world leader at 7.07, who clocked 7.11 to win over Bowie's 7.14.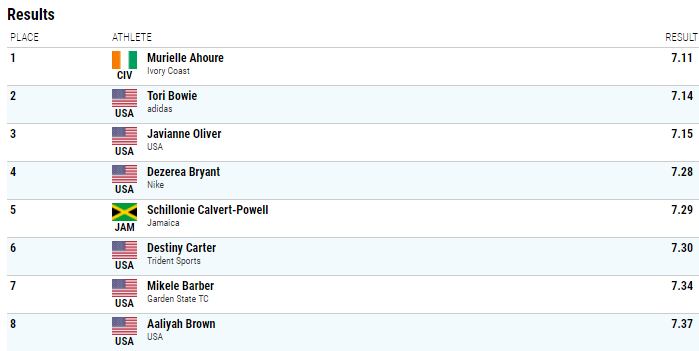 Men's 60
The indoor specialist Ronnie Baker won his fourth straight indoor race (dating back to last year), cruising to victory in 6.48, as 20-year-old Noah Lyles shaved .04 off his PR of 6.63, set in this race last year. Jamaicans Omar McLeod and Asafa Powell were nonfactors, finishing 5th and 6th, respectively.
Noah Lyles excited for matchup with Christian Coleman next weekend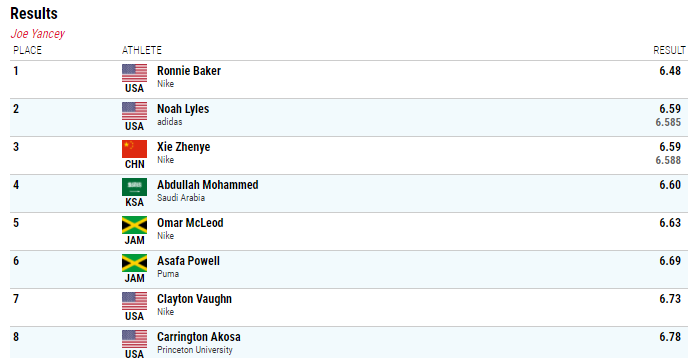 Quick Take: Can someone tell us why Christian Coleman wasn't in this race? Wouldn't it make sense for the future face of US track and field to run in front of a NBC nationally televised audience instead of running the fastest time ever in a college meet?
Women's pole vault: Katerina Stefanidi wins after Sandi Morris pulls out
Morris went through warmups but felt her back acting up and decided not to risk competing today. That paved the way for Stefanidi to win her fourth straight Millrose title.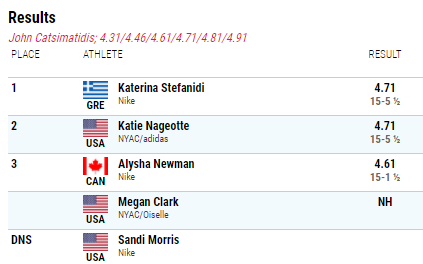 Women's high jump: Vashti Cunningham wins
Cunningham prevailed in her Millrose debut by clearing 1.96 meters.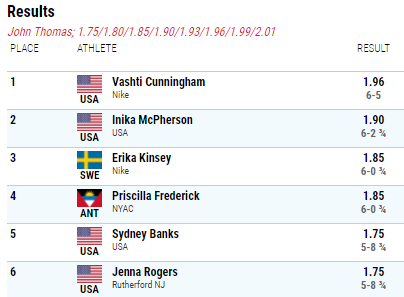 Women's 300: Shaunae Miller-Uibo ties the world record
Miller-Uibo has medalled in both the 200 and the 400 on the global stage, so the 300 is an ideal distance for her, and she showed why today with a sensational run. After 100 meters, Miller-Uibo had already made up the stagger and on the final lap, she was totally alone, crushing a solid field to run 35.45 and tie Irina Privalova world record, which has stood for 25 years — one more than Miller-Uibo has been alive.