What Does It All Mean? Four Thoughts On Eliud Kipchoge's 1:59:40 Marathon
By LetsRun.com
October 12, 2019
A human being has run 26.2 miles in under two hours.
Sure, he had some help from 41 pacers and some crazy good shoes, but 1:59:40 for Eliud Kipchoge is the end result.
Article continues below player
Four quick thoughts.
1) Be inspired. He did it. A sub-2:00 marathon* has been run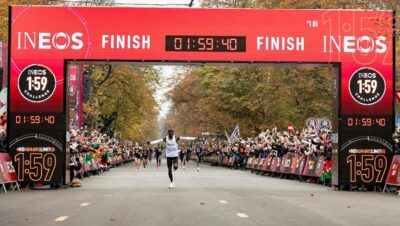 In the immediate aftermath of this run, we should ignore the asterisk surrounding it. It was a truly beautiful thing to see the greatest marathoner on the planet, Eliud Kipchoge, running the final 100m pointing at the crowd, pumping his fist, and then pointing at his eyes and then pointing at the clock to say "this is for real." Then right at the finish he bumped his chest with his hand. Shortly after finishing, he was embraced by his wife — who was watching him race in person for the first time — and coach and soon lifted into the air by his pacers. Kipchoge's joy was universal. Watch the end of the race for yourself below.
BREAKING: HISTORY as #EliudKipchoge, world's greatest marathoner, becomes the first human to run a marathon in under 2 hours.

Kipchoge finished in 1:59:40. #INEOS159 #IneosChallenge pic.twitter.com/V7uqHPzLMX

— Citizen TV Kenya (@citizentvkenya) October 12, 2019
2) The unifying power of this achievement was inspiring
We hope the run will inspire millions throughout the world. We particularly loved how Kipchoge didn't make this all about himself.
"We have made history together and together we can make this world a beautiful world," he said after it was over. What wonderful words.
Both the crowd and athlete support for Kipchoge's attempt was remarkable and created a far better environment than Nike's Breaking2 event in 2017. Matthew Centrowitz, the Olympic 1500 champion, was one of the 41 pacemakers used in the attempt and compared the feel of the event to an indoor track race. He said it was so loud that it was difficult to communicate with his fellow pacers while they subbed in and out.
"It's so exciting out there," Centrowitz said on the broadcast. "The energy's just through the roof."

Centrowitz added that while he was out there, he was "just thinking how much of an honor it was to be one step in front of Kipchoge…a once-in-a-generation athlete." For a man as accomplished in the sport of running as Centrowitz to say that shows how highly Kipchoge is regarded by his peers.
That 41 of the world's best runners and thousands of fans would come to Vienna to support Kipchoge showed how many people bought into this event, and they were rewarded. After Kipchoge crossed the finish line, he was mobbed by his pacemakers, who all looked just as happy for Kipchoge for the two-hour barrier to be broken. Their evident joy — and the reactions of thousands of fans back home in Kenya — showed that sport can unite people like no other.
Situation on the ground in Eldoret Uasin Gishu county as @EliudKipchoge approached the finish line???? #Eliud159 #NoHumanIsLimited @MichKatami @iaaforg @INEOS159 @humphkj pic.twitter.com/ac2NbCACzy

— National Olympic Committee of Kenya (@OlympicsKe) October 12, 2019
American Lopez Lomong, who has inspired plenty of people himself as a former Lost Boy of Sudan, and helped pace Kipchoge in Vienna, put it best: "Today is Eliud's day but everyone can come out to celebrate this moment. We are all part of history. We all did together as a running community."
That being said, some of the #NOHUMANISLIMITED talk after the run was a bit over the top for us (of course humans are limited at some point, or he'd have run sub-1 hour).
3) The INEOS team (and Nike shoe designers) improved everything from the first event
Most experts expected Kipchoge to break the two-hour barrier. He came much closer than expected in his first attempt two years ago, and the INEOS team improved pretty much everything on that attempt. The weather was better (cooler here), the pacing was improved with the pace car more consistent (every kilometer was between 2:48-2:52 except for the last, and most were 2:50), the pacing formation was changed for the better, a large crowd was out on the course, and Nike came out with an even better shoe. 
The INEOS team also got this race on TV in many countries in addition to the free worldwide stream (like the first event). It was presented as a truly world-class sporting event.
4) Let the debate begin: what does it mean?
There are a lot of things to debate and figure out after this run in terms of what does it all mean. Running and sports purists will discuss this run from one angle but the public at large will discuss it from a different one.
Perfect pacemaking, perfect weather, and better shoes make for a faster marathon, but is it right the pinnacle of the sport is an event featuring illegal pacemaking and shoes that no one else has access to?
Most non-runners and the public at large likely won't be worrying about a lot of that stuff or that the run doesn't count as a world record. Check out what a professional cyclist said about it:
For me, this is the most impressive sporting achievement in history. Absolutely moved to tears to be able to witness this in my lifetime. A sub-2hour marathon. To get perspective, go and try to run at 21kph for 300meters….
Incredible @EliudKipchoge & everyone behind @INEOS159 pic.twitter.com/fW9ZJVZNzg

— Mark Cavendish (@MarkCavendish) October 12, 2019
That being said, far from everyone is a big fan. Professor and sports scientist Yannis Pitsiladis, who once was leading the charge for a sub-2 hour marathon and was obsessed with the concept, said before the race that he was far from a fan after what it had turned into.
 "I can't get excited about this…It's meaningless….I think it is all about the shoe now. My life has been dedicated to the sport's integrity, but this is the complete opposite. My advisors tell me not to be negative when I talk about it but it's not about being negative; it's being accurate," said Pisiladis to The Times of London. A few weeks ago, Pitsiladis tried to organize a sub-2 hour marathon down a mountain "as a joke" to show it's not that hard if the conditions are contrived enough.
MB: Man who came up with sub-2 idea, Yannis Pitsiladis, isn't a fan of it anymore: "I think it is all about the shoe now" 
Sports scientist Ross Tucker also is worried about how big of an impact the shoes are making:
I just cannot be enthused or amazed by current performances, and this is the main (new) reason (doping is always a shadow). They distort the "input-output" relationship even more than since 2016. It means you're watching the SAME runner, same performance, but now 1:00-1:30 faster https://t.co/Yz4oZWjxkZ

— Ross Tucker (@Scienceofsport) October 12, 2019
We certainly hope that moving forward in marathons that count, particularly next year's Olympic marathon, all of the top contenders have access to the same shoes. Otherwise it's like trying to compete in the full-body swimsuit era without a full-body swimsuit.
For now, the one thing everyone can take away from it is that no human being knows what their limits are. The joy on Eliud Kipchoge's face was so wonderful and so universal, it was something everyone needed to see today.
Rewatch the race below:
Talk about the race on our messageboard/fan forum: