Jerry Schumacher on How Shalane Flanagan Dug into Her "Deep Well" to Win 2017 New York City Marathon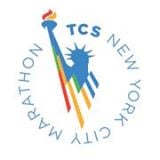 November 05, 2017
By Jonathan Gault
November 5, 2017
NEW YORK — Jerry Schumacher had waited eight years for this moment, so what was an extra ninety-two minutes?
As Shalane Flanagan made the post-race media rounds following her historic victory in Sunday's TCS New York City Marathon — heading first to the athlete holding room inside the temporary NYRR Media Center erected by the finish line, then into the post-race press conference, then into yet another room to film a standup for local TV — she had still not seen her coach.
Article continues below player
---
For a few minutes, Where's Jerry? was the parlor game of choice as Flanagan, 36, wrapped up her post-race responsibilities, only appropriate for a man who prefers to stay out of the spotlight and allow his athletes' feet to do the talking. Today, Flanagan's feet (feat?) spoke volumes and finally, three hours and fifty-eight minutes after she set out from the Verrazano-Narrows Bridge on Staten Island — and ninety-two minutes after she crossed the finish line in Central Park to become the first American woman to win New York in 40 years — a teary-eyed Flanagan finally found her coach.
"Good job" was all Schumacher, 47, said as he embraced Flanagan, doling out a few well-earned pats on the back before taking a step to size up Flanagan for himself, as if to confirm that the gold medal around her neck and laurel wreath atop her head were genuine.
He had more to say in a rare interview a few minutes later.
"As [assistant coach] Pascal [Dobert] and I were talking as we were watching the race, I said, I tell you what, if Shalane starts to smell the finish line…" Schumacher said. "It reminds me a lot of a lot of the athletes we've worked with and the good athletes we've worked with, but in particular Chris Solinsky. When Chris and Shalane, there's something about those two, when they smell that finish line, there's a well that's so deep that they can dig into. Some people say they can go to a really dark place. I don't know what it is. It's a deep well, that's what I would describe it as. And when she started to smell that she could do it and something special was going to happen, I could just feel that she wasn't going to be denied. And I saw that same thing with Chris Solinsky in a lot of races. To see that come out again — because I haven't got to see that in a while — and to see that come out in her, that was really fun."
Schumacher knew going in that Flanagan was as fit as she had ever been. And he knew, based on the ease of her form and the relaxation in her face, how strong she looked crossing the Madison Avenue Bridge with Ethiopia's Mamitu Daska and Kenya's three-time defending champion Mary Keitany, as the race re-entered Manhattan for its final stages. What he did not know was the ending.
"It's a marathon and she had 20+ miles in her legs already," Schumacher said. "So [I] wasn't quite sure how it was going to play out."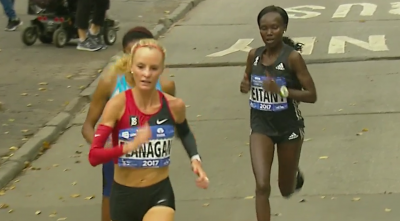 But once Flanagan made her move along Fifth Avenue, just before the 23-mile mark, once he saw her begin dipping into her deep well, he could tell that Flanagan was not to be denied.
"Something that we've seen in practice, this particular training cycle, that we've seen in practice over and over again, [is] just her desire to drive and really push to the finish. We've seen it a lot of times in practice, and to see it come out in the race, especially in New York, is pretty special."
Flanagan ripped off a 5:11 mile down Fifth Avenue to open up a 14-second lead entering Central Park, and proceeded to double that margin with an otherworldly 5:04 25th mile. She tacked on an additional 33 seconds over the final 1.2 miles, pushing the final margin of victory to 61 seconds over runner-up Keitany — only the greatest marathoner of her generation.
Flanagan and Schumacher changed several things for this buildup, her first marathon since finishing the Olympics in Rio last year. They decided on one altitude stint instead of her traditional two, and chose to spend it in Mammoth Lakes, California, the site of her buildup for her debut marathon in New York in 2010.
But what powered Flanagan to victory today were the miles she logged not just in this buildup, but the nine that preceded it. Flanagan's goal ever since debuting in New York seven years ago has been to win a major marathon, but until today, she had never come closer than her runner-up showing in New York in 2010. Yet with every disappointment, Flanagan was gaining strength. Her 2:22:02 in Boston in 2014 was the fastest ever by an American woman on the course. That fall in Berlin, she ran 2:21:14, at the time the second-fastest time ever by an American on any course. Only medalists Joan Benoit Samuelson and Deena Kastor have ever bettered Flanagan's 6th-place finish at the 2016 Olympics.
Though a back injury caused her to miss this year's Boston Marathon, it also provided a chance for her to recharge after almost 13 years of nonstop racing as a professional. She returned to training refreshed and rejuvenated. She barely missed qualifying for Worlds on the track which may have been a blessing in disguise. Soon she was running the highest mileage totals of her life in Mammoth (130 miles per week) and logging her best marathon buildup yet, one that culminated with today's perfect outcome.
When Flanagan joined Schumacher at the start of 2009, she was taking a risk. Flanagan, then 27, was coming off the crowning achievement of her career to date, a bronze (later upgraded to silver) medal in the 10,000 meters at the 2008 Olympics. Yet after explaining that she "didn't see eye-to-eye" with coach John Cook, she made the decision to move to Portland and join Flanagan's fledgling professional group. While Schumacher was a highly regarded coach due to his accomplishments at the University of Wisconsin and brought with him talented athletes such as Matt Tegenkamp, Evan Jager and Chris Solinsky, Flanagan, unlike the majority of the early members of what would come to be known as the Bowerman Track Club, had not run under Schumacher at Wisconsin.
And there was something else. Flanagan would be the first woman Schumacher had ever coached. And though BTC is now known as much for the accomplishments of its women as its men, it was not always that way. Flanagan eventually got company in Lisa Uhl and Kara Goucher for a few years, but as recently as 2015, Flanagan and Infeld comprised the group's entire female presence. The two would come off the track after workouts and, as Schumacher puts it, "They'd look at me like, really? There's been a lot of pressure to build [the female side of the group]."
Now BTC is one of the top women's groups in the world — Amy Cragg, Emily Infeld, Courtney Frerichs have all earned global medals in the last three years — something that Schumacher joked that he affectionately "blames" on Shalane.
"That was a big reason why I moved out to Portland and joined Bowerman Track Club and Jerry's group when I had the opportunity," said Infeld, who watched Flanagan's victory from the lead vehicle. "I was like, How can I turn that down? Shalane has been my idol forever."
Flanagan and Infeld may not be teammates that much longer —  she essentially declared before the race that she would retire if she won New York, but after her win, Flanagan said she has not reached a decision on her future — but today's result will inspire a generation of young American women, proof that they can go up against the very best the world has to offer in the marathon — and win.
***
Shalane Flanagan sees her coach Jerry Schumacher for the first time after historic NYC Marathon victory pic.twitter.com/TgqG89gW6M

— Jonathan Gault (@jgault13) November 5, 2017
LRC interview with Schumacher
LRC interview with Infeld
Olympic marathon champ Joan Benoit Samuelson talks about Flanagan's win
More: Women's Race Recap: Shalane Flanagan Wins 2017 New York City Marathon – 1st American Winner In 40 Years 
Men's Race Recap: Geoffrey Kamworor Blitzes 4:31 25th Mile To Grab Lead And Holds On To Win 2017 New York City Marathon